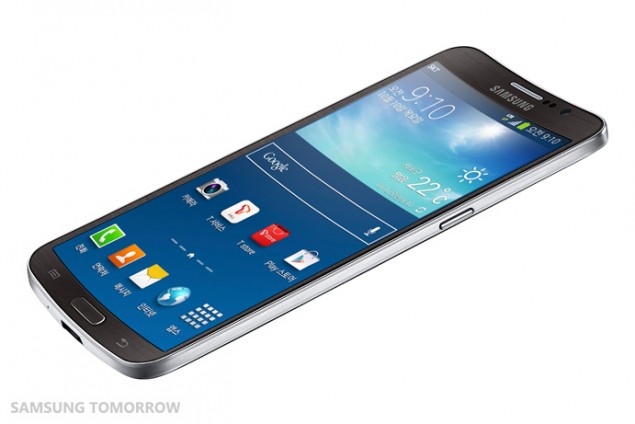 The rumours can now stop with Samsung officially announcing the Galaxy Round smartphone. The new smartphone has top end specs along with a Snapdragon 800 chipset with 2.3GHz quad core CPU with 3GB of RAM, but the stand out spec is of course the 5.700-inch 1080p curved display. The device measurements come in 151.1 x 79.6 x 7.9mm and weight is just 154g.
Camera wise we have a 13MP rear facing camera along with 2MP front facing camera. The pattern of specs should have emerged as we are looking at the internals of a Galaxy Note 3, and keeping with this we have LTE-A and WiFi b/g/n/ac and Bluetooth 4.0. The battery is slightly less compared to the Note 3 with 2,800mAh. The new Galaxy Round from Samsung will be available soon and will be running Android 4.3 and come in a Luxury Brown with the same textured back as the Galaxy Note 3. Check out the press release, gallery and short video detailing the tilt notification below.
[youtube width="650″ height="470″]UIEExKSjWi4[/youtube]
[accordion title="Press Release" id="id-here"]
Samsung GALAXY ROUND Pioneers the Curved Display Smartphone Experience
New device presents world's first commercialized full HD Super AMOLED flexible display
Seoul, Korea – October 9, 2013 – Samsung Electronics Co., Ltd. today introduced GALAXY ROUND, the world's first curved display smartphone. Samsung has been a mobile display innovator by introducing color TFT-LCD, AMOLED, and Super AMOLED flexible display for its mobile product. With this pioneering curved display technology, GALAXY ROUND blends the latest smartphone screen innovations with unique design features. The sleek and thin Samsung GALAXY ROUND which equipped with a 5.7″ Full HD Super AMOLED with 7.9mm thick and weighs 154g offers a comfortable hand grip feeling to user, and exclusive experiences of curved display.
As a result of its unique curved design, users can take advantage of round integration experiences like the Roll Effect that enables user to check information such as date, time, missed call and battery easily when home screen is off, and the Gravity Effect for creating visual interaction with the screen by tilting the device. For music, the Bounce UX enables users to control their music. When the GALAXY ROUND's display is off while the music player is running, a short press to the left of the device will play the previous track while a short press to the right will play the next track. For pictures and videos, the Side Mirror feature enables users to gain access to list of the album content with a left and right tilt.
The large screen size of the GALAXY ROUND provides additional benefits to users. Useful One-Hand Operation features bring a user's most desired controls closer to a preferred side of the screen. The device enables enhanced multitasking capabilities that allow users to fully utilize the larger screen through Multi Window, a feature that enables users to open more than one application on the screen, run simultaneous multiple instances of the same application or to easily share content between applications.
Samsung GALAXY ROUND is available in Korea with Luxury Brown, and more color will be available soon.
* All functionality, features, specifications, and other product information provided in this document including, but not limited to, the benefits, design, pricing, components, performance, availability, and capabilities of the product are subject to change without notice or obligation.
[/accordion]