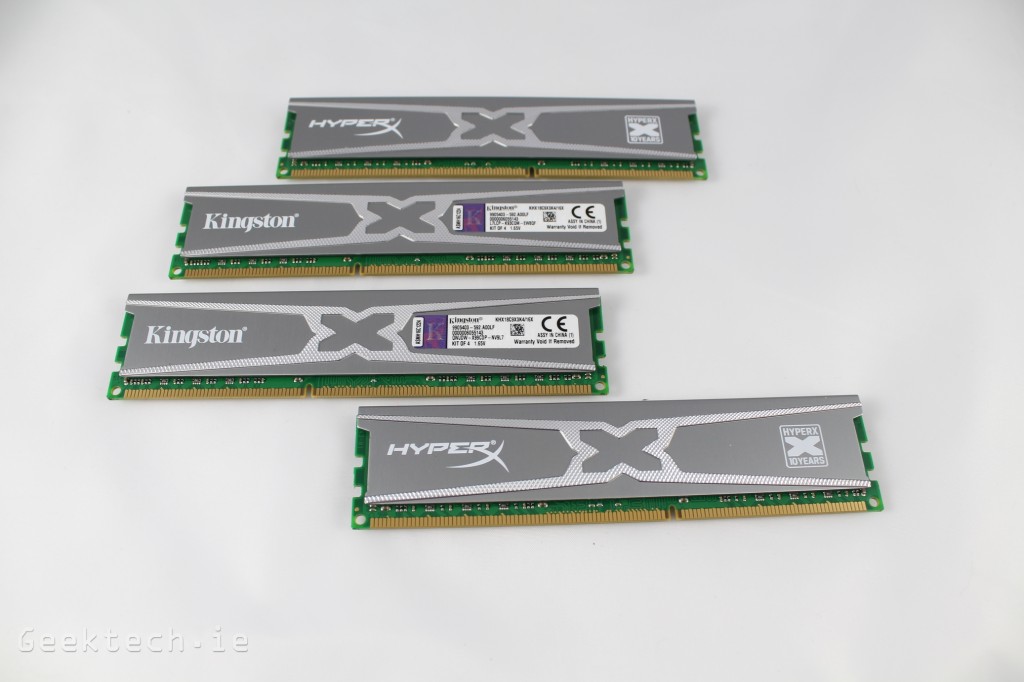 In an effort to build up our RAM review collection, a big thanks to Kingston, who have been kind enough to send us out a few of their RAM kits to review. The kit up for review here is the Kingston HyperX 10th Anniversary Series 1866Mhz with 4 x 4GB sticks totaling 16GB, model number KHX18C9X3K4/16X. The full specs are included below and then we move onto some benchmarks.
[accordion title="SPECIFICATIONS" id="1″]
CL(IDD)                                                                  9 cycles
Row Cycle Time (tRCmin)                                    49.5ns (min.)
Refresh to Active/Refresh                                      160ns (min.)
Command Time (tRFCmin)
Row Active Time (tRASmin)                                 36ns (min.)
Maximum Operating Power                                  2.400 W* (per module)
UL Rating                                                               94 V – 0
Operating Temperature                                          0c to 85c
Storage Temperature                                             -55c to +100c[/accordion]
[accordion title="FEATURES" id="2″]
JEDEC standard 1.5V (1.425V ~ 1.575V) Power Supply
VDDQ = 1.5V (1.425V ~ 1.575V)
667MHz fCK for 1333Mb/sec/pin
8 independent internal bank
Programmable CAS Latency: 9, 8, 7, 6
Programmable Additive Latency: 0, CL – 2, or CL – 1 clock
Programmable CAS Write Latency(CWL) = 7 (DDR3-1333)
8-bit pre-fetch
Burst Length: 8 (Interleave without any limit, sequential with
starting address "000" only), 4 with tCCD = 4 which does not
allow seamless read or write [either on the fly using A12 or MRS]
Bi-directional Differential Data Strobe
Internal(self) calibration : Internal self calibration through ZQ pin (RZQ : 240 ohm ± 1%)
On Die Termination using ODT pin
Average Refresh Period 7.8us at lower than TCASE 85°C, 3.9us at 85°C < TCASE < 95°C
Asynchronous Reset
PCB : Height 1.18" (30mm) double sided component
Memory Module Specifi cations[/accordion]
[accordion title="XMP TIMING PARAMETERS" id="3″]
• JEDEC: DDR3-1333 CL9-9-9 @1.5V
• XMP Profile #1: DDR3-1866 CL9-11-9 @1.65V
• XMP Profile #2: DDR3-1600 CL9-9-9 @1.65V[/accordion]
Benchmarks

We put together some benchmarks with some of the top benchmark programs available that really put the RAM through some decent tests. currently we only have 2 other RAM kits from Kingston to include with the charts, but they should give you a good idea of the performance not only this RAM provides, but also in comparisons to higher spec'd RAM.
[accordion title="AIDA64″ id="4″]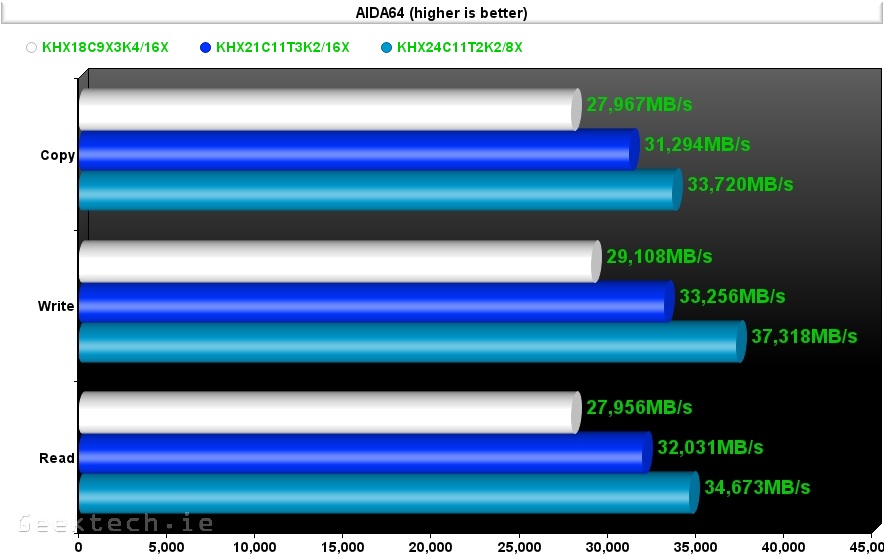 [/accordion]
[accordion title="CINEBENCH" id="5″]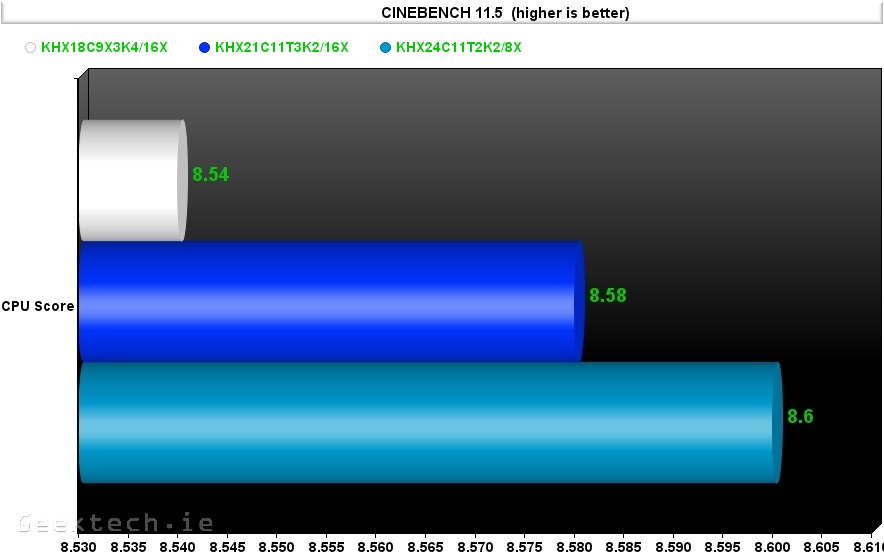 [/accordion]
[accordion title="MAXXMem2″ id="6″]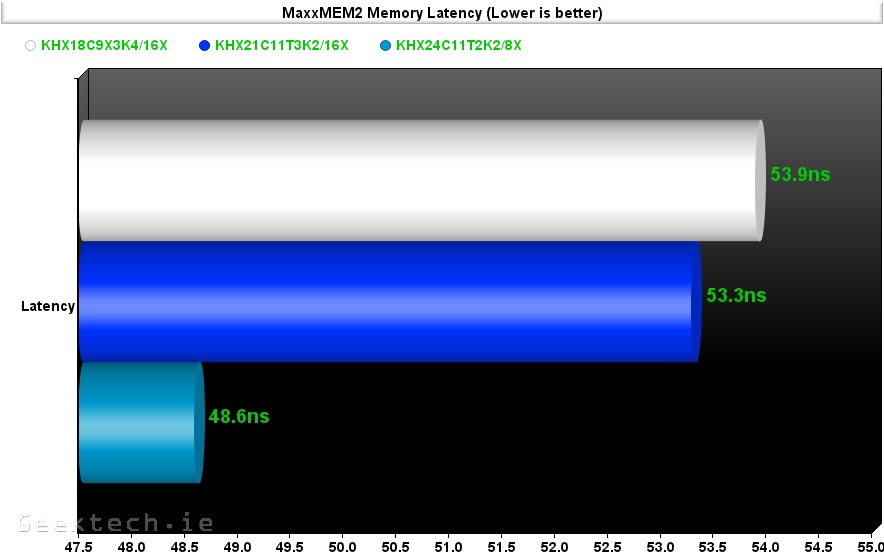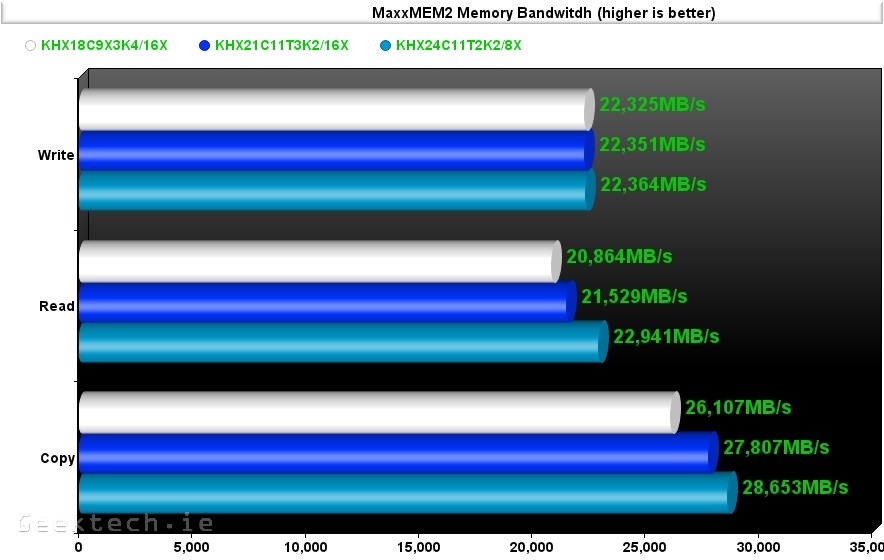 [/accordion]
[accordion title="Sisoft Sandra" id="7″]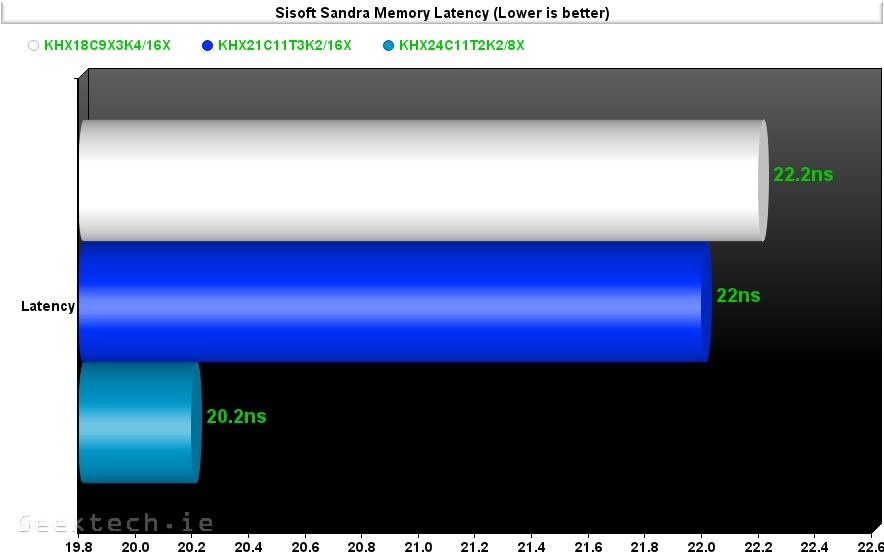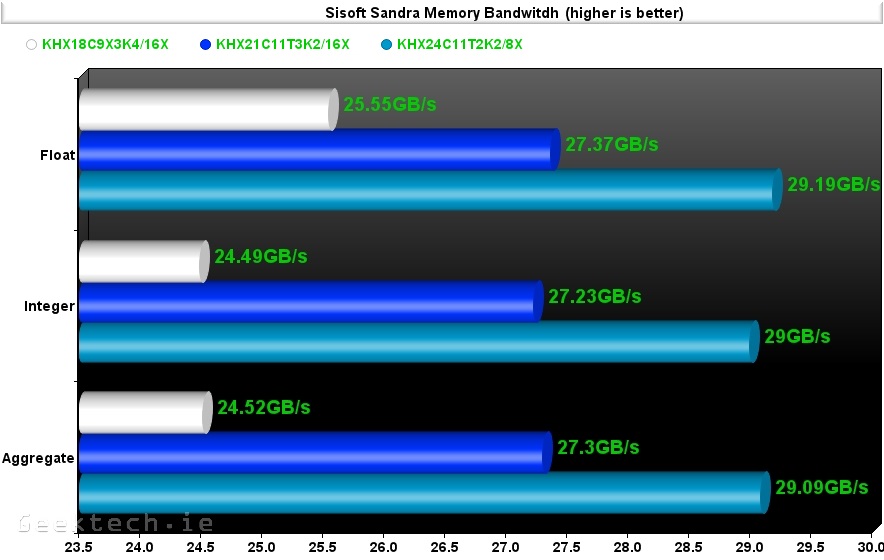 [/accordion]
Conclusion
Pretty much everyone in the computer industry has heard of Kingston and of course their RAM products. All the different benchmarks show one thing and that's consistency throughout. While 1866Mhz  kit isn't the fastest RAM available, it still offers solid performance for those looking for more RAM over speed. The current price for the 16GB kit is just over €150 and we can see that that is the going rate with all RAM of this spec including the timings. So it really comes down to consumer choice on which RAM to go for. The Kingston is low-profile ram which means it won't get in the way of any heatsinks, which can be a benefit over other RAM with tall heatsinsk themselves.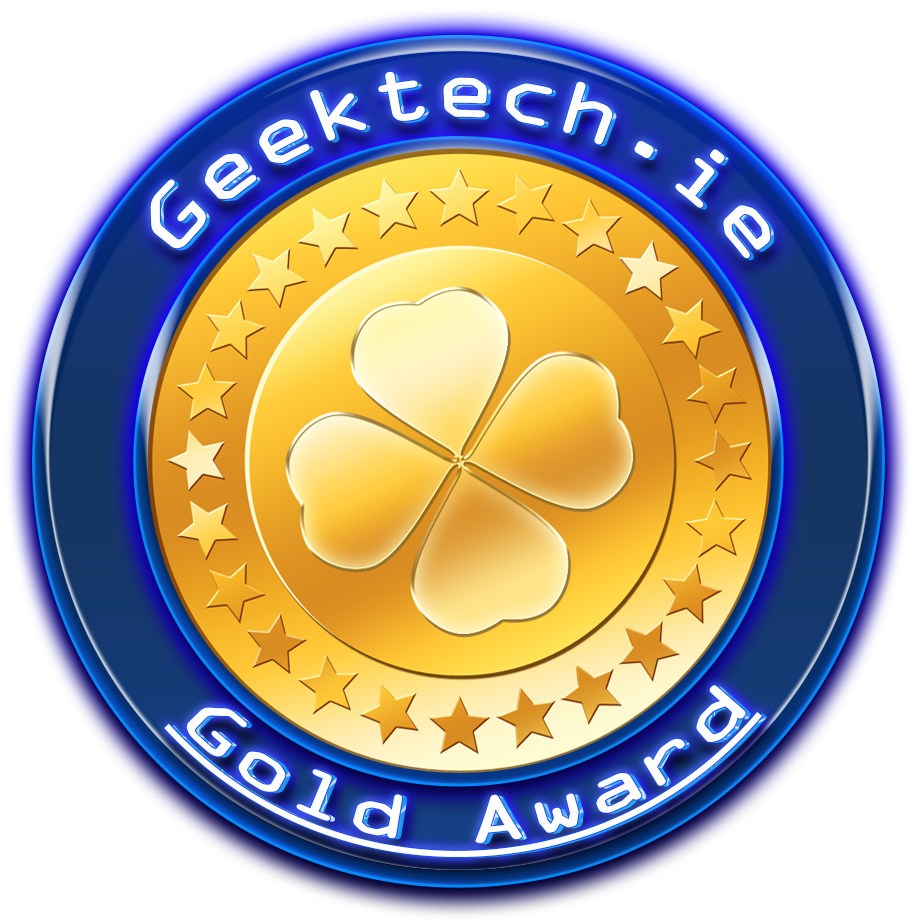 We definitely recommend the Kingston KHX18C9X3K4/16X as its tick all the boxes with performance, price and of course the included lifetime warranty we are now use too with RAM these days. The low-profile design makes it a great choice for those with giant heatsinks, but the RAM is a good choice either way.