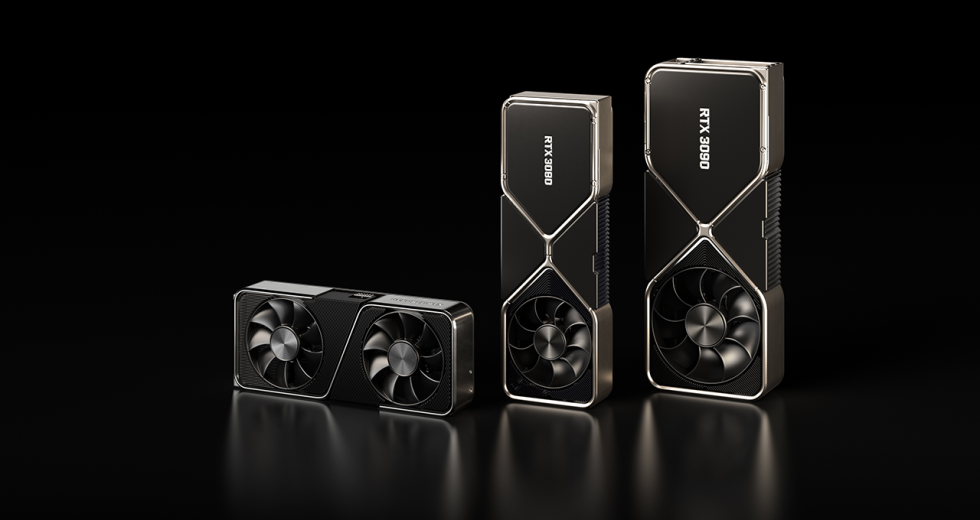 Nvidia's recent press event launching the next generation of graphics card with their latest Ampere architecture. The new cards are finally official and with event we have a lot more details of the new line up of graphics cards on offer from Nvidia.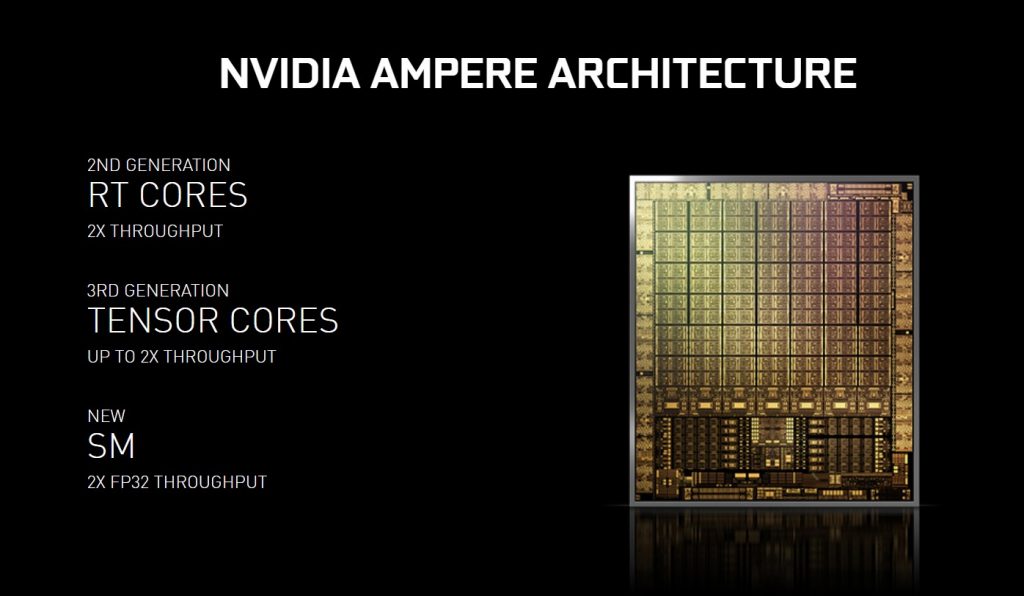 Meet the RTX 3000 series
Nvidia's next generation of GPU's come out with a strong offering and the initial lineup should please some customers. Except for maybe those that recently bought their RTX 2080ti, which may now be seriously over priced compared to the upcoming 3070 and 3080.
The new Ampere archtecture increase performance across the board. Using a custom 8-nanometer node developed by Samsung and Nvidia to deliver increased cuda-cores, better ray tracing and compute processing power. All of their new cards will be offering HDMI 2.1 and PCIe 4.0.
It's important to note that we are just getting raw spec details from Nvidia and some small glimpses into the performance that these cards have to offer. Ultimately how these new cards perform remains to be seen and until NDA's are lifted and reviews are let wild; we recommend passing the salt.
RTX 3070
Nvidia are starting very strong and positioning the RTX 3070 has a RTX 2080ti replacement. You read that right. A XX70 tier card is coming in at performance levels that match last years flaghip. The RTX 3070 offers 5,888 cuda cores, 1.5GHZ base clock and 1,73GHz boost close. It will also have 8GB's of GDDR6 memory with 256-bit bus.
The FE edition cards will have 220W power consumption and use a single 8-pin power connector. AiB card offers may have slightly different configurations, but most will be identical.
Pricing is the biggest factor for this card, as even if it comes just under a 2080ti performance, having a price tag of just €500-550
RTX 3080
The RTX 3080, which during the announcement video was showcased as offering 2x as much performance compared to an RTX 2080. immediately we are going to assume a much lower increase of around 40-percent as Nvidia tend to cherry pick their comparisons, and full detailed comparisons were not shown.
That being said, for now it's great see a card coming from Nvidia in the xx80 series that happily beats last generations flagship at a significantly cheaper pricepoint.
The RTX 3080 offers 8,704 cuda cores, with a base block speed of 1.44GHz and boost clock of 1.71Ghz. This pairs with the 10GB's of GDDR6X VRAM that has a 320-bit bus.
The FE card has 2 x 8-pin power connector and has power consumption up to 320 watts. Pricing for the RTX 3080 is set at between €700-750.
RTX 3090
The last card announced during the press video was their true titan replacement flagship. This card is dubbed BFGPU by Nvidia, which stands for big ferocious GPU. It is clearly marketed at the extreme side of things, and similar to how Titans were in the passed.
The RTX 3090 offers 10,496 cuda cores, running with a base clock of 1.4Ghz and a boost clock of 1.7GHz. The VRAM is a massive 24GB of GDDR6X with a 384-bit bus.
Pricing for this card is a massive €1,500 – €1,600. While cheaper compared to previous Titan cards in the past, it certaintly draws a large gap between itself and the 3080, but doesn't look to offer a massive performance boost. Those that will require the extra VRAM might be happy to have a cheaper Titan style card finally.
RTX IO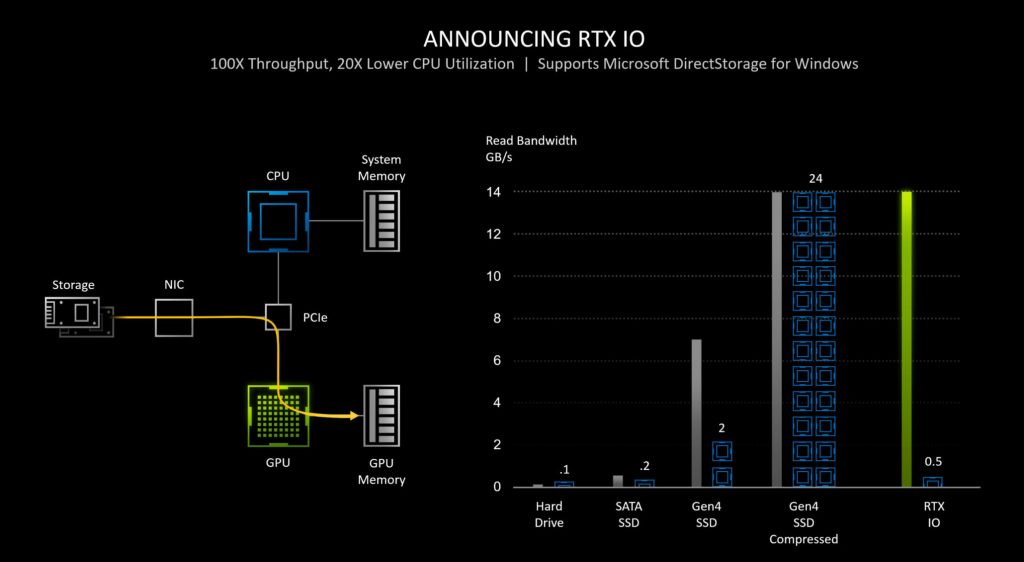 Next generation of consoles are bringing a new feature that has been a big issues for games over the last decade or so. Storage has been getting insanely faster and cheaper, which means more gamers have access to better stroage, but games never were able to take true advantage of this fast. Truth be told, consoles were the reason games never took advantage of the newest hardware avaialble, and simply because consoles never had that same hardware, and that's where developers focused their efforts.
That will change with the PS5 and Xbox Series X. Their storage will no longer be based on HDD's and as such, developers can now stop limiting what they have to do based on the slow read and access times that HDD's have. Even more so, all of the information the GPU requires, had to go through the CPU before being being made avaialble to the GPU. That will no longer be the case with consoles, and Nvidia are stepping up to bring similar features to their GPU's and Windows.
The Windows DirectStorage API is finalised yet, and so we won't really see this feature right away, but the plan is to allow data to bypass the CPU and be pulled directly into the GPU memory. This will give untold advantages to game performance and even lower CPU utilisation. We look forward to see how this develops and benefits gamers in the future.