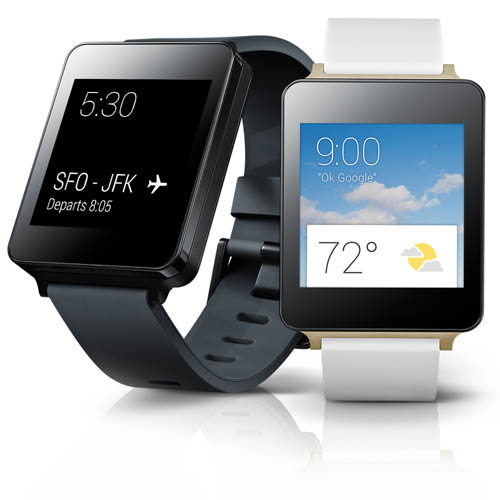 Android wear is getting very close, with LG's G Watch going up for pre-order on Google's Play Store today. The G Watch specs read more like a budget smartphone (bar the display) with Qualcomms Snapdragon 400 chipset clocked at 1.2 GHz with 512MB of RAM and 4GB of internal storage. The display is an LCD IPS with 280 x 280 resolution. Other specs include a somewhat large 400mAh battery (relatively speaking) and lastly the device is IP67 rated, meaning water and dust resistant.
Key Specifications:
Chipset: Qualcomm®Snapdragon™ 400 processor
Display: 1.65-inch LCD IPS (280 x 280)
Memory: 4GB eMMC / 512MB RAM
Battery: 400mAh
Operating System: Android Wear
(compatible with smartphones running Android 4.3 and above)
Size: 37.9 x 46.5 x 9.95mm
Weight: 63g
Connectivity: Bluetooth 4.0
Sensors: 9-Axis (Gyro / Accelerometer / Compass)
Color: White Gold/ Black Titan
Others: Dust and Water Resistant (IP67)
Obviously the device is running Android Wear and will contain all of it's features including Voice control and and Google Now. The pre order is available in 12 countries including United States, Canada, UK, France, Germany, Italy, Spain, South Korea and Japan with over 27 more to following in certain retailers.