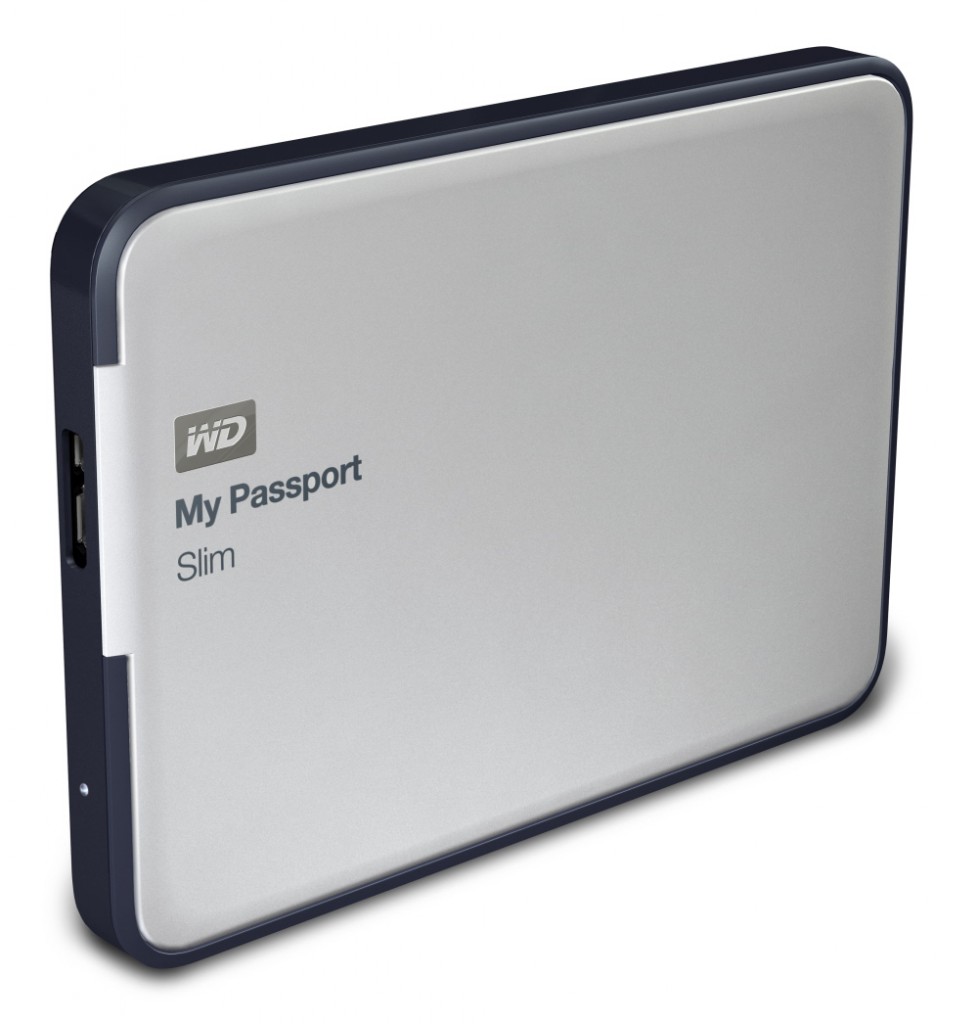 Western digital are at it again and of course we mean they are releasing another storage option. The new My Passport Slim will come in both 1TB and 2TB  capacity options and is covered in a metal housing along with USB 3.0 and hardware level encryption. The new drives are available right away from the wdstore.co.uk and other retailers and the price is set at €129.90 for the 1TB version and €209.90 for the 2TB version. Check out the press release or source link before for more information.
[accordion title="Press Release" id="id-here"]
MY PASSPORT® SLIM™ FIRST 2 TB THIN DRIVE WITH METAL CASE AND HARDWARE ENCRYPTION
Exclusive WD SmartWare™ Pro Data Protection with Local and Cloud Storage
Backup via Dropbox Provides 'Ultimate Mobile Storage Solution'
WD®, a Western Digital (NASDAQ: WDC) company, today announced the availability of its My Passport® Slim™ line of portable hard drives, the first thin drives to offer up to 2 TB capacity, a metal enclosure, and 256-bit hardware-based encryption.  The included WD SmartWare Pro data protection software allows users to back up their data to their My Passport Slim and keep an extra copy in their Dropbox account for peace-of-mind. The software also lets users back up their Dropbox[1] account to the My Passport Slim. These features make the My Passport Slim an ideal choice for protecting, storing, and enjoying digital content on the go.
Available in 1 TB and 2 TB capacities, the My Passport Slim measures a scant 4.33 x 3.14 x 0.48-inches*, giving mobile consumers an easy and convenient way to transport their favourite music, movies, photos and documents.
*Measurement for 1TB. 2TB measures 4.33 x 3.14 x 0.7-inches
The My Passport Slim also incorporates super-fast USB 3.0 connectivity for quick transfer speeds of high resolution digital files.
"WD's My Passport Slim drives are setting a new industry standard for portability, capacity, and file protection," explained Scott Steffens, general manager of WD's consumer storage solutions group. "Its beautiful metal exterior, combined with up to 2 TB of storage, hardware encryption, and WD SmartWare Pro backup protection make it the only storage device today's mobile consumers will ever need to bring with them."
Pricing and Availability
My Passport Slim portable hard drives are protected by a 3-year limited warranty and will be available from the WD store at wdstore.co.uk as well as select retailers and distributors. My Passport Slim 1 TB has a Manufacturer's Suggested Retail Price (MSRP) of  €129.90
, and the My Passport Slim 2 TB[2] is €209.90
[/accordion]
Source: wdstore.co.uk