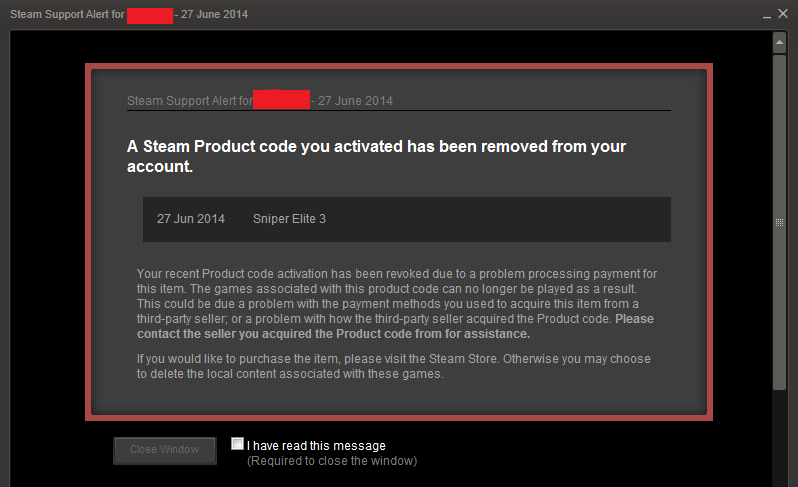 Sniper Elite 3 has just launched today, but a lot are loosing access to the game completely. Gamers who purchased their keys from online resellers have noticed a message appearing on their steam client stating that their game has been removed from their account and to contact the seller for more information. Rebellion devs have posted the following statement below with the issue seemingly affecting anyone who purchased the game from online resellers like g2play, cdkeys, and more. Most online retailers have already begun issuing refunds, with some providing a replacement key.
We have been saddened to learn that some fans have been caught out by companies selling unlicensed or stolen Sniper Elite 3 Steam keys. If you have been affected by this we encourage you to contact the seller in question and seek a refund immediately.

In addition we're aware that some gamers may have pre-ordered these keys in good faith, believing them to be genuine – missing out on both the game, and the "Target Hitler" DLC pre-order incentive.

In response to this we'd like to offer the "Target Hitler" DLC FREE to all those affected by this.

To be eligible you will have to follow the following instructions by Friday 4th July:

1. Purchase Sniper Elite 3 from Steam

2. Email sniperelite3keys@rebellion.co.uk and include the following information:
– Receipt or proof of purchase from the original (blocked) vendor.
– The original (blocked) Steam key you were sent.

3. We'll process your request and get back to you as soon as we can. Please be patient – this is a manual process and it may take some time!

All the best

Rebellion

– Update –

We appreciate that some people are upset, this is exactly why we wanted to make this offer to gamers who've been affected through no fault of their own.

To clarify, one of our PC retail distributors informed us that some of their allotted Steam keys were stolen. We believe these keys were then resold to multiple companies, with no payments going to either Valve or the retail distributor.

Steam were immediately informed and have now revoked that set of keys.

As a developer Rebellion are happy for you to purchase the game anywhere you see fit and support price competition in the PC market – we have in no way targeted any specific vendors (who may have also thought these keys were legitimate), just this one set of keys.

All we can suggest if you have been affected is to please contact your vendor and first ask for a replacement key, and then contact us for the free pre-order DLC if you are successful.