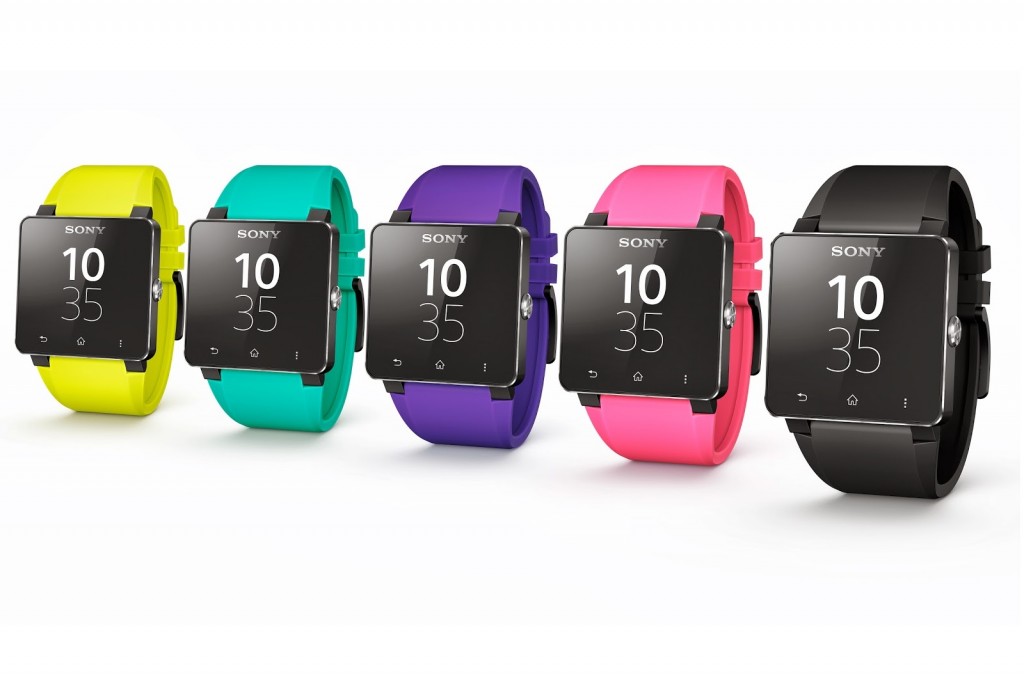 The new Smartwatch from Sony is now available in Ireland with a retail price tag of €179. The new accessory will give you easier control of your Android smartphone by allowing you to easily make call's, control music, read texts or social media updates. Much like Sony's Xperia device it's also waterproof as well. The watch also comes in multiple colours with different material straps such as Black, Pink, Purple, Green, and Yellow (pictured above) all in silicon straps.Brown, and Black in Leather straps and finally a metal strap in Black.
[accordion title="Press Release" id="id-here"]
Smartwatch 2 is the world's first Android-compatible SmartWatch with One-touch NFC
30th October 2013, Dublin – Sony Mobile Communications ("Sony Mobile") today announced the availability the SmartWatch 2 in Ireland.  As the world's first Android-compatible SmartWatch with One-touch NFC (Near Field Communication), it expands your Android smartphone experience and introduces new and exciting ways to live and communicate. Using your SmartWatch 2 as a second screen for your smartphone, you can read messages, handle calls and easily access notifications, all from your wrist, anywhere in any weather!  The SmartWatch retails from €179 from all Irish operators and retailers.
The SmartWatch 2 interacts with your smartphone over Bluetooth®, and what's happening in your life is mirrored in your watch.  You can choose from a wide range of SmartWatch 2 apps available at Google Play to adopt a SmartWatch lifestyle!  If you are a busy communicator, you will appreciate being ontop of everything from your wrist.  If you like running, you can use your SmartWatch as your phone remote, even if it rains! If it is bright and sunny, SmartWatch 2 has an impressive sunlight-readable display – so whatever the weather, you can take it anywhere!
Easy calling
When you are using a wireless Bluetooth® headset for music, you can use SmartWatch 2 as a phone remote to make or receive calls. When a call comes in, you can see who's calling in your SmartWatch display, press once to answer and enjoy hands-free calling at its easiest. You can also browse recent calls in your call log and use SmartWatch to initiate a call.
Within reach
On your wrist, you have text messages, emails, calendar, call log, Facebook, Twitter, gmail and more. When a message or notification comes in, touch the app icon to read it. A multi-layer colour touch screen lets you browse and read all your notifications.
One-touch SmartWatch
Out of the box, you can pair your SmartWatch 2 with your NFC phone by touching one device on the other – it's instant and easy. If the two devices have been out of Bluetooth® range of each other, it is easy to reconnect. One touch is all it takes.
Colour and style for everybody
You can also customise your SmartWatch 2 to suit your personal style. Comfortable silicon straps for your SW2 come in a range of vibrant colours and finishes – yellow, pink, purple, turquoise, black metal. You can also choose between two high quality leather wrist straps in brown and black and a metal bracelet also in black. SmartWatch 2 wrist straps are 24 mm wide and attach securely to your SmartWatch spring bars[/accordion]