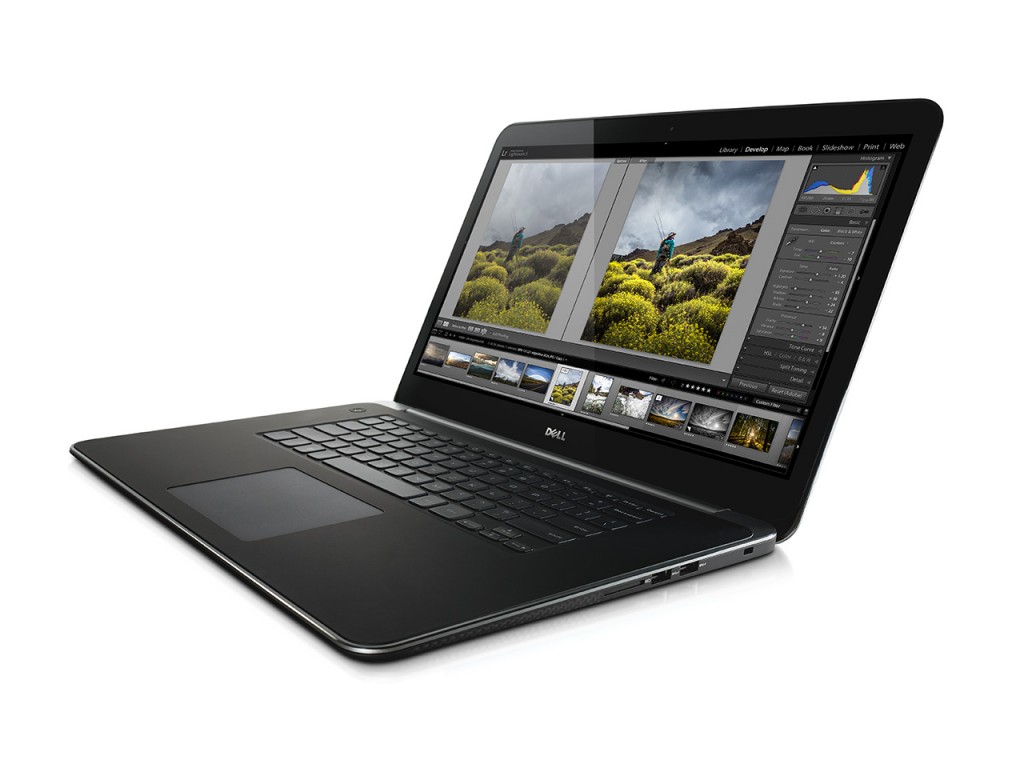 Dell have officially launched the Precision M3800 mobile workstation with some serious specs on board, such as 4th Generation Haswell i7-4702HQ CPU with 16GB of RAM, Nvidia's Quadro K1100M GPU with 2GB of GDDR5 memory. So straight of the bat Dell aren't messing around with specs. Screen wise we have a 15-inch QHD+ (3,200 x 1,800) which includes five finger multi-touch support as well, again those specs are impressive. The workstation includes a backlit keyboard, 3 USB 3.0 & 1 USB 2.0 along with support for the Dell D3000 USB 3.0 Docking Station.
The battery life is rated at just over 10 hours which is thanks to the included Nvidia Optimus technology. The M3800 will be available on November 14th with price stating at €1,399 excluding VAT. We have included a gallery and video of the M3800, along with the press release below.
[youtube width="670″ height="450″]NyOE9R0AnQs[/youtube]
[accordion title="Press Release" id="id-here"]
Dell Delivers Ultra-Thin and Light True Mobile Workstation Blending Beautiful Design with Uncompromising Performance
The new Dell Precision M3800 is the world's thinnest and lightest 15-inch true mobile workstation
Incredibly vivid Quad HD+ display with highest resolution available for visualizing and bringing creative ideas to life
Features Intel Core i7 Quad-Core processor, NVIDIA Quadro professional graphics and ISV certifications for seamlessly running top digital content creation and design applications
Dublin, Oct. 22, 2013 – Dell today launched the thinnest and lightest 15-inch true mobile workstation, the Dell Precision M3800, to its family of the world's most powerful mobile workstations. Merging beautiful design in an ultra-thin form factor with workstation-class performance, Dell has delivered an uncompromising system for digital content creators and engineers looking for portability, power and stylish design to match their image and environment.
"Dell has a long history of delivering leading-edge performance workstations for customers in engineering and digital content creation," said Jon Peddie, President, Jon Peddie Research. "After seeing the new Dell Precision M3800 ultra-thin mobile workstation it's like falling in love all over again. It has everything I want in a power notebook including a super processor and GPU, high-resolution and big screen, light weight, lots of I/O, great speakers and camera. What's not to love? With the M3800, I no longer have to sacrifice performance for mobility and beautiful design."
Less than three-quarters of an inch thin (18 mm) and starting at 4.15 pounds (1.88 kgs)¹, dual-cooling to allow maximum performance at all times, and up to 10 hours and six minutes² of battery life with NVIDIA® Optimus™ technology that maximizes battery life for extended productivity, the M3800 enables editing video at a shoot, presenting CAD ideas to customers in style or rendering 3D animation and modeling on the road.
"Our designers frequently travel, to meet with and collaborate with vendors and clients and the new Dell Precision M3800 provides workstation-class performance to power their software applications with an aesthetic design that fits into those collaborative environments and creates the impression we want," said Curt Spence, Client Devices Engineer, Freeman.
Outstanding Performance in an Ultra-Thin and Light Workstation
Offering powerful performance in an ultra-thin form factor, the Dell Precision M3800 is available with Windows 8.1 Pro (64-Bit) or genuine Windows 7 Professional (64-Bit) and is loaded with up to 16GB³ of memory and 4th-generation Intel Core i7-4702HQ 8 threaded quad-core processor with up to 3.2 GHz clock speeds for seamlessly running professional software applications.
The M3800 is equipped with the NVIDIA Quadro® K1100M GPU with 2GB³ of GDDR5 dedicated memory, offering twice as much on board video memory as the HP Z series Ultrabook™, for a rich visual experience with graphic-intense software applications.
"The new Dell Precision M3800 is the first and only thin and light mobile workstation to offer the power of the Kepler-based NVIDIA Quadro GPUs, the industry's highest-performing and most capable professional graphics," said Sandeep Gupte, senior director of Product Marketing for the Quadro Professional Graphics Business at NVIDIA. "With 2GB of video memory in the NVIDIA Quadro K1100M GPU, the M3800 delivers uncompromised performance and rich visual experiences for graphics-heavy applications that creative professionals have been waiting for."
To manage large data files while on the go, the Dell Precision M3800 offers multiple storage configurations including up to two storage devices, with a maximum of 1.5TB⁴ of storage (HDD, SSHD, or SSD), up to 35 percent more than HP's 14-inch Z series Ultrabook™, one 2.5-inch drive and one solid state Mini-Card storage device (mSATA).
"As the traditional workplace continues to evolve, our workstation customers are requiring more portable systems, but can't afford to sacrifice performance for their critical software applications," said Andy Rhodes, executive director of Dell Precision workstations. "With the introduction of the M3800 we've not only delivered on customer requests but set a new standard for mobile workstations with the thinnest form factor, outstanding performance and highest resolution QHD+ display for designing, creating and collaborating with clients while in the office or on the road."
Tuned and optimized for the top media & entertainment, engineering and design applications such as those in Adobe Creative Cloud, Autodesk Entertainment Creation Suite and AutoCAD, Inventor and Revit, Avid Media Composer, Dassault Catia and Solidworks, PTC Creo, Siemens NX and TeamCenter, among others, the M3800 assures mission critical applications will run as designed, and comes with optional Dell ProSupport for premium 24/7 global support from expert technicians.
"The M3800 from Dell is elegant and incredibly powerful for its size. My work looks amazing in the DirectX 11 capable viewport inside Maya at a whopping 3200 x 1800 screen res, and working with Mudbox using the touch screen controls is really nice. It's fast, ultra-quiet, and has more than enough horsepower for my needs. The only question I have is – how did they fit all that goodness into such a slim design?" said Mathew Doyle, Media & Entertainment Technical Marketing, Autodesk.
Beautiful Design and Visualization
The Dell Precision M3800 features a stylish, industrial-grade design with an aluminum frame, a strong, lightweight carbon fiber chassis, and a Corning Gorilla NBT Glass display with five-finger multi-touch on all systems. Viewing fine detail is easy with the workstation's vivid 15.6-inch UltraSharp display available in QHD+ (3200 x 1800), which is higher resolution than the Apple Mac Book Pro Retina, or FHD (1920 x 1080). The M3800 can also be paired with the high-performance 31.5" UltraSharp 32 monitor with exceptional Ultra HD 3840 x 2160 resolution, coming later this fall, for a powerful dual-monitor workstation combination.
Simplifying the transition from the road to a desk-based workspace, the M3800 offers multiple external monitor support with the optional Dell D3000 USB 3.0 Docking Station. For customers needing access to high-speed Ethernet access, every M3800 is equipped as standard with a USB to RJ-45 dongle. It is also designed with a backlit full-size keyboard, four USB PowerPorts (3 USB 3.0 & 1 USB 2.0), a large gesture-enabled touchpad, HD video webcam and Waves MaxxAudio Pro suite of advanced audio enhancement tools.
"We do a lot of on-location video streaming and the M3800 shaves off pounds of weight and bulk that we used to have to carry but we still have the processing power to encode multiple live HD video streams," said Stephen Taylor, IT Manager for Web Services at Appalachian State University. "The absolutely gorgeous QHD+ screen means we are able to monitor 1080p video at full resolution on part of the screen while still monitoring our data feeds on another. When space and weight count, but performance can't be compromised, the M3800 really delivers for us."
Dell Rocks Accelerated 3D Workflow for Production of New Linkin Park Video, "A Light That Never Comes"
When Linkin Park needed powerful technology to produce its latest music video, the band turned to Dell. The multi-platinum rock band is premiering today "A Light That Never Comes" in collaboration with electro house DJ Steve Aoki, created using Dell Precision workstations with NVIDIA® Quadro® professional graphics processors. Known for such #1 rock songs as "Burn It Down," "The Catalyst," and "Numb," and equally recognised for embracing technology and innovation, the Grammy-winning band has won Best Rock Video three times at the annual MTV Video Music Awards and garnered multiple nominations for Best Visual Effects and Best Special Effects. Dell's technology enables "massive acceleration," which allowed the video team to render 3D scenes "in seconds instead of hours".
Full details can be found here and you can check out the making-of video, with a behind the scenes glimpse at the technology and workflow used to create the video at www.dell.com/linkinpark or view the full music video at www.youtube.com/linkinparktv.
Availability and Pricing
The Dell Precision M3800 will be available worldwide on Nov. 14 with a starting price of €1,399 excluding VAT and shipping. For additional information, visit www.dell.ie/speedoflight.
[/accordion]
Product page: Precision M3800 on dell.com