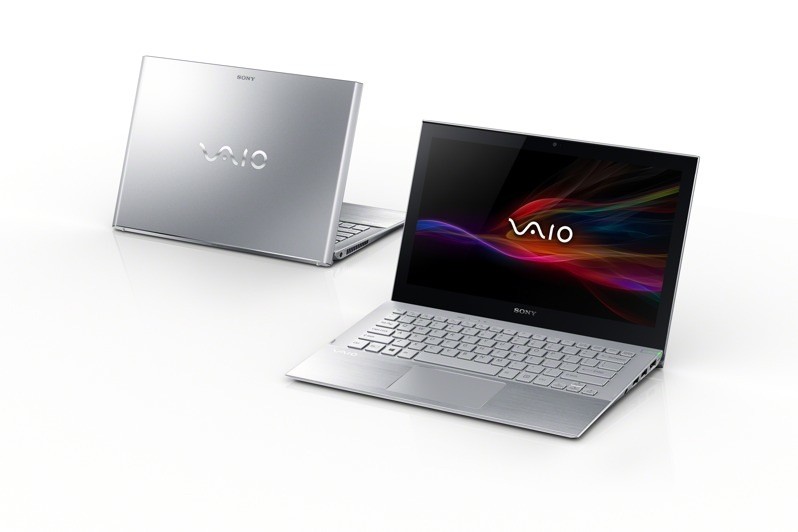 Sony at Computex have announced their latest lineup of Vaio Pro laptops. The new ultrabooks will come in two models with either an 11-inch or 13-inch screen. The specs for the both of the Vaio's include options for a 1080p ISP touchscreen display, Haswell CPU's with Core i5 and i7 available. The Pro 13 will also include PCIe SSD storage making it the first notebook to do so. They also include NFC, a back-lit keyboard and the housing is made of carbon fiber which adds to the fact the weight for the Vaio pro's come in at 1.92 lbs. and 2.34 lbs respectively, making them the lighest touchscreen ultrabooks on the market.
Prices for the new line-up start at $1149 for the Pro 11 and $1249 for the Pro 13 . Available in either Carbon Black or Carbon Silver on June 9th. Check out the gallery and press release below for more information.

[accordion title="Press Release" id="id-here"]
SONY INTRODUCES VAIO® PRO, THE WORLD'S LIGHTEST TOUCH ENABLED ULTRABOOK™, AND NEXT GENERATION VAIO® DUO
Latest Windows 8 Mobile PCs Combine Sony's Display, Digital Imaging, and Sound Technology with Innovative New Form Factors
TAIPEI, TAIWAN, June 4, 2013 – Sony today introduced the world's lightest touch-enabled Ultrabook™, the VAIO® Pro, perfect for the mobile professional or student on the go who demands premium performance in an incredibly light, durable and ultra-sleek design. In addition, the next evolution of the slider hybrid PC, the VAIO Duo 13, features an improved design and a multitude of new use solutions with its unique form factor and versatile pen solution. The new VAIO Pro and VAIO Duo PCs are the latest additions to the comprehensive summer portfolio for VAIO which includes the existing family-friendly VAIO Tap 20 and entertainment-centered VAIO Fit.
Distinctly Sony
Drawing on Sony's TV heritage of delivering the best picture quality, the new VAIO Pro and VAIO Duo lines feature TV technology which results in a sharp and gorgeous Full HD (1920 x 1080) display. The same TRILUMINOS Display for mobile technology in Sony's top BRAVIA® models recreates incredibly rich natural colors in the new VAIO Pro and Duo PCs. Due to a wider color range, the technology renders hard to reproduce reds, blues, and greens more accurately, giving mobile devices the ability to display intense colors better than ever before.
In addition to TRILUMINOS Display for mobile, the new VAIO PCs employ Sony's super resolution picture engine, X-Reality™ for mobile. X-Reality for mobile analyzes each image by comparing each frame to its built in database and reducing visual noise, replacing corrupted pixels and correcting black levels to optimize quality, creating the sharpest videos, regardless of the content source. The combination of these technologies ensures that VAIO users truly experience a level of picture quality that exceeds expectations.
In addition, the Exmor R® for PC CMOS Sensor technology developed by Sony provides high-quality camera functionality.
The display technologies and exceptional camera quality are fused with Sony's ClearAudio+ to provide a louder and clearer sound that is distinctly Sony. With unique sound processing technologies, listeners hear dynamic bass and soaring highs with clarity and less distortion for an unmatched music and movie experience.
"By combining the power of Sony's display, digital imaging and sound technology with new and innovative form factors, VAIO is offering a variety of new ways for consumers to interact with their PCs," said Pedro LaFarga, SVP, Sony VAIO & Networked Products Division. "The PC landscape is undergoing a tremendous amount of change and Sony VAIO is leading the transformation with new ultra-portable devices that enhance and enrich individuals' lifestyles in both work efficiency and play."
VAIO Pro 11/13
Available in both 11-inch and 13-inch models and weighing just 1.92 lbs. and 2.34 lbs., respectively, the VAIO Pro laptops are the lightest touch Ultrabooks. The VAIO Pro line is exquisitely crafted in carbon fiber and features an aluminum palm rest design that gradually merges into the desk for maximum comfort while typing on the full-pitch keyboard.
Powerful Performance
The sophisticated VAIO Pro 13 is the first notebook PC on the market to include a high speed PCIe SSD drive, allowing for faster performance than traditional SSD drives.
For the road warrior, there is also an optional extended sheet battery in order to double the standard battery life for both the VAIO Pro 11/13 models. With the sheet battery, the VAIO Pro 11 model will deliver up to 14 hours while the VAIO Pro 13 model will deliver up to 13 hours of battery life.
VAIO Duo 13
Transforming between a touchscreen slate and a fully functioning conventional laptop, the all new VAIO Duo 13 slider hybrid Ultrabook is the best of both worlds.
The sleeker VAIO Duo 13 is made with carbon fiber and weighs a mere 2.93 lbs. While increasing the screen size and minimizing the bezel in order to maximize the viewing experience, the new VAIO Duo 13 was still able to maintain nearly the same footprint and weight as the original VAIO Duo 11.
Surf Slider® Design
The newly engineered Surf Slider® design features a slimmer hinge allowing for a quick and seamless transition between tablet and laptop modes. With one hand, users can slide the sturdy screen back to reveal a full-sized backlit keyboard and track pad. Returning the VAIO Duo 13 to its original position lets users interact with the device in tablet mode by touch or with the pressure-sensitive digitizer stylus.
Camera and Pen solutions
VAIO Duo PC's 8-megapixel rear-facing camera features the Exmor RS for PC image sensor and makes it possible for the first time to take images of documents clear enough for the computer to recognize and tag text in the photos. The Exmor RS for PC image sensor technology combined with the new CamScanner application enables users to take crisp images of documents using the computer's camera as if it were a scanner and edit and organize multiple documents. CamScanner also has the ability to straighten images of documents and photos taken at odd angles, allowing individuals to focus on taking photos of important material instead of lining up the perfect shot.
Conveniently stored on the side of the PC in an ink well or clip, the intuitive digitizer stylus allows for a more accurate and natural writing experience. Simply pick up the pen from its holder and instantly wake the PC to write, draw or tap the touchscreen effortlessly. Users can take notes in the memo taking application, Note Anytime for VAIO®, or easily crop an image with Active Clip® using intelligent edge detection technology.
Active, even during sleep
VAIO Duo PC's innovative standby technology offers a variety of new user experiences that can't be found on conventional PCs. By maintaining a constant connection to the internet even while in sleep mode, the VAIO Duo 13 is able to continue updating applications and receiving emails even while asleep, eliminating the need to wait for the PC to resume. In addition, the VAIO Duo 13 is able to wake from sleep mode in less than a second. The VAIO Duo 13 will deliver up to 10 hours of battery life.
High Level of Standard Features
The VAIO Pro and VAIO Duo models include standard Sony features such as a full-size backlit and full-pitch keyboard, track pad and Rapid Wake technology for instant PC resume in less than one second. Also included is USB charging of personal devices on the go even when the computer is powered down or in sleep mode. In addition, there is a USB charging port housed within the AC adapter.
With NFC (Near Field Communication technology) included in all of the new summer 2013 VAIO models, users can now quickly exchange website URLs and enable Bluetooth® connections by simply tapping a compatible NFC device to the new VAIO Pro and VAIO Duo PCs.
For peak performance, the VAIO Pro and VAIO Duo models deliver quicker boot-ups, faster application launches and overall enhanced performance with Solid State Drive options.
With the new fourth generation of Intel® Core™ processors, the ultraportable VAIO Pro and Duo PCs will be available with up to Core™ i7, delivering maximized performance that masters the most demanding tasks, multimedia, full on gaming and the best battery life yet.
Also included with both the VAIO Pro and VAIO Duo lines is ArtRage® Studio (VAIO Duo includes ArtRage Studio Pro), the premiere digital arts software. ArtRage Studio offers natural painting tools such as oil paints and watercolors, along with utilities to make painting easier for anyone who wants to paint or draw on their computer regardless of skill level.
And for those that want to try their hand at video creation, the VAIO Pro and VAIO Duo lines include VAIO® Movie Creator.
Awarding Winning Service and Support
The VAIO Pro 11/13 models come with an award winning one-year limited warranty that includes In-home service and VAIO Care software. By pressing the ASSIST button users effortlessly install and uninstall new software and drivers, quickly identify and troubleshoot issues, create restore and recovery media, and connect with a Sony expert via phone, chat or online. For additional extended coverage, VAIO Protection Plus offers protection against accidental damage from handling, an onsite service plan and express ship coverage.
Pricing and Availability
The VAIO Pro 11/13 models are available beginning June 9th in Carbon Black and Carbon Silver for about $1149 and $1249. The VAIO Duo 13 model is available beginning June 9th in Carbon Black and Carbon White for about $1399. Both lines are available at Sony retail stores and other authorized dealers nationwide. For images and information, please visit www.sony.com/news.
[/accordion]