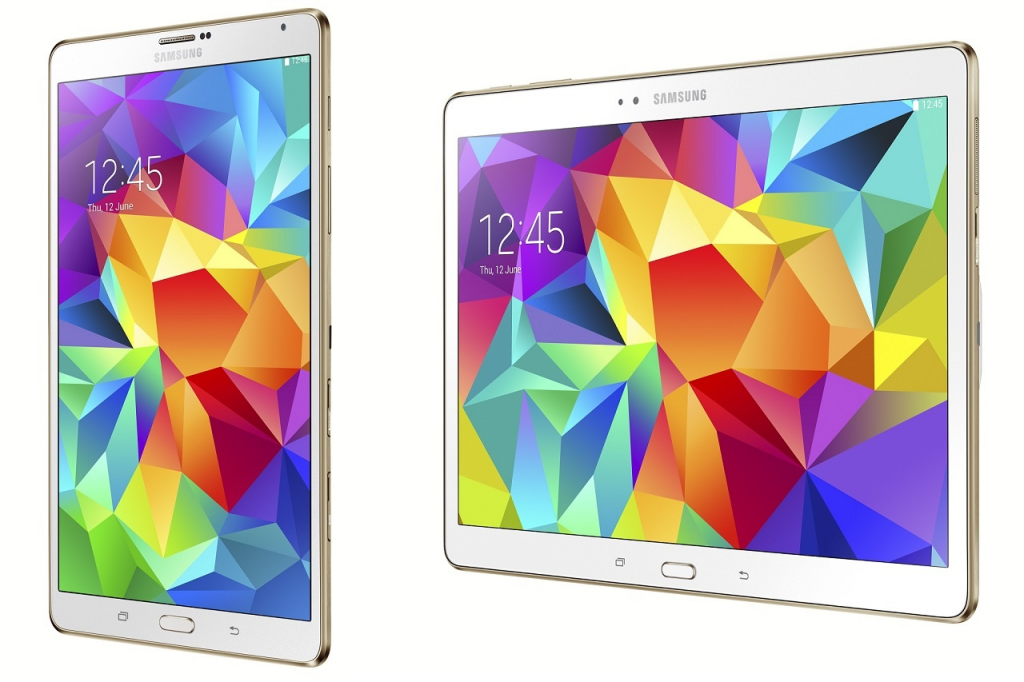 Samsung have just announced a new line-up of tablets on their Galaxy Tab Range, two infact. The new tablets are called Galaxy Tab S and will come in an 8.4-inch and 10.5-inch form factors. The most stand out feature of the new line-up is the fact they both include a 2,560 x 1,600 resolution Super AMOLED displays with their respective display sizes (8.4 and 10.5-inches).
Both devices come with either an Exynos 5 Octa or Qualcomm Snapdragon 800 chipset (depending on region), 3GB of RAM, 8MP rear facing camera with LED flash and 2.1MP front facing camera. Both tablets will also include a fingerprint sensor and multi-user profiles, allowing more than one user to access different content and log in by swiping their finger.
We have included the full specs for each tablet below, along with a gallery of the new tablets. The new tablets will begin to ship in July and be available in Titanium Bronze or Dazzling White.
Galaxy Tab S 8.4-inch
[accordion title="Galaxy Tab S 8.4-inch Full Specifications" id="Galaxy Tab S 8.4-inch"]
Category
Specifications
Network
LTE : 800/ 900/ 1800/ 2600+850/ 2100

3G : 850/ 900/ 1900/ 2100

2G : 850/ 900/ 1800/ 1900

Processor
Exynos 5 Octa (1.9 GHz QuadCore +1.3 GHz Quadcore)  or Qualcomm Snapdragon 800 2.3 GHz Quadcore*
Display
8.4" 2560×1600(WQXGA) Super AMOLED
OS
Android Kitkat (4.4)
Camera / Flash
8MP w/ Flash LED + 2.1MP Full HD
Video
H.263, H.264(AVC), MPEG4, VC-1, WMV7, WMV8, VP8

Recording : FHD(1920 x 1080) @ 30fps

Playback: WQHD (2560×1440) @ 30fps

Audio
MP3, AAC, AAC+, eAAC+, WMA, Vorbis, FLAC
Content Services / Applications
Papergarden, Professional pack, Multi-user mode, Sidesync 3.0, Gear & Gear fit manager
Free Downloadable apps
Group Play, S-Note, S Translator, Samsung Link, Scrapbook, Story Album, Video Editor,
Gear Manager, Gear Fit Manager, Samsung Smart Switch, Samsung Level, E-meeting, Kids Mode, Kids Piano(Ding Dong Tap), S-Console, Hanshow, Hancell, Hanwrite
Google Mobile Services
Chrome, Gmail, Google Search, Maps, Play Store, Voice Search, YouTube, Google+, Hangouts, Play books, Play Games, Play Newsstand, Play Movies & TV, Play Music, Drive, Google setting, Photos
Connectivity
WiFi 802.11 a/b/g/n/ac MIMO, WiFi Direct, Bluetooth®4.0, IrLED
GPS
GPS, GLONASS, Beidou(not supported in USA, Canada)
Sensor
Accelerometer, Fingerprint Sensor, Gyro Sensor, Geomagnetic Sensor, Hall Sensor, RGB Sensor

*Proximity Sensor(only LTE ver)

Memory
3GB (RAM) + 16/32GB internal memory

microSD up to 128GB

*Memory options may be varied by product model or available regions

Dimension / Weight
125.6 x 212.8 x 6.6mm, 294g(Wifi) /298g(LTE)
Battery
4,900mAh
[/accordion]
Galaxy Tab S 10.5-inch
[accordion title="Galaxy Tab S 10.5-inch Full Specifications" id="Galaxy Tab S 10.5-inch"]
Category
Specifications
Network
LTE : 800/ 900/ 1800/ 2600+850/ 2100

3G : 850/ 900/ 1900/ 2100

2G : 850/ 900/ 1800/ 1900

Processor
Exynos 5 Octa (1.9 GHz QuadCore + 1.3 GHz Quadcore) or Qualcomm Snapdragon 800 2.3 GHz Quadcore *
Display
10.5" 2560×1600(WQXGA) Super AMOLED
OS
Android 4.4 (Kitkat)
Camera / Flash
8MP w/ Flash LED + 2.1M Full HD
Video
H.263, H.264(AVC), MPEG4, VC-1, WMV7, WMV8, VP8

Recording : FHD(1920 x 1080) @ 30fps

Playback: WQHD (2560×1440) @ 30fps

Audio
MP3, AAC, AAC+, eAAC+, WMA, Vorbis, FLAC
Content Services / Applications
Papergarden, Professional pack, Multi-user mode, Sidesync 3.0, Gear & Gear fit manager
Free Downloadable apps
Group Play, S-Note, S Translator, Samsung Link, Scrapbook, Story Album, Video Editor,
Gear Manager, Gear Fit Manager, Samsung Smart Switch, Samsung Level, E-meeting, Kids Mode, Kids Piano(Ding Dong Tap), S-Console, Hanshow, Hancell, Hanwrite
Google Mobile Services
Chrome, Gmail, Google Search, Maps, Play Store, Voice Search, YouTube, Google+, Hangouts, Play books, Play Games, Play Newsstand, Play Movies & TV, Play Music, Drive, Google setting, Photos
Connectivity
WiFi 802.11 a/b/g/n/ac MIMO,WiFi Direct, Bluetooth ®4.0, IrLED
GPS
GPS, GLONASS, Beidou(not supported in USA, Canada)
Sensor
Accelerometer, Fingerprint Sensor, Gyro Sensor, Geomagnetic Sensor, Hall Sensor, RGB Sensor
Memory
3GB (RAM) + 16/32GB internal memory

microSD up to 128GB

*Memory options may be varied by product model or available regions

Dimension / Weight
247.3 x 177.3 x 6.6 mm , 465g(Wifi)/ 467g(LTE)
Battery
7,900mAh
[/accordion]