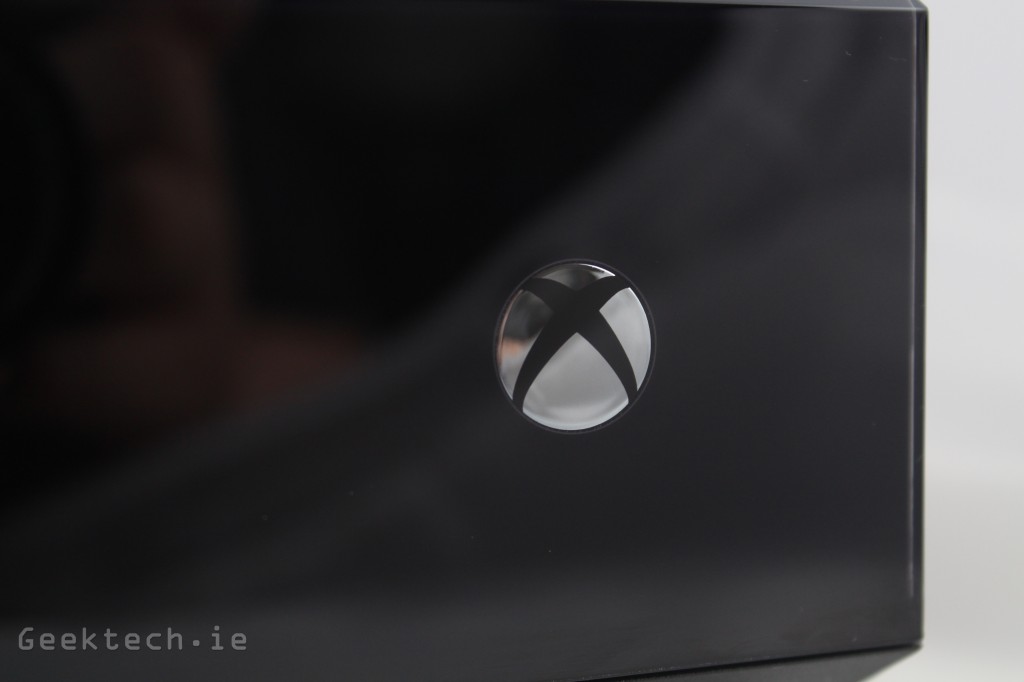 Next gen is upon… well technically it has been for awhile now and even longer if you count the Wii U, but most think of both the Xbox One and the PlayStation 4 as the real next generation of console gaming. The new era of gaming begins with the latest from both Microsoft and Sony and console gaming since the launch of the Xbox 360 and PS3 hasn't been the same. When the original Xbox 360 and PS3 launched, they couldn't do half the things they can now, games didn't look as good. There has been multiple hardware releases of each console evolving over time with the launch of Kinect for the Xbox and Move for the PlayStation, both Microsoft and Sony didn't just stop developing the consoles at lauch, but rather continued right up until the next gen.
Some will probably be asking why this is important, but both Microsoft and Sony are using everything they learned from the previous generation and are building that directly into their next gen consoles. So while the Xbox One and PlayStation 4 have new features, they mainly benefit from everything both companies have learned over the years.
The Xbox One includes a new and improved joypad and Kinect 2.0 as standard and since it comes with every Xbox, it's more integrated in the console and it's entire OS, however, that being said, anyone can use their console without it and navigation can still be done using a joypad. To start of the review of the Xbox One, we are going to take a look at the specs below.
Specifications
The Xbox One features an AMD APU with 8 Core CPU clocked at 1.75GHZ, 8GB of DDR 3 memory clocked at 2,133MHz and 32MB eSRAM. The APU includes a GPU with AMD Graphics Core Next Architecture (GCN) with a clock speed of 853MHz and a compute power of 1.23 TFLOPS. The Xbox One also features the ability for HDMI in allowing users to connect their cable/sat boxes directly to it and even be able to play games and watch tv at the same time, but more on that later.
Games come on either Blu-Ray discs or can be simply purchased and downloaded from Xbox Live, although we must point out that some games are over 40GB and downloading will take a long time even with 100mb/s+ connections. The Xbox One also includes Kinect 2 which now has the ability to see in the dark, increased resolution and better voice recognition. The controller, has reportedly over 100 changes and includes direct wired/wireless connectivity in all joypads using a MicroUSB cable, pulse triggers, improved D-Pad and analogue sticks.


| | |
| --- | --- |
| CPU: | 8 Core AMD custom CPU Frequency: 1.75 GHz  |
| RAM: | 8GB DDR3, Clock: 2133MHz Bandwidth: 68.26 GB/s, 32MB eSRAM Bandwidth: 204 GB/s(102 In/Out)  |
| Flash Memory: | 8GB Flash Memory  |
| GPU: | Clock Speed: 853 MHz, Shader Cores: 768, Peak Throughput: 1.23 TFLOPS |
| Storage: | 500 GB Hard Drive non-replaceable, External Hard Drive support coming, Cloud Storage |
| USB: | USB 3.0 (3 ports with 1 left side and 2 rear) |
| Networking:          | Gigabit Ethernet, WiFi (A/B/G/N dual-band at 2.4ghz and 5ghz), WiFi Direct  |
| Audo/Video:          | HDMI input and output (4K support), Optical Audio Out |
| API: | DirectX 11.1 |
Photos
Now it's time to take a look at the Xbox One , starting with the joypad, moving on to Kinect and then finally the console itself.
Joypad
Kinect
Console
Gaming
Microsoft have been doing a lot to advertise the Xbox One as more than just a games console with all of the entertainment offerings it comes with, not to mention you can input your Set Top Box directly into it have even have the Xbox One control it. Regardless of that it still is games console with some amazing games already available and even more coming soon including some impressive exclusive titles. This part of the review is pretty straight forward. We put together a quite a few gameplay videos to give you a small idea of what the Xbox One has to offer gaming wise.
Just a quick note that we used a Black Magic Intensity Pro to capture the gameplay and recording is done with the Xbox One set to 720p rather than it's native 1080p. Also once encoded and then uploaded to YouTube, some of the quality again would be lost. So keep in mind that these games look much better in person and again set to 1080p.
[accordion title="Battlefield 4″ id="1″]
[youtube width="670″ height="440″]3uqUvg0_DMo[/youtube][/accordion]
[accordion title="Call of Duty Ghosts" id="2″]
[youtube width="670″ height="440″]Vx7TvxVCVic[/youtube][/accordion]
[accordion title="FIFA 14″ id="3″]
[youtube width="670″ height="440″]zgfKF9k1C5Q[/youtube][/accordion]
[accordion title="NBA 14″ id="4″]
[youtube width="670″ height="440″]GaclgSf6itE[/youtube][/accordion]
[accordion title="Assassin's Creed IV: Black Flag" id="5″]
[youtube width="670″ height="440″]ED1GdjB7QBs[/youtube][/accordion]
[accordion title="Ryse: Son of Rome" id="6″]
[youtube width="670″ height="440″]0Kzx55QSldg[/youtube][/accordion]
[accordion title="Need for Speed Rivals" id="7″]
[youtube width="670″ height="440″]IBMnwPeyDWw[/youtube][/accordion]
[accordion title="Dead Rising" id="8″]
[youtube width="670″ height="440″]i-skfQ3rL6E[/youtube][/accordion]
[accordion title="Forza" id="9″]
[youtube width="670″ height="440″]X2gLR6DnLAc[/youtube][/accordion]
Dashboard/features
The Xbox one doesn't just come with a hardware upgrade and new features, as of course with any new console comes a completely new custom OS and in this case the Microsoft are technically bringing three operating systems to the Xbox One. First we have the dedicated Xbox OS and then we have a custom Windows Kernel and finally we have a hyper-visor OS that allows the other two to communicate.
The layout of the Xbox One doesn't just borrow from the Windows side when it comes to it's operating system, but it also borrows it's design from Windows 8 and Windows Phone. Microsoft obviously aiming to bring their platforms together with single unified look with a subtle overall layout. So with that in mind let's jump into and take a look at the OS layout and some of the features.
First up we have the Home screen which is the middle are of the entire main dashboard before apps/games come into play. This part of the dashboard is pretty straight forward and the center holds your current or previously launched application with the 4 icons directly underneath the most recent apps/games that you have launched. To the right of them we have the Snap, My games & apps and finally whatever happens to be in your disc drive, in this case we had Need for Speed Rivals. That's pretty much the Home area of the Xbox One dashboard, there is the few featured ads on the right side, which advertised Xbox One content.
The left side of the dashboard dubbed Pins is identical to Windows 8 and the Metro UI side of things whereas the user can pin any application, utility, or game to the main dashboard to quickly launch at anytime. The icons are all the same size and cannot be changed, and while arrangement can be altered, it's not all that pleasant to do as it requires moving a single icon to the front of the list one at a time.
Finally we have the right side which static shortcuts to different parts of Microsoft's content offerings. First we games, which as a console is important. Then we have Movies & TV, Music, and the finally Apps. The Movies & TV and Music shortcuts are permanently for Microsoft content and the apps shortcut is to all the available apps on the Xbox Store. Below the rather large icons is a search bar (powered by Bing) that allows you to search the entire Xbox Store for specific content.
Above is a quick shot at the Games available on the games store. The good news is that every game for the Xbox One is available and will be with every new title, which means, you don't have to head to your nearest store to pick up a game. Sadly, however, the pricing is rather high and doesn't even compete with disc based games, which offer the ability to resell or even lend out at will.
Achievements of course continue with the Xbox One and above we have the new timed based challenges which are actually for unlocking in game content and awards rather than actual achievements. Your gamer score does continue on from the Xbox 360 and you can also view achievements earned from other Microsoft platforms.
Continuing we Achievements we can see that Microsoft has given them somewhat of a face lift and developers can assign image directly to each achievement, not that big of a deal, but nice that developers can put more effort into the achievements and include nice graphics.
Here we have profile section and the image above is of the friends list. The social side of the Xbox One is planned to get a decent overhaul/upgrade, so we will keep this part short. Users can now follow other users without actually directly adding them as a friend, so just like Twitter. This is aimed at developers of the games themselves and means that gamers and follow other people's activity and possibly join them in a game. You can control how much if any information is shared with followers or simply not allow any followers. Adding friends is no different than compared to the Xbox 360, however this time there is no limit on how many friends you can have.  The Party system is rather complicated and actually requires manually switching chat to enter it, rather than be automatic from a game/party invite.
Here we have the Notification area, which is a single icon located in the top left of the dashboard at all times and display any messages, invites or phone calls assuming you have Skype active.
Multi-tasking is possible on the Xbox One in the same way that Windows 8 apps are able to share part of the screen with others. The above screen shot shows the activity feed being displayed along side a game or movie or any app really. Skype video calling was a deeply advertised feature of this within ads for the Xbox One up to launch, but sadly isn't yet present. However the Multi-tasking did work rather well and while most of the time we feel people would rather concentrate on playing/watching their game/movie than have information. There is no doubt that things like the actvitiy feed will be help and quickly browsing the internet or having information be displayed on playing a game will come in handy. The Skype video calling would have easily been on the list, but sadly Microsoft have yet to update the Xbox to support it.
Lastly we have video we put together on the dashboard/OS, it covers mostly the stuff we talked about above with some other details as well.
[accordion title="Xbox One Dasboard/OS" id="10″]
[youtube width="670″ height="450″]Q0Q41FijGrM[/youtube][/accordion]
Conclusion
Now it's time to wrap up the Xbox One review and we are going to break down our opinions in a few sections and each with their on words. while some parts will be general towards the console as a whole, we aim for each part to specific. Lastly we will have some words on our overall experience with the console.
Console (OS/Dashboard)
The Xbox One OS is a grouping of three different operating systems and the reason for that is that Microsoft didn't want the Xbox One to be all about gaming. While it's still completely a gaming console all around, some of it's DNA is actually Windows itself. Microsoft want the Xbox One to be the like the One Ring and be the One to rule them all. Effectively they want Xbox One to be the main source of your entertainment, be it, TV, Movies, Gaming, or Music. Something the Xbox 360 evolved into during it's tenure from launch. The Xbox One is everything the Xbox 360 came to be, but from the beginning.
The OS feels instant most of the time, with installs and downloads taking up the rest. Games do launch quickly and the entire dashboard and apps are available even if a game is still running. While as a games console, multi-tasking isn't all that important, we again raise the statement that Microsoft want the Xbox One to do more than just play games and ultimately we say "Why Not" Games consoles are profound for one thing and that's that they have a lot of computing power and basically that means they can easily offer us any form of entertainment.
Multi-tasking goes future with the Snap feature that allows you to have part of the screen taking up by a separate app or function. We felt that the Activity feed was a great demonstration of it's usefulness as it allows you to display your friends activity while your play a game and you can see updates as they come in. This features so many more functions including watching TV, Browsing the Internet and soon Skype Video calling, all while playing a game or watching a movie/TV in the main area of the screen.
We are pleased enough with the Xbox One OS to say we look forward to the future, however there are quite a few negatives that we hoped would have been updated/fixed by now, but we guess Microsoft don't want to be pushing out to many updates too soon.
The lack of any real storage monitoring is a concern, but not much of a flaw at the moment and we have no doubt that Microsoft will implement something to fix this soon. It's still something of an oversight to miss something as crucial as file management. Another big oversight would be the lack of warning when moving from one game to another, in other words, if your running a game and jump back to the dashboard and click on another, it will run without warning that your previous game will end. Basically you could accidentally end a running game by clicking on another without intention.
Right now, the Xbox One OS feels like it's missing the years of feedback that Microsoft would have gotten from the Xbox 360 and sadly we feel the Xbox 360 has a nicer and more elgenatly laid-out OS. This is possibly due to Microsoft wanting to keep their platforms sharing a similar design critique,
Overall the Xbox One OS runs nicely and the ability to Pin apps/games are the only savior of the lack of any real elegant navigation. Things like system settings, messages, and invites should be readily available with the push of a button, but sadly they are always in the same place, and that's assuming you pin them to the home screen and if you don't you will have to hit quite a few buttons to get to them. Basically Microsoft wanted to emphasize the fact that the dashboard was available at all times regardless of what was running, and because of that ability, they assumed they didn't need a miniature dashboard/guide like the Xbox 360, but ultimately that's reverse thinking and the guide on the Xbox 360 made navigating while playing a game much simpler.
Controller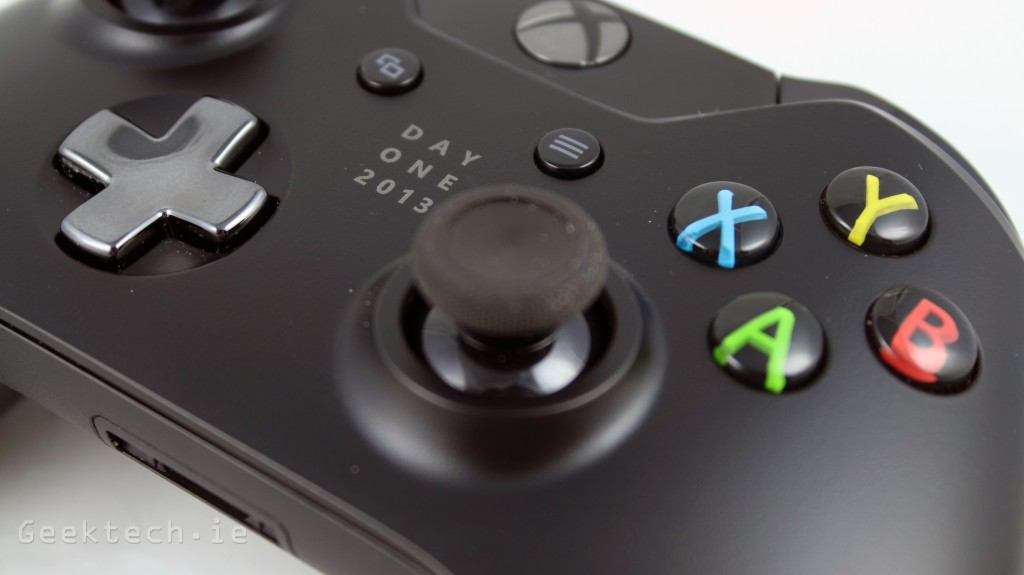 The heart of any game console is of course the joypad, even with Kinect the Xbox One joypad holds a more important part that any other single component as it's the way we interact with the games.
This part is quite simple and we can say hands down that the Xbox Joypad is epic in every sense of the word. Microsoft took the Xbox 360 joypad and let it evolve and that is the Xbox One controller. There are many changes to the controller and at the same time it's nearly identical to its predecessor. It provides a comfortable feel and has the exact same buttons and their same lay-out with some both the analog sticks getting a much welcome grip enhancement and the d-pad being more like an actual d-pad.
Microsoft didn't want to change too much when it came to the Xbox One joypad, so they rather added a few things, with some very subtle. The batteries (2 x AA) are now apart of the design and no longer protrude out of the back, however, even though all the controllers are wireless, they can in fact be directly wired joypads and not like on the Xbox 360 either. They used a Micro USB cable which actually sends the data and not just provides power, unlike the Xbox 360 that simply provided power, which basically means less lag than with wireless.
The biggest addition would be the impulse triggers which provide vibration feedback directly to the gamers fingertips for both the left and right triggers. Forza 5 includes a rather perfect demo of these additions and provides feedback when accelerating and braking. We can't wait for developers to really take advantage of these and feel they are a great benefit to the overall excellent joypad.
The only downside is the lack of internal power, which means you need to use batteries/cable or fork out for the rechargeable battery pack and cable. However, it might be considered a plus, as some have their own rechargeable batteries and they can simply swap out dead batteries for full batteries and stay completely wireless should they run out in the middle of a game.
Overall we love the Xbox One controller and anyone that enjoyed the Xbox 360 controller will no doubt love it as well and it provides a great step forward for the Xbox One, while still holding on to it's roots from the Xbox 360.
Kinect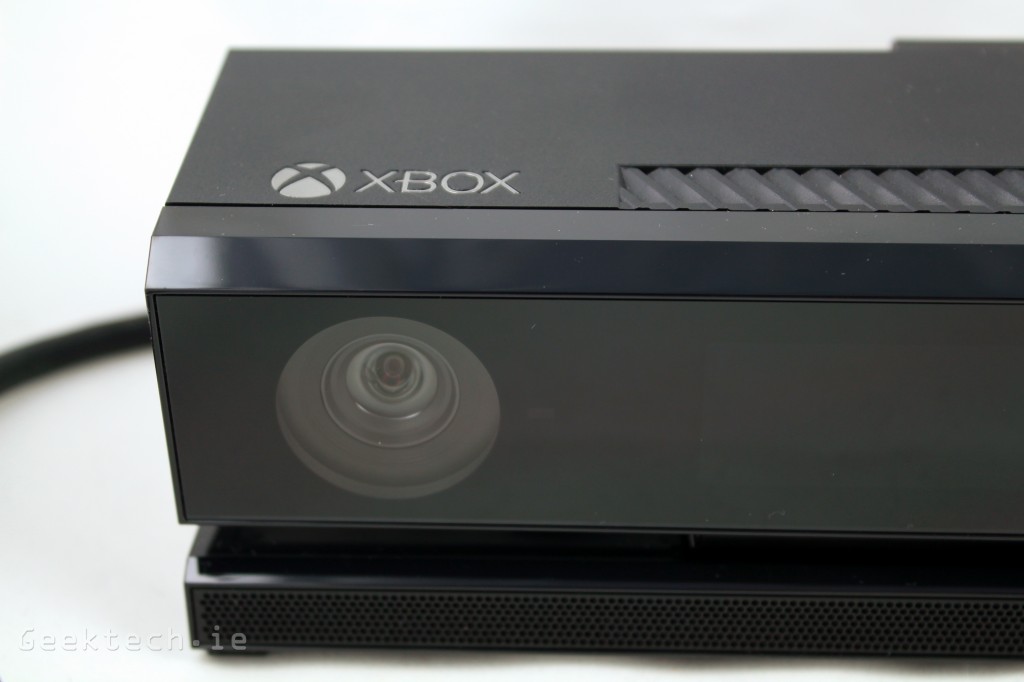 Kinect 2.0 is quite the upgrade to the original Kinect which we must point out was one of the fastest selling gadgets ever released and for good reason. The motion tracking and voice control over the Xbox 360 were a big deal and brought new live to the console only a few years ago. Kinect 2.0 however is a massive step forward for the accessory or in this case a stock attachment for the Xbox One.
This time around Microsoft have increased the resolution, added infrared LED's and IR sensor so it can see in the dark, and let's not forget it has wide array microphone to enable the voice control over the Xbox One.
A major problem for users in Ireland is that Kinect voice control is actually disabled once your pick Ireland as your locale. So basically the whole advertised feature of being able to control your Xbox One through Kinect voice is non existent. Switching our locale to the UK allowed us to use Kinect voice and overall it works very well and picked up probably around 90%+ of our commands, but switching the locale meant Xbox store access was moved to the UK store and prices were in Sterling currency.
Microsoft obviously aren't ready to support the wide range of Irish accents and because of that disabled the voice control feature, however the real issue was the fact this was hidden until after launch and considering how much advertising went on the voice control side of the Xbox One, it should have been ready or launch or at least detailed it was missing for certain regions, even more worrying is that it worked rather well when using the UK locale, so a simple warning that it wouldn't have been perfect would sufficed..
Issues aside, the biggest advantage Kinect has now is that it comes with every console, which means developers can use it without needing to worry if a gamer has Kinect or not like they had to on the Xbox 360. Battlefield 4 included a subtle, but rather epic use of Kinect whereas the gamer strafing in real life causes the character in the game to strafe as well, like we said, subtle, but during our gameplay, we must say it was a useful feature.
At the moment Kinect 2.0 is hard to completely judge. Yes it is a massive improvement on the original Kinect, but until we see more developers take advantage of it in the months and years ahead, it's hard to say how much of a benefit it will be. Basic control over the OS with voice control or hand tracking is there and works mostly well, but still falls behind the easy nature of flicking a button or analog stick.
Ultimately we feel the success of Kinect 2.0 will be determined by how much the developers include it games and by that we mean how well and not by forcing gamers to use it for unnecessary reasons. The already subtle nature of Battlefield 4 is a great demo of this and hopefully that's just the beginning.
Gaming
The ultimate reason for the Xbox One's existence. As much as Microsoft want it to be an everything device for your entertainment needs, it is deep down a games console and without great games, it will fail. Thankfully the games rock on the Xbox One and and some of them are exactly describe the next gen era. While technically since all next gen consoles are now available, we are really talking about the current gen with the previous consoles the Xbox 360 and PS3 now becoming the last gen.
The new controller, Kinect and hardware inside the console itself mean nothing if the games are boring or graphically dull. That's just not the case with the Xbox One and games look great, play great and are definitely a sign of great things to come in the future. Forza 5 is simply a smooth running and really enjoyable game and while it was it's issues with certain small transactions that take place, we still feel graphics and direct gameplay wise that it's an excellent game.
Dead Rising 3 takes things to another level with the amount of detail and better yet the amount of Zombies displayed at once and while the current gen (Xbox One) isn't nor shouldn't be all about the poly count. We can't help but be impressed.
Even titles like Assassin's Creed IV, COD Ghosts, that are on both last and current gen, which give us a comparison between last and current gen and we can see that the Xbox One easily takes the graphics up a notch and while the third party developers of those games begin to transition to only current gen, it will be some time before we see their complete focus on the new range of consoles as we must keep in mind that the last gen has a much bigger user base, still, it's something to look forward too.
Thinking back to how games look on the Xbox 360 at launch compared to now, you wouldn't be blamed if you thought it was completely different hardware, even if done on the same exact console. Developers put more time and effort into each game and became way more efficient and developing games for that specific hardware using up as much of the resources it had to offer. While we can't say if the Xbox One which is based on X86 architecture will have the same leap forward in efficiency we can say without a doubt that its's just the beginning of the current gen and we look forward to developers taking full advantage of everything the Xbox One has to offer and considering how impressed we are of the games available for it now, gaming is only going to get better on the Xbox One.
Overall
It's difficult to sum up the Xbox One completely as it's still a new born and until its starts walking and talking, but based on what we have seen already seen the future is bright for the Xbox One and games already run nicely and look great and the OS while having a few issues is responsive and does feature some nice things such as Snapping apps for multi-tasking and pins for quickly launching different things, most of which will be a bigger benefit down the road when more games/apps are launched.
To further express our overall opinion we will end the conclusion and review with a sort of pros and cons list, but we wanted to be more specific so it's a things we liked, things we look forward to and, things we don't liked list.
Things we Liked
The Xbox one controller/Joypad
Custom Pins (although more sizes would be nice)
Snap/multi-tasking
Quick response of most of the OS
QR codes for inputting codes
Things we look forward too
Kinect 2.0: Voice control and game implementation
General OS improvements from user feedback
Great line-up of titles
Things we didn't like
Lack of any storage/file management
No warning when current app/game will be ended.
No time remaining on downloads/installs
No guide/mini dashboard for quick access
We are hugely impressed with the Xbox One and it offers many things including great games and features like snapping and voice control and is an all rounder when it comes to entertainment and while Microsoft have a lot of prove if the Xbox One will be the as successful as the Xbox 360, but it's off to a great start and we really look forward to the future.