The question has been asked more than once, are laptops a dying breed! Not really, but their market is getting smaller, but Gaming laptops however will always trend higher since they offer high end desktop like performance with the portability of a laptop, hence gaming laptop. So up for review is Toshiba's gaming laptop the Qosmio gaming laptop(X870) which was released mid last year.
Like all reviews on geektech, we are going to dive into the specifications and then onto some shots of the device(full specs below)
Windows 8 64-bit (pre-installed)

3rd generation Intel® Core™ i7-3630QM Processor with Intel® Turbo Boost Technology 2.0
Toshiba TruBrite® FHD TFT High Brightness display for 3D Vision with LED backlighting and 16 : 9 aspect ratio
1 TB
128 GB
Dark Black Textured Aluminium Finish with red design highlights and red illuminated Qosmio logo in LCD cover, black keyboard
16,384 (4,096 + 4,096 + 4,096 + 4,096) MB
DDR3 RAM (1,600 MHz)
NVIDIA® GeForce® GTX 670M with CUDA™ Technology
weight : starting at 3.4 kg
W x D x H : 418.2 x 272.3 x 29.4 (front) / 43.5 (rear) mm
[accordion title="Full Specifications" id="id-here"]
Processor
type : 3rd generation Intel® Core™ i7-3630QM Processor with Intel® Turbo Boost Technology 2.0
clock speed : 2.40 / 3.40 Turbo GHz
3rd level cache : 6 MB
Operating System / Platform

Windows 8 64-bit (pre-installed)

Design Colour
colour : Dark Black Textured Aluminium Finish with red design highlights and red illuminated Qosmio logo in LCD cover, black keyboard
Solid State Drive
capacity : 128 GB
capacity : 128 GB
height : 9.5 mm
System memory
standard : 16,384 (4,096 + 4,096 + 4,096 + 4,096) MB
maximum expandability : 32,768 (2x system memory slots are accessible by end-user and 2x by Authorised Service Provider (ASP) only) MB
technology : DDR3 RAM (1,600 MHz)
Hard disk
capacity : 1 TB
drive rotation : 5,400 rpm
Blu-ray Disc™ drive
compatibility : CD-ROM, CD-R, CD-RW, DVD-ROM, DVD-R, DVD-R(DL), DVD-RW, DVD+R, DVD+R(DL), DVD+RW, DVD-RAM, BD-ROM, BD-R, BD-R(DL), BD-RE, BD-RE(DL)
maximum speed : Read: 24x CD-ROM, 8x DVD-ROM, 6x BD-ROM/ Write: 24x CD-R, 4x CD-RW, 10x HS CD-RW, 16x US CD-RW, 8x DVD-R, 4x DVD-R (Double Layer), 6x DVD-RW, 8x DVD+R, 4x DVD+R (Double Layer), 8x DVD+RW, 5x DVD-RAM
type : Blu-ray Disc™ drive (BD-ROM) with playback support, including DVD Super Multi drive functionality
Display
size : 43.9cm (17.3")
type : Toshiba TruBrite® FHD TFT High Brightness display for 3D Vision with LED backlighting and 16 : 9 aspect ratio
internal resolution : 1,920 x 1080
response time rise + fall (Typ.) : 5 ms
Graphics adaptor
type : NVIDIA® GeForce® GTX 670M with CUDA™ Technology
memory : 3,072 MB dedicated VRAM. Available graphics memory can be expanded using system memory, through TurboCache™ technology: up to 10,993 MB with 16 GB system memory installed as shown in the NVIDIA control panel, (with pre-installed 64-bit operating system).
memory type : GDDR5 Video RAM (resp. Video RAM and system memory combined)
connected bus : PCI Express®
Internal video modes
The following internal video modes are supported: :
resolution : 1,920 x 1,080
Max External Video Modes
Max Resolution : 2,048 x 1,536
Max Refresh Rate : 100 Hz
Non-interlaced resolution with max refresh rate : 1,920 x 1,200
Interfaces
1 × external monitor
1 × RJ-45
1 × headphone (stereo)
1 × external microphone supporting Sleep-and-Music
1 × Multi-Card Reader
(supports SD™ Card up to 2 GB, miniSD™/microSD™ Card with adapter up to 2 GB, SDHC™ Card up to 32 GB, SDXC™ Card up to 64 GB and MultiMedia Card™ up to 2 GB)
1 × integrated HD 3D Web Camera (1,280 x 800) with built-in microphone
2 × USB 3.0
2 × USB 3.0 supporting USB Sleep-and-Charge
1 × HDMI-CEC-out (REGZA-Link) supporting 1080p signal format
Expansion
4 (2x are accessible by end-user and 2x by Authorised Service Provider (ASP) only) × memory slots
Wireless communication
Compliancy : Wi-Fi™
Network Support : 802.11b/g/n
Manufacturer : Intel®
Wireless Technology : Wireless LAN
Version : Intel® Centrino® Wireless-N 2230
Manufacturer : Intel®
Wireless Technology : Bluetooth® 4.0 + LE
Version : 4.0 + LE
Wired communication
topology : Gigabit Ethernet LAN
speed : 10BASE-T/100BASE-TX/1000BASE-T
Sound system
supported audio format : 24-bit stereo
speakers : built-in 2×2 Harman Kardon® stereo speakers (incl. tweeters) with Slip Stream Technology support, enhanced by SRS Premium Sound 3D™
manufacturer : Realtek (ALC280Q-GR)
Keyboard
keys : 102
Windows keys : Yes
special features : Matt black tile backlit keyboard and 10-digit numeric keypad
Pointing device
type : Clickpad with multi-touch control gestures supporting various scroll, zoom and launch functionalities at your fingertips.
Battery
technology : lithium-ion
maximum life : up to 1h30min (Mobile Mark™ 2012)
AC adaptor
input voltage : autosensing AC adapter (100/240 V) for worldwide usage
output voltage : 19 V
output current : 9.5 A
Physical dimensions
W x D x H : 418.2 x 272.3 x 29.4 (front) / 43.5 (rear) mm
weight : starting at 3.4 kg
Warranty
1 year European Carry-in incl. local Pick-up & Return in the UK & Ireland. Toshiba also offers a large range of services to upgrade your standard warranty, please have a look at our website www.toshiba-europe.com/services to find the right service for your product.
Bundled hardware
AC adaptor
NVIDIA® 3D Vision™ 2 Wireless Glasses Kit 3D incl. active shutter glasses, storage pouch, cleaning cloth, interchangeable nose pieces and documentation
Bundled software
Intel® AppUp Center
Intel® Rapid Storage Technology
Intel® Wireless Display
McAfee® Internet Security (includes complimentary 30 day subscription)
McAfee® Security Advisor for Toshiba
Microsoft® FreshPaint
Microsoft® Office trial
Microsoft® Solitair Collection
SRS Premium Sound 3D™
TOSHIBA Blu-ray Disc Player
TOSHIBA Desktop Assist
TOSHIBA Eco Utility™
TOSHIBA Function Key
TOSHIBA HDD Protection
TOSHIBA Media Player by sMedio TrueLink+
TOSHIBA PC Health Monitor
TOSHIBA Places
TOSHIBA Recovery Media Creator
TOSHIBA Resolution+ Plug-in for Windows Media Player
TOSHIBA Service Station
TOSHIBA System Settings
TOSHIBA Tempro
TOSHIBA VIDEO PLAYER
Toshiba EasyMedia
Easy Entertainment
2×2 Harman Kardon® Stereo Speakers (incl. tweeters)
3D display
Blu-ray Disc™ drive
HDMI with 3D TV support
SRS Premium Sound 3D™
Sleep-and-Music
Solid State DriveEasy Connectivity
3D web camera
4x USB 3.0Easy Usability
Backlit keyboard
Power-saving Eco Utility
USB Sleep-and-Charge
Security features
HDD password on request
slot for Kensington Cable Lock
supervisor password
user password
Special features
ENERGY STAR 5.0 qualified computer
Enhanced Intel® SpeedStep® Technology
HD Audio support
SM BIOS compliant
Certification
The manufacturer declares that this product complies with the following directives and regulations for the CE-marking. Responsible for CE marking is Toshiba Europe GmbH, Hammfelddam 8, 41460 Neuss, Germany.
[/accordion]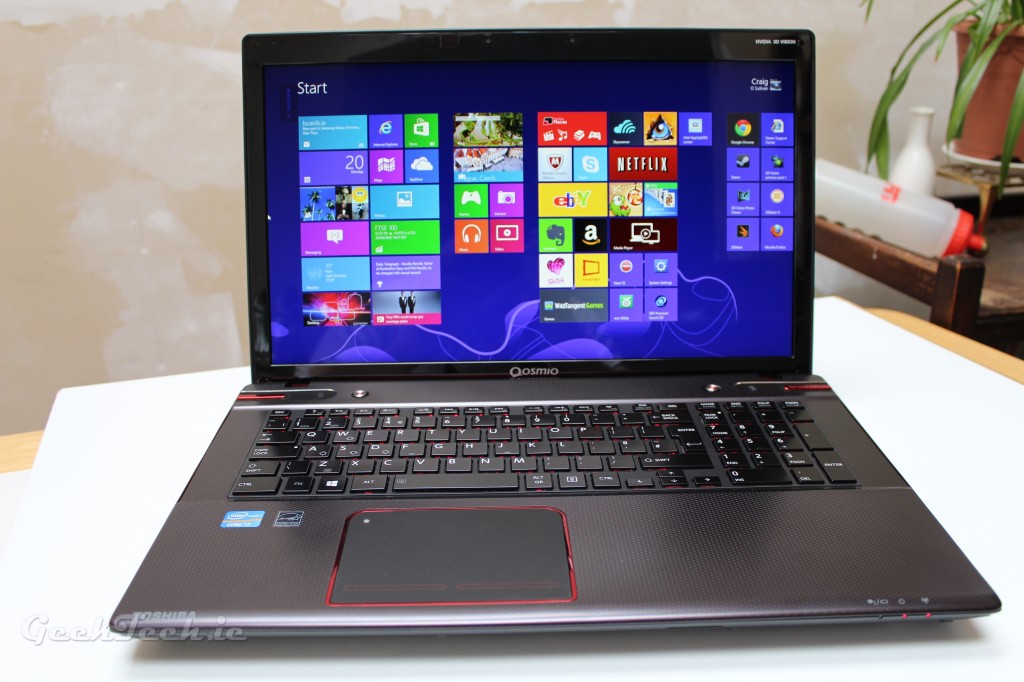 Now the laptop is beautiful, from the metal finish housing to the full 1080p 3D display). Let's take a closer look at the connections on each side of the device.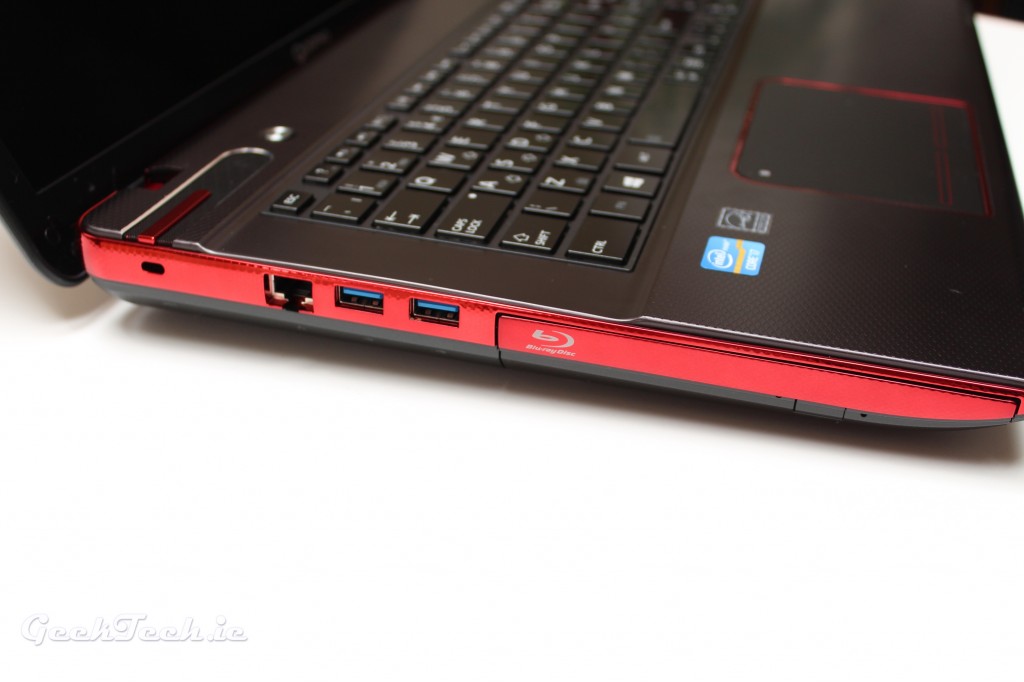 The left side of the laptop has the BluRay disc drive, gigabit Ethernet and 2 USB 3.0 ports.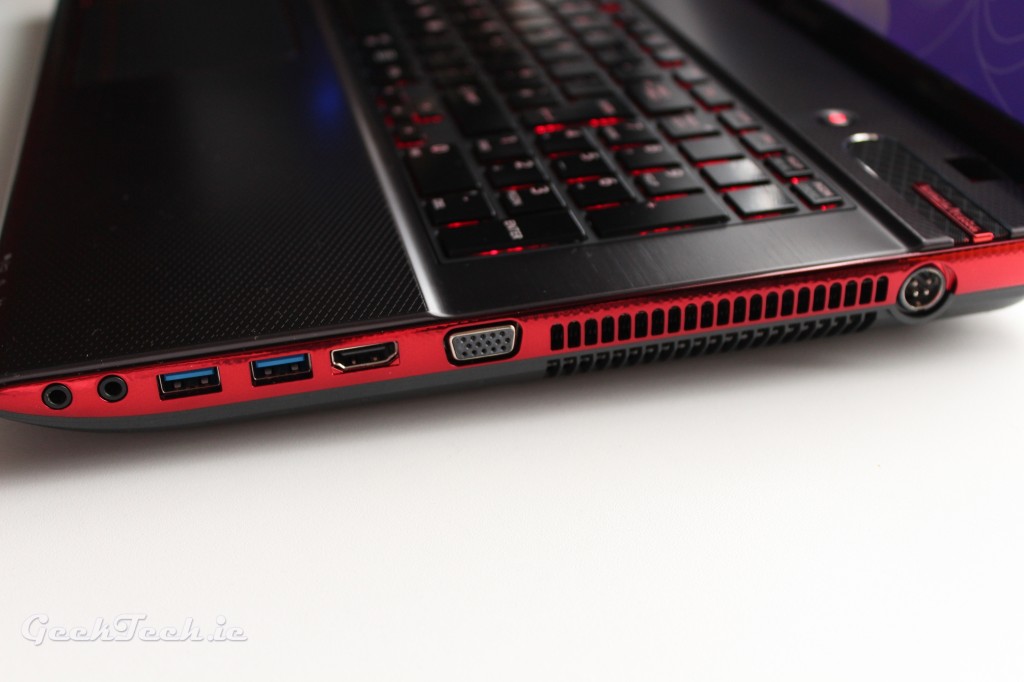 The right side is a little more active with both 3.55mm headphone/microphone jacks, another 2 USB 3.0 ports, HDMI and VGA outs and finally the power connector.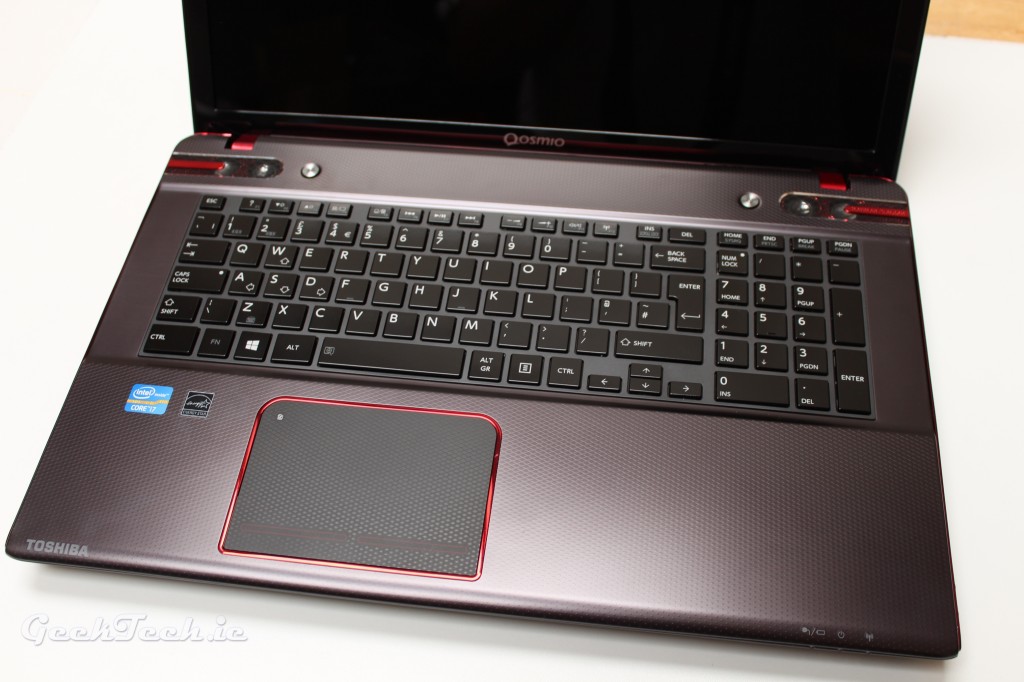 The keyboard is decent spaced, but doesn't provide the best tactile feedback for such a high end gaming laptop, but that's not to say it's bad, just unexpected. Typing is fairly smooth and the keyboard includes a numpad. The entire keyboard is backlit with red LEDS, which really complete the look of the laptop. The trackpad is fairly straight forward, but since we are talking gaming laptop, we don't expect much use over a mouse, but it work perfectly fine and includes the usual multi-touch functions.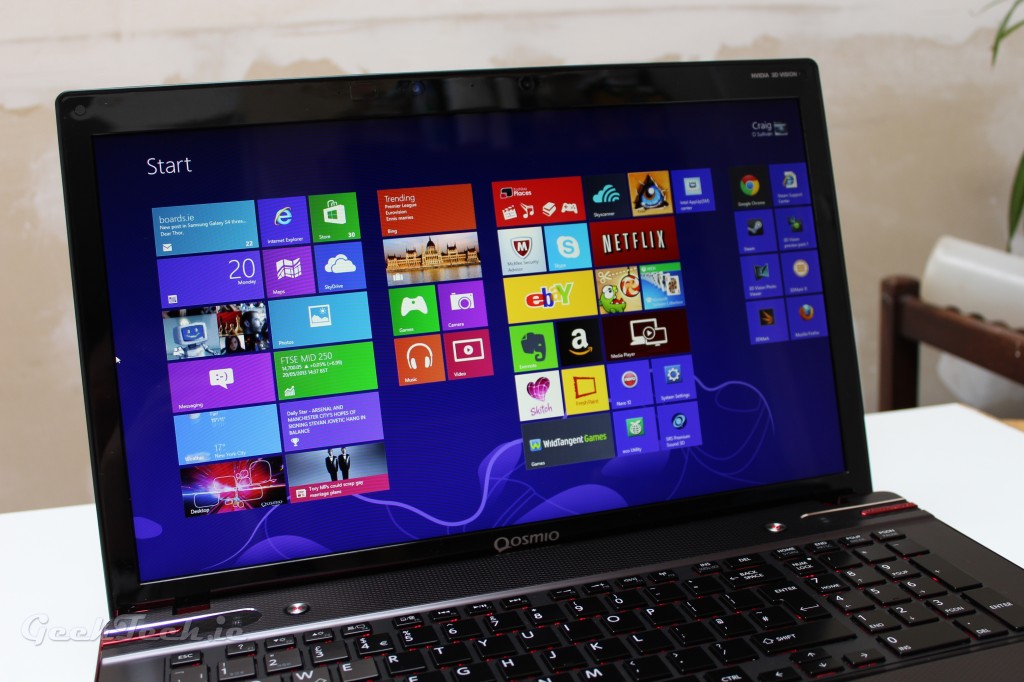 The main attraction towards any gaming laptop or even laptop in general will always be the display and luckily the Toshiba Qosmio packs a 3D 1,920 x 1,080 LED backlit 3D vision display. The laptop comes with a pair of Nvidia active 3D glasses for your 3D viewing pleasure.
Performance
That's it for the introduction side of things. Now let's get down to business and take a look at performance side of things, because after all a gaming laptop has to be pack to the brim with high end performance.
Inside the Toshiba Qosmio 870X-114 is a nice  Intel® Core™ i7-3630QM with a turbo ratio of 3.40GHz. 16GB of DDR3 RAM(1600MHz), Nvidia 670m graphics with 3GB of GDDR5 memory. This laptop is clearly meant to play games and perform task without breaking a sweat. So let's jump into our first benchmark.
The benchmarks we have done are listed below and we are showing a simply screenshot of the each benchmarks results, easy right!
3DMark (2013)
3DMark 11
PC Mark 7
Powermark (Battery tests)
Unigine Heaven
CineBench
CrysitalDiskMark(SSD)
So that should be plently to gauge the performance of the Toshiba Qosmio.
3DMark (2013)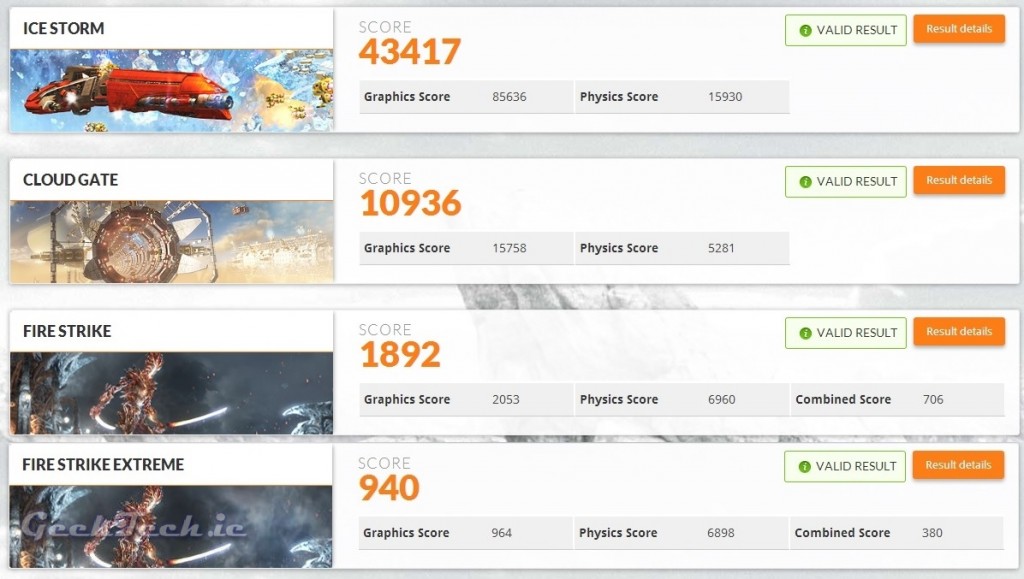 3DMark 11

PC Mark 7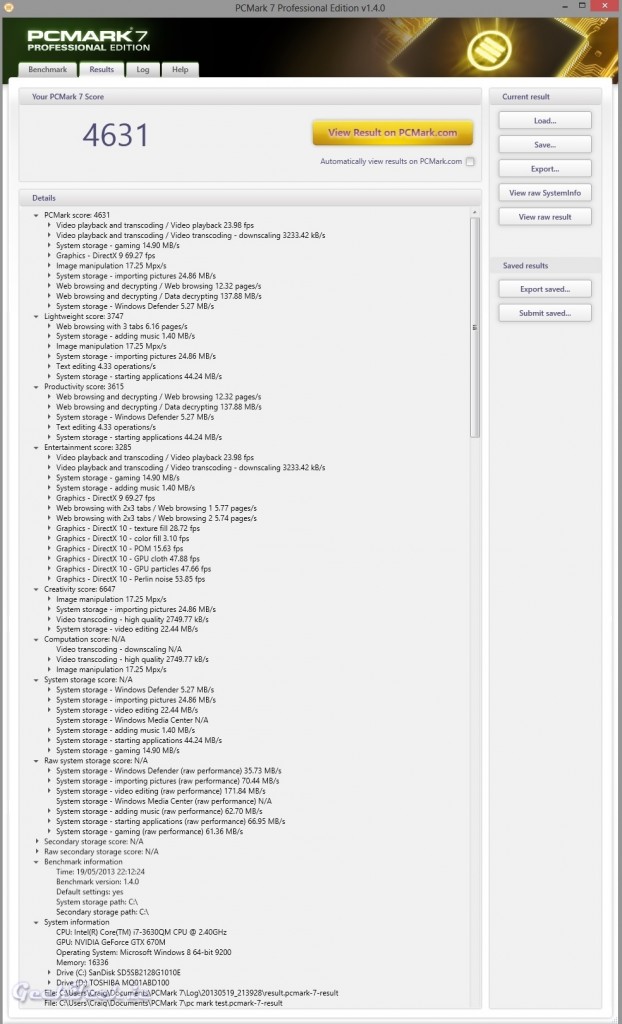 Unigine Heaven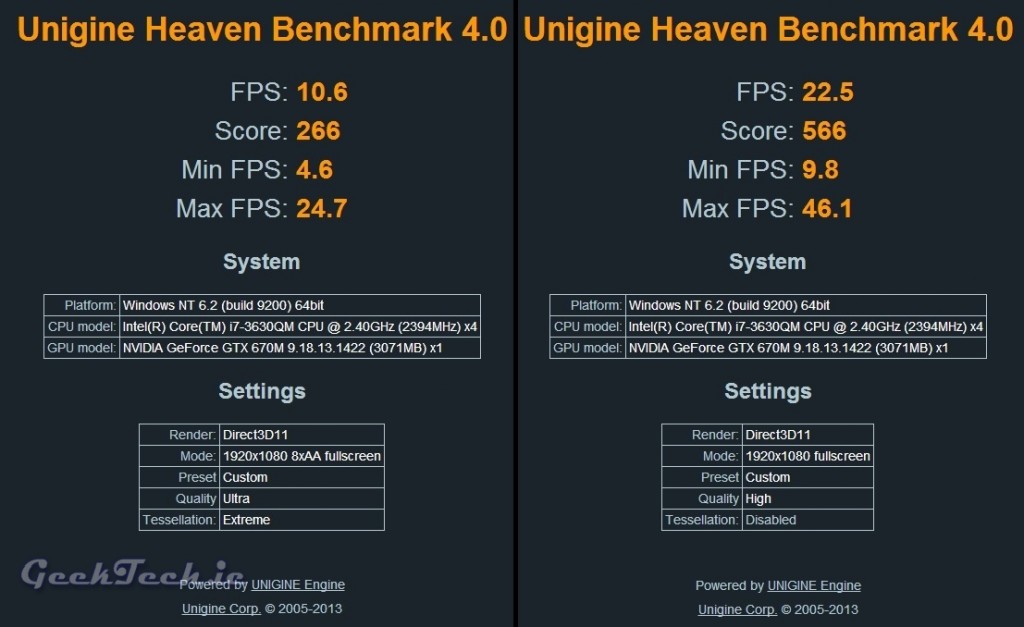 CineBench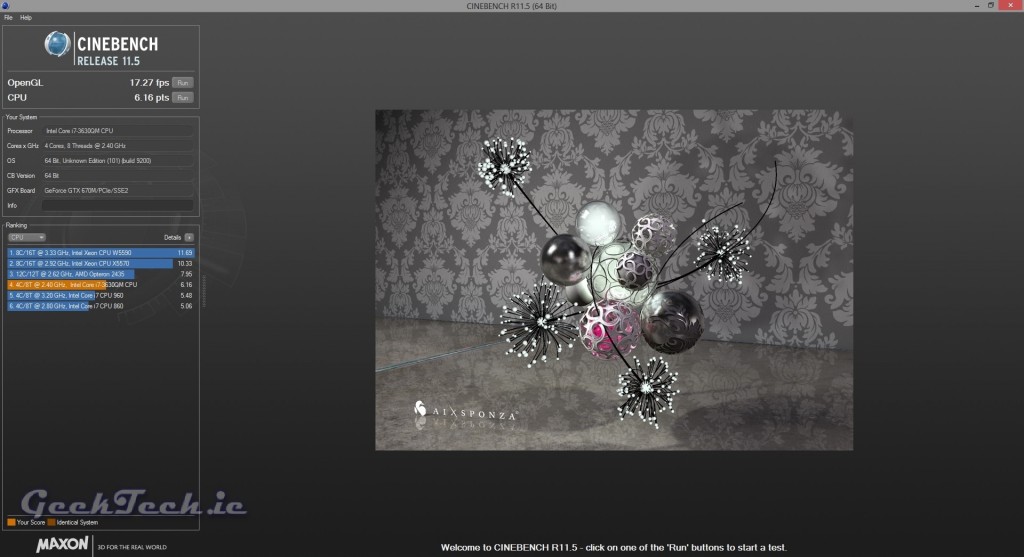 Powermark (Battery tests)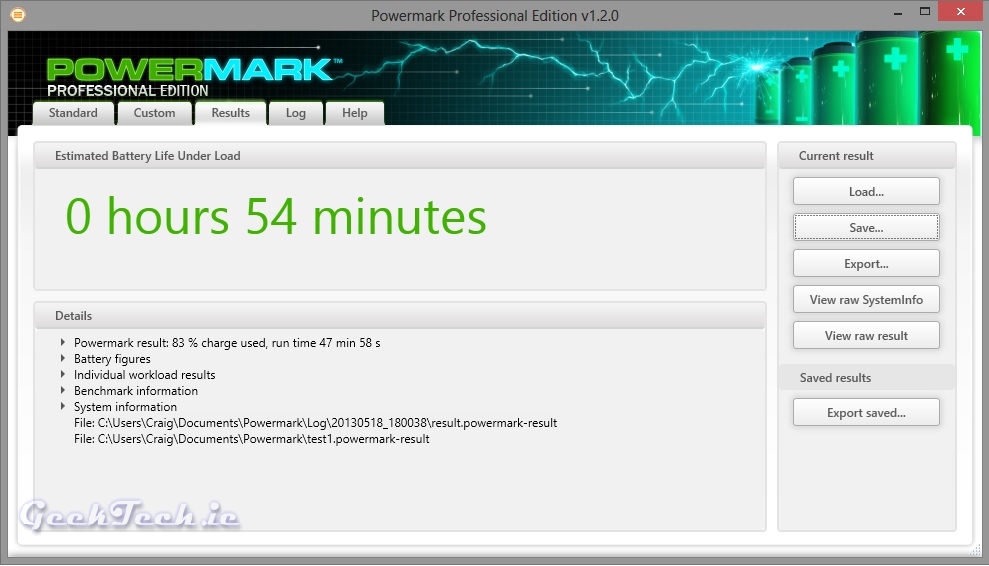 CrysitalDiskMark(SSD)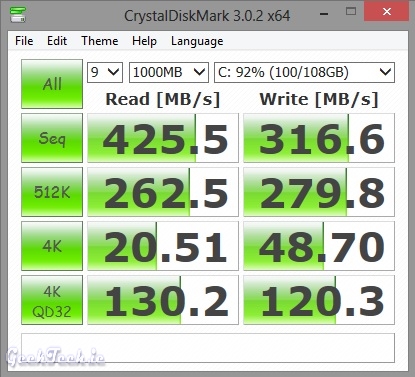 Gameplay
Since it's a gaming laptop, we need to take a look at some game performance, below is rather long video put together of some popular games(Metro: Last Light, Battlefield 3 and Crysis 3). It's 38 minutes long, but you can skim through to check out the fps of each game. The settings used are at the beginning of each segment.
[youtube width="650″ height="400″]W8YhT2hJVYU[/youtube]
So we have the design, benchmarks and gaming performance of the device, now it's time to sum it all up into the conclusion.
Conclusion
Now it's time to take the good then bad and ugly together and sum up the Toshiba Qosmio 870X. Below is a breakdown of each of the important factors for any gaming laptop.
Design
Well this part is fairly easy, simply because the Toshiba Qosmio 870x is a gorgeous laptop from top to bottom. The metal housing gives a feel of premium quality and the colors all come together for a complete look, the hot rod red(Iron man anyone?) frame that goes around three sides blends perfectly together with the red backlit keyboard.
Keyboard usage doesn't require much in terms of getting use to, although again we see the function buttons being secondary like on previous Toshiba laptops. The only downsize is the weight, but since the laptop is packing some serious hardware underneath, it's not that hard to wonder why. The Qosmio has all the connections you would need from USB 3.0, HDMI, VGA and SD Card slot. Overall the look and feel of the Qosmio are top notch.
Display
The 870x uses Toshiba's 1080p TruBrte display with 3D vision support. The display is of fine quality and the brightness and color reproduction are excellent. There is only a tiny minor draw back that is the viewing angles, but keeping in mind that we are look and an LCD display, we shouldn't really be expecting IPS quality. Overall the screen is perfect for gaming and of course supports 3D shall you wish to use it.

Hardware Performance (benchmarks)
We have seen the benchmarks and it's another simple part of the conclusion, this thing is a son of a beast. The performance this thing is something it can shine on to because it's a powerful mother humper. There is no question that the Intel 3630QM and 16GB of ram are doing their jobs wonderfully and we don't see the CPU ever being the weakest link and should make easy work on anything you throw at it. Even the SSD performs with high read/write speeds, which add to the extremely fast boot times that Windows 8 offers.
To be honest, we could say that about any part of the Toshiba Qosmio 870X.. except for, well the battery. It's beyond awful. Well the battery isn't awful, it's actually quite a big battery, but since the mother humper likes to eat up all the juice with it's amazing performance, the battery just simply doesn't last. The Powermark results should just under an hour is what we can expect and that was at 50 percent brightness. This essential makes the gaming laptop not a gaming laptop but rather a portable computer with built in UPS. We must iterate that this was the expected outcome for such a high end performing computer.
Gameplay
Now things get sort of complicated as the hardware performance simply isn't there for 3D, and by that we mean you won't want to be touching any games on high settings or high resolution. Simply because with 3D it's basically doubling the amount of pixels it has to push out and at the end of the day, the 870x or shall we say the 670M from Nvidia doesn't have the performance to play games on high settings, that being said, some games will play perfectly on decent settings.
fortunately you can just turn 3D off and play games normally and to be honest, this is what we imagine most people will do, if not simply to get the best possible looking game on their laptop, but also because the loss of FPS. We have see the type of frames per second we can expect from some of the most popular games and while on high settings we had frames per second that were easily on the low side of things, but gameplay wasn't half bad most of the time and was easily enjoyable. A few tweaking of the settings to get more FPS would easily make for a quality gaming experience and that's exactly what you would want from any gaming laptop.
Overall
Well at the end of the review, are we satisfied with the Tosbiba 870X or does it have us screaming for more. Well it doesn't and the laptop itself is a beast and exactly what we would expect from a high end gaming laptop. Design is beautiful and performance is more than solid. Assuming your looking for style and specs over portability and sheer raw performance of battery life, than the 870x should easily be on your list. The sizable pricetag may have you look elsewhere first, we feel the Toshiba 870X will still be on most peoples lists.