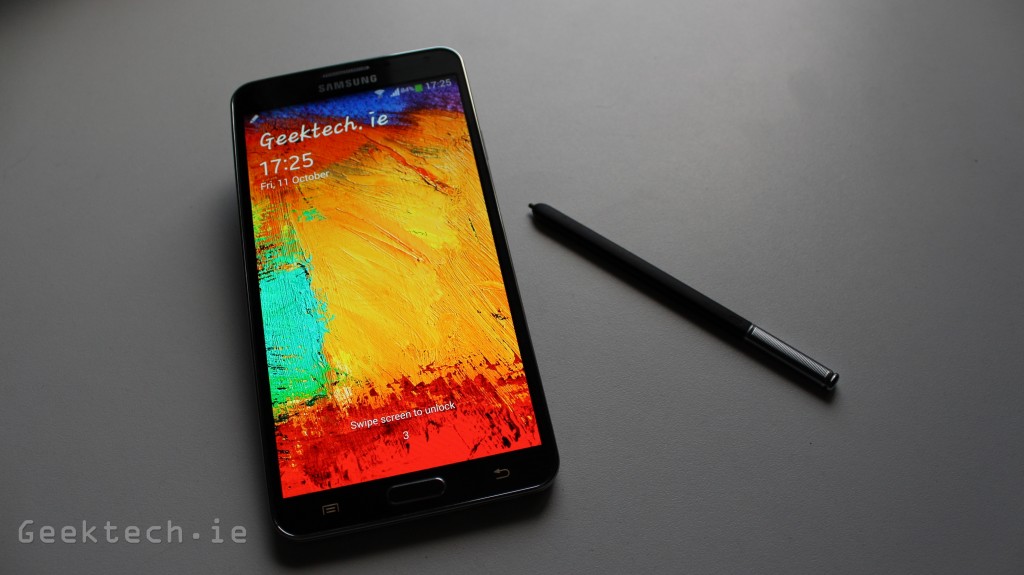 Since the launch of the original Galaxy Note device we have seen other smartphones get even bigger, bridging the gap that was once considered extreme. Then we had the Note 2 arrive and bring an even bigger display along with it, but large displays are not all the Galaxy Note series has to offer. It brought amazing specs that were the highest on the market when it launched and again other smartphones got somewhat bigger themselves. Now we have the Galaxy Note 3 which again brings a bigger and better display along with top tier specs, more s-pen features and multi-tasking abilities. So let's start of our review like we always do with the key specs of the device. Keep in mind that we are reviewing the SM-N9005 variant model which includes LTE-A and the Snapdragon 800 chipset.
Display: 5.7″ 16M-color 1080p (386ppi) Super AMOLED capacitive touchscreen
Chipset: Qualcomm MSM8974 Snapdragon 800, quad-core 2.3 GHz Krait 400, Adreno 330, 3GB of RAM
Camera (Photo): 13MP camera; 2MP front-facing camera
Camera (Video):  2160p@30fps, 1080p@60, 1080p@30fps, 720p@120fps
Memory: 32GB of inbuilt storage, microSD card slot, up to 64GB
Connectivity: Wi-Fi a/b/g/n, Bluetooth 4.0, MHL GPS, NFC and LTE-A, microUSB 3.0 (supports MicroUSB 2.0)
Battery: 3,200mAh
Okay, so we are clearly again looking at the type of specs you would expect from a flagship device. Past Galaxy Note device would have much in the same way similar specs to the previous launched Galaxy S device, but not in this case. We now have an even better CPU/GPU thanks to the Snapdragon 800 chipset. So we are expecting better performance numbers than the S4. The S-pen has seen even more integration than before and we are eager to take a look at some of the new features such as Pen windows and direct input. There are lots of other features included in the Note 3 so we have much to talk about, for now check out the full specs below and then we will move on to photos of the device.
[youtube width="670″ height="450″]1Mcu-3NmaLc[/youtube]
[accordion title="Full Specifications" id="id-here"]
Network

2.5G (GSM / GPRS / EDGE) : 850 / 900 / 1800 / 1900 MHz
3G (HSPA+ 42Mbps) : 850 / 900 / 1900 / 2100 MHz
4G (LTE Cat 4 150 /50Mbps) : up to 6 different band sets (Dependent on market)

Processor

LTE : 2.3 GHz Quad-Core Processor
The selection of AP will be differed by markets

Display

5.7 inch (144.3mm) Full HD Super AMOLED (1920 x 1080)

OS

Android 4.3 (Jelly Bean)

Camera

Main(Rear) : 13 Mega-pixel BSI Sensor, Auto Focus camera with Smart Stabilization,
LED Flash(High CRI), and Zero Shutter Lag
Sub (Front) : 2 Mega-pixel BSI sensor with Smart Stabilization, Full HD recording @30fps
Dual Camera : Dual Shot / Dual Recording / Dual Video Call
Recording : UHD 30fps , Smooth motion (FHD 60fps),
Slow motion (HD 120fps)
Camera Mode : Drama Shot, Sound & Shot, Animated Photo, Eraser, Best Photo,
Best Face, Beauty Face, HDR (High Dynamic Range), Panorama, Sports, Golf,
Surround shot, Live effect

Video

Codec : H.264, MPEG-4, H.263, VC-1, WMV7, WMV8, Sorenson Spark, MP43, VP8, HEVC
Recording & Playback: Full HD (1080p), UHD (*may differ by market)

Audio

Codec : MP3, AAC/AAC+/eAAC+, WMA, AMR-NB/WB, Vorbis, FLAC(*), WAV(*)
(*) Ultra High Quality Audio (~192KHz, 24 bit) support

S Pen Optimized Features

Air Command, Action Memo, Scrapbook,S Finder, Pen Window, Multi Window, Direct Pen Input

Additional Features

Group Play : Share Music, Share Picture, Share Video, Share Document, Play Games
Story Album, S Translator
Samsung Smart Scroll, Samsung Smart Pause, Air Gesture, Air View
Samsung Apps, Samsung Hub, ChatON (Voice/Video Call, Share screen, 3-way calling),
Samsung WatchON
S Voice™ Hands Free, S Health
Samsung Adapt Display, Samsung Adapt Sound Auto adjust touch sensitivity (Glove friendly)
Samsung Link, Screen Mirroring
Safety Assistance, Samsung KNOX

Google Mobile Services

Chrome, Search, Gmail, Google+, Maps, Play Books, Play Movies, Play Music, Play Store, Hangouts
Voice Search, YouTube, Google Settings, Play Games, Messenger

Connectivity

WiFi 802.11 a / b / g / n / ac (HT80)
GPS / GLONASS
NFC, Bluetooth® v 4.0 (LE)
IR LED (Remote Control), MHL 2.0

Sensor

Gesture, Accelerometer, Geo-magnetic, Gyroscope, RGB
Proximity, Barometer, Temperature & Humidity, Hall Sensor

Memory

32/ 64 GB User memory + microSD slot (up to 64GB)
3GB RAM

Dimension

151.2 x 79.2 x 8.3mm, 168g

Battery

Standard battery, Li-ion 3,200 mAh
[/accordion]
Design
The Note 3 design in some ways goes back in time and brings back a more Galaxy Note 1/Galaxy S2 look, and this is a welcome returns since those designs were more symmetrical and had less curves than the S3/S4/Note 2, and not to say they were bad, but the S2 and Note 1 designs were fantastic. The biggest difference we have would of course be the leather like textured back rather than glossy back on previous device. Samsung even included what looks like stitching around the sites, but again, this is also just the plastic moulded to look that way, regardless of how is it done, we love the new design and definitely think it's a step up compared to previous back covers and hope to see it on future Samsung devices, but it may be kept solely for the Note series.
The device now includes USB 3.0 support which is of course backwards compatible with USB 2.0  like always. The Note 3 is the first device to make the movement to USB 3.0 which provides faster data transfer times along with increase charging speed when using a USB 3.0 on a PC. Just a little bit to the right we have the speaker which takes a change from normally being located directly on the back of the device, another welcome change as it removes any issues with muffled sound while the device was laying flat on its back. Finally we have the S-Pen which overall shape hasn't changed as much, except it can now slot into the phone upside down or downside up. The tip on the s-pen is now larger than before making it easier to write at an angle and also now finally includes the ability to replace the tips and you get five inside the box.
UI (TouchWiz, S-Pen features)
The Galaxy Note 3 doesn't see much change in the UI and still uses the same TouchWiz layout we seen before on the S4/Note 2. The Note 3 is rocking a 5×5 grid layout in the app drawer giving you a total of 25 apps on each page, before we talk any more details, check out the few images below which includes the new and improved s-pen features.
As we mentioned above TouchWiz has little to no difference to it's layout but Samsung have introduced a few new features to the Note 3 and improved on others. The S-Pen being one of the made features of the Note series, let's first talk about any new features it had in itself. First off pressing the button while hovering or by default pulling the s-pen out will bring up Air command (pictured above). This gives you five different options which are Action Memo, Scrap Booker, Screen Write, S-finder, and Pen-Window. We have included screen shots of each function above, but let's break them all down a little more.
Action memo allows you to quickly take down notes, but also includes an action button, this provides you with the ability to use information written down in different ways, such as dialling a number, sending an email to an email address written down or simply searching anything. This feature is works extremely well and provides excellent means of using notes that are taken down through out the device.
Scrap Bookers and Screen Write Starting with Scrap Booker which is essentially a more impressive way of saving and sharing content for later.You simply highlight anything you wish to save and it will not only copy it like a screenshots but include more details like link, editable text and videos, again this feature works great and gives you another way to share content with friends. Screen write is much like before on the Note 2, where users can take a screenshot of their device and go straight to editing it, where you can quickly write down information above whatever it is your viewing, exactly like it was before on the Note 2.
S-finder as the name suggests is a search application built into the Note 3. It basically gives you the option to search your entire device from files on your device, to emails, to online content and it can even be broken down into different categories such as time, type of content, location and more. We are pleased with how well the function works and to be honest, there really was nothing it couldn't find and you can even search by a symbol, although that is limited to just the pre configured ones on the device.
Pen-Window, the last air command gives your the abiliy to open a certain few apps in a smaller window above the rest the device, much like pop-up video. The screen shot above illustrates this perfectly and you can see a small calculator. Any app opened can be resized, moved around the display or minimized to a small icon that still floats above everything else, so you can quickly get back to it. This is probably the coolest new feature of the Note 3, but sadly only includes a few standard apps, we hope to see more included in the future as it really gives meaning to multi tasking on a smartphone.
Lastly, the Note 3 has a big display, just in case you weren't aware, but Samsung don't want to stop you form being able to use the device with one hand and they have included a little gesture by(swiping quickly from middle of the display to the centre and back again you can activate one handed opertaion, essentially making the entire display smaller to your desired size and you can easily use anything throughout the device with one hand.
Camera
The Galaxy Note 3 includes a 13MP BSI CMOS camera which now not only supports 1080p recording but also features 1080p@60fps along with 2160p@60 and 720p@120fps support. So before we jump into some sample pictures and video taken with the device, let's take a look at the camera UI which in itself hasn't changed all that much compared to the Galaxy S4.
Anyone coming from an Galaxy S4 device will immediately feel right at home. All of the same modes are present except Night which has changed to become smart stabilization mode and we have listed them below along with the few new modes which are golf , surround shot and finally animated photo. The layout is fairly easy and straight forward to use, there are a good few modes to select from giving you a decent about of artistic value when deciding on taking shots, however most people will probably stick with Auto.
The video settings we have include an option to record with a resolution of  3840 x 2160@30fps (4K), making the Note 3 one of the first devices to push for 4K recording. We also now have the option to record 1080p@60fps or 720p@120fps which we demo below.
Auto: Automatically adjust the exposure to optimize the color and brightness of pictures
Beauty Face: Enhances facial features automatically when taking portrait pictures
Best Photo: Take a series of pictures, and then select the best to save
Best Face: Select the best picture of each person from 5 consecutive pictures to get the best merged group shot
Sound and Shot: Enriches pictures of adding a few second of background sound
Drama: Takes multiple exposure pictures of a moving subject and merges them into one dramatic picture
Animated Photo: Create a picture containing selected moving objects by animating certain parts of the picture
Golf: Take pictures of a golf swing. You can then play the pictures forwards or backwards
Rich Tone(HDR): Creates a soft, rich color by merging pictures taken at various exposures
Eraser: Save the best picture after erasing moving objects from 5 consecutive shots
Panorama: Take pictures in either a horizontal or vertical direction to create a linear panorama
Surround Shot: Take 360° pictures tocreatee a spherical panorama
Sports: Take pictures of fast moving objects
Photos
Samsung haven't really changed anything sensor/lens wise compared to the Galaxy S4, so overall we were expected the same results and that's pretty much what we good. We do feel the added CPU performance has increase the performance of the camera application and as such all of the previous special modes work very well with no noticeable lag anywhere. HDR gave decent looking shots, but generally required us to be very still or we would get blending issues. We were impressed the camera performance on the Galaxy S4 and since we have pretty much the same performance as that on the Note 3, we are still impressed, but we will talk more about the camera performance in the conclusion.
Videos
Like above we are expecting similar quality to that of the Galaxy S4 but with the added CPU performance the Note 3 includes extra video recording modes which are 4k@30fps, 1080p@60fps, and 720p@30fps. So let's take a look at some videos using the different modes recorded below. Like always are videos and images are done for comparison to other devices we have reviewed, so you can get an idea of performance from them.
 Video Samples
[youtube width="670″ height="450″]4sWrb_KW9AQ[/youtube]
 1080p
[youtube width="670″ height="450″]hByXRySmJUo[/youtube]
720p @ 120fps
[youtube width="670″ height="450″]/pg-DUyYX9Ek[/youtube]
3840 x 2160 @30fps
Benchmarks
The Galaxy Note 3 is rocking the same chipset we seen with the Xperia Z1 with a slight increase in clocked speed from 2.2Ghz to 2.3Ghz and we also get 50-percent extra ram from 2GB to 3GB. So we are expecting extremely similar performance numbers with regards to benchmarks with possibly slight increases here and there with the extra clock speed and RAM help.
We can see the performance is top of the line as we expected, the only other device rocking the Snapdragon 800 chipset is the Xperia Z1 which the Note 3 numbers are nearly identical. We do see some increase in digits with the GeekBench 3 results where the Note 3 takes a pretty steady lead, but we also have other results where the Xperia Z1 takes the lead over the Note 3. So basically we can chop this two devices up to having the same amazing performance which beats all other competition. The Note 3 does however have the advantage of having more RAM, which undoubtedly will provide a benefit in certain areas. All and all the Note 3 has top tier performance that again like the Xperia Z1 is evident across the entire device. A big applause to Qualcomm for making the highest performance mobile chipset yet.
Battery Performance
The Galaxy Note 3 comes with a massive 3,200mAh battery inside, one of the biggest we have seen in any smartphone on the market. Like always we put the device just what we would call a medium to heavy usage during a typcial day with a high end smartphone. This includes around 30 minutes of phones call, a few text messages, checking emails at least once an hour, 30 minutes of YouTube videos and videos on the device. Some photos and videos, 30 minutes of hardcore gaming(GTA:VC) and finally about an hour of web browsing and of course playing around with the S-Pen throughout the day. We reached near the end of the day with more than half of the battery life left and we are impressed to say the least. We have included a screenshot below to detail around the max on screen time with 50-percent brightness set below, but more on the battery performance in our conclusion.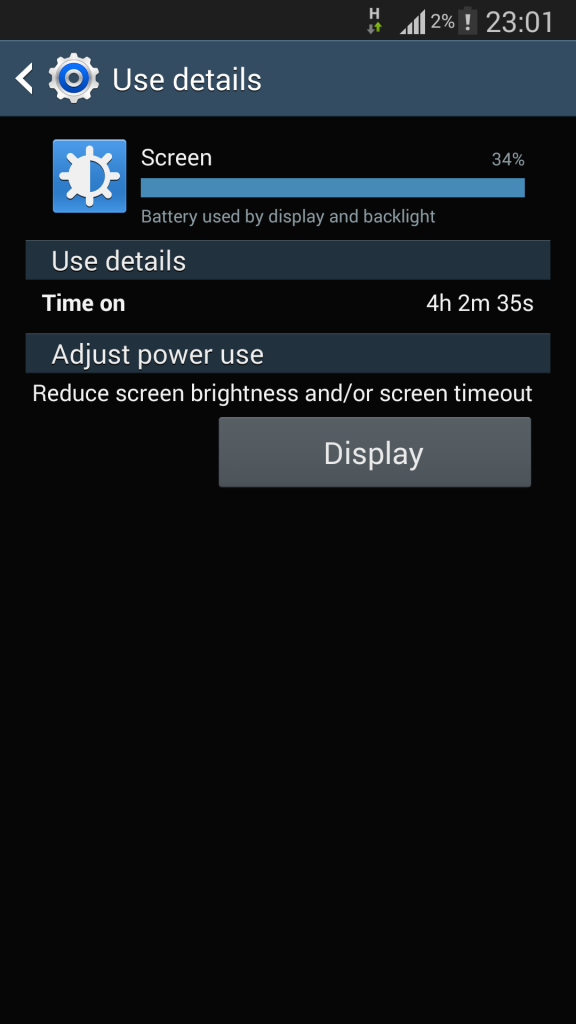 Gameplay
The Note 3 offers top of the range specs along with an amazing display. So below we have put together a game play video using Dead Trigger, Grand Theft Auto: Vice City and Real Racing 3. This should give you a fair idea on how well the device performances with games and how good the display looks. Much like the other parts of a review, you can compare these to other smartphone reviews we have done as well.
[youtube width="670″ height="450″]-nzjGTWueTw[/youtube]
Gaming on the Note 3 is flawless as one would expect. All games played perfectly and we experienced zero lag during our tests and that's exactly what your want but more so the games looked fantastic and while it may not be replicated well on camera, trust us when we say the display on the Note 3 is second to none.
Conclusion
Yay, it's wrap up time, congrats if you made it this far in the review. If you couldn't already tell, the Note 3 is of course a beast of a device and anyone in doubt can rest assure we are very pleased with it's performance in nearly every regard. So again as always, we are going to break down the conclusion in a few different sections and give our thoughts on all of the difference factors of the device, this include the Design, Screen, Camera, Performance (includes S-pen) and finally overall. So check out the different sections below and we hope you enjoyed the review.
Design
Samsung have decided to make some new changes to their design critique, but in other instances they kind of went back in time. By this we mean the Note 3's shape is more similar to the Original Note/Galaxy S2, but ever so slightly different. Samsung kind of do the impossible with every new device, because not only to the specs, battery size, screen size all get either bigger or better, but the some how make the devices, smaller, slimmer and lighter, you kind of expected the opposite when you hear the screen is bigger, but nope, Samsung have improved every single detail with regards to Design on the Note 3 and we love them all. It feels great in the hand, looks beautiful and even brings a little artistic value to the design and it's something new and difference and we are pleased with it. We really can't fault the design of the Note 3 in anyway. At the end of the day it's slim and light while being big and powerful and that combination is just awesome.
Screen
The brightest AMOLED yet and it doesn't stop there. Watching videos, playing games, reading a book, or just checking emails, everything looks superb on the Note 3 and to be honest, the Note 3 possibly has one of the best display we have ever seen. The increase brightness when using the Auto setting allow for decent usage under direct sunlight and not many phones can do that, and pretty much no other device with a 1080p resolution. To sum up the Note 3 display quick and easy, It's practically perfect.
Camera
The Sensor/lens inside the Note 3 is the same as the Galaxy S4, so overall we expected identical performance, possibly some improvements software wise and since the S4 had a great camera that wouldn't be a disappointment. Well we weren't disappointed, the camera quality definitely has an improvement over the S4 an the quality is obviously there. However Samsung didn't just stop there and have introduced a few new recording modes such as 1080p @ 60fps, 720p @120fps and finally 4K @30fps. The 60fps function does't allow the user to turn stabilization mode on, and 60fps increases the amount of noticeable camera shake and there is no way to stop it, so we can't see many people taking advantage of it. The 720p@ 120fps works well in decent lit areas, and some might find decent ways to get advantage of it and we think it's a fun recording mode to have.
The 4K mode is truly a step forward and while the Note 3 is only a 1080p screen, the quality regardless looks fantastic and even more so when watching on a 1440p/2160p displays and while some people may not be able to take advantage of the improved resolution, it does hold for future 4K display which are steadily coming down in price and even without that regard the 4K resolution looks amazing are we were overly impressed with it, even more so since we expected it to be a simple marketing ploy rather than an a through benefit. We are pleased with the camera quality, it doesn't break any records or come close to the competition, it does offer great performance and some nifty shooting/recording modes.
Performance
This part of our conclusion brings together not only the raw performance of the CPU/GPU with regards to apps/gaming but also the features such as the S-pen and multi-window.  As always the Note series brings top of the line performance and for the first time we are seeing it using a setup that isn't Samsung's own but rather by Qualcomm. We can easily say that the Snapdragon 800 chipset provides the best performance on a smartphone period. While we generally don't rely on benchmarks numbers to gauge real world performance, the numbers are hard to argue with, it some test we can see it beat the Xperia Z1 and others just come in behind, but since both use the same Snapdragon 800 chipset, we can agree that both devices provide the best possibly performance on a smartphone.
It doesn't end there however, the Note 3 includes 3GB of RAM and while that may be extreme for a smartphone, more RAM can never be a bad thing, and it's good to know the Note 3 has plenty of it. Even then it doesn't end there as we have the S-pen as well as the multi-window/pen window features which truly add to the Galaxy Note experience and while the app selection for the pen window is limited, the future may be bright, but we must admit it would be better suited as a direct Android feature as that we would see more app developers support it. Let's not forget the Note 3 also includes all of the S4 features such as infrared, gesture controls and airview. The Note 3 packs same many different features we can imagine people will enjoy discovering all of them.
Overall
What can we say about the device that we haven't already covered. Well you will find this wrap up is similar to that of the Note 2 which at the time we considered to be one of the best if not the best device available at the time. The exact same can be said for the Note 3 and it has to deal with the same hiccup as the Note 2 and that is the size factor. We still hate the idea of people turning away a device because initially it's too big when in fact that is the reason why we consider the Note series to one of the best, fortunately we also believe anyone who is serious about their smartphone and want a true powerhouse that has high end specs and amazing features, and will not disagree that the Note 3 provides something special that other smartphones can't.
The word phablet (phone/tablet) was thrown around when the Note 1 came out and even more so with the Note 2, but we feel the Note series is just the evolution of the smartphone rather than a hybrid or at least it has become that way now. To make it simple, once you start using the Note 3, a smaller device will just seem too small. The Note 3 currently costs  around €700/£580 sim free, and while it makes it one of the more expensive devices out there, you really are getting what you paid for and we can at least say we're glad to see 32GB internal storage become the standard. The Note 3 of course gets the Geektech gold award and we hope you enjoyed the review.