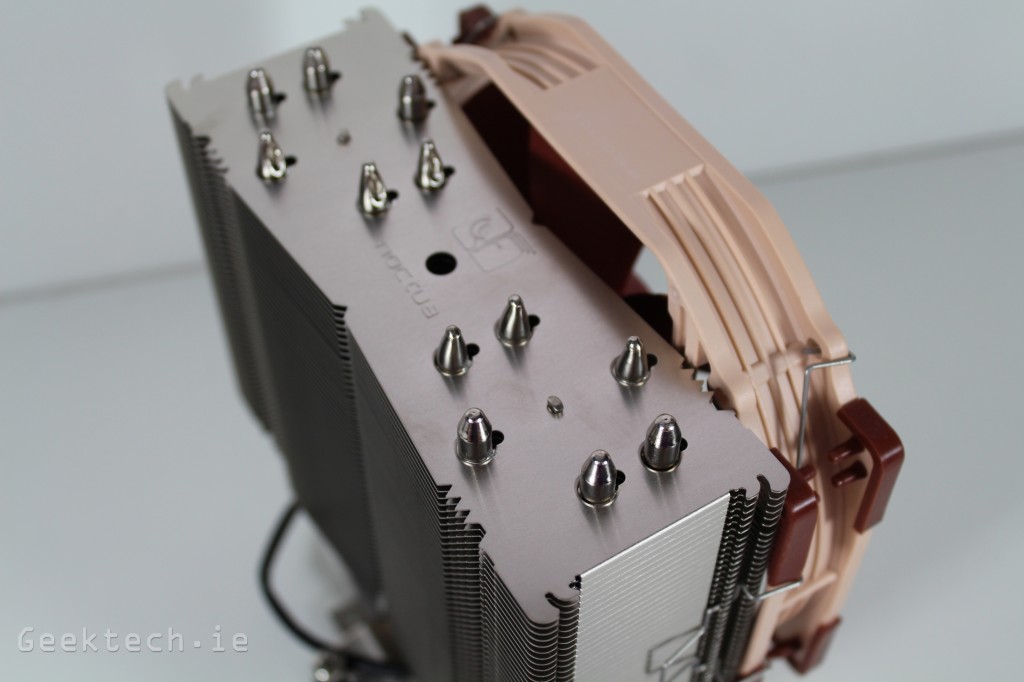 The NH-U14S heatsink from Noctua is a 140mm single tower heatsink that is stated to offer great performance and compatibility with high RAM profiles and Inte's socket 2011 motherboards. The NH-U14S includes a 1,500RPM NF-A15 PWM fan. We have includes some of the main aspect of the heatsink, along with the full specs below.
Award-winning NH-U series
The NH-U14S is the first 140mm model in Noctua's award-winning NH-U series. First introduced in 2005, the NH-U series has become a standard choice for premium quality quiet CPU coolers and won more than 400 awards and recommendations from leading international hardware websites and magazines.
Full RAM compatibility on LGA2011
With its 52mm slim design tailor-made for LGA2011, the NH-U14S will not overhang the RAM slots on this platform, thus guaranteeing full compatibility with tall memory modules. On some LGA115x and AMD motherboards, the front fan may overhang the first RAM slot, so standard height RAM (up to 32mm) should be chosen when using the first slot.
Reasonable size for better overall compatibility
Standing 165mm tall, the NH-U14S is short enough to fit most modern high-end cases. Measuring 150mm wide (including fan and fan clips), the NH-U14S provides better compatibility with SLI and CrossFire setups as compared to tower coolers that are wider than 150mm or use fans wider than 150mm
The NF-A15 is a premium quality quiet 140mm fan with a round frame that complies with Noctua's AAO standard. Featuring sophisticated aerodynamic design measures such as Flow Acceleration Channels, the NF-A15 further improves the renowned quiet cooling performance of the award-winning NF-P14.
[accordion title="Full Specifications" id="Specs"]
Socket compatibility
Intel LGA2011 (Square ILM), LGA1156, LGA1155, LGA1150 & AMD AM2, AM2+, AM3, AM3+, FM1, FM2, FM2+ (backplate required)
Height (without fan)
165 mm
Width (without fan)
150 mm
Depth (without fan)
52 mm
Height (with fan)
165 mm
Width (with fan)
150 mm
Depth (with fan)
78 mm
Weight (without fan)
770 g
Weight (with fan)
935 g
Material
Copper (base and heat-pipes), aluminium (cooling fins), soldered joints & nickel plating
Fan compatibility
140x150x25 (with 120mm mounting holes), 140x140x25 (with 120mm mounting holes), 120x120x25
Scope of Delivery

NF-A15 PWM premium fan
Low-Noise Adaptor (L.N.A.)
NT-H1 high-grade thermal compound
SecuFirm2™ Mounting Kit
Anti-vibration pads and fan-clips for second NF-A15 (optional)
Noctua Metal Case-Badge

Warranty
6 Years
Fan specifications
Model
Noctua NF-A15 PWM
Bearing
SSO2
Max. Rotational Speed (+/- 10%)
1500 RPM
Max. Rotational Speed with L.N.A. (+/- 10%)
1200 RPM
Min. Rotational Speed (PWM, +/-20%)
300 RPM
Max. Airflow
140,2 m³/h
Max. Airflow with L.N.A.
115,5 m³/h
Max. Acoustical Noise
24,6 dB(A)
Max. Acoustical Noise with L.N.A.
19,2 dB(A)
Input Power
1,56 W
Voltage Range
12 V
MTBF
> 150.000 h
[/accordion]
The NH-U14s
Like always, packaging and accessories are in full swing here and Noctua have included mounts for Intel and AMD CPU's along with their NT-H1 thermal paste. They also included fans clips and rubber corners for an extra NF-A15 if you decide to add one.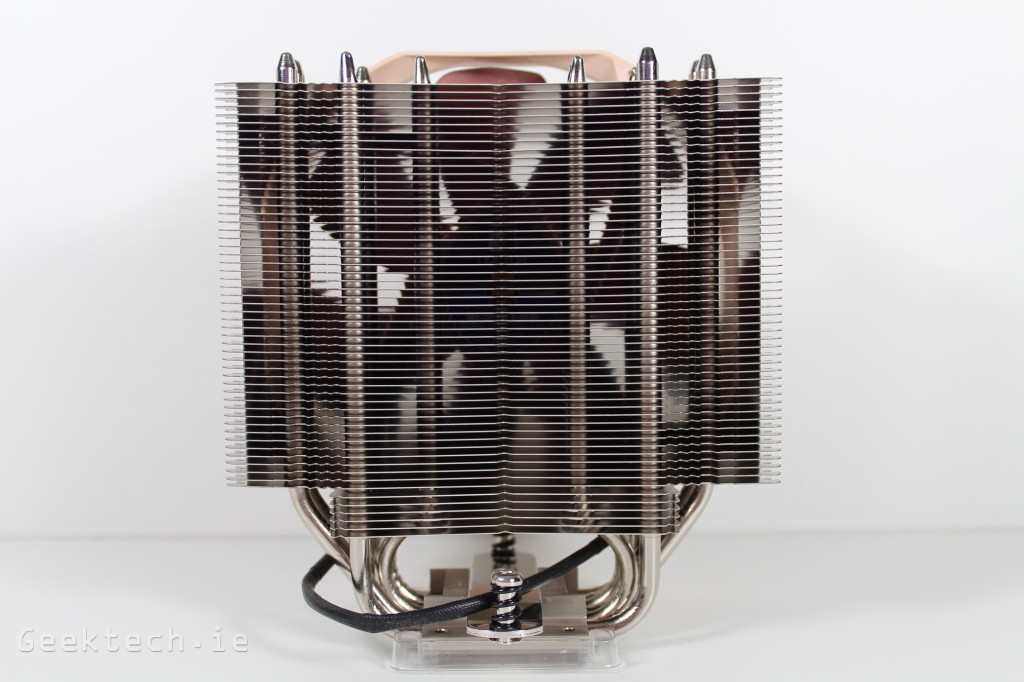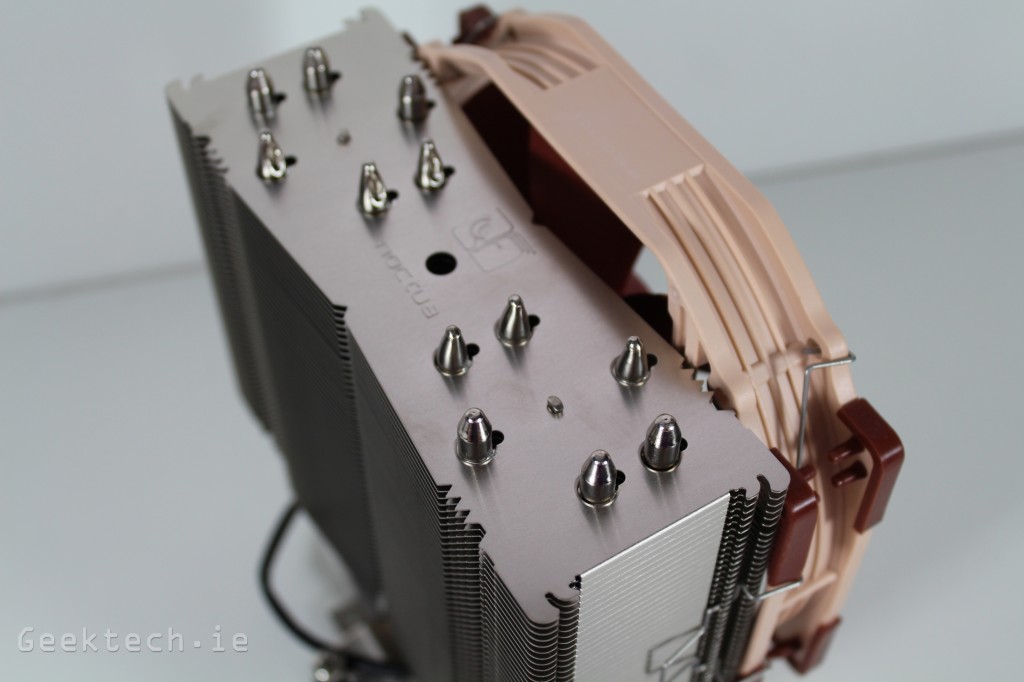 The NH-U14S shares its design from all Noctua heatsinks. The heatsink includes a single NF-A15 fan with 1,500rpm. It also includes the rubber corners and clips to add a second fan as you can see above. The retail version of the NF-A15 has a max rotational speed of 1,200rpm, so it's recommended to have that as the pull in the push-pull setup.
The width of the heatsink is measured at 150mm with a height of 165mm and depth of 78mm with 1 fan connected and 52mm without any fans connected. The 150mm width can affect GPU placements in the first PCI-E slot when having the heatsink pointing towards the rear of the case, but Noctua have designed the NH-U14S with cut outs for memory slots on both sides when having the heatsink aimed towards the top of your case and as such it won't interfere with most RAM modules or the graphics card placement. Noctua do provide a complete compatibility list with details on whether the heatsink will affect the first PCI-E slot.
NF-A15 PWM Fan (1,500rpm)
NF-A15 PWM Fan (Retail/1,200rpm)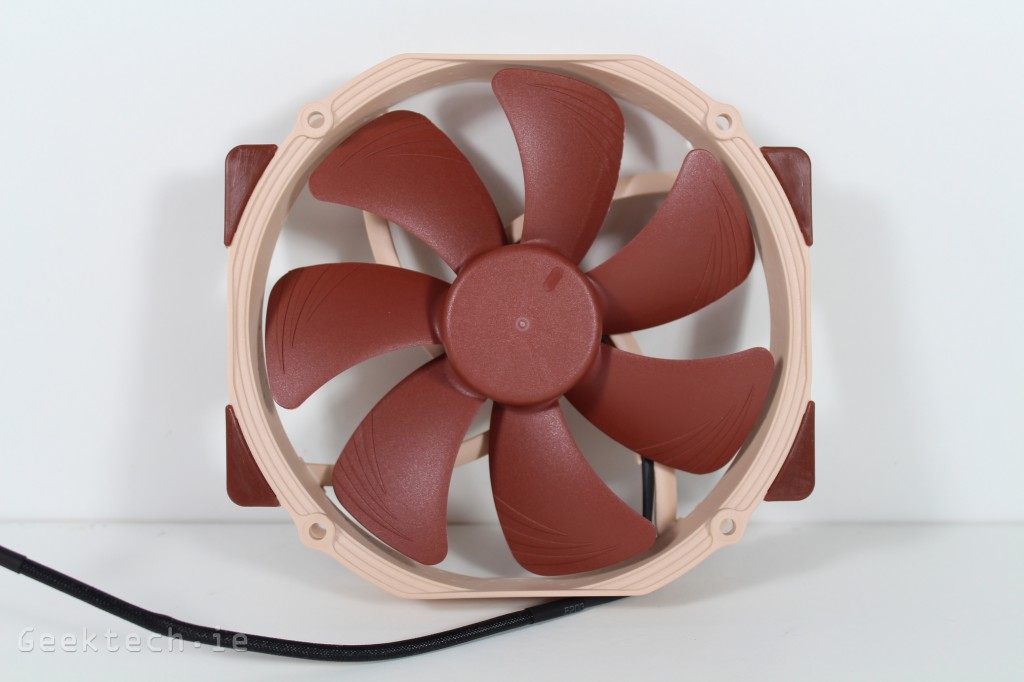 Both the included NF-A15 and the retail NF-A15 look identical with the only difference being the maximum rotational speed. Both fans are 4-pin PWM.
Testing
Test setup
Intel Core I7 4770k CPU
Gigabyte Z87X-OC Motherboard
Kingston HyperX Predator 2400Mhz
Corsair AX1200 PSU
We have both stock and overclock tests and include both single and dual fan setups. Out test comprises of using OCCT with 64bit mode/AVX/90-percent RAM used. We leave the test running for 20 minutes with a idle period before and after and gauge it's hottest temperate. The same test has been done on every heatsink.
Stock Tests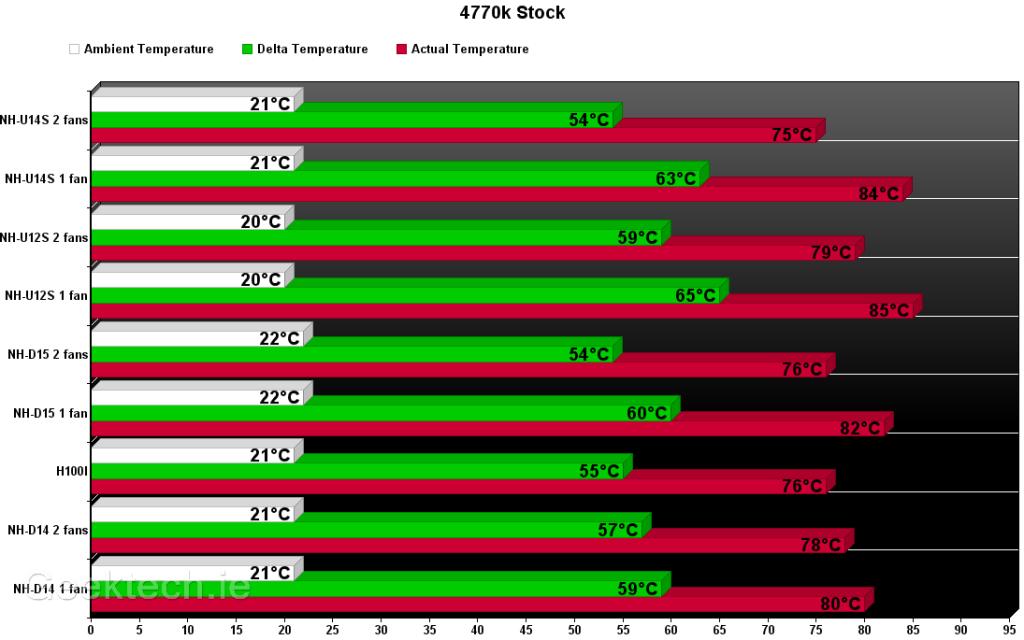 Here we can see the NH-U14S is already impressive, providing similar performance as the NH-D15 with 1 fan on both heatsinks and the dual fan setup having identical performance. Keep in mind the NH-U14S is effectively a single tower version of the NH-D15 with similar attributes in design and engineering.
Overclock Tests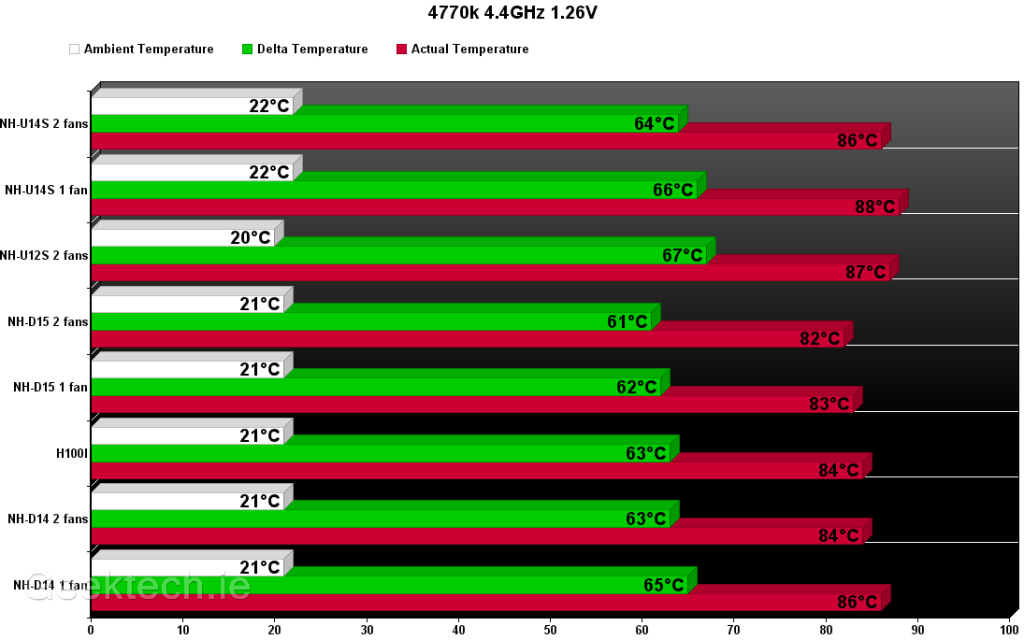 The U14S again provides nearly identical performance to its giant cousins and even the H100i. The extra fan on the NH-U14S only knocks of 2°C of heat compared to a single fan and while the NH-D15 still provides better performance, its effectively double the size of the U14S, and the trade off of having a smaller heatsink, mean no issues with RAM compatibility, which is common with air heatsinks in general, or at least those big enough to deal with a lot of heat and overclocking.
Conclusion
The NH-U14S offers similar performance compared to the massive dual tower heatsink, which are the NH-D14 and NH-D15. The size of the NH-U14S along with its performance are some of the most impressive results we have seen, it can nearly go head to head with the best heatsinks available and is nearly half their size.
Being 150mm wide, issues may arise with graphics cards in the top PCI-E slot on certain motherboards when having the heatsink aimed towards the rear of the case. However, the heatsink provides cut-outs on the sides for RAM clearance when having the heatsink aimed towards the top of the case. Like always, going the air heatsink route will require a little bit of research before purchasing and the NH-U14S is no exception. We suggest checking out the compatibility list from Noctua on whether your motherboard will have issues with the first PCI-E and if so, simply face the heatsink towards the  top of the case or even move the graphics card down a slot if that is an option.
The price for the NH-U14S is currently £60/€75/$100, which closely matches the top heatsinks available,and we feel the NH-U14S is among them. However, adding a second fan will set you back a further £18/€22/$30, making the NH-U14S the same cost of the NH-D15, which includes a second fan as standard. That being said, their performance are very close and the NH-U14S is even more impressive considering its size. Another choice would be the Corsair H100i or even H105, which will provide excellent performance, but keep in mind they also come with some limitations with regards to case support, and fan mounting inside the case and as such require research for compatibility support.
We really like the NH-U14S and find it an amazing heatsink. It does have its draw backs with compatibility, but nearly every heatsink and cooler in general have some compatibility concern that require some research and diligence, Noctua cover this as much as they can by offering an extensive compatibility list and alternate orientation with the NH-U14S. At the end of the day, our awards come down to a factor of things and performance is nearly always on top of the list, and the NH-U14S is effectively a game changer when we consider it's offering similar performance to dual tower heatsinks and is half their size. It no doubt deserves a gold award and we gladly recommend it.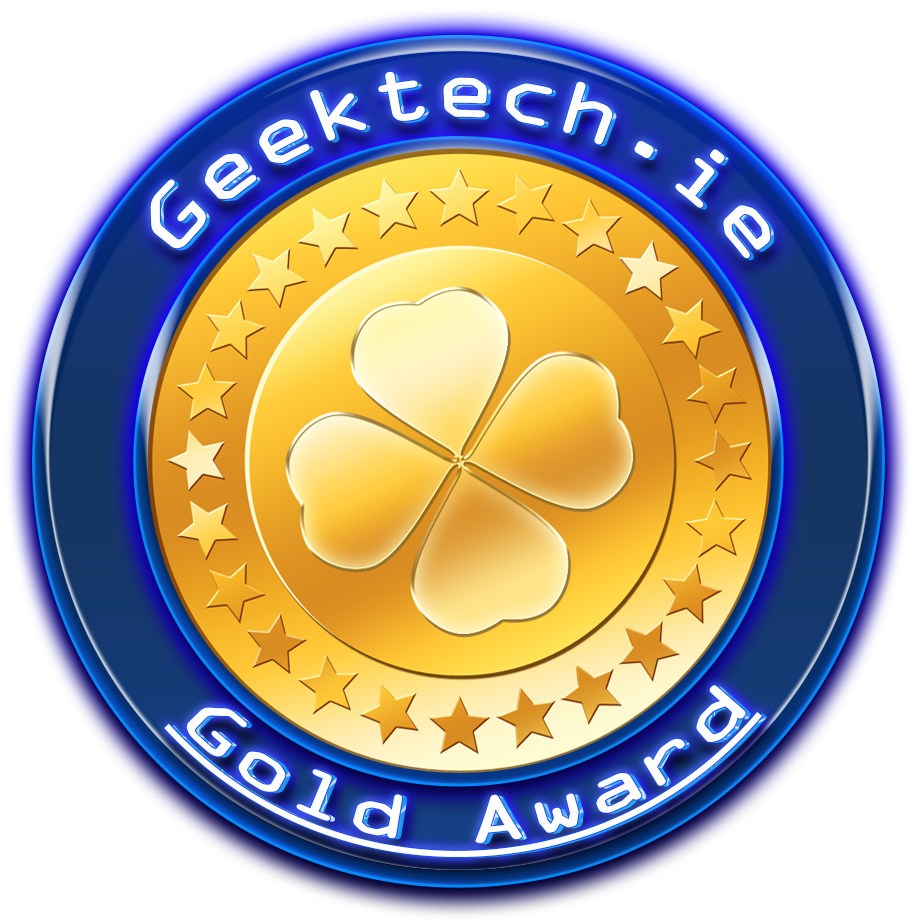 A big thanks to Jakob and Noctua for sending over the NH-U14S for review.