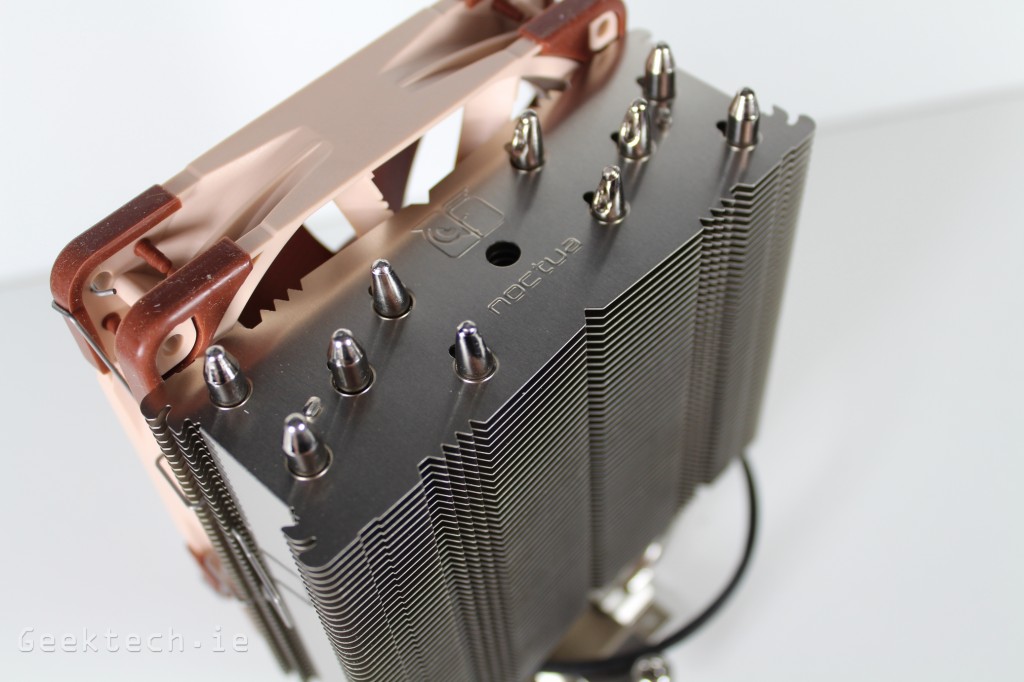 Here we are taking a look at the NH-U12S from Noctua. The U12S is a 12cm single tower heatsink aimed at providing decent cooling and being completely 100-percent with all RAM modules. The heatsink comes with the popular NF-F12 PWM fan as standard, with the fan clips to add a second fan, should you so desire. We have included some of the main features and then full specs below.
Thanks to its slim design with only 45mm fin depth, the NH-U12S will not overhang the RAM slots even with two fans installed. This gives the user full access to the memory modules on all current CPU sockets and guarantees 100% compatibility with tall heatspreaders or optional memory fans.
Classic 120mm tower size for excellent overall compatibility
Standing 158mm tall, the NH-U12S is short enough to fit most modern mid- or high-end tower cases. Measuring 125mm wide (including fan and fan clips), the cooler stays clear of the top PCIe slot on standard ATX or Micro-ATX motherboards, ensuring best compatibility with SLI and CrossFire setups.
NF-F12 120mm Focused Flow™ fan
Recommended by more than 150 hardware publications and thousands of enthusiasts world-wide, the Noctua's premium quality NF-F12 Focused Flow™ 120mm fan is renowned to combine superb static pressure, excellent heatsink performance and surprising quietness of operation
[accordion title="Full Specifications" id="Specs"]
Socket compatibility
Intel LGA2011 (Square ILM), LGA1156, LGA1155, LGA1150 & AMD AM2, AM2+, AM3, AM3+, FM1, FM2, FM2+ (backplate required)
Height (without fan)
158 mm
Width (without fan)
125 mm
Depth (without fan)
45 mm
Height (with fan)
158 mm
Width (with fan)
125 mm
Depth (with fan)
71 mm
Weight (without fan)
580 g
Weight (with fan)
755 g
Material
Copper (base and heat-pipes), aluminium (cooling fins), soldered joints & nickel plating
Fan compatibility
120x120x25
Scope of Delivery

NF-F12 PWM premium fan
Low-Noise Adaptor (L.N.A.)
NT-H1 high-grade thermal compound
SecuFirm2™ Mounting Kit
Anti-vibration pads and fan-clips for second NF-F12
Noctua Metal Case-Badge

Warranty
6 Years
Fan specifications
Model
Noctua NF-F12 PWM
Bearing
SSO2
Max. Rotational Speed (+/- 10%)
1500 RPM
Max. Rotational Speed with L.N.A. (+/- 10%)
1200 RPM
Min. Rotational Speed (PWM, +/-20%)
300 RPM
Max. Airflow
93,4 m³/h
Max. Airflow with L.N.A.
74,3 m³/h
Max. Acoustical Noise
22,4 dB(A)
Max. Acoustical Noise with L.N.A.
18,6 dB(A)
Input Power
0,6 W
Voltage Range
12 V
MTBF
> 150.000 h
[/accordion]
The NH-U12S
Now let's take a look at the packaging, contents, and of course the heatsink itself.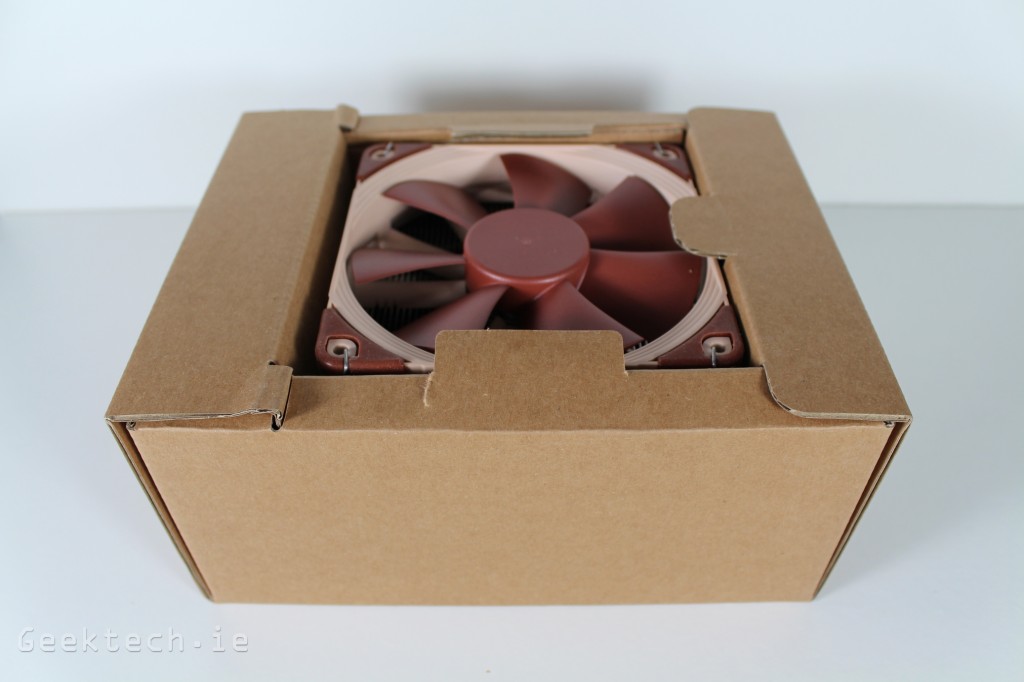 Like most Noctua products, it comes well packaged and includes a plethora of accesories including, mounts for Intel and AMD, Nocuta's NH-T1 thermal paste, low noise adaptor, screw driver, fans clips and rub corners.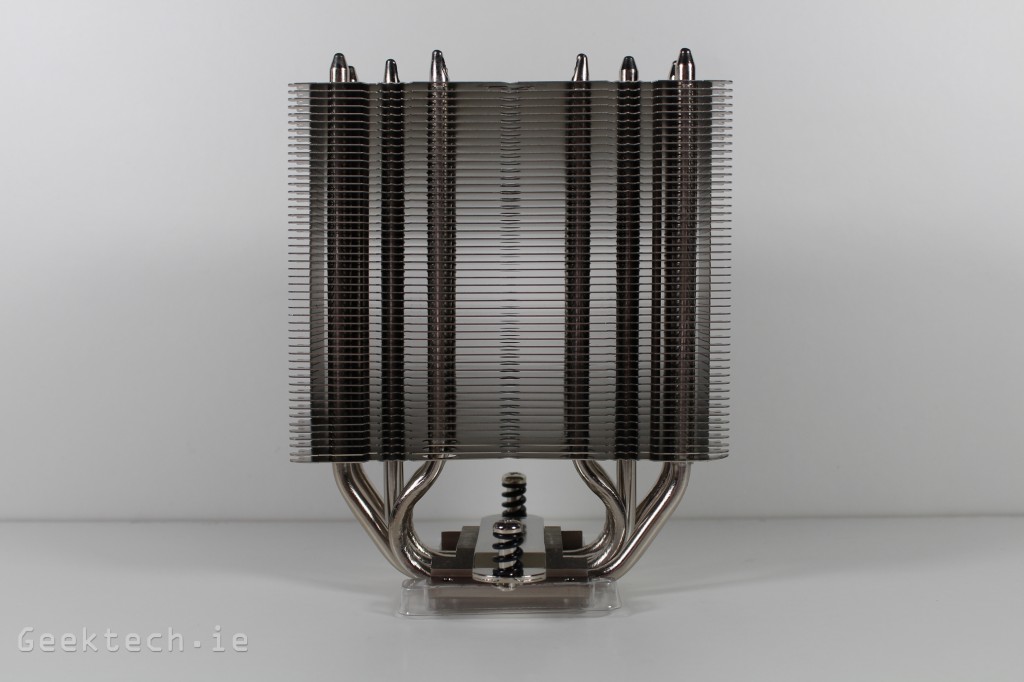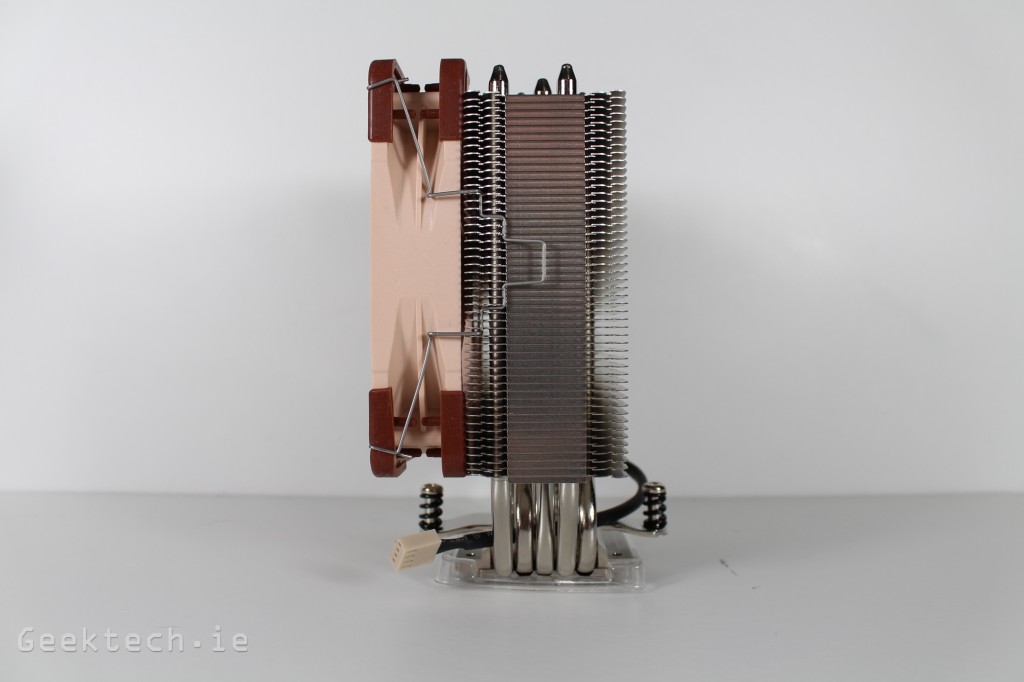 The heatsink alone details a Noctua specific design that we are all too familiar with nowadays. The NH-U12S comes with 1 fan, but also the clips/rubber corners for a second fan, should you wish to add one. Adding the fans is done after installation and it's ridiculously thanks to the included Securfirm mouting system by Noctua.
NF-F12 PWM Fan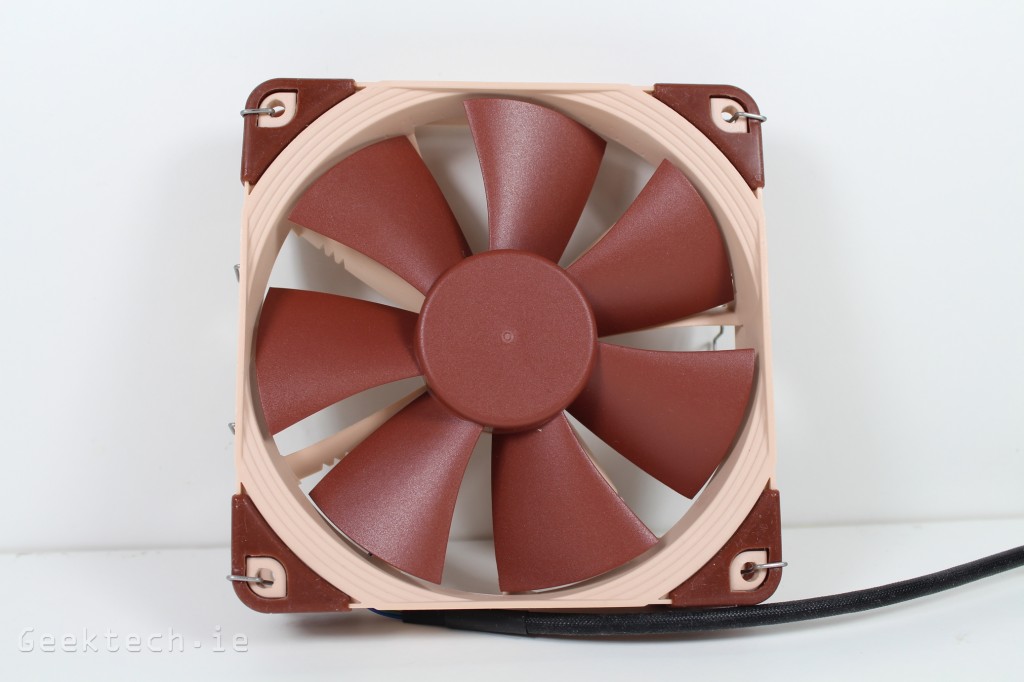 The stock fan is an NF-F12 FocusFlow 120mm PWM fan. It has a maximum rotational speed of 1,500rpm or 1,200rpm with the included low noise adaptor. Its lowest rotational speed is 300rpm and it has a max acoustical noise level of 22.4dB (A). The NF-F12 is one of Noctuas best fans, so we can expect great performance with near silence throughout. So now let's move onto testing.
Testing
Test setup
Intel Core I7 4770k CPU
Gigabyte Z87X-OC Motherboard
Kingston HyperX Predator 2400Mhz
Corsair AX1200 PSU
Above is our test unit specs. We will be doing both stock and overclocked tests which we go into more detail below. We will doing both 1 fan and dual fan tests, by adding a second NF-F12 fan. Our test is done using OCCT with 64bit mode/AVX/90-percent RAM. We leave the test running for 20 minutes with a idle period before and after and gauge its hottest temperature. The same test has been done on every heatsink and below out the results from each for comparison.
Stock Tests
Our stock tests are simply running the Intel 4770k on stock settings, which includes the 3.9GHz turbo ration. The RAM is set to full speed (2,400Mhz)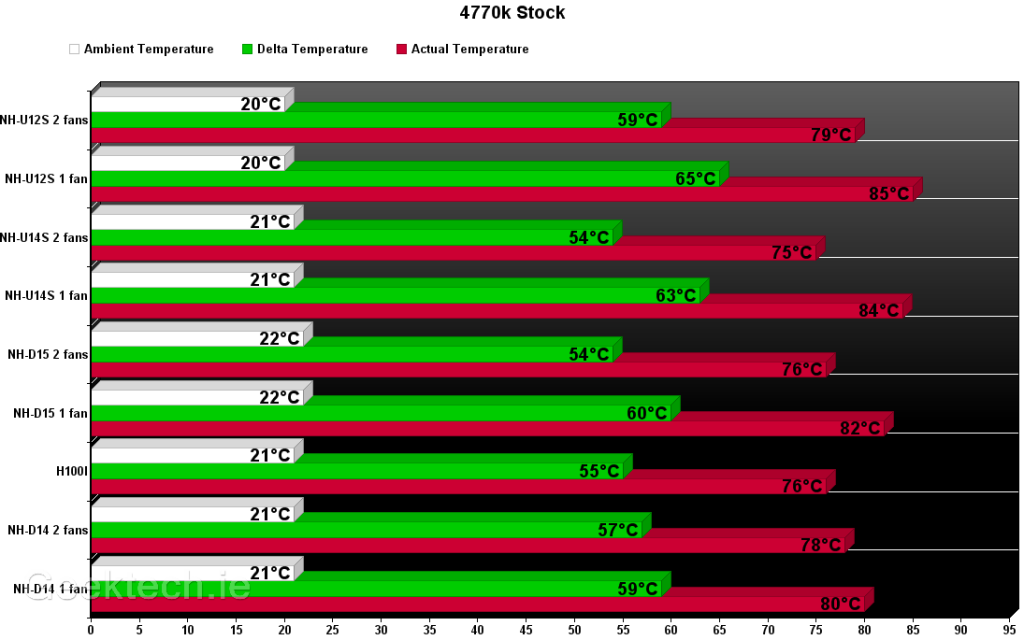 A single fan on the NH-U12S runs pretty hot on stock settings with the 4770k reaching 85°C with a delta temperature of 65°C. Both the single and dual fan performances were beat by all other heatsink, but considering the size of the NH-U12S, that's not a shocker. Still decent results for a heatsink of its size and the results aren't that far off the mark.
Overclock Tests
The overclocked tests increases the 4770k multiplier to 44 with a Vcore of 1.26V, this adds a good bit of heat to the CPU, and as we know with the 4770k likes to get pretty hot with any overclocking.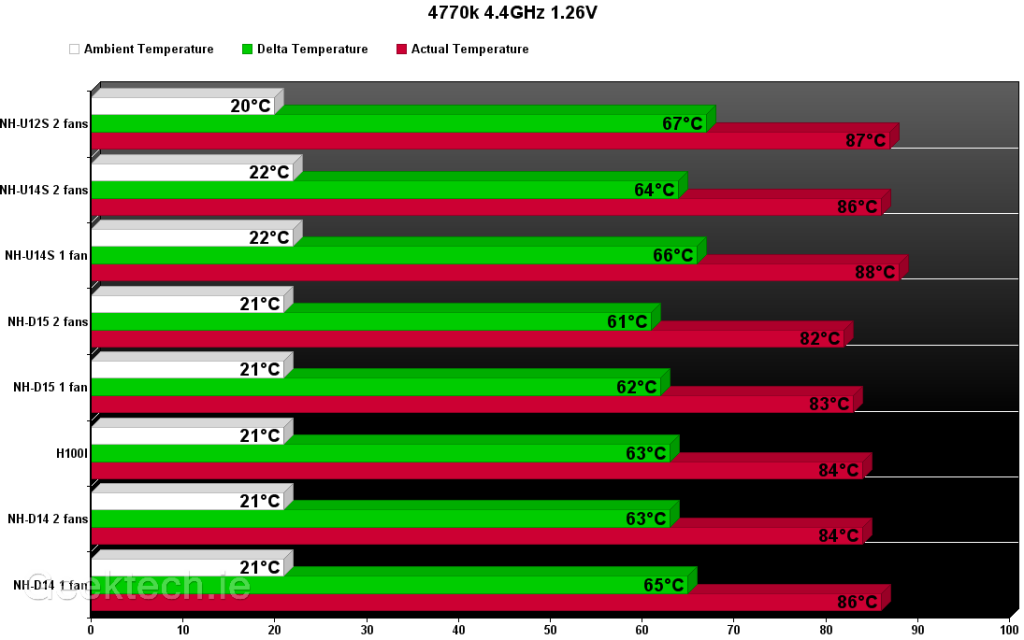 Here we can see a single fan NH-U12S couldn't cut it and past the 92°C threshold for the test. We can also see that the 2 fan performance is beat by all other heatsinks, even with those using a single fan. Basically, the compact size of the U12S prevents it from dealing with too much heat and the extra fan is needed to push it away. The ambient temperature being any higher, would probably result in dual fans not being able to cut it as well. Basically any real overclocking may result in the NH-U12S falling on its knees.
Conclusion
The NH-U12S will do a great job with pretty much any CPU at stock and won't interfere with your RAM choices in the slightest. It's only real competition would come from 120/140mm AIO's that won't get in the way of RAM as well and easily offer similar or better performance.The NH-U12S is priced at £50/€60/$80, which isn't that higher. but it's price isn't set low enough when we consider adding a second fan will increase its cost a further £17/€20/$28. However, the NH-U12S is an air heatsink, which allows for an easy setup and no maintenance and doesn't come with any worry that will always come attached to liquid cooling.
Further to the point, the NH-U12S isn't aimed at those who want the best CPU's with extreme heat dissipation for overclocking headroom, it's more a heatsink that won't get in the way and simply deal with your CPU's heat. So anyone looking to grab their components, put it to together and forget about it, the NH-U12S is probably the best choice. It won't get in the way of any RAM and its performance is good enough to keep any CPU cool on stock settings and best of all, it does it while staying near silent. Not bad for a 158 x 125mm single tower heatsink. The U12S isn't Noctua's best CPU heatsink overall.but it's their best at this size and we didn't expect to see those kind of numbers from a heatsink that small. It's spot on for what it's designed to do, which is, be small, be quiet, be good.
We were aiming towards silver award because of price of the NH-U12S with a second fan , but we have to point out that the NH-U12S on a stock 4770k is only a couple of degrees behind the giants that are the NH-D14 and NH-D15. It really is a gold worthy piece of engineering and we are impressed. To offer that kind of performance while being this small and not to forget near silent, it's clear Noctua know what they are doing and while it's not a heatsink that can deal with extreme overclocking, it's a solid little performer that brings ease of mind along with easy installation and silent performance and allows users to not have to worry about compatibility issues or potential leaks from larger heatsinks and liquid cooling.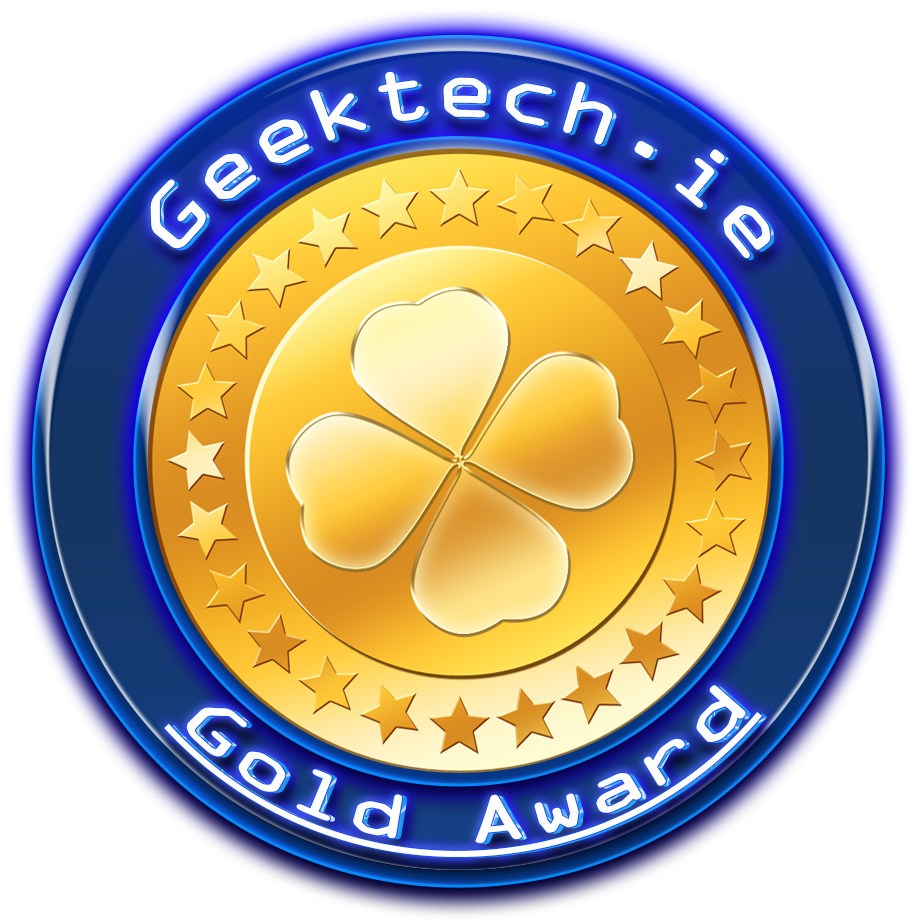 A big thanks to Jakob and Noctua for sending over the NH-U12S for review.