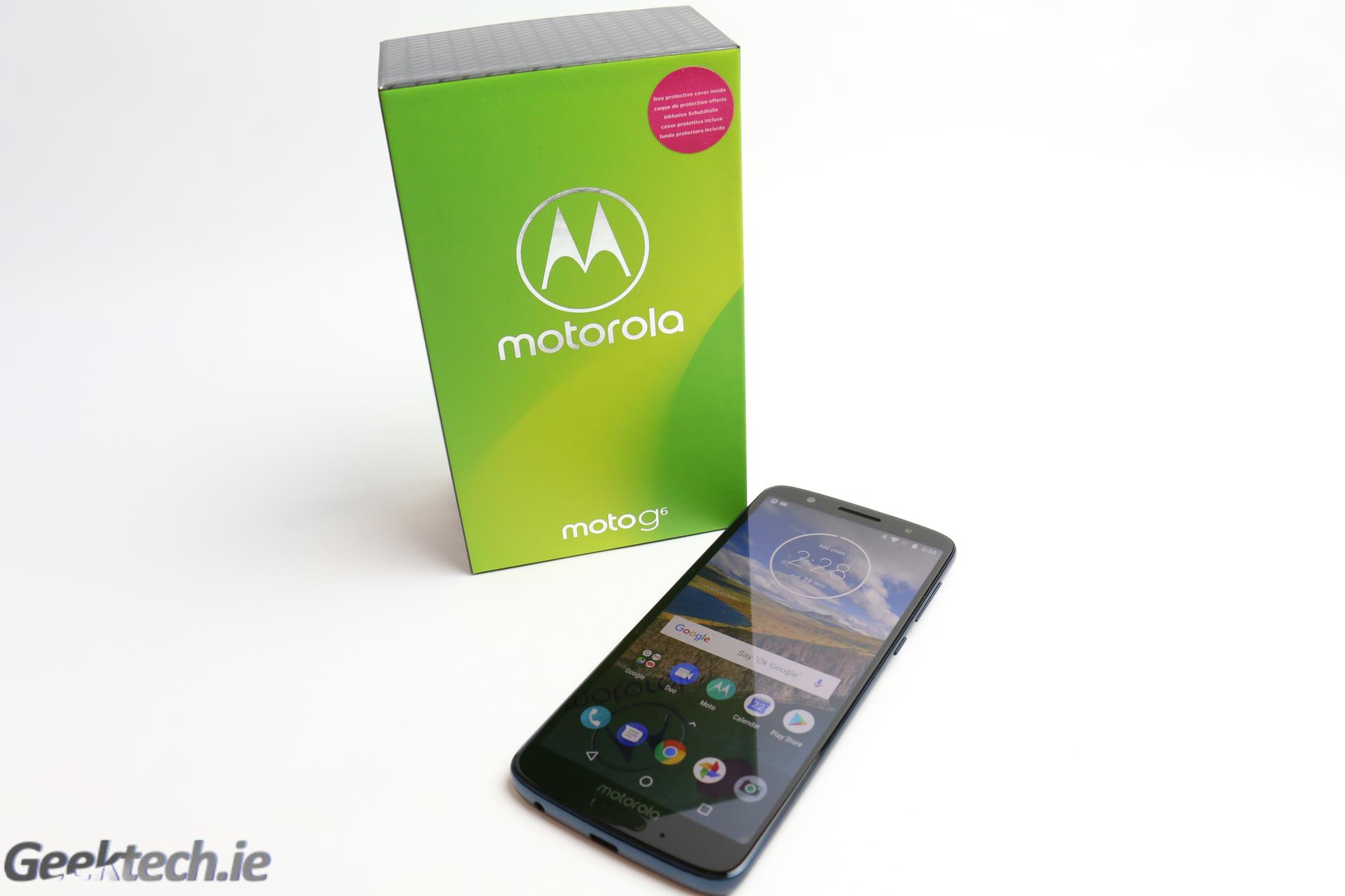 Motorola have been apart of the smartphone game for a long time, and even before there were apps, social media, and new messaging apps, Motorola were one of the biggest phone makers. Their V3 razr phone was one of the most popular flip phones ever released.
Their Smartphone business has been hit and miss for the past few years. Motorola has moved to Google and then again to Lenovo within the same decade.
This year Motorola are directing their efforts towards their more budget and mid-range devices. We're happy to see more focus on these areas, with the smartphone world reaching higher tags for flagship devices than ever before.
The Moto G6 is one of the more prominent devices within Motorola's line up. It features a wide set of decent specs including a dual camera's, a large IPS display, 3GB's of RAM and MicroSD slot, but most important can be picked up for as little as €180.
Below are the full specs for the Moto G6. Our version includes 32GB of storage, and 3GB's of RAM.
Software: Android 8.0 Oreo.
Display: 5.7-inch, 18:9, FHD+ 2160×1080, IPS LCD, MAX Vision
Design: Gorilla Glass 3 front and back, aluminum frame; p2i water repellent nano coating
Chipset: Qualcomm Snapdragon 450, octa-core Cortex-A53 1.8GHz, Adreno 506 GPU
Memory: 3/4GB RAM, 32/64GB, dedicated microSD slot for up to 128GB expansion
Rear Camera: 12MP, f/1.8 lens; Secondary 5MP; LED flash;
Video Recording: 1080p@60fps video recording
Front Camera: 8MP, f/2.2 lens, 1080p@30fps video recording; LED selfie flash
Networking: Bluetooth 4.2, NFC (EU only), GPS/GLONASS, Dual-band Wi-Fi a/b/g/n, FM radio, USB Type-C

Other: Fingerprint sensor
Dimensions/Weight: 153.8 x 72.3 x 8.3 mm, 167 g
Battery: 3000 mAh
Straight away you might feel your not really looking at the specs for a sub €200 device. A 5.7-inch 18:9 IPS display with 2,160 x 1080 resolution, Dual 12MP and 5MP camera sensors on the rear, and 8MP sensor on the front.
We also get a large 3,000mAh battery, fingerprint sensor, USB type-C, and Headphone jack. The Snapdragon 450 also features an decent Octa-core processor that should provide decent performance. Color us already impressed out the gate.
The Motorola G6
The design and feel is also not lacking in the premium side of things. We get a really nice looking smartphone. It has the popular 18.5:9 ratio with slim bezels.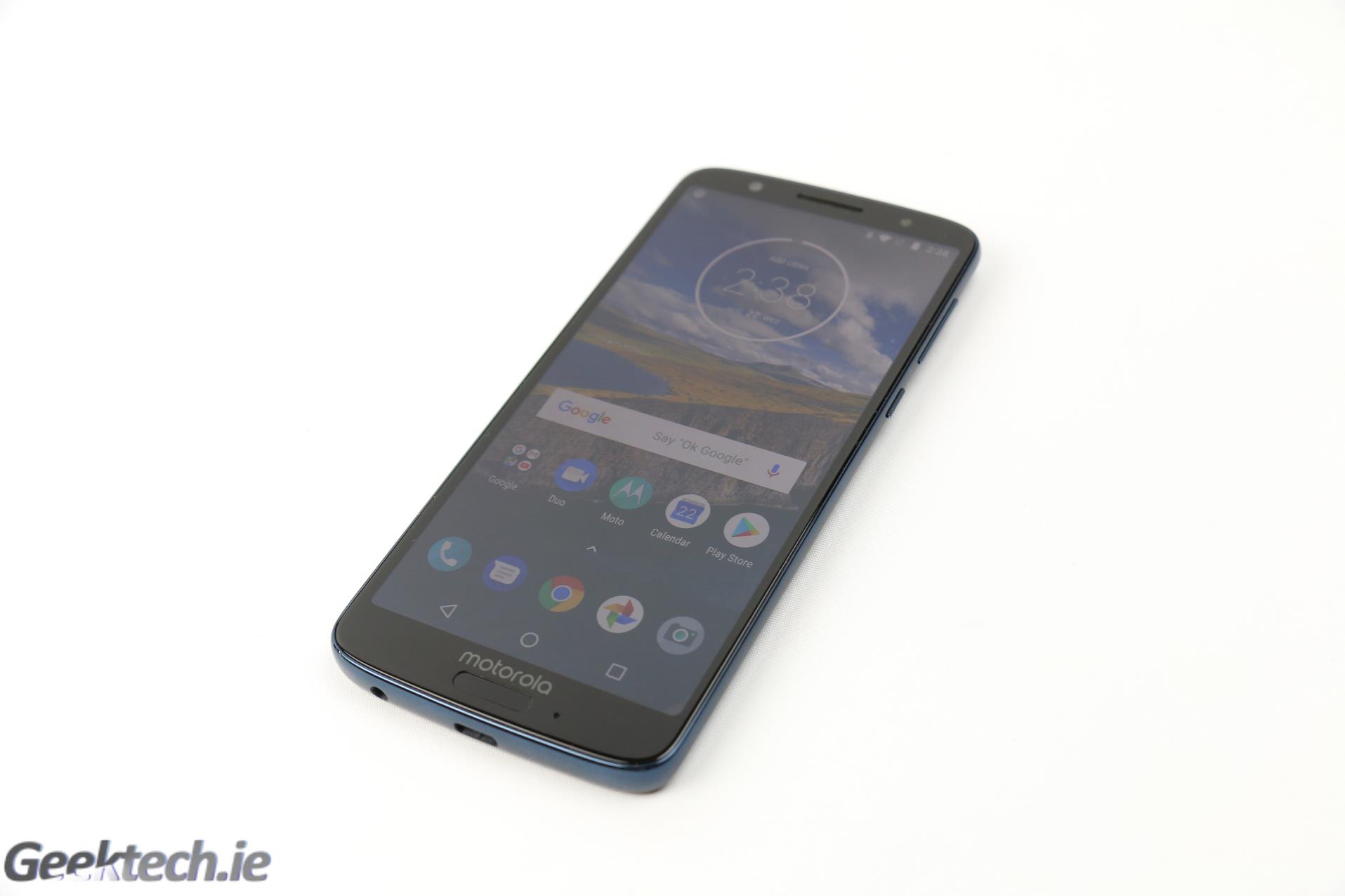 The chin of the device is remarkably thin even with the included fingerprint sensor at the bottom, which wakes the devices when pressed and unlocked it almost instantly.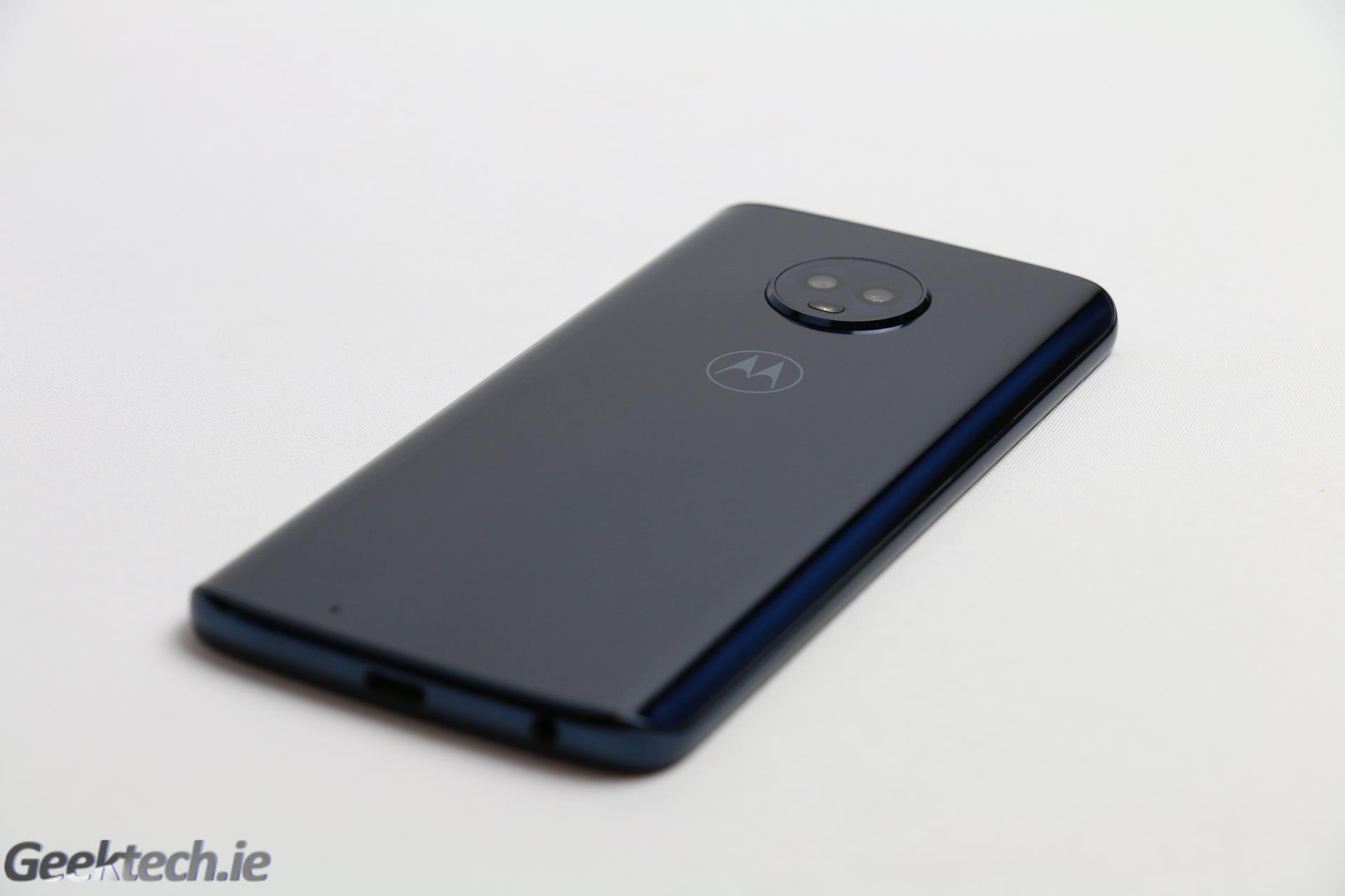 The glass back is another popular design feature we have seen this year and last, even from €1,000+ devices. Seeing a lovely glass back with curved edges is another huge plus for the sub €200 device.
The camera bump is very prominent , but will still protect the camera lens from scratches for the most part.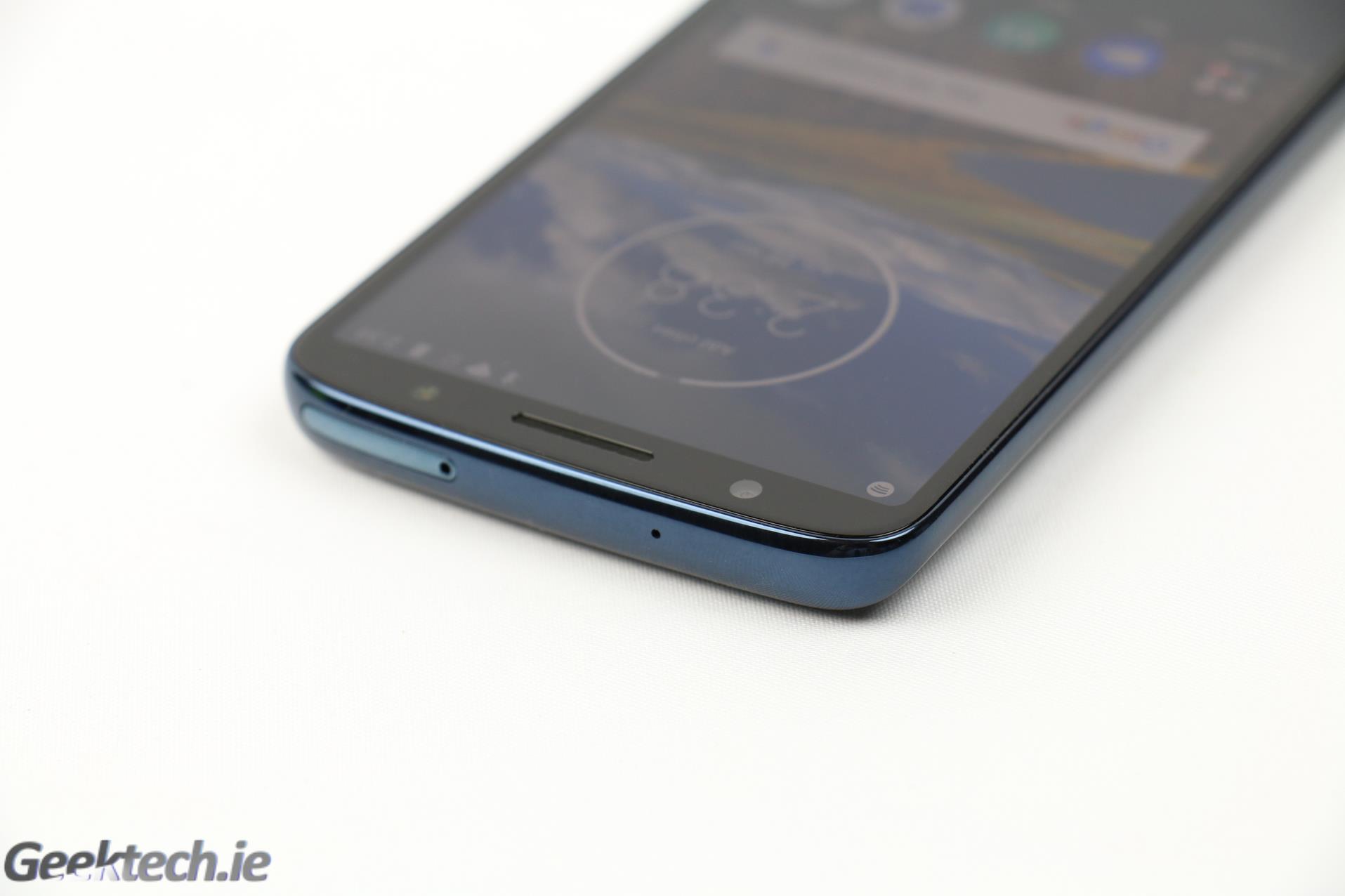 We extremely impressed with the design of the Moto G6. It doesn't come across as cheap or budget in anyway, and includes rather beautiful look and feels great in hand. Motorola also include a cover in the box, albeit thin and non-premium, it is great to see some form of protection out of the box. All this from a rather cheap device makes it all that more impressive.
UI
Motorola thankfully keep a pretty stock Android OS. They do include Moto Actions which allow for gestures to control the device using the fingerprint sensor, and chop-chop which allows to turn on the flashlight by shaken the device twice, or twisting it for the camera. Other than that we have a very stock Android look and feel.
Photos and Video
The Moto G6 includes dual camera sensors on the back. The main camera is a 12MP shooter with the secondary 5MP including a telephoto lens for when your taking zoomed in photos.
The device supports HDR, which can be turned on or off. We have included photos taken with HDR both OFF and then again ON.
HDR Off
Here we can see the lack of HDR brining a huge imbalance to the shots. The dark areas loose a great amount of details as the device favours the bright areas. This is exactly why HDR exists. We generally recommend letting the device choose when to use HDR, but if your taking shots with a lot of camera shake, it can beneficial to just turn it off and avoid potentially blurry photos.
HDR On
HDR shows a massive improvement in overall quality. The combination of exposure allows for better light in the areas that need it and bring out much more details. Here we can see a very worthy camera on the device, which again bodes well for the price point.
Full size images
The above images are resized for viewing on the website. If you wish to check out the full size images, you can do so with the link below.
Videos
1080p
1080P@60fps
Benchmarks
Now its time to check out performance that the Moto G6 has to offer Being one of the cheaper devices we have reviewed in recent times, we're not expecting large numbers here, but it must be noted that throughout our usage of the device, everything felt extremely smooth.
| | |
| --- | --- |
| 3D Mark Ice Storm Extreme | 7755 |
| 3D Mark Ice Storm Unlimited | 12744 |
| 3D Mark Sling Shot | 799 |
| 3D Mark API Overhead OpenGL Es 3.1 | 442 |
| 3D Mark API Overhead Vulkan | 390 |
| Antutu | 69560 |
| Geekbench Single-Core | 752 |
| Geekbench Multi-Core | 3971 |
| PC Mark Work 2.0 | 4573 |
| PC Mark Computer Vision | 2131 |
| PC Mark Storage | 5068 |
| PC Mark Work | 5395 |
Battery Life
Now it's time to see how long the Moto G6 will last throughout our 12 hour battery test. The test aims for medium to heavy usage.
| | |
| --- | --- |
| Phone Calls | 20-30 Minutes |
| Text message/Chat/Emails | Throughout the day(checking) and 20-30 sent |
| Photos | 10-20 |
| Video recording | 20-30 Minutes |
| Internet browsing | Throughout the day(around 30-40 minutes total) |
| Gaming | 30 Minutes |
| YouTube/Netflix | 30-40 Minutes |
| Connectivity | WiFi and 4G; mostly 4G |
| Screen Brightness | 50-percent |
Conclusion
It's now time to sum up what the G6 has to offer. Below is a breakdown on the main aspects of the device. This includes Design, Display, Camera, Performance, and finally Overall.
Design
Motorola did well to keep to a pretty modern and stylistic design on budget friendly device. We get the newer 18.5:9 ratio display which works much better with the larger display size. The form factor overall is very good and the device is still very thin. There is not much we would change about the design of the Moto G6 as we're overall very happy with it.
Display
Another great box ticked for the device. The included high resolution IPS display offers amazing quality and color. Comparable to flagship devices from not too long ago. We can't imagine anyone not being pleased with such display. direct sunlight might be a but of an issue, but such is the same with most devices on the market and hardly a fault and sub €200 device.
Camera
The included dual camera's do a decent job providing us with high quality photos. It absolutely wouldn't stand up again the flagship devices on the market, but it definitely does well enough to be on top of the budget arena, and even bests most mid-range phones avaialble.
Its easily one of the more important features for some, and it will hold well for most and provide high quality photos when you need them and that's saying a lot for a device at this price, considering some even more expensive devices still take photos like a potato.
Performance
The Snapdragon 450 chipset is probably not going to play the most graphically intensive games avaialble, but it does an amazing job keeping the entire phone OS smooth. The clean UI and overall Android experience definitely plays a part in that, but performance didn't feel like an issue for the Moto G6, but it's still worth nothing that the chipset offers under half the performance you get from flagships from over a year ago. That being said, we still feel it's a worthy performance for 90-percent of what users do on their smartphone. Casual gaming is no problem, just don't expect anytime like high settings for PUBG or Fortnite.
Overall
The Moto G6 is one of the more impressive devices to launch in 2018 and not because it breaks any records per se, but the fact it does some many things well for an extremely competitive price. It really puts the features of smartphones that we generally get from flagship devices into perspective.
If anyone is looking for the top camera, or best display or performance, than obviously a sub €200 device isn't going to get you that, but if your looking for a phone that offers a modern design, really good display, wide range of features, okay camera, and solid battery life, and all for less than €200, then I can't imagine you will find a better deal than the Moto G6.