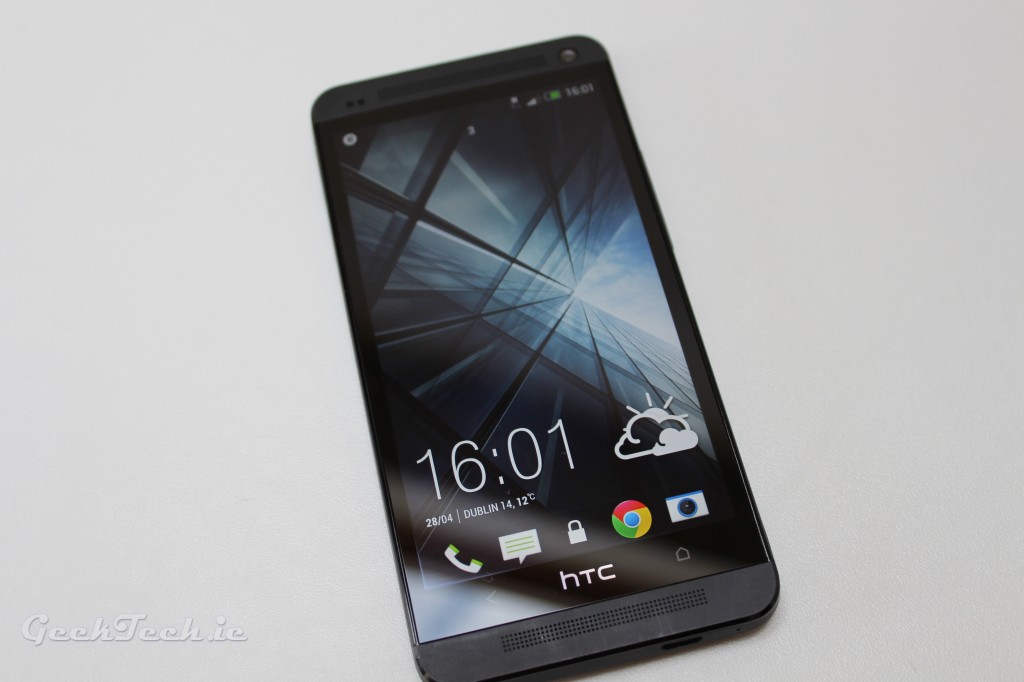 The HTC ONE!!!!!! finally I have my hands on the new HTC One that has already taken the world by storm with its good looks. HTC have had some financial trouble the past year or so, but that hasn't stopped them from pushing out another flagship device. This time we are seeing some impressive things like full aluminum body, ultra pixel camera with amazing low light performance and not to forget the 4.7-inch 1080p display. So let's dive right into the full review and start off with the list of specs!
Android 4.1.2
4.7-inch 1080p LCD3 display(469 ppi)
Quad-core 1.7 GHz Krait 300
Qualcomm APQ8064T Snapdragon 600
2GB of RAM
4MP Ultrapixel camera, 1080p video recording with stereo sound
32GB/64GB storage
Complete Aluminum frame
[youtube width="650″ height="400″]1qOuX7h2hZ0[/youtube]
[accordion title="Specifications" id="id-here"]
All Specs
CPU SPEED
Qualcomm® Snapdragon™ 600, quad-core, 1.7GHz
PLATFORM ANDROID
Android™ with HTC Sense™
HTC BlinkFeed™
SIM CARD TYPE
MEMORY1
Total storage : 32GB/64GB, available capacity varies1
RAM : 2 GB DDR2
NETWORK

2G/2.5G – GSM/GPRS/EDGE:
3G – UMTS/ HSPA:
Europe/ Middle East/ Africa: 900/1900/2100 MHz with HSDPA up to 42 Mbps
Asia: 850/900/1900/2100 MHz with HSDPA up to 42 Mbps
Canada/ Latin America: 850/1900/2100 MHz up to HSDPA 42 Mbps
T-Mobile (US): 850/ AWS/1900/2100 MHz with HSDPA up to 42 Mbps
AT&T: 850/1900/2100 MHz with HSDPA up to 21 Mbps
Sprint: 1900/2100 MHz with HSDPA up to 14.4 Mbps
3G – CDMA:
4G – LTE:
Europe/ Middle East/ Africa: 800/1800/2600 MHz
Asia: 1800/2600 MHz
T-Mobile (US)/ AT&T/ Canada/ Latin America: 700 MHz and AWS band
Sprint: 1900 MHz
GPS
Internal GPS antenna + GLONASS
Digital compass
SENSORS
Gyro sensor
Accelerometer
Proximity sensor
Ambient light sensor
CONNECTIVITY
3.5 mm stereo audio jack
NFC capable3
Compliant with Bluetooth 4.0
Bluetooth 4.0 with aptX™ enabled
Wi-Fi®: IEEE 802.11 a/ac/b/g/n
DLNA® for wirelessly streaming media from the phone to a compatible TV or computer
HTC Connect
Miracast wireless display standard
Support consumer infrared remote control
micro-USB 2.0 (5-pin) port with mobile high-definition video link (MHL) for USB or HDMI connection (Special cable required for HDMI connection.)
SOUND ENHANCEMENT
HTC BoomSound™
Dual frontal stereo speakers with built-in amplifiers
Studio-quality sound with Beats Audio™
Sense Voice
CAMERA
HTC UltraPixel Camera
BSI sensor, Pixel size 2.0 µm, Sensor size 1/3′
Dedicated HTC ImageChip™ 2
F2.0 aperture and 28 mm lens
Optical Image Stabilization (OIS)
Smart Flash: Five levels of flash automatically set by distance to subject
Front Camera: 2.1 MP, 880 wide angle lens with HDR capability
1080p Full HD video recording with HDR Video
HTC Zoe™ with Sequence Shot, Always Smile and Object Removal
Gallery with Video Highlights and HTC Share
Continuous shooting and VideoPic
Slow motion video recording with variable speed playback
MULTIMEDIA
Audio supported formats:
Playback: .aac, .amr, .ogg, .m4a, .mid, .mp3, .wav, .wma (Windows Media Audio 9)
Recording: .amr
Video supported formats:
Playback: .3gp, .3g2, .mp4, .wmv (Windows Media Video 9), .avi (MP4 ASP and MP3)
Recording: .mp4
BATTERY4
Embedded rechargeable Li-polymer battery
Capacity : 2300 mAh
Talk time:
Up to 18 hours for WCDMA
Up to 19 hours for CDMA
Up to 27 hours for GSM
Standby time:
Up to 500 hours for WCDMA
Up to 496 hours for CDMA
Up to 479 hours for GSM
AC ADAPTER
Voltage range/frequency: 100 ~ 240 V AC, 50/60 Hz
DC output: 5 V and 1 A
[/accordion]
Design
HTC have gone all out with the design of the HTC One, this time around the entire device in one piece of Aluminum. Reports have stated that each phone takes around 200 minutes in a CNC machine to cut to specification. HTC embed the entire antenna into the frame of the housing and you can make out the sort separation where the antennas are location, however the entire device is completely smooth.
When holding the device you are immediately met with the feel of strength, you can easily feel how solid this phone is and that it was built with not only beauty in mind, but how it felt in the hand. The device has a volume rocker on the right side with the power button located on the top of the device along side the 3.5mm earphone jack. The front of the device has 2 capacitive buttons rather than the normal three. So just menu and back buttons this time around.
Sense 5.0
The UI jump for HTC reaches Sense 5.0. This time around we see some significant changes in the layout and additions of new features.
HTC made a good few changes to the UI with Sense 5.0. The app drawer now scrolls vertically with a nice big clock and weather permanently on the top and scrolling is done page by page rather than continuous  The home screen sees the introduction of Blinkfeed(more info below). The main changes however are on the inside as now we have a completely smooth and lag free UI. Now since the HTC One is powered by the SnapDragon 600, we would expect nothing less, but none the less, a smooth UI is important.
Camera
HTC have gone in a different direction with their camera for the HTC One, normally we see some advances in software features along with the usual bump in mega pixels. This time around HTC have decided to go with less mega pixels and the reason is that they want larger individual pixels to gather better quality for those low light shots, not to mention improve overall quality as well.
The camera also has an aperture of F/2.o which makes it the highest aperture on a mobile device. It also sports 2 x optical image stabilization. Now this all sounds great on paper, but we really want to take a look at some photos and videos taken on the device in both daylight and low light conditions to see how they turn out, but first we are going to take a look at the UI of the camera.
UI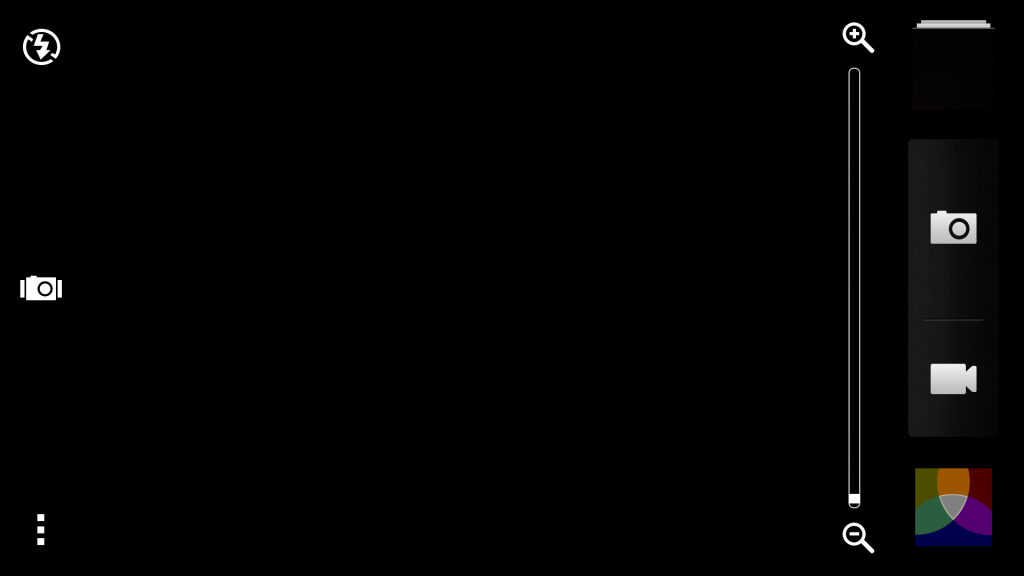 The camera app has had some changes to it's look and layout while most of the functionality is the same. There is no separate video/picture mode which is now the norm for high end smartphones, so shooting video or pictures can be done at anytime and you can even take pictures while recording video like the last time with the HTC One X.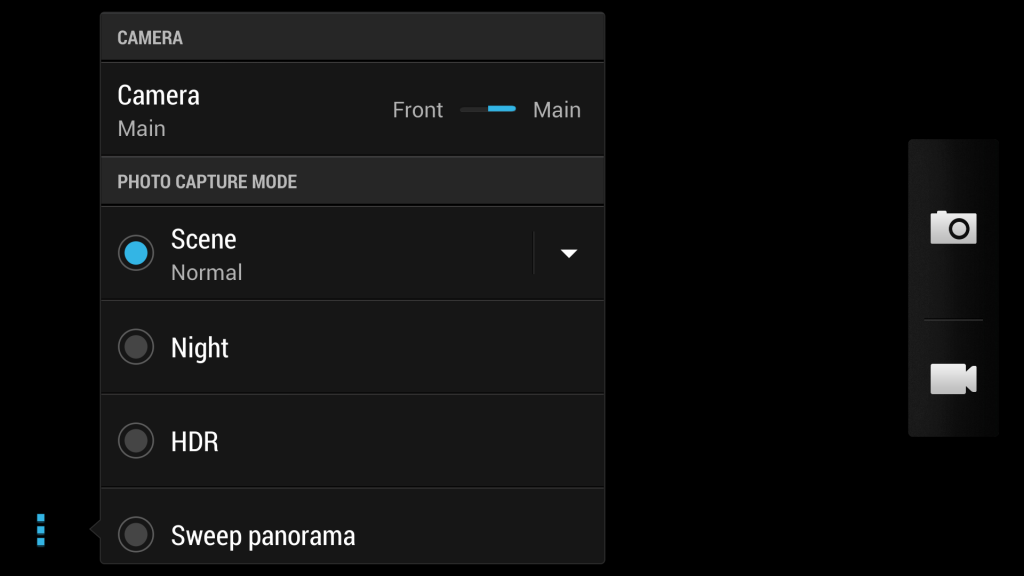 The settings for both video and pictures are still together with a slight breakdown inside with photo capture mode and video capture mode. The photo taking side of things has the options for Normal, Night, HDR and Sweep Panorama. The Normal selection breaks out even further to reveal more option like Portrait, Landscape, Backlight, Text and finally Macro.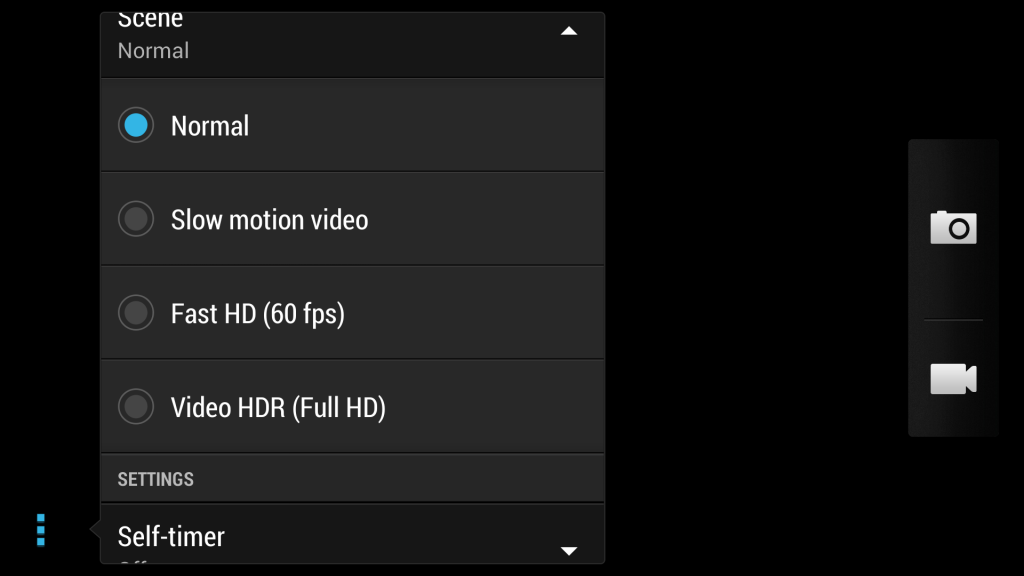 The video settings include Normal, Slow motion video, Fast HD (60fps) and Video HDR (Full HD).

The rest of the settings include the usual selection with ISO settings, White balance, Continuous shooting, Camera options(Face detection, Auto smile capture, Geo-tag photos) Shutter options(touch to capture, Shutter sound), Lock focus in video, Grid, Auto upload and Reset to default. So while the layout may be a little different, all the options/settings are still there and most should be the same as before.
Photos (Daylight)
Above we have all the daylight shots. It was a nice sunny day(not a lot of those) so taking pictures and videos on the HTC One was great. HTC are really on to something here with the ultrapixel camera technology as all the pictures turned out fantastic and the quality really speaks for itself. Another great factor is that since the camera sensor only has 4MP, it keeps the file sizes down and since you can take tons of photos a second, than the space would really get filled up quickly, but the low file sizes mean you won't have to worry too soon. Below is a link to all the full sized images.
Photos (low light)
Now we have the low light shots in the same area. HTC have reported that the camera sensor in the HTC One let's in around 300 percent more light than most 13mp cameras on smartphones. This means that low light photos should turn out better since the sensor is letting in more light(simple right!) So you can see from the above shots that this is true, this is easily the best low light performance on any camera phone on the market. Again, below is a list of all the images if you wish to see them in full screen.
Video
Now let's take a look and some videos taken with the HTC One. All settings were left at default/automatic and recorded at 1920 x 1080.
[youtube width="650″ height="400″]ag0U0DrCpxw[/youtube]

Benchmarks(CPU/GPU)
The HTC One is powered Qualcomms SnapDragon 600, which should by all accounts provide some amazing performance throughout the device. So let's take a look at some synthetic benchmarks and get the numbers. I will benchmark the HTC One on Antutu, Antutu 3d, Geekbench 2, Quadrant and Vellamo
The HTC One is clearly a beast on the inside with the results blowing away the competition from last year, the benchmarks can't really be argued with, it beats every device on the market besides the Galaxy S4. Overall the performance is there for the HTC One and will play any game, preform any task you throw at it and will do so smoothly the entire time.
Battery performance
The HTC One is powered by a 2300mAh battery which is on the low side of a device of this magnitude with a 1080p display and SnapDragon 600 chipset.
I used the phone for over a week and really wanted to see how much I could get out of the battery each day, however the results are fairly low. I used the last day of testing to do the main battery test and done the typical day of medium to heavy usage which includes around 15-20 minutes of calling, about 20 or so photos with around 5 minutes of video. I was using 3G most of the day with some WiFi in between. Tests also include around 30 minutes of gameplay and around an hour or so of web browsing and emails.
While I was able to make it to the end of the day without needing a charge, it was essential to get to a charger for the next day, so with any more use than a typical medium to heavy usage, you will run out of juice before the end of the day. So if you plan on using your phone for most of the day it would be wise to have a charger handy somewhere throughout your day.
Gameplay
Since the HTC one has a 1080p display and killer chipset, I had to make a gameplay video to not only show how it handles the games perfectly, but how amazing they look on the 1080p display. So check out the gameplay video below, the games tested are GTA: Vice City, Dead trigger and finally Real Racing 3.
[youtube width="650″ height="400″]-ZkUBuCnEA4[/youtube]

Conclusion
The HTC One is a serious smartphone and not just on the inside but on the outside, it's complete aluminum build makes it one of the most unique smarthpones on the market but that's not the whole story. HTC put a lot of thinking behind every decision with the One and made choices that not every manufacture would be willing to make, and all for the greater good.
Screen
The main attraction for any smartphone would be the display and is it hard to sum up the pixels on the HTC One… NOPE! The screen is fantastic and easily one of the best on a smartphone and this is because it aims for clarity, sharpness and color reproduction, brightness and excellent viewing angles and doesn't lack in any of them. Now while HTC doesn't make the display themselves, they do have a big say in it's design and specification and no doubt they made a great choice for the HTC One. The only downside for the display is that you would need it to be at max brightness when using in in direct sunlight and even then it's still not the best, but nearly every phone suffers from that affliction. None the less the HTC One display is a stunning piece of tech, especially with HD movies/TV shows.
Camera
Now here is where HTC have gone in a different direction, instead of the normal bump in pixels with a new flagship phone, HTC have decided to go a different route and lower the amount of pixels in favor for pixel size. The reason for this is to not only improve quality of your shots but also improve low light snaps as well. The results clearly speak for themselves and the HTC Ultrapixel camera is a clear winner with quality. While pictures don't have much zoom in them if any at all, they still look fantastic and the low light shots are amazing for a camera phone.
The normal daylight shots aren't as good as other smartphones but the low light shots are the best and really set the HTC One ahead in that area.
Benchmarks
Inside the HTC One is Qualcomm's Snapdragon chipset with Krait 300 CPU clocked at 1.7GHz and Adreno 320 GPU. These are the things that power the 1080p display and push the frames and quality for the games we demoed above. There really isn't single bad thing about this are of the HTC One, although the device got a little warm on the back, the quality and performance of the gaming would allow for such action. The synthetic benchmarks showed numbers that nearly doubled last years performance and with a 1080p display we would expect nothing else, but still it's nice to see that the HTC One will not suffer any performance issues because the Snapdragon 600 has it covered.
Overall
What more is there to say about the HTC One that we have covered already… well it's the most beautiful looking/feeling smartphone ever made, how about that! HTC wanted to prove they could still make a device worth buying and they have done just that, the One is a smartphone with great design, features and performance and stands out from the rest of the competition with a unique design and killer performance… however that's not to say there aren't a few drawback, like the lack of a removable battery, or at least a larger battery and no MicroSD card slot.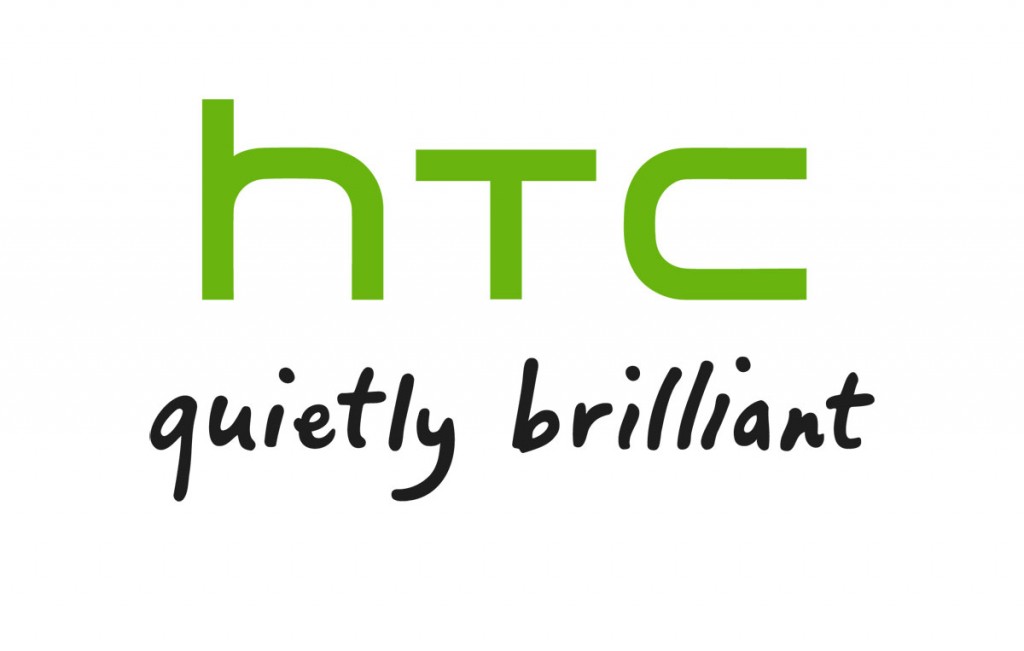 A big thanks to HTC and the Keogh partnership for sending out the HTC One for review.