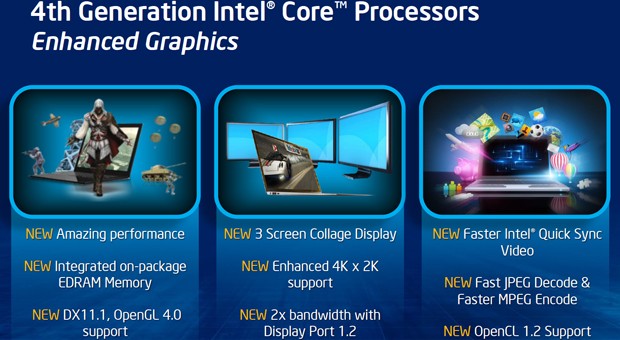 Intel have released some details on their upcoming Haswell core processors, the details are for the integrated graphics that will be accompanying the lastest series of processors from Intel. The HD 5000 graphics cores will see some massive performance boosts over last years chips. There is also a new naming system involved which is detailed below.
The 15W-U series will be aimed at ultrabooks with similar performance to that of previous integrated graphics with more efficiency . The 28W-U(Iris) series which Intel claim will be twice as fast as previous integrated graphics with the option of Iris Pro with integrated DRAM which should double performance of the H-series mobile chips. The desktop chips will be the R-series and should have triple the performance as before.
The new line of integrated graphics supports Direct X 11.1, OpenGL4, Open CL1.2, 4K output and multi-monitor setups. Intel didn't release any information on the cpu sides of things, but that shouldn't be too far off.