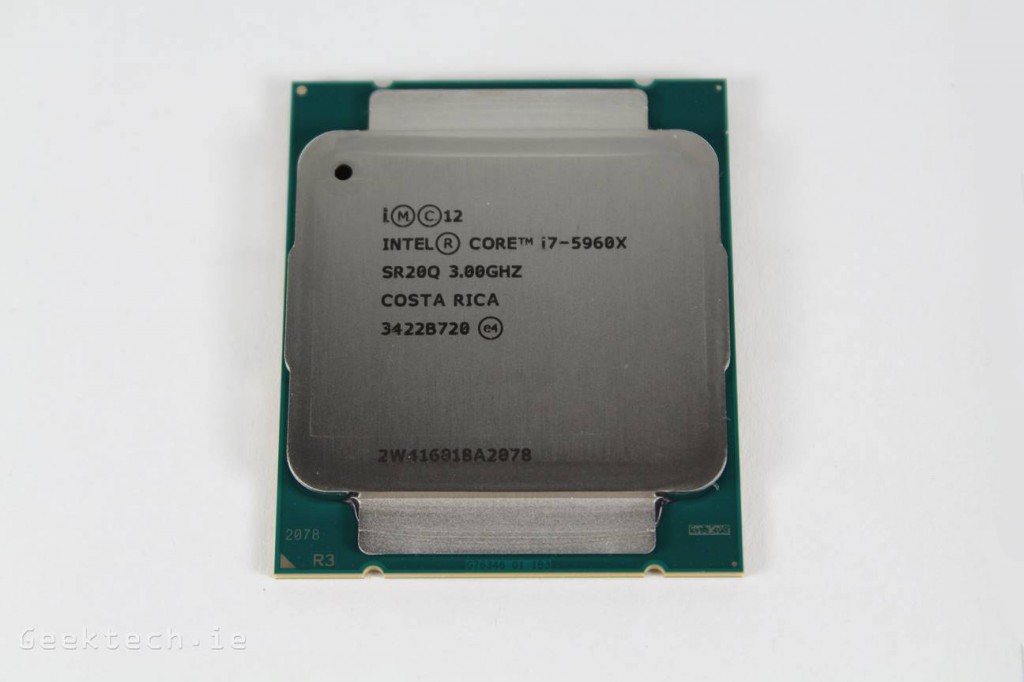 Intel's latest enthusiast platform as arrived. The new X99 chipset which together with the new Haswell-E platform usher in DDR4 support for insane memory speeds. The new platform contains an extensive feature list . Let's get the review rolling and take a closer look at the new chipset and processor line-up.
The new Haswell-E processor line-up includes three new CPU's. Starting with the bottom, we have the 5820k which includes 6-core/12 threads with 15MB of L3-Cache and is clocked at 3.3GHz with a turbo frequency up to 3.6GHz,. The 5820k includes 28-PCIE 3.0 Lanes, which is a massive leap over the 4790k's 16 lanes. Stepping up a level we have the 5930k which again includes 6 cores/12 threads with 15MB of L3 Cache, but with a clock speed of 3.5GHz and the turbo up to 3.7GHz. It also includes 40 PCIE 3.0 lanes.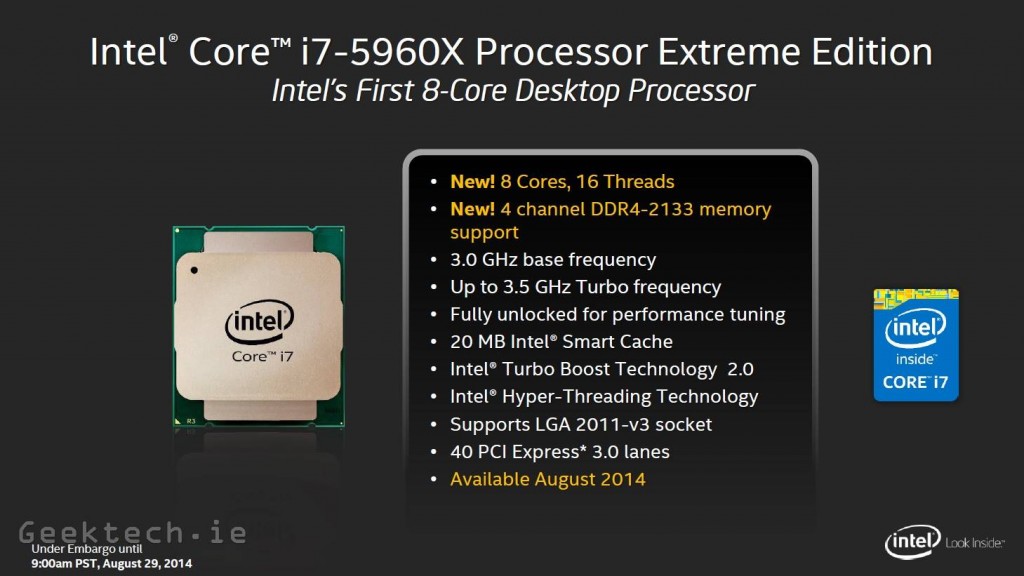 Lastly we have the 5960X, Intel's new Desktop King. The new Extreme processor includes 8 Cores/16 Threads with 20MB of L3 cache and is clocked at 3.0GHz to start and has a turbo up to 3.5GHz. It also sports the 40 PCIE 3.0 Lanes. All new CPU's use the new DDR4 for memory.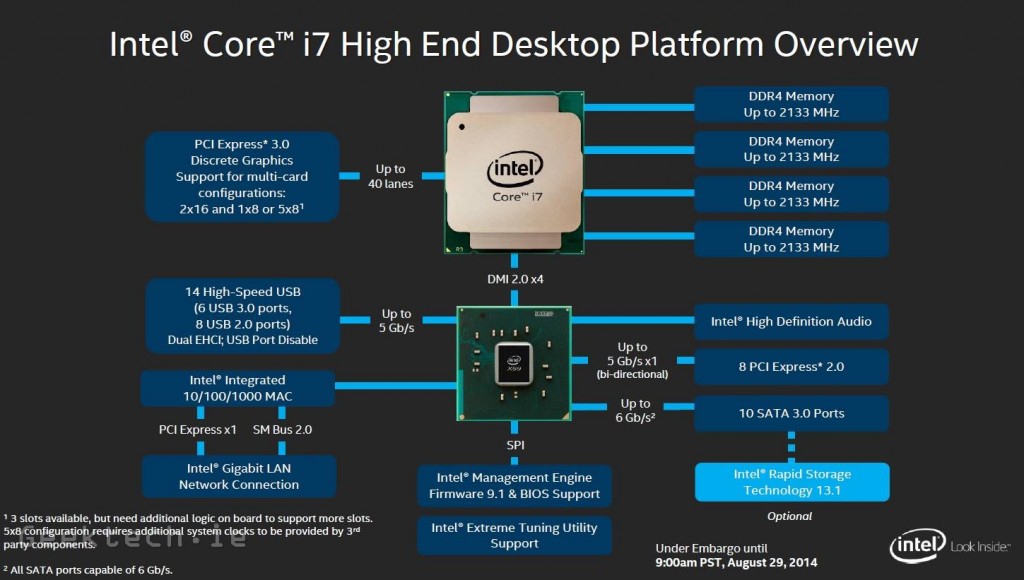 Straight from the chipset we can see support for 14 high speed USB ports with integrated USB 3.0 support. We also have 10 SATA 3.0 ports with 6Gbps speed. The chipset also includes 8 PCI Express 2.0 support with 5 GT/s speed.
[accordion title="Intel X99 Chipset Specifications" id="1″]
Intel X99 Chipset Specifications
Feature
Benefit
Supports Intel® Core™ i7 processors
in the LGA2011-v3 socket
Supports Intel Core i7 processors with Intel® Turbo Boost Technology 2.0.1
Overclocking2
The Intel® X99 Chipset also enables overclocking features of unlocked 4th and 5th generation Intel® Core™ processors.
Intel® Rapid Storage Technology (Intel® RST)3
With additional hard drives added, provides quicker access to digital photo, video, and data files, and greater data protection against a hard disk drive failure with RAID 0, 5, and 10.
Intel® Rapid Recover Technology
Intel's latest data protection technology helps provide a recovery point that can be used to quickly recover a system should a hard drive fail, or if there is data corruption. The clone can also be mounted as a read-only volume to allow a user to recover individual files.
Intel® High Definition Audio (Intel® HD Audio)4
Integrated audio support enables premium digital surround sound and delivers advanced features such as multiple audio streams and jack retasking.
Intel® Smart Response Technology5
Implements storage I/O caching for fast response times of application startup and quick access to user data.
Universal Serial Bus (USB) 3.0
Integrated USB 3.0 support, provides greater enhancement in performance with a design data rate of up to 5 Gb/s with up to six USB 3.0 ports.6
Universal Serial Bus 2.0
Hi-speed USB 2.0 support with a design data rate of up to 480 Mb/s with up to 14 USB 2.0 ports.
Serial ATA (SATA) 6 Gb/s
Next generation high-speed storage interface supporting up to 6 Gb/s transfer rates for optimal data access with up to six SATA ports.7
eSATA
SATA interface designed for use with external SATA devices. Provides a link for 3 Gb/s data speeds to eliminate bottlenecks found with current external storage solutions.
SATA port disable
Enables individual SATA ports to be enabled or disabled as needed. This feature helps provide added protection of data by preventing malicious removal or insertion of data through SATA ports. Especially targeted for eSATA ports.
PCI Express* 2.0 interface
Offers up to 5 GT/s for fast access to peripheral devices and networking with up to eight PCI Express 2.0 x1 ports8, configurable as x1, x2, and x4 depending on motherboard designs.
Intel Core i7 processor, PCI Express 3.0 Interface
Intel X99 chipset-based platforms enable the processor PCI Express 3.0 port to be configurablem as a 2×16 and 1×8 or 5×8.9
USB port disable
Enables individual USB ports to be enabled or disabled as needed. This feature helps provide added protection of data by preventing malicious removal or insertion of data through USB ports.
Intel® Integrated 10/100/1000 MAC
Support for the Intel® Ethernet Connection I218-LM.
Green technology
Manufactured with lead-free and halogen-free10 component packages.
[/accordion]
[accordion title="Intel Core i7 5820K Specifications" id="2″]
Intel Core i7 5820K Specfications
Essentials
Status
Launched

Launch Date

Q3'14
Processor Number
i7-5820K

# of Cores

6

# of Threads

12

Clock Speed

3.3 GHz

Max Turbo Frequency

3.6 GHz
Intel® Smart Cache
15 MB
Intel® QPI Speed
0 GT/s

# of QPI Links

0

Instruction Set

64-bit

Instruction Set Extensions

SSE4.2, AVX 2.0, AES

Embedded Options Available

No

Lithography

22 nm
Scalability
1S Only

Max TDP

140 W

Recommended Customer Price

BOX : $396.00
TRAY: $389.00
Memory Specifications

Max Memory Size (dependent on memory type)

64 GB

Memory Types

DDR4-1333/1600/2133

# of Memory Channels

4

Max Memory Bandwidth

68 GB/s
ECC Memory Supported ‡
No
Graphics Specifications

Processor Graphics ‡
None
Expansion Options

PCI Express Revision

3.0

Max # of PCI Express Lanes

28
Package Specifications

Max CPU Configuration
1
TCASE
66.8
Package Size
52.5mm x 45.0mm

Sockets Supported

LGA2011-v3
Low Halogen Options Available
See MDDS
Advanced Technologies

Intel® Turbo Boost Technology ‡
2.0
Intel® vPro Technology ‡
No
Intel® Hyper-Threading Technology ‡

Yes

Intel® Virtualization Technology (VT-x) ‡

Yes

Intel® Virtualization Technology for Directed I/O (VT-d) ‡

Yes

Intel® VT-x with Extended Page Tables (EPT) ‡

Yes

Intel® 64 ‡

Yes

Idle States

Yes

Enhanced Intel SpeedStep® Technology

Yes

Intel® Demand Based Switching

No

Thermal Monitoring Technologies

Yes

Intel® Identity Protection Technology ‡

Yes

Intel® Smart Response Technology

Yes
Intel® Data Protection Technology

AES New Instructions

Yes
Intel® Platform Protection Technology

Trusted Execution Technology ‡
No
Execute Disable Bit ‡

Yes
[/accordion]
[accordion title="Intel Core i7 5930K Specifications" id="3″]
Intel Core i7 5930K Specfications
Essentials
Status
Launched

Launch Date

Q3'14
Processor Number
i7-5930K

# of Cores

6

# of Threads

12

Clock Speed

3.5 GHz

Max Turbo Frequency

3.7 GHz
Intel® Smart Cache
15 MB
Intel® QPI Speed
0 GT/s

# of QPI Links

0

Instruction Set

64-bit

Instruction Set Extensions

SSE4.2, AVX 2.0, AES

Embedded Options Available

No

Lithography

22 nm
Scalability
1S Only

Max TDP

140 W

Recommended Customer Price

BOX : $594.00
TRAY: $583.00
Memory Specifications

Max Memory Size (dependent on memory type)

64 GB

Memory Types

DDR4-1333/1600/2133

# of Memory Channels

4

Max Memory Bandwidth

68 GB/s
ECC Memory Supported ‡
No
Graphics Specifications

Processor Graphics ‡
None
Expansion Options

PCI Express Revision

3.0

Max # of PCI Express Lanes

40
Package Specifications

Max CPU Configuration
1
TCASE
66.8
Package Size
52.5mm x 45.0mm

Sockets Supported

LGA2011-v3
Low Halogen Options Available
See MDDS
Advanced Technologies

Intel® Turbo Boost Technology ‡
2.0
Intel® vPro Technology ‡
No
Intel® Hyper-Threading Technology ‡

Yes

Intel® Virtualization Technology (VT-x) ‡

Yes

Intel® Virtualization Technology for Directed I/O (VT-d) ‡

Yes

Intel® VT-x with Extended Page Tables (EPT) ‡

Yes

Intel® 64 ‡

Yes

Idle States

Yes

Enhanced Intel SpeedStep® Technology

Yes

Intel® Demand Based Switching

No

Thermal Monitoring Technologies

Yes

Intel® Identity Protection Technology ‡

Yes

Intel® Smart Response Technology

Yes
Intel® Data Protection Technology

AES New Instructions

Yes
Intel® Platform Protection Technology

Trusted Execution Technology ‡
No
Execute Disable Bit ‡

Yes
[/accordion]
[accordion title="Intel Core i7 5960X Specifications" id="4″]
Intel Core i7 5960X Specfications
Essentials
Status
Launched

Launch Date

Q3'14
Processor Number
i7-5960X

# of Cores

8

# of Threads

16

Clock Speed

3 GHz

Max Turbo Frequency

3.5 GHz
Intel® Smart Cache
20 MB
Intel® QPI Speed
0 GT/s

# of QPI Links

0

Instruction Set

64-bit

Instruction Set Extensions

SSE4.2, AVX 2.0, AES

Embedded Options Available

No

Lithography

22 nm
Scalability
1S Only

Max TDP

140 W

Recommended Customer Price

BOX : $1059.00
TRAY: $999.00
Memory Specifications

Max Memory Size (dependent on memory type)

64 GB

Memory Types

DDR4-1333/1600/2133

# of Memory Channels

4

Max Memory Bandwidth

68 GB/s
ECC Memory Supported ‡

No
Graphics Specifications

Processor Graphics ‡
None
Expansion Options

PCI Express Revision

3.0

Max # of PCI Express Lanes

40
Package Specifications

Max CPU Configuration
1
TCASE
66.8
Package Size
52.5mm x 45.0mm

Sockets Supported

LGA2011-v3
Low Halogen Options Available
See MDDS
Advanced Technologies

Intel® Turbo Boost Technology ‡
2.0
Intel® vPro Technology ‡
No
Intel® Hyper-Threading Technology ‡

Yes

Intel® Virtualization Technology (VT-x) ‡

Yes

Intel® Virtualization Technology for Directed I/O (VT-d) ‡

Yes

Intel® VT-x with Extended Page Tables (EPT) ‡

Yes

Intel® 64 ‡

Yes

Idle States

Yes

Enhanced Intel SpeedStep® Technology

Yes

Intel® Demand Based Switching

No

Thermal Monitoring Technologies

Yes

Intel® Identity Protection Technology ‡

Yes

Intel® Smart Response Technology

Yes
Intel® Data Protection Technology

AES New Instructions

Yes
Intel® Platform Protection Technology

Trusted Execution Technology ‡
No
Execute Disable Bit ‡

Yes
[/accordion]
1. Introduction and Specifications