Nvidia has just launched their latest graphics cards. The new GTX 900 series cards feature Nvidia's latest Maxwell architecture. The cards being released are the GTX 970 and GTX 980. Let's take a quick look at the spces of these cards and see what each has to offer.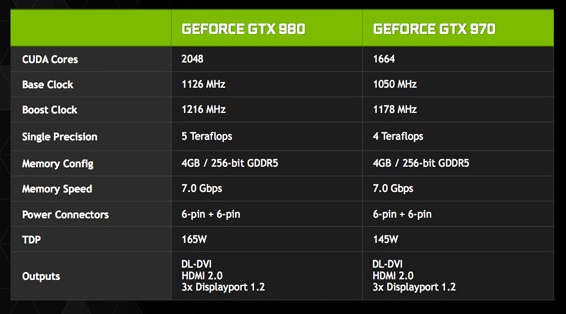 Here we can see the GTX 980 features 2048 CUDA cores with a base clock at 1,1126MHz and a boost clock speed at 1,216MHz. The card will include 4GB of GDDR5 memory a 256-bit config and run at 7Gbps. Basically all the specs will add up too 5 teraflops of computing power. This is around the same that the GTX 780ti offers, but Nvidia are stating that the GTX 980 uses less power than the GTX 780ti. It will also cost less as well, with pricing for the GTX 980 set at around £420-430.
The GTX 970 features 1664 CUDA cores with a base clock at 1,050MHz and a boost rising to 1,178MHz. It features the same 4GB/256bit memory config running at 7Gbps and will offer 4 teraflops of computing power.
Both cards include 1 x DL-DVI, 1 x HDMI 2.0 port and 3 x Displayport 1.2. All of these can be used at any time. The design of the cards hasn't differed from the GTX 780 reference cards, but they do now include a back plate, with a removable area as to not interfere when running multiplier cards closer together.