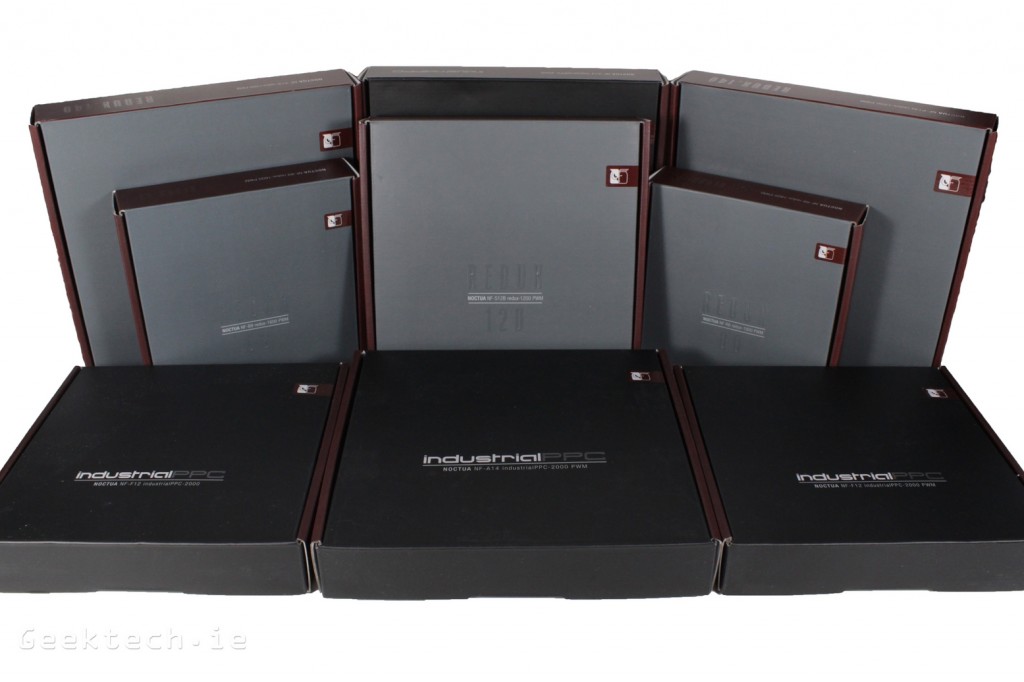 Noctua have been a huge part of the fan/heatsink market for years and more than that, they have been on the top with most of their products. Basically, they are the king of the heatsink market with the Noctua NH-D15 and others, but also provide some of the best fans available. Noctua has always gone with a distinct colour scheme of light and dark Brown, but just recently they announced two new line ups of fans for both the budget and high tier markets, but more insanely important, they have gone used new colour schemes
Redux
The Redux fans are set to offer a cheap alternative to the standard Noctua set up and  this is done by using cheaper parts and cutting out all of the extra accessories like low noise adaptors, splitter cables, and more. The Redux fans use the previous SSO bearing system and all come in a light and dark Grey colour scheme.
IndustrialPPC
The IndustrialPPC fans offer an substantial RPM increase with fans like the popular NF-F12 jumping from 1,500rpm to 2,000rpm. They include the SS02 bearing system and now sport 3 phase motor with 6 slots, which should provide a smoother fan with less vibrations overall. The fans are also completely black with brown rubber corners. Like the Redux series, these fans do not come with any extras bar 4 screws for connecting it up.
The purpose of this post is an overview some of the new fans. We will do our best to incorporate some of this fans into future reviews to determine their performance and we will do comparison on the standard NF-F12 and IndustrialPPC NF-F12 to show the performance difference as well.
In the meantime check out the below photos and specs of each fan.
NF-B9
[accordion title="NF-B9 Specifications" id="fan1″]
Size
92x92x25 mm
Connector
4-pin PWM
Bearing
SSO
Blade Geometry
NF-B9 Blade Design
Rotational Speed (+/- 10%)
1600 RPM
Rotational Speed with L.N.A. (+/- 10%)
1300 RPM
Min. Rotational Speed (PWM, +/-20%)
300 RPM
Airflow
64,3 m³/h
Airflow with L.N.A.
52,6 m³/h
Acoustical Noise
17,6 dB(A)
Acoustical Noise with L.N.A.
13,1 dB(A)
Static Pressure
1,61 mm H2O
Static Pressure with L.N.A.
1,09 mm H2O
Max. Input Power
0,96 W
Max. Input Current
0,08 A
Voltage
12 V
MTBF
> 150.000 h
Scope of Delivery

Low-Noise Adapter (L.N.A.)
4-Pin Y-Cable
30cm Extension Cable
4 Vibration-Compensators
4 Fan Screws

Warranty
6 years
[/accordion]
NF-P14s PWM
[accordion title="NF-P14s PWM Specifications" id="fan2″]
Size
140x140x25 mm
Connector
4-pin PWM
Bearing
SSO
Rotational Speed (+/- 10%)
1500 RPM
Min. Rotational Speed (PWM, +/-20%)
450 RPM
Airflow
133,7 m³/h
Acoustical Noise
25,8 dB(A)
Static Pressure
1,91 mm H2O
Max. Input Power
2,4 W
Max. Input Current
0,2 A
Voltage
12 V
MTBF
> 150.000 h
Scope of Delivery
Warranty
6 years
[/accordion]
NF-P14r PWM
[accordion title="NF-P14r PWM Specifications" id="fan3″]
Size
140x140x25 mm
Connector
4-pin PWM
Bearing
SSO
Rotational Speed (+/- 10%)
1500 RPM
Min. Rotational Speed (PWM, +/-20%)
450 RPM
Airflow
133,7 m³/h
Acoustical Noise
25,8 dB(A)
Static Pressure
1,91 mm H2O
Max. Input Power
2,4 W
Max. Input Current
0,2 A
Voltage
12 V
MTBF
> 150.000 h
Scope of Delivery
Warranty
6 years
[/accordion]
NF-R8 PWM
[accordion title="NF-R8 PWM Specifications" id="fan4″]
Size
80x80x25 mm
Connector
4-pin PWM
Bearing
SSO
Rotational Speed (+/- 10%)
1800 RPM
Min. Rotational Speed (PWM, +/-20%)
325 RPM
Airflow
53,3 m³/h
Acoustical Noise
17,1 dB(A)
Static Pressure
1,41 mm H2O
Max. Input Power
0,72 W
Max. Input Current
0,06 A
Voltage
12 V
MTBF
> 150.000 h
Scope of Delivery
Warranty
6 years
[/accordion]
NF-S12B PWM
[accordion title="NF-S12B PWM Specifications" id="fan5″]
Size
120x120x25 mm
Connector
4-pin PWM
Bearing
SSO
Rotational Speed (+/- 10%)
1200 RPM
Min. Rotational Speed (PWM, +/-20%)
400 RPM
Airflow
100,6 m³/h
Acoustical Noise
18,1 dB(A)
Static Pressure
1,31 mm H2O
Max. Input Power
0,9 W
Max. Input Current
0,075 A
Voltage
12 V
MTBF
> 150.000 h
Scope of Delivery
Warranty
6 years
[/accordion]
NF-F12
[accordion title="NF-F12 Specifications" id="fan6″]
Size
120x120x25 mm
Connector
3-pin
Bearing
SSO2
Blade Geometry
Heptaperf™
Frame Technology
FocusedFlow™
Rotational Speed (+/- 10%)
2000 RPM
Airflow
121,8 m³/h
Acoustical Noise
29,7 dB(A)
Static Pressure
3,94 mm H2O
Max. Input Power
1,2 W
Max. Input Current
0,1 A
Voltage
12 V
MTBF
> 150.000 h
Scope of Delivery
Warranty
6 years
Ingress Protection
IP52
Material
Fibre-glass reinforced polyamide
Motor type
Three-phase
[/accordion]
NF-F12 PWM
Noctua NF-A14
[accordion title="NF-F12 PWM Specifications" id="fan8″]
Size
140x140x25 mm
Connector
3-pin
Bearing
SSO2
Blade Geometry
A series with Flow Acceleration Channels
Frame Technology
AAO
Rotational Speed (+/- 10%)
2000 RPM
Airflow
182,5 m³/h
Acoustical Noise
31,5 dB(A)
Static Pressure
4,18 mm H2O
Max. Input Power
2,16 W
Max. Input Current
0,18 A
Voltage
12 V
MTBF
> 150.000 h
Scope of Delivery
Warranty
6 years
Ingress Protection
IP52
Material
Fibre-glass reinforced polyamide
Motor type
Three-phase
[/accordion]
NF-A14
[accordion title="NF-A14 Specifications" id="fan7″]
Size
120x120x25 mm
Connector
4-pin PWM
Bearing
SSO2
Blade Geometry
Heptaperf™
Frame Technology
FocusedFlow™
Rotational Speed (+/- 10%)
2000 RPM
Min. Rotational Speed (PWM, +/-20%)
450 RPM
Airflow
121,8 m³/h
Acoustical Noise
29,7 dB(A)
Static Pressure
3,94 mm H2O
Max. Input Power
1,2 W
Max. Input Current
0,1 A
Voltage
12 V
MTBF
> 150.000 h
Scope of Delivery
Warranty
6 years
Ingress Protection
IP52
Material
Fibre-glass reinforced polyamide
Motor type
Three-phase
[/accordion]
NF-A14 PWM
[accordion title="NF-A14 PWM Specifications" id="fan9″]
Size
140x140x25 mm
Connector
4-pin PWM
Bearing
SSO2
Blade Geometry
A series with Flow Acceleration Channels
Frame Technology
AAO
Rotational Speed (+/- 10%)
2000 RPM
Min. Rotational Speed (PWM, +/-20%)
500 RPM
Airflow
182,5 m³/h
Acoustical Noise
31,5 dB(A)
Static Pressure
4,18 mm H2O
Max. Input Power
2,16 W
Max. Input Current
0,18 A
Voltage
12 V
MTBF
> 150.000 h
Scope of Delivery
Warranty
6 years
Ingress Protection
IP52
Material
Fibre-glass reinforced polyamide
Motor type
Three-phase
[/accordion]