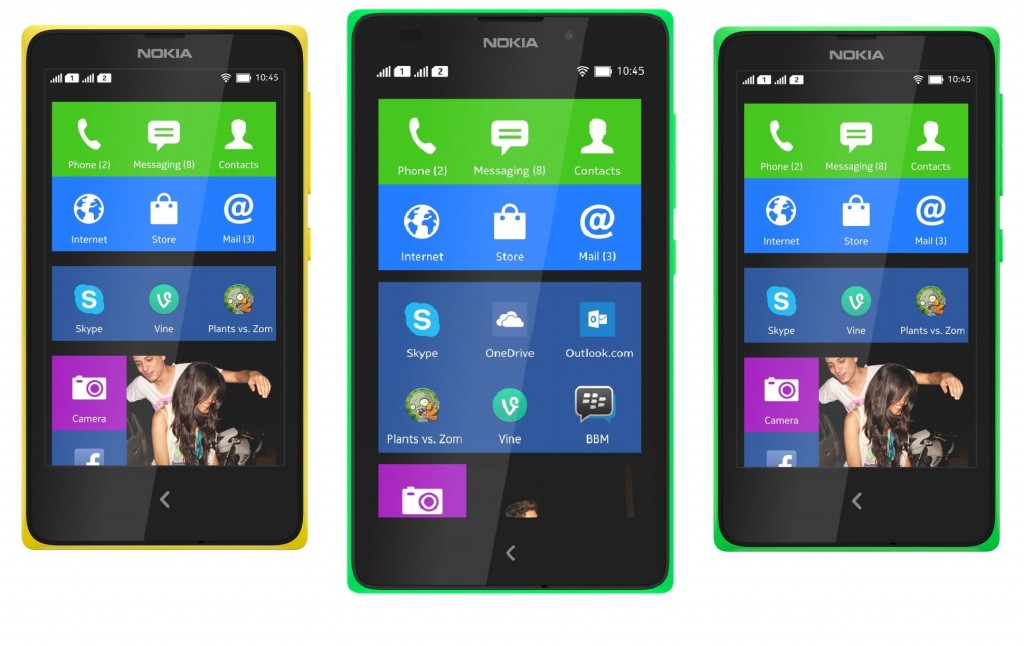 It's finally official, Nokia are releasing an Android smartphone, three actually!. Today at MWC during Nokia's press event, everyone expected Nokia to announce an Android smartphone, but alas we didn't just get one but instead Nokia announced Three. The new smartphones dubbed Nokia X, X+, and Xl have different releases, but all share the same AOSP based firmware, and each device will include Nokia's Here Maps, MixRadio, Skype and Outlook and changeable covers. Now let's breakdown each device and take a look at their respective specs, pricing and availability.
The Nokia X/X+
The Nokia X, being the base model of the new series starts with 4-inch IPS display with 800 x 480 resolution. A 1GHz dual-core Qualcomm Snapdragon chipset with 512MB of RAM and 4GB of storage and a MicroSD Slot expanding. Photo taking abilities can be done on the included 3MP fixed focus camera. Dimensions come in at 115.5 x 63 x 10.4 mm and the weight is 128.66g. The Nokia X begins on sale today for €89.
The Nokia X+ shares near identical specs to it's X sibling, but has increased RAM jumping from 512MB to 768MB and includes a 4GB MicroSD card. The X+ will launch sometime in Q2 this year with a €99 pricetag.
The Nokia XL
The Nokia Xl includes a 5-inch IPS display with 800 x 480 resolution, a 1GHz dual-core Snapdragon chipset with 780MB of RAM. 4GB of storage and an included 4GB MicroSD card. We have a 5MP camera with auto focus and LED flash and front facing 2MP camera. The rest of the specs include WiFi, Bluetooth, removable battery and dual sim functionality. The Nokia Xl like the X+ arrives sometime in Q2 this year and will have a price tag of €109.