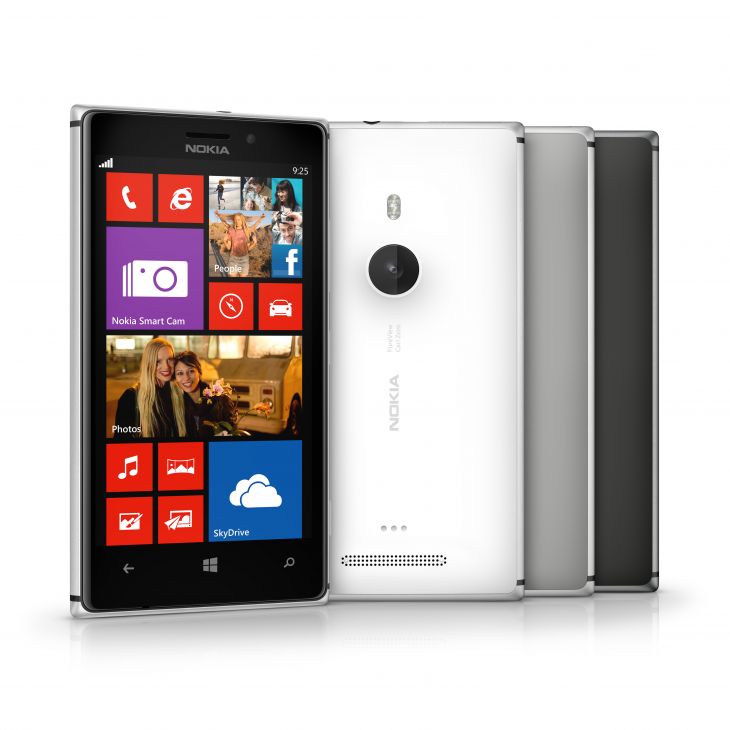 Nokia have just announced the Lumia 925 which is the successor to the popular Lumia 920. The newest device doesn't see much in terms of spec changes, but rather housing as the entire device is now made from aluminum rather than polycarbonate. The specification themselves are nearly identical to that of the Lumia 920 with the 1.5GHz Snapgradgon S5 Pro processor with 1GB of RAM and 8.7 megapixel camera. The real difference is in look and feel. The new Lumia 925 is lighter and thinner than its predecessor.
Coming in at just 8.8mm thick compared to the 10.7mm that the 920 had, it's a significant drop with weight also having a signification drop from 185g on the 920 to only 139g on the 925. The display is a 4.5-inch AMOLED with a resolution of 1,280 x 768 and is protected with gorilla glass 2. The new device will be launching in June with price of €469 in Europe. Check the two gallerys below for press shots of the device and camera samples, you can also give the press release a read for more information.
Nokia Lumia 925
Nokia Lumia 925 camera samples
[accordion title="Press Release" id="id-here"]
Nokia introduces Nokia Lumia 925
New interpretation of world's most innovative smartphone captures the best low light images
London, UK – Nokia today introduced the Nokia Lumia 925, a new interpretation of its award-winning flagship, the Nokia Lumia 920. The Nokia Lumia 925 introduces a metal design and showcases the latest PureView camera innovation, new features and third party applications coming to the Nokia Lumia range.
The Nokia Lumia 925 includes the most advanced lens technology and next generation imaging software to capture clearer, sharper pictures and video, including the best low light images. The Nokia Lumia 925 also introduces the new Nokia Smart Camera mode, coming as an update to all Lumia Windows Phone 8 smartphones. Nokia Smart Camera offers an easy way to capture ten images at once and edit the pictures with options like Best Shot, Action Shot, and Motion Focus for creating the perfect high quality image.
Nokia also announced Hipstamatic will arrive on Nokia Lumia smartphones, allowing people to share their high quality pictures with like-minded enthusiasts on social networks like Facebook, Twitter, Foursquare and Instagram.
"We keep innovating," said Jo Harlow, executive vice president of Nokia Smart Devices. "We're advancing experiences on Nokia Lumia portfolio whether that means great new benefits for an existing Lumia owner, or bringing new showcase devices like the Nokia Lumia 925."
The Nokia Lumia 925 introduces metal for the first time to the Nokia Lumia range, bringing appeal and unique benefits like increased robustness.
The polycarbonate back comes in white, grey or black. A wireless charging cover can be clipped onto the back of the phone to take advantage of Nokia's extensive wireless charging accessories and ecosystem. Covers, sold separately, come in white, black, yellow, and red.
Leading Nokia services, such as the HERE suite of integrated location and navigation services and Nokia Music for unlimited streaming of free music playlists, add to the great proposition offered by Nokia's latest smartphone.
Sales are expected to start in UK, Germany, Italy, Spain and China in June, followed by the US and a number of other markets. The Nokia Lumia 925 will be priced around 469 EUR before taxes and subsidies. Country-specific pricing and availability will be announced locally.
[/accordion]