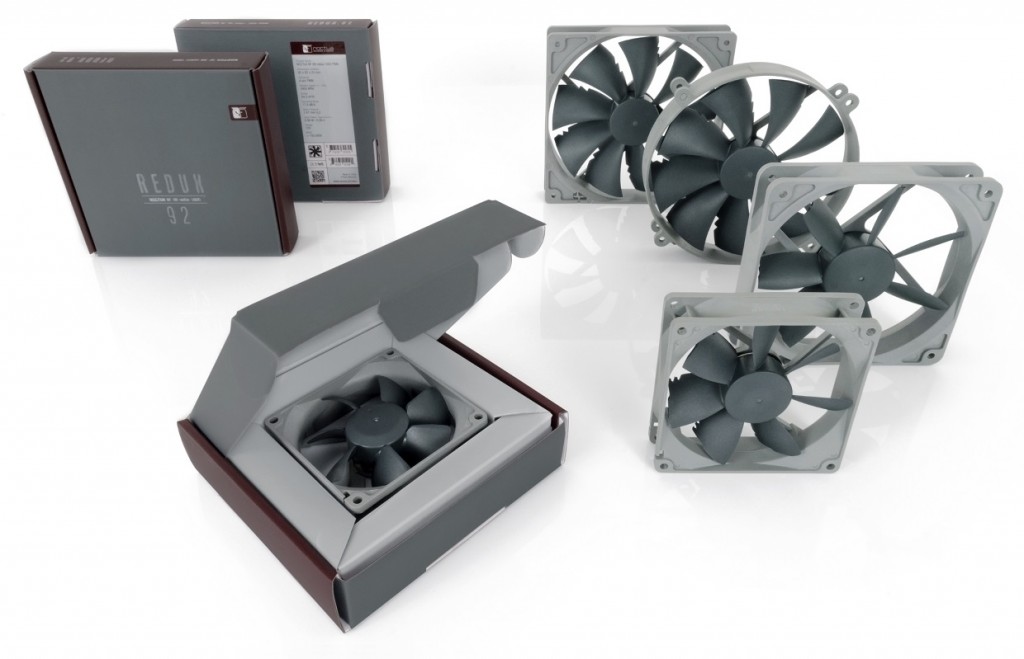 Noctua are known for the premium cooling products that offer fantastic performance while staying quiet, but that advantage would obliviously come at a more premium price. Noctua are now pushing a new line-up of fan products that will cater to more broad customers, plus they are in new colors, which is a first for Noctua.
The Redux fan series is aimed at providing great performance, but without a high price tag and introduce a new color scheme, being made up of light and dark grey, rather than the previously light/dark brown (Pictured above). The new fans series consists of both 4-pin and 3-pin PWM fans, including the NF-P14, NF-S12B, NF-B9 and NF-R8.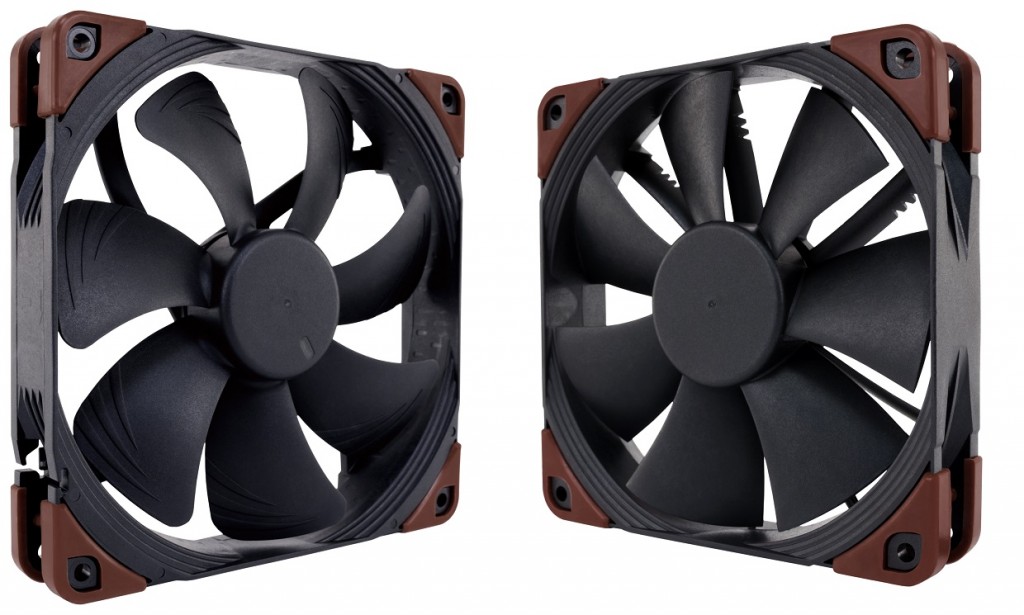 The IndustrialPPC line up will feature ruggedised 2000 and 3000rpm versions of the NG-F12 and NF-A14 and will come in an all black design (pictured above). The increase in RPM no doubts increases the noise levels, but only by 4dB(A) compared to the standard series.
Noctua have also announced an extensive list of accessory for all the above fans, allowing users to ad anti-vibration mounts, low noise adapters and more. We have included Noctua's breakdown of the new series of fans and what the difference are compared to the traditional standard series of fans
Product lines
standard*
redux
industrialPPC
Colour scheme
Bearing system
SSO2
SSO
SSO2
Smooth Commutation Drive
AAO standard frame
Integrated anti-vibration pads
Stepped Inlet Design
Inner Surface Microstructures
Metal bearing shell
**
Low-Noise & Ultra-Low-Noise Adaptors
***
Y-Cable (PWM models) / 3:4 Pin Adaptor (3-pin models)
Cable length
20cm
40cm
40cm
30cm extension cable
Anti-vibration mounts
Fan screws
Noise levels
<25dB(A)
<26dB(A)
>29dB(A)
MTBF
>150.000h
>150.000h
>150.000h
Warranty
6 years
6 years
6 years
Material
Fibre-glass reinforced PBT
Fibre-glass reinforced PBT
Fibre-glass reinforced polyamide
Certified water- & dust protection
Motor type
single-phase
single-phase
three-phase
MSRP 140mm
€ 21.90
$ 24.90
€ 15.90
$ 19.90
€ 26.90 (IP 52)
€ 29.90 (IP 67)
$ 29.90 (IP52)
$ 34.90 (IP 67)
MSRP 120mm
€ 19.90
$ 21.90
€ 13.90
$ 17.90
€ 24.90 (IP 52)
€ 29.90 (IP 67)
$ 26.90 (IP52)
$ 34.90 (IP 67)
MSRP 92mm
€ 16.90
$ 19.90
€ 11.90
$ 15.90
MSRP 80mm
€ 14.90
$ 18.90
€ 10.90
$ 14.90
*The following data does not apply to NF-P12, NF-R8 and NF-B9 FLX, which come with different features and accessories. The NF-A4x10 FLX also comes with only one Low-Noise Adaptor and no 3:4 Pin adaptor but includes an 3:2 Pin adaptor and the OmniJoin™ adaptor set.
**120mm and bigger models only.
***FLX models come with two adaptors, PWM and ULN models come with one.
Product Page: Redux
Product Page: IndustrialPPC