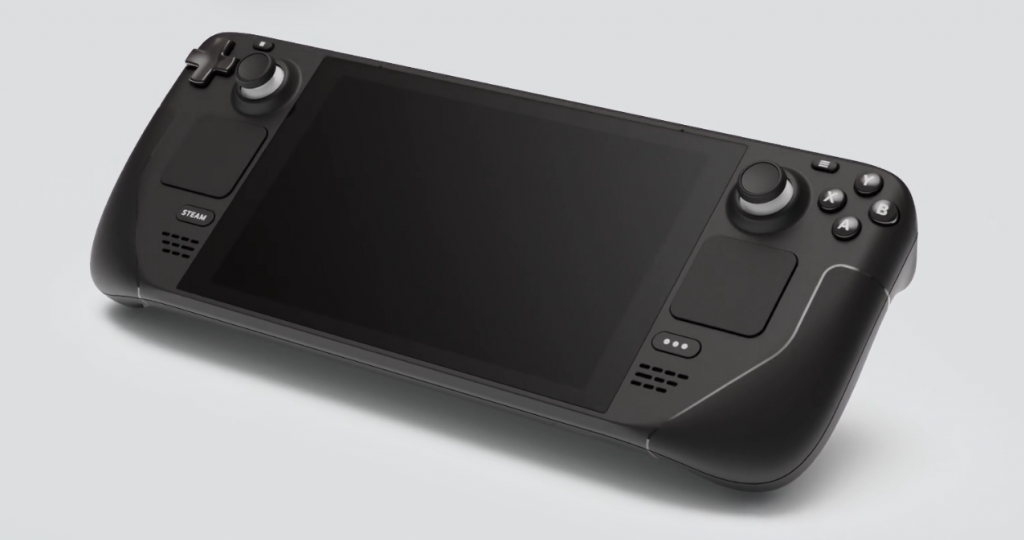 Right on the heels of Nintendo's much anticipated, if not underwhelming update to the Nindendo Switch, Valve has announced what seems to be the real "Switch Pro" that gamers have been begging for.
Rocking a Custom AMD APU that fuses Four SMT Enabled Zen2 Cores with 8CUs of RDNA2 graphics, this potent pocket rocket promises AAA gaming on the go. Running on a 720p LCD, the SteamDeck has roughly the power equivalent of the Original Xbox One/PS4, but is aiming for 720p instead of 1080p, so the power is quite impressive considering the form factor.
With integrated thumbsticks, dual trackpads, ABXY Controls, Quad Shoulder buttons and Quad Grip Buttons around back, USB-C for Video Out, Ethernet, Power and Dock Connectivity, MicroSD for Card Expansion and your choice of 64GB eMMC or 256GB/512GB NVME SSD options, Valve is aiming at bringing the vast breath of PC games and it's Steam Store to the handheld space, directly targeting Nintendo in a nacent PC Based Handheld gaming segment.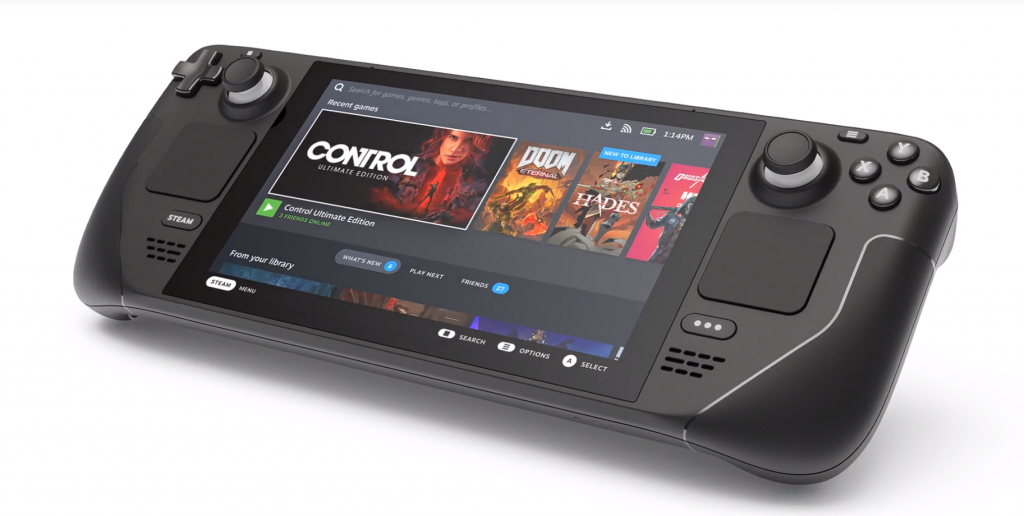 Pre-Orders go live TODAY, July 16th at 6PM GMT with a small 5$/€4 reservation fee. Reservations for new accounts are blocked for 48 hours in a bid to thwart scalpers, with only accounts with purchases made prior to June 2021 being allowed to reserve a console. Valve aims to release to customers in December 2021, just in time for the holidays.
Pricing at time of writing for Ireland is: €419 for the 64GB eMMC SKU, €549 for the 256GB NVME and €679 for the 512GB NVME with Anti-Glare Etched Glass. All Models have the same 16GB RAM and APU Configuration.
Here's it's list of connections, components and features:
Compute
Processor: Custom AMD APU
CPU: Zen 2 4c/8t, 2.4-3.5GHz (up to 448 GFlops FP32)
GPU: 8 RDNA 2 CUs, 1.0-1.6GHz (up to 1.6 TFlops FP32)
APU power: 4-15W, RAM: 16 GB LPDDR5 RAM (5500 MT/s),
Storage: 64 GB eMMC (PCIe Gen 2 x1)
256 GB NVMe SSD (PCIe Gen 3 x4)
512 GB high-speed NVMe SSD (PCIe Gen 3 x4)
All models include high-speed microSD card slot
Controls and Input
Gamepad controls:
A B X Y buttons
D-pad
L & R analog triggers
L & R bumpers
View & Menu buttons
4 x assignable grip buttons, Thumbsticks x2, full-size analog sticks with capacitive touch, HD haptics, Trackpads x2 32.5mm square trackpads with haptic feedback
55% better latency compared to Steam Controller
Pressure-sensitivity for configurable click strength, Gyro6-Axis IMU
Display
Resolution: 1280 x 800px (16:10 aspect ratio), Optically bonded LCD for enhanced readability.
Display size: 7″ Diagonal Brightness 400 nits typical, Refresh rate 60Hz, Touch enabled: Yes, Sensors: Ambient light sensor
Connectivity
Bluetooth: Bluetooth 5.0 (support for controllers, accessories and audio)
Wi-Fi: Dual-band Wi-Fi radio, 2.4GHz and 5GHz, 2 x 2 MIMO, IEEE 802.11a/b/g/n/ac
Audio
Channels: Stereo with embedded DSP for an immersive listening experience
Microphones: Dual microphone array
Headphone / mic jack, 3.5mm stereo headphone / headset jack
Digital: Multichannel audio via DisplayPort over USB-C, standard USB-C, or Bluetooth 5.0
Power
Input: 45W USB Type-C PD3.0 power supply
Battery: 40Whr battery. 2 – 8 hours of gameplay
Expansion
microSD UHS-I supports SD, SDXC and SDHC
External connectivity for controllers & displaysUSB-C with DisplayPort 1.4 Alt-mode support; up to 8K @60Hz or 4K @120Hz, USB 3.2 Gen 2
Size and Weight
Size298mm x 117mm x 49mm
Weight Approx. 669 grams
Software
Operating System: SteamOS 3.0 (Arch-based), DesktopKDE Plasma