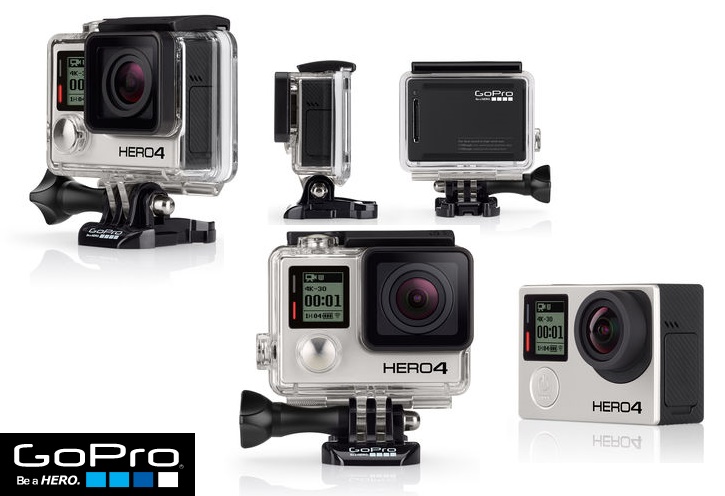 The new line up of GoPro cameras have arrived. The Hero4 serious includes 2 direct editions with different accessory combinations available for each device. Keeping with the previous naming schemes, we have both a Black and a Silver edition camera. Let's jump in at take a look at the Silver edition first and then move onto the Black edition.
The HERO4 Silver Edition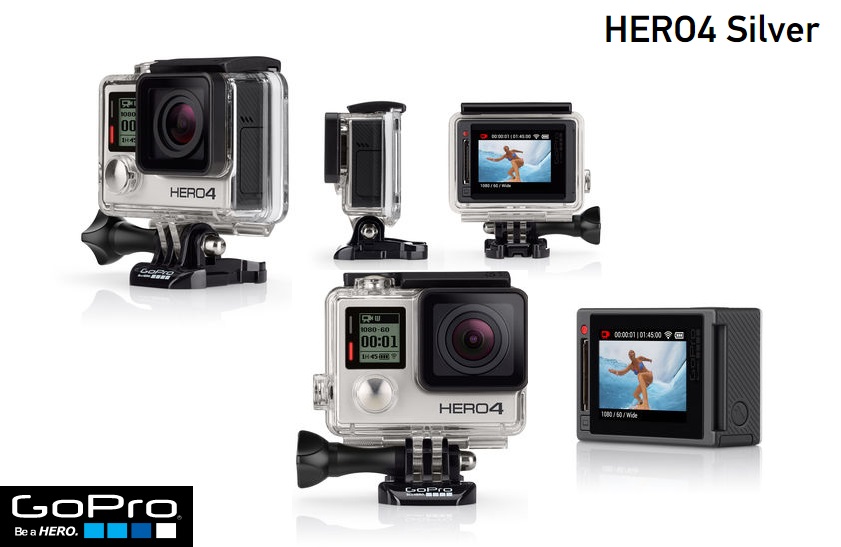 The Hero4 Silver Edition features up to 1080p@60fps and 720p@120fps. It includes a 12MP sensor. It includes Ultra Wide, Medium and Narrow FOV modes. It does inlcude 4K support, but only at a maximum of 15fps. Other features include both 720p and 1080p Superview, built in WiFi and Bluetooth, Auto Low Light, Protune, and H.264 bitrate up to 45Mb/s. The Silver Edition also includes a touch screen LCD display. Rather than be an accessory, GoPro include it as standard. It can act as a viewvinder when taking photos or videos, and of course playing back previous photos or videos. The Hero4 Silver edition will have a price tag of €379.99.
The HERO4 Black Edition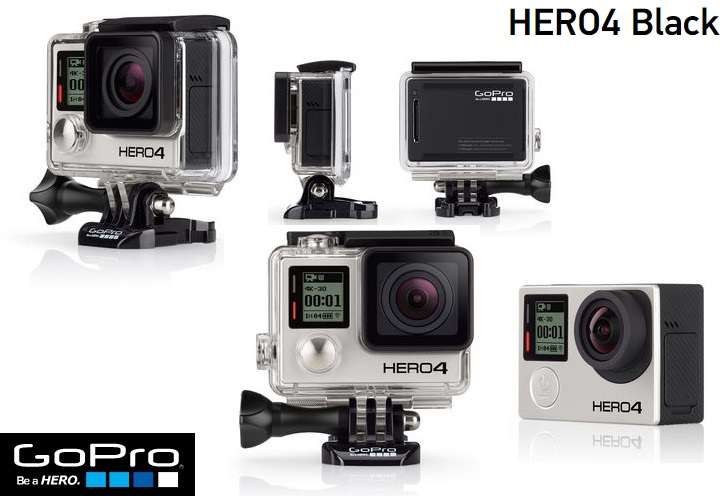 The Black Edition doesn't include the touch screen display, but does included 4K@30fps and 1080p@120fps. It will also do 2.7K@50fps making it the most advance GoPro released to date. The camera also includes Superview support throughout all modes with 4K running at 24fps with an Ultra Wide FOV. 2.7K Superview running at 30fps or 25 with Ultra Wide FOV. Lastly we have 1080p running at 80, 60, 50, 48, 30, 25, 24 fps Ultra Wide FOV and 720p at 120, 60, 50 fps Ultra Wide FOV. The camera supports up 60Mb/s h.264 bitrate. The Hero4 black Edition is set at €479.99
The Hero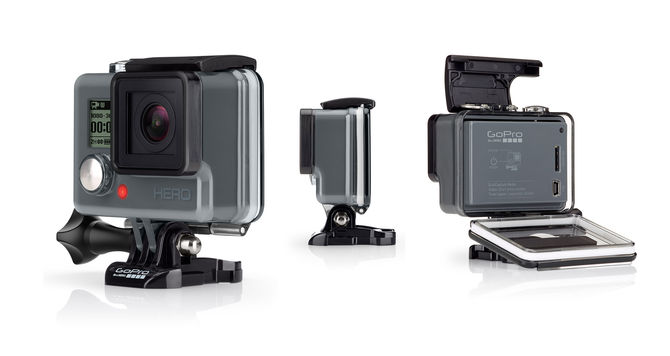 GoPro also announced the Hero. This is their first low-budget action camera that brings some pretty impressive specs for a much lower price tag compared to their high-end series. The Hero features 1080p@30fps or 720@60fps. 5MP photos with 5 frames per second burst. The camera does't include WiFi or Bluetooth, but does have Auto Low Light and Superview support(720p only). It has a max H.264 bitrate of 15Mb/s. All of this is available for just €124:99.
Full Specs
Hero4 BlackIMAGE QUALITY
Hero4 SilverIMAGE QUALITY
HeroIMAGE QUALITY
FIELD OF VIEW (FOV)
FIELD OF VIEW (FOV)
FIELD OF VIEW (FOV)
Ultra Wide, Medium, Narrow
Ultra Wide, Medium, Narrow
Ultra Wide
OPTICS + LENS
OPTICS + LENS
OPTICS + LENS
Ultra-sharp image quality / Ultra-wide angle all-glass lens with reduced distortion
Ultra-sharp image quality / Ultra-wide angle all-glass lens with reduced distortion
Ultra-sharp ƒ/2.8 6-element aspherical glass lens / Ultra-wide angle with reduced distortion
LOW-LIGHT PERFORMANCE
LOW-LIGHT PERFORMANCE
LOW-LIGHT PERFORMANCE
Professional grade
Professional grade
Consumer grade
VIDEO FEATURES
VIDEO FEATURES
VIDEO FEATURES
4K
4K
4K
30, 25, 24 fps Ultra Wide FOV
15, 12.5 fps Ultra Wide FOV
N/A
4K SUPERVIEW
4K SUPERVIEW
4K SUPERVIEW
24 fps Ultra Wide FOV
N/A
N/A
2.7K
2.7K
2.7K
50, 48, 30, 25, 24 fps Ultra Wide, Medium FOV
30, 25, 24 fps Ultra Wide, Medium FOV
N/A
2.7K SUPERVIEW
2.7K SUPERVIEW
2.7K SUPERVIEW
30, 25 fps Ultra Wide FOV
N/A
N/A
2.7K 4:3
2.7K 4:3
2.7K 4:3
30, 25 fps Ultra Wide FOV
N/A
N/A
1440P
1440P
1440P
80, 60, 50, 48, 30, 25, 24 fps Ultra Wide FOV
48, 30, 25, 24 fps Ultra Wide FOV
N/A
1080P
1080P
1080P
120, 90, 60, 50, 48, 30, 25, 24 fps Ultra Wide, Medium (excludes 120 and 90 fps), Narrow FOV
60, 50, 48, 30, 25, 24 fps Ultra Wide, Medium, Narrow FOV
30, 25 fps Ultra Wide FOV
1080P SUPERVIEW
1080P SUPERVIEW
1080P SUPERVIEW
80, 60, 50, 48, 30, 25, 24 fps Ultra Wide FOV
60, 50, 48, 30, 25, 24 fps Ultra Wide FOV
N/A
960P
960P
960P
120, 60, 50 fps Ultra Wide FOV
100, 60, 50 fps Ultra Wide FOV
N/A
7 20P
7 20P
7 20P
120, 60, 50, 30, 25 fps Ultra Wide, Medium, Narrow FOV
120, 60, 50, 30, 25 fps Ultra Wide, Medium, Narrow FOV
60, 50 fps Ultra Wide FOV
720P SUPERVIEW
720P SUPERVIEW
720P SUPERVIEW
120, 60, 50 fps Ultra Wide FOV
100, 60, 50 fps Ultra Wide FOV
60, 50 fps Ultra Wide FOV
WVGA
WVGA
WVGA
240 fps Ultra Wide FOV
240 fps Ultra Wide FOV
N/A
PHOTO FEATURES
PHOTO FEATURES
PHOTO FEATURES
MEGAPIXELS
MEGAPIXELS
MEGAPIXELS
12MP
12MP
5MP
BURST RATES (FRAMES/SEC)
BURST RATES (FRAMES/SEC)
BURST RATES (FRAMES/SEC)
30/1, 30/2, 30/3, 10/1, 10/2, 10/3, 5/1, 3/1
30/1, 30/2, 30/3, 10/1, 10/2, 10/3, 5/1, 3/1
10/2
TIME LAPSE INTERVALS
TIME LAPSE INTERVALS
TIME LAPSE INTERVALS
0.5, 1, 2, 5, 10, 30, 60 seconds
0.5, 1, 2, 5, 10, 30, 60 seconds
0.5 second
CONTINUOUS PHOTO RATES
CONTINUOUS PHOTO RATES
CONTINUOUS PHOTO RATES
10/1, 5/1, 3/1
10/1, 5/1, 3/1
N/A
ADVANCED FEATURES
ADVANCED FEATURES
ADVANCED FEATURES
BUILT-IN WIRELESS
BUILT-IN WIRELESS
BUILT-IN WIRELESS
Wi-Fi + Bluetooth®
Wi-Fi + Bluetooth®
No
PROTUNE™ (PHOTO + VIDEO)
PROTUNE™ (PHOTO + VIDEO)
PROTUNE™ (PHOTO + VIDEO)
Yes
Yes
No
SUPERVIEW™
SUPERVIEW™
SUPERVIEW™
Yes
Yes
Yes
AUTO LOW LIGHT
AUTO LOW LIGHT
AUTO LOW LIGHT
Yes
Yes
Yes
NIGHT PHOTO + NIGHT LAPSE
NIGHT PHOTO + NIGHT LAPSE
NIGHT PHOTO + NIGHT LAPSE
Yes
Yes
No
HILIGHT TAG
HILIGHT TAG
HILIGHT TAG
Yes
Yes
No
QUIKCAPTURE / AUTO ONE-BUTTON
QUIKCAPTURE / AUTO ONE-BUTTON
QUIKCAPTURE / AUTO ONE-BUTTON
Yes, QuikCapture
Yes, QuikCapture
Yes, QuikCapture
SIMULTANEOUS VIDEO + PHOTO
SIMULTANEOUS VIDEO + PHOTO
SIMULTANEOUS VIDEO + PHOTO
Photo every 5, 10, 30, 60 seconds / Manual
Photo every 5, 10, 30, 60 seconds / Manual
No
LOOPING VIDEO
LOOPING VIDEO
LOOPING VIDEO
Yes
Yes
No
HIGH BITRATE VIDEO (H.264)
HIGH BITRATE VIDEO (H.264)
HIGH BITRATE VIDEO (H.264)
Up to 60Mb/s
Up to 45Mb/s
Up to 15Mb/s
AUDIO FEATURES
AUDIO FEATURES
AUDIO FEATURES
MONO, 48KHZ, AAC COMPRESSION WITH ADVANCED MULTI-BAND AGC (AUTOMATIC GAIN CONTROL)
MONO, 48KHZ, AAC COMPRESSION WITH ADVANCED MULTI-BAND AGC (AUTOMATIC GAIN CONTROL)
MONO, 48KHZ, AAC COMPRESSION WITH ADVANCED MULTI-BAND AGC (AUTOMATIC GAIN CONTROL)
Yes
Yes
Yes
STUDIO QUALITY EXTERNAL MICROPHONE SUPPORT
STUDIO QUALITY EXTERNAL MICROPHONE SUPPORT
STUDIO QUALITY EXTERNAL MICROPHONE SUPPORT
Yes
No
No
INCREASED AUDIO RANGE BY APPROX. 10DB (COMPARED TO HERO3+ BLACK EDITION)
INCREASED AUDIO RANGE BY APPROX. 10DB (COMPARED TO HERO3+ BLACK EDITION)
INCREASED AUDIO RANGE BY APPROX. 10DB (COMPARED TO HERO3+ BLACK EDITION)
Yes
Yes
No
HANDLES APPROX. 2X GREATER DYNAMIC RANGE (COMPARED TO HERO3+ BLACK EDITION)
HANDLES APPROX. 2X GREATER DYNAMIC RANGE (COMPARED TO HERO3+ BLACK EDITION)
HANDLES APPROX. 2X GREATER DYNAMIC RANGE (COMPARED TO HERO3+ BLACK EDITION)
Yes
Yes
No
SUPPORTS 3.5MM STEREO MICROPHONE VIA OPTIONAL ADAPTER (SOLD SEPARATELY)
SUPPORTS 3.5MM STEREO MICROPHONE VIA OPTIONAL ADAPTER (SOLD SEPARATELY)
SUPPORTS 3.5MM STEREO MICROPHONE VIA OPTIONAL ADAPTER (SOLD SEPARATELY)
Yes
Yes
No
USABILITY FEATURES
USABILITY FEATURES
USABILITY FEATURES
GOPRO APP COMPATIBILITY
GOPRO APP COMPATIBILITY
GOPRO APP COMPATIBILITY
Yes
Yes
No
GOPRO STUDIO COMPATIBILITY
GOPRO STUDIO COMPATIBILITY
GOPRO STUDIO COMPATIBILITY
Yes
Yes
Yes
BUILT-IN TOUCH DISPLAY
BUILT-IN TOUCH DISPLAY
BUILT-IN TOUCH DISPLAY
No
Yes
No
BATTERY
BATTERY
BATTERY
1160mAh lithium-ion rechargeable
1160mAh lithium-ion rechargeable
Built-in 1180mAh lithium-ion rechargeable
PORTS
PORTS
PORTS
Micro HDMI, mini USB, microSD, HERO Port, Composite A/V (via adapter, sold separately), 3.5mm Stereo Mic (via adapter, sold separately)
Micro HDMI, mini USB, microSD, HERO Port, Composite A/V (via adapter, sold separately), 3.5mm Stereo Mic (via adapter, sold separately)
Mini USB, microSD
STORAGE (MEMORY)
STORAGE (MEMORY)
STORAGE (MEMORY)
microSD Class 10 or UHS-1 up to 64GB (sold separately)
microSD Class 10 or UHS-1 up to 64GB (sold separately)
microSD Class 10 or UHS-1 up to 32GB (sold separately)