It's been a CES like no other. No in person booth attendance due to the pandemic has left every company out there grappling with this new reality and forging new experiences in the virtual worlds for their audiences. Some do some flashy presentation, some release a press briefing. If you're ASUS though, nah that simply won't do. What do you do? Your own game on Steam? Now you're talkin'!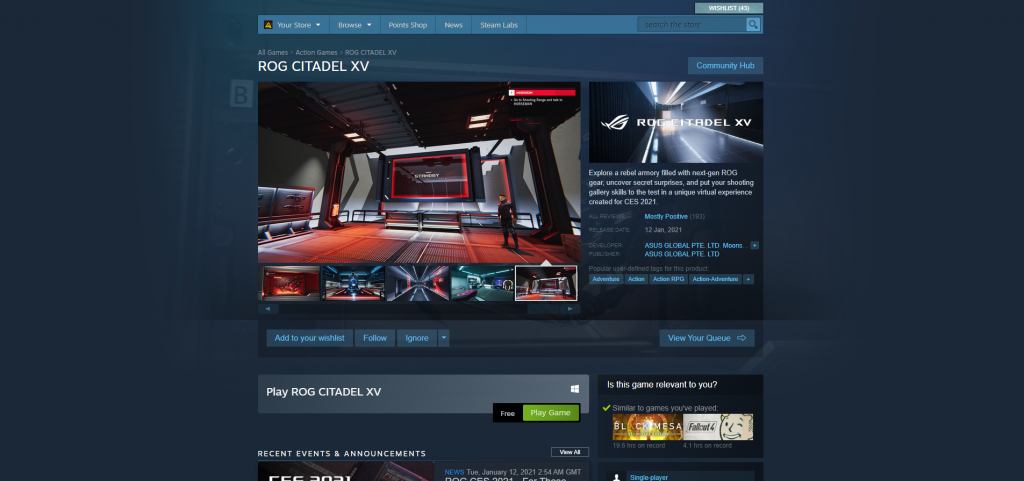 The ROG 2021 announcement kicks off on the ROG Citadel XV game, a Unity powered Expo and Game which is truly outside box thinking on behalf of ASUS, the only other time I can think the same being done was last year for Devolverland Expo. Can I say even when CES goes back to being in person, I want these demos to still exist! Not all of us can visit CES even when there isn't a pandemic ranging outside, and especially for a gamer audience, this sort of next level way of presenting new tech is just plain fun, 10/10 ASUS.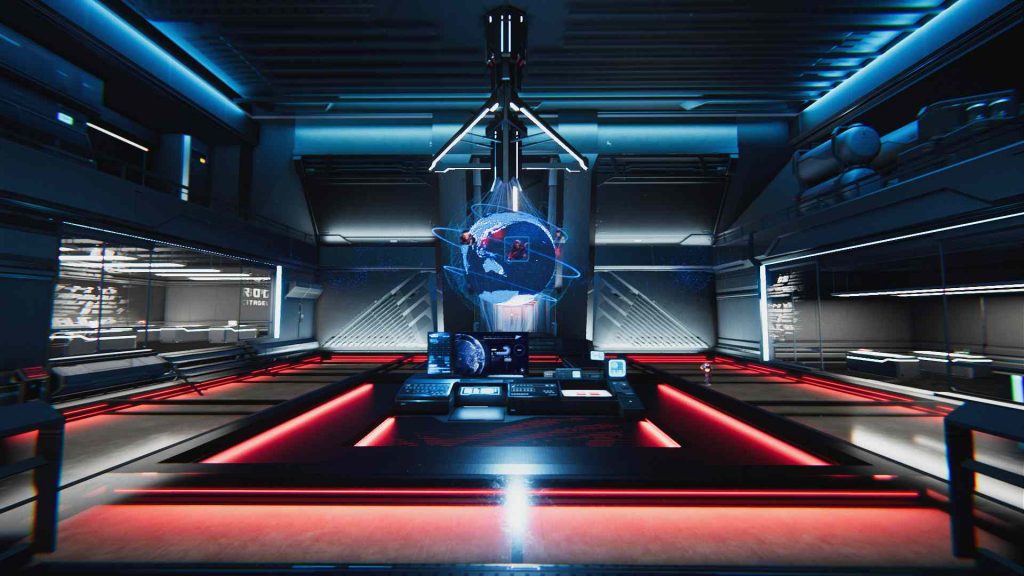 The Citadel game in itself deserves it's own article, it's a love song to the Gamer's Republic. Hidden Easter Egg videos, 3D model sneak-peaks of Concept Gaming Cases, a shooting range where you can flex your skills with a worldwide leader-board, honestly if you haven't given it a look yet, do! It's on Steam and can run on pretty much any decent PC with some GPU grunt made in the last few years. Think Tron/Cyberpunk vibes infused with a Gamer's nerdvana. Okay… sold? Cool! Onto the announcements! 😀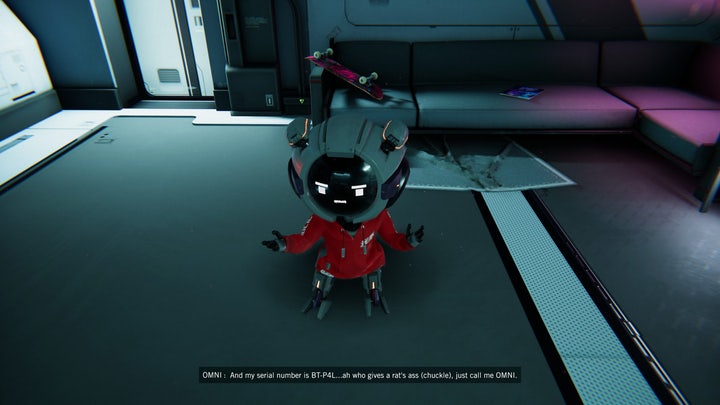 Okay where do I begin… how do I begin? I'm not paid to say anything nice about ASUS, I've even returned a 2020 TUF A15 to Amazon with plenty of complaints (article forthcoming), but wow… I think as a gamer, everything I wanted and more came this year. I've heard from a lot of gamers and personally complained, where the heck are the high end/high tier Ryzen gaming laptops? Why can't I get better than an RTX 2060 with a Ryzen? I can confirm that finally, AMD isn't being treated like a second class citizen when it comes to gaming laptops, with pretty much every of ASUS's upcoming gaming laptops coming with Cezanne Zen3 APUs and NVIDIA's Best Ampere powered graphics options, gamers can finally rejoice!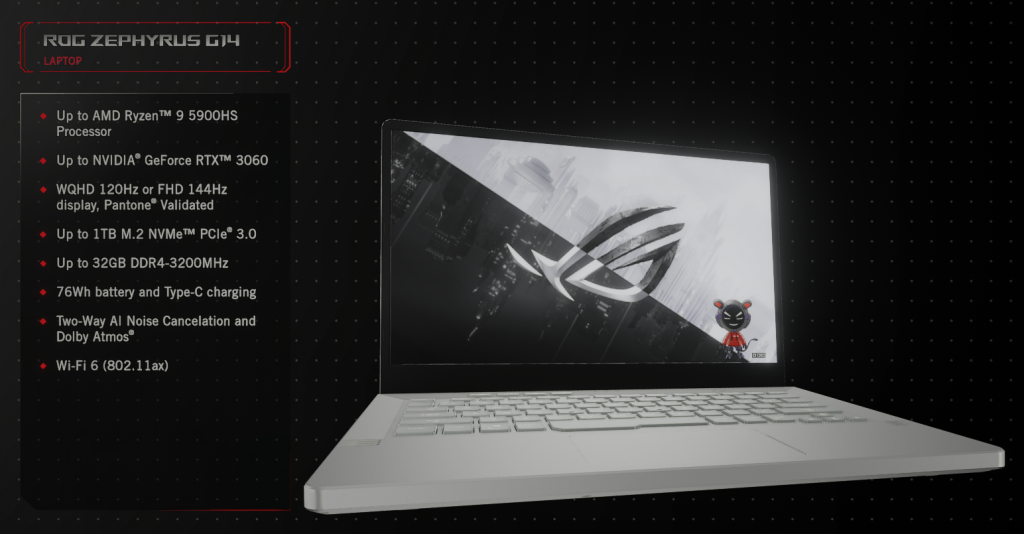 The venerable Zephyrus G14 gets an update to 5900HS class processors, RTX 3060 Graphics, QHD 120Hz or FHD 144Hz Pantone Validated Displays, 76Wh Battery and Type-C Charging capability among other headline features. Notice something I didn't type? Max-what? Oh yeah, this year's G14 has a real RTX 3060, not some cut down Max-Q variant. Considering the RTX 3060 provides RTX 2080 Super level of graphics grunt, this 14″ notebook really has become a backpack weapon.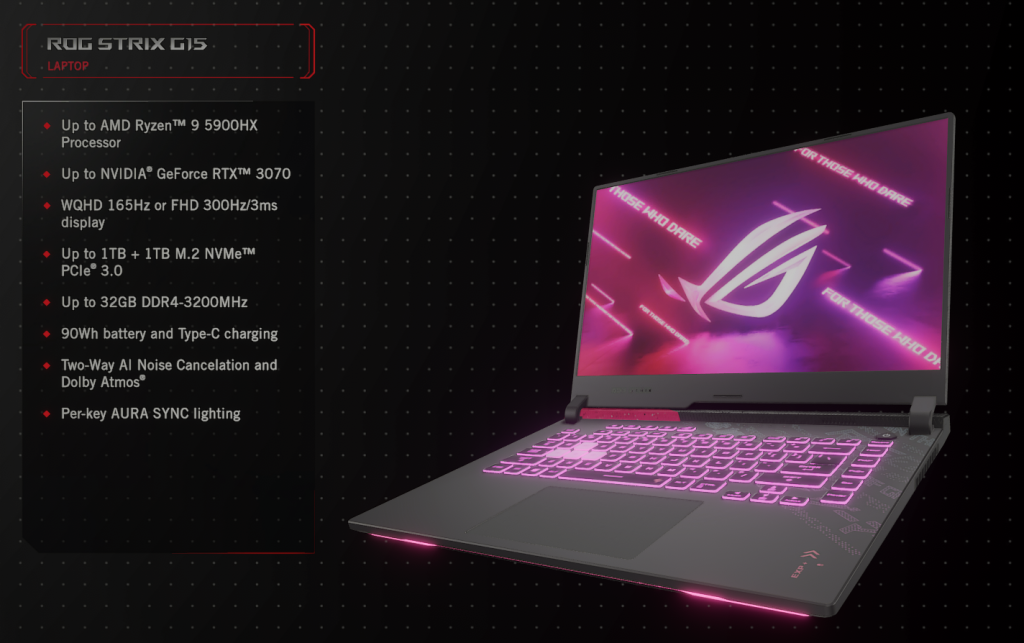 The Strix G15 has been refreshed with AMD Zen 3 and up to an RTX 3070 this year, anchored by some tantalizing display options, WQHD 165Hz or FHD display options, the FHD display having a landmark 300Hz/3ms response rate, in a 15″ chassis! 300Hz! It's so good seeing OEMs pay real attention to laptop displays this year. Per-key AURA SYNC lighting on the keyboard, ASUS mentioned letting gamers express their individuality as being a key focus area this year when considering their designs. 2-Way AI Noise Cancellation that can even cancel out noise on your teammate's Mic when you game is pretty ace, would love to try that if we get a review sample, with Dolby Atmos Spatial Sound rounding off the sonics.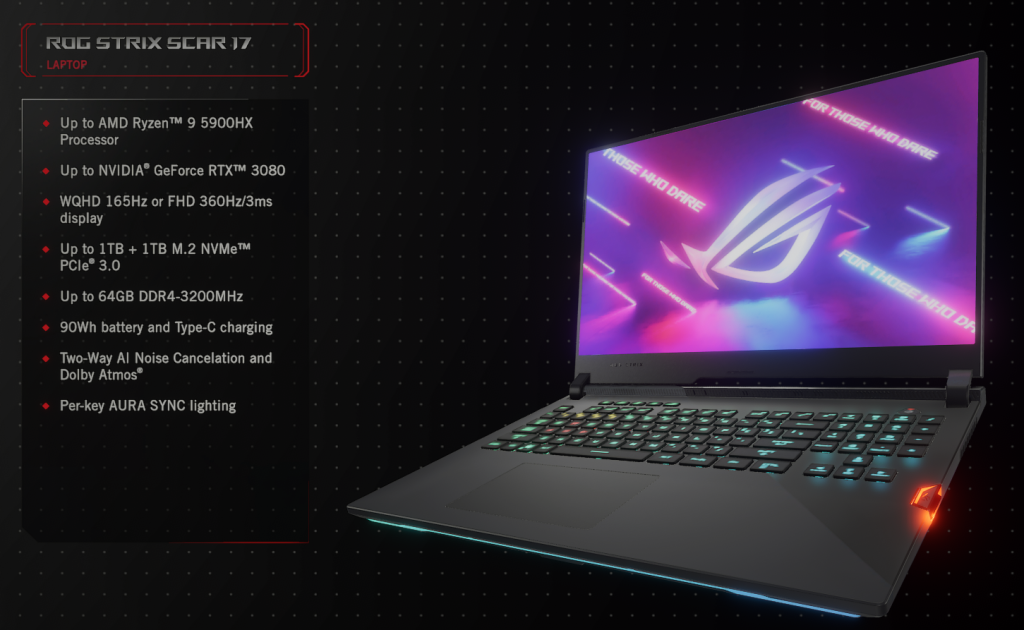 The Scar 17 in many ways replicates the headline attractions of the Strix G15, but boost that RTX to a 3080, display options up to a 360Hz FHD panel and up to a whacking 64GB of DDR4-3200MHz RAM. A config like that isn't just gaming grade, it's destroyer of worlds territory! What's that glowing ember on the right side you may ask? Good Question! It's the Keystone II, more info about that further down the article.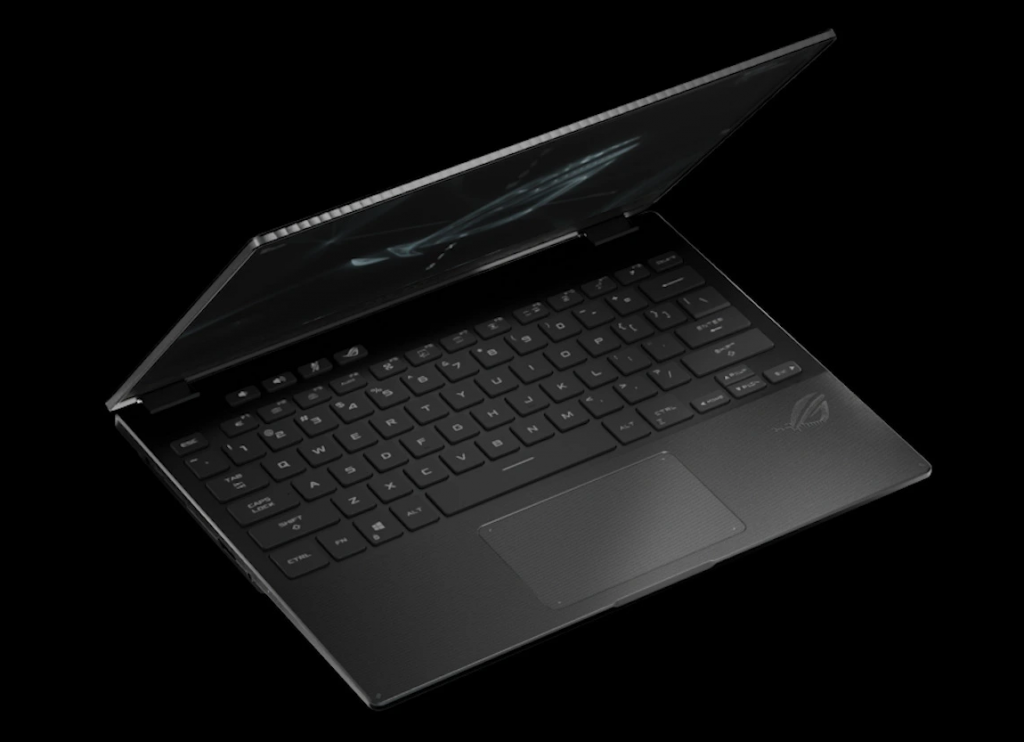 Possibly the most groundbreaking and personally most interesting laptop of the bunch is the ROG Flow X13… this almost brought a tear to my eye. I've been chasing the idea of a thin and light laptop that can play some games when I'm on the move, one that has marathoner battery life, is versatile, good looking, optimally 13″ for that truly portable form factor, flip if possible for cramped airline seats, but when I get home could be made into more, and being an AMD Fan, not yet another 4 Core Intel laptop with horrid multi-core performance. Well… my dreams have finally been realized.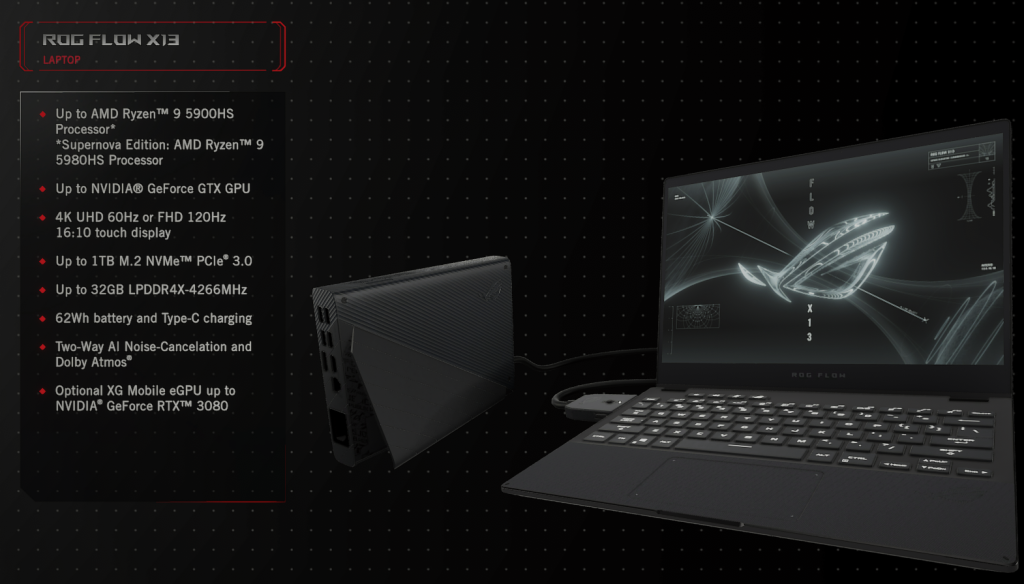 4K UHD 60hz or FHD 120Hz 16:10 Display that fully articulates in tent, kiosk, tablet and laptop mode like the Lenovo Yoga series. A built in GTX 1650 dGPU for on the go gaming, up to 32GB of Low Power LPDDR4X RAM, a 62Wh battery with USB-C Charging, up to an absolutely monstrous 5980HS Ryzen Processor. This CPU puts Intel's 1165G7 Tiger Lake CPU to absolute shame, with AMD's 5980HS up to 65% better in Multi-Core performance, this thing is an absolute drag racer. This is all in a 13″ form factor… 13 INCHES!! HOW?!? I'm gobsmacked. Oh oh and that's not all…. XG Mobile eGPU dock with a F*****g RTX 3080 INSIDE IT!! A 3080!! Ethernet, USB Hub and PSU are housed in this absolutely tiny Vapor Chamber Cooled eGPU enclosure, extending your tiny battle station into a full on desktop replacement. This is the first laptop I've seen that combines the multi-core might of Ryzen Mobile with an eGPU, and I'm beyond happy to see it. This in my mind is truly the no compromises machine I've been searching for.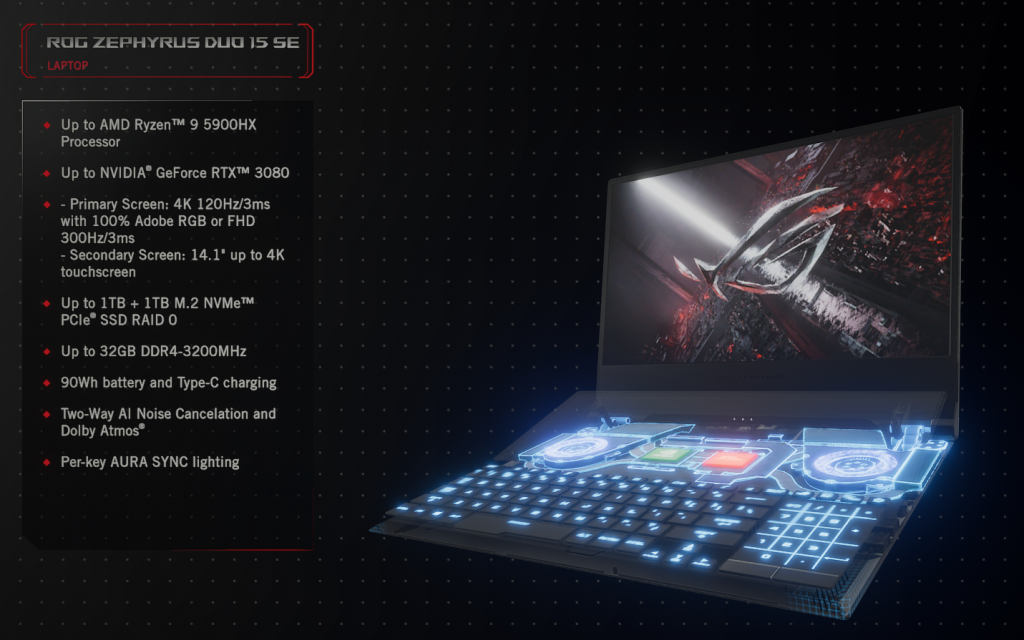 Last but certainly not least, is the Zephyrus Duo 15 SE, the MacDaddy of all gaming laptops, the Desktop replacement that demands a desk worthy of it's glory. Last year, it was only available with 10th Gen Intel Comet Lake processors, which while certainly packed a punch, didn't cater to the AMD fans in the audience and arguably was the most lacking area of the previous generation of Zephyrus Duo. Thankfully this year, Cezanne is infused with Ampere to push laptop technology to it's limit. Up to a Ryzen 9 5900 HX, as Tom's Hardware put it, it's the speedy gonzales of Mobile CPUs. A top shelf RTX 3080 just goes beast on any GPU load you can chuck it's way. You get your choice of 4K 120Hz/3ms 100% Adobe RGB or FHD 300Hz/3ms displays to take center stage, along with a 14.1″ up to 4K touch screen flanking as the secondary screen between the keyboard and primary monitor, actuated at an angle to boost readability and aid cooling.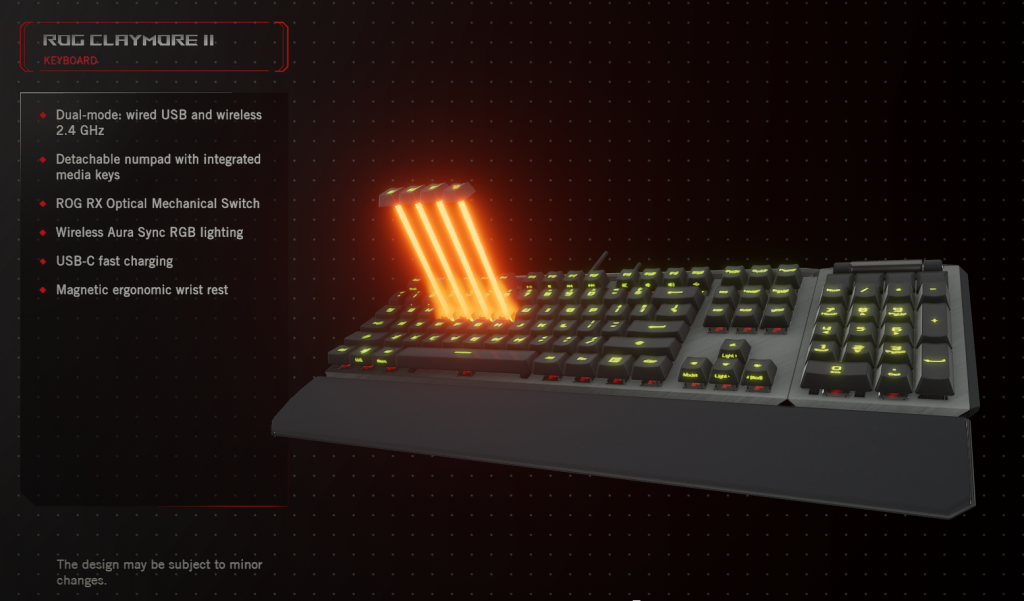 Besides from laptops ASUS have announced a plethora of peripherals, mobile devices, desktop components and more to round out their offerings for the 2021 year. Their ROG Claymore 2 keyboard has ASUS's own RX Optical Mech Switch, a 4000MAh battery and even a detachable numpad that can be mounted on either side of the keyboard or removed entirely.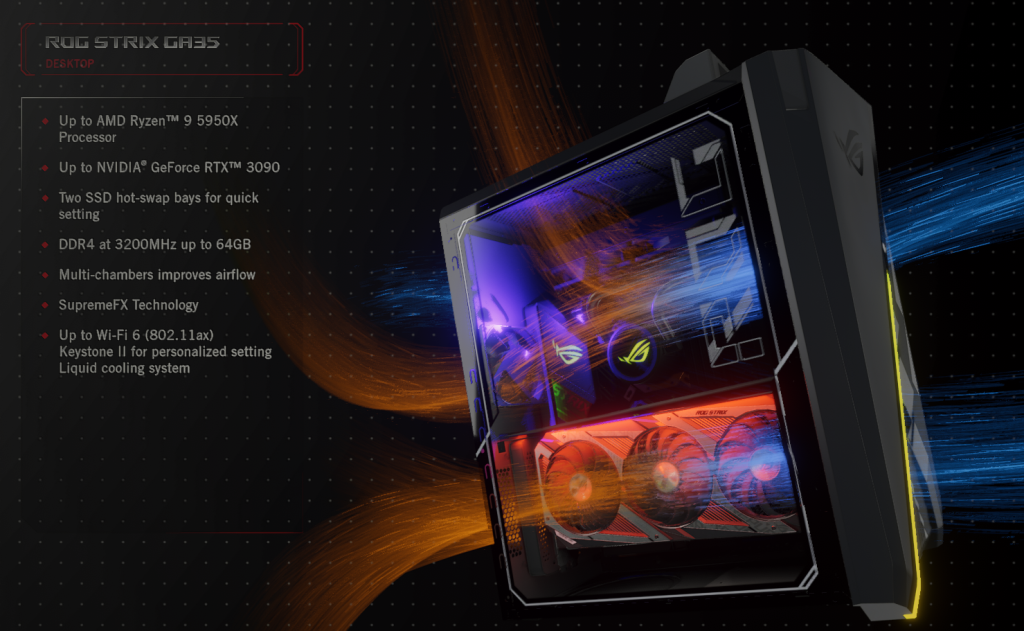 Their GA35 series Desktop configurable upto a 5950x AMD Ryzen 9 CPU, RTX 3090 GPU, Hot Swap SSD bays, segmented Motherboard and GPU chambers to optimise airflow and reduce cross heat transfer (Think GPU exhaust not affecting your CPU temps). SupremeFX technology takes care of the sonics, Wi-Fi 6 support is onboard, Keystone II for personalised settings transfer and up to 64GB of RAM.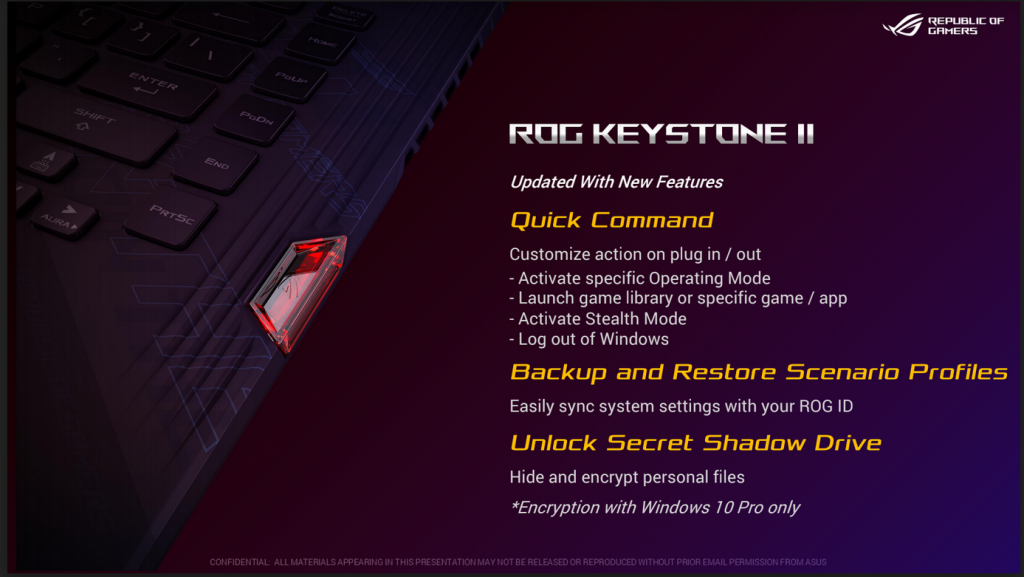 That Keystone II is a fascinating addition to the line-up. It's a programmable NFC Key which apparently has it's own storage drive known as Shadow Drive. You can do things like logout of your system or lock the screen, open your favourite game or transfer settings between ROG machines, the key is multipurpose in nature. It'll be very interesting to see how well it works when supported machines start making it through the channels and into consumer and reviewer hands.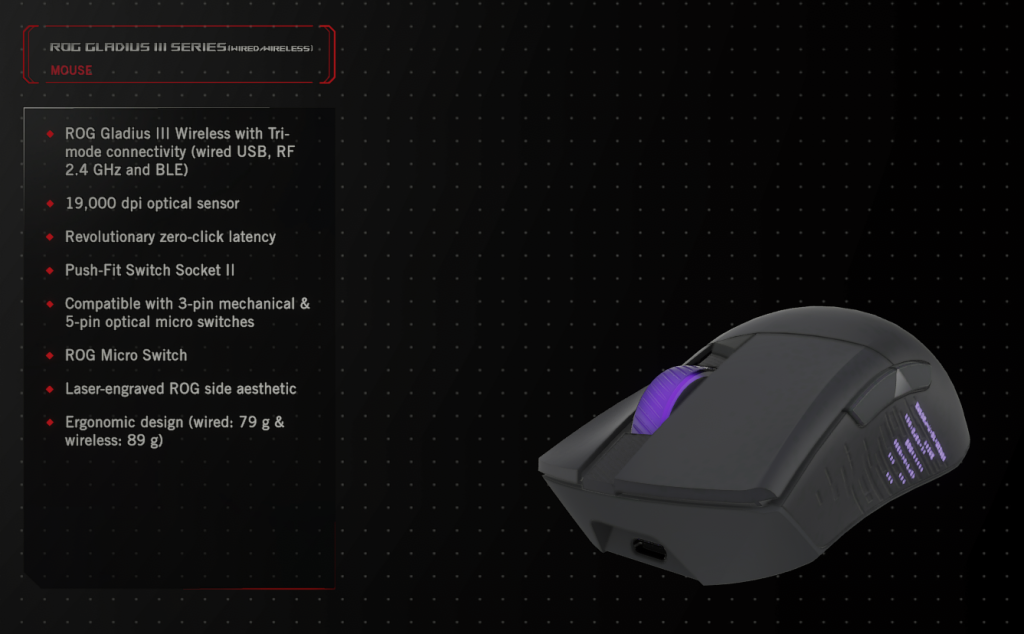 The Gladius III Series Mouse comes with every modern connectivity convenience one may need. USB, 2.4GHz RF and Bluetooth Low Energy are all catered for. Probably the most interesting thing about this mouse is something that is exceptionally eco-friendly, and no it's not some new-age fabrication technology or recycled newspaper paint or something, it's far simpler and practical.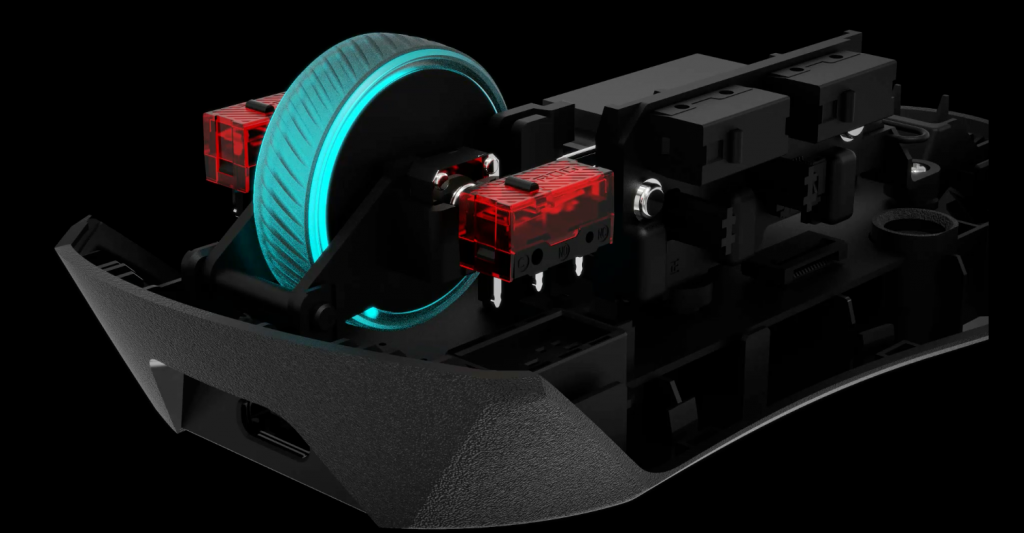 The Push-Fit Switch Socket II allows user serviceable switch replacement, it's a mouse that's designed to be repaired! If the switch fails for any reason, you can source replacement switches from ASUS, a few screws removed later and you can pop out the old one, in with the new one and back to gaming, no need to chuck out an otherwise perfectly working mouse, meaning your mouse could last years even with punishing gaming sessions.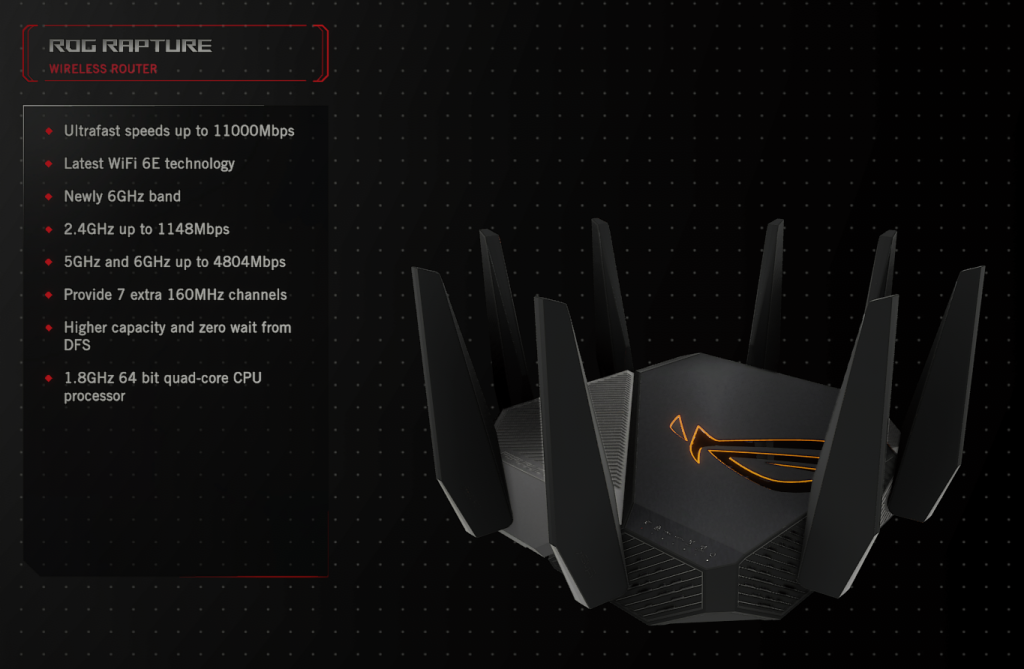 ASUS is no stranger to making some kick-ass routers and networking equipment, their RT series being a highly successful and regarded line of top-notch gear. ROG have bestowed the Rapture on us this year, replete with a 1.8GHz Quad Core CPU, 11000Mbps of aggregate bandwidth and one feature among all is what immediately caught my eye, Wi-Fi 6E, also known as 6GHz WiFi 6 along with 7 Extra 160Mhz Channels.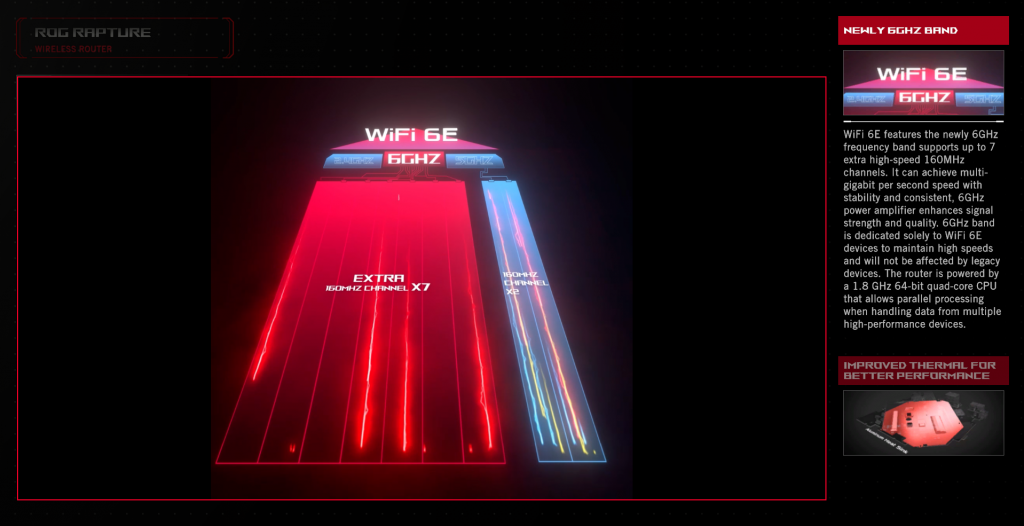 WiFi 6E promises to revolutionise WiFi, not only giving us a brand new spectrum to play with that we never had before, 6GHz, but also extra wide channeling for even faster speeds, speeds surpassing anything previously achievable with WiFi to the consumer. The super congested 2.4GHz Band was alleviated by the 5GHz Band which itself has gotten more and more congested as more people with fast routers, often ISP supplied, clog up our neighbourhoods. Having a brand spanking new 6GHz band, used by no former standard of WiFi ever, is tantalizing to say the least. Having Wi-Fi so fast your bottleneck becomes the Gigabit Ethernet connection itself is a nice luxury to have, and with WiFi 6E not only will throughput exceed 1Gbit in the real world, spectral efficiency is much better, with routers and devices being smarter about airtime and beam-forming. The Zero Wait DFS (Dynamic Frequency Switching) will be a very big plus also. Anyone who's tried not using the standard 5GHz channels and instead picked something that was in the DFS range knows how annoying errant radar signals are when it comes to your network uptime, Zero Wait will be a very nice addition in congested 5GHz areas.
That's all the main highlights from CES 2021 from ROG and ASUS. There's even more stuff announced that's not mentioned here like Headsets and Mobile Accessories, which you can check out in Citadel. There's also an entirely separate ASUS BeAhead event that focused on their Intel Ultrabooks that we'll be providing coverage on shortly, be sure to give that a looksie too when it surfaces.
Citadel XV Steam Store: https://store.steampowered.com/app/1472250/ROG_CITADEL_XV/