Apple's press event is ongoing and first thing they did, (well.. not exactly the first thing, but close enough), is announce the new iPhone 6 and iPhone 6 Plus. Both device will be running iOS 8, which arrives September 17th itself. First up the iPhone 6, which will include a 4.7-inch Retina display with 1,334 x 750 resolution. Coming in at just 6.9mm thick, the iPhone 6 will have more rounded sides and smoother curves for a better look and feel design. The smartphone will include the latest A8 processor, which is stated to be 25-percent faster and 50-percent more efficient than the previous A7 chip.
Apple are including an 8MP iSight camera with, 1.5-micron pixels, f/2.2 aperture and phase detection auto-focus. The camera also supports HDR photos, Video recording at 1080p @30fps/60fps  or slow-motion @240fps. Other specs include WiFi 802.11/b/g/n/ac and LTE 150Mbps, and finally NFC!. Apple have stated battery life is up 14 hours of talk time, 11 hours of video and 10 days stand-by. The iPhone 6 will be available in Black, Gold, or White with pricing region/carrier specific, but nearly identical to last years iPhone 5S launch. Capacities come with 16Gb, but jump to either 64GB and the new 128GB. Pre-orders start the 12th of September with shipping on the 19th in some regions.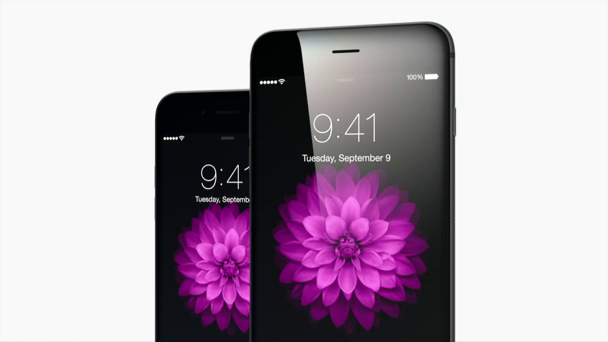 The iPhone 6 Plus is their answer to users who want a bigger device. It includes a large 5.5-inch 1,920 x 1080 SRGB-accurate IPS display. The device comes in at just 7.1mm thick and will feature the same overall design as the standard iPhone 6 with rounded sides/corners. The same A8 processor as its smaller sibling is present. The 8MP iSight camera is mostly the same, but on the 6 Plus it includes OIS (Optical Image Stabilization). The only other difference spec wise is the battery life. The Plus will give you 24 hours talktime (3g), 14 hours of video playback, and 16 days standby.
The iPhone6 Plus will also come in Black, Gold, or White and pre-orders start on the 12th of September with it shipping on the 19th in some regions. Pricing is region/carrier specific, but expect it to come with a premium price tag.