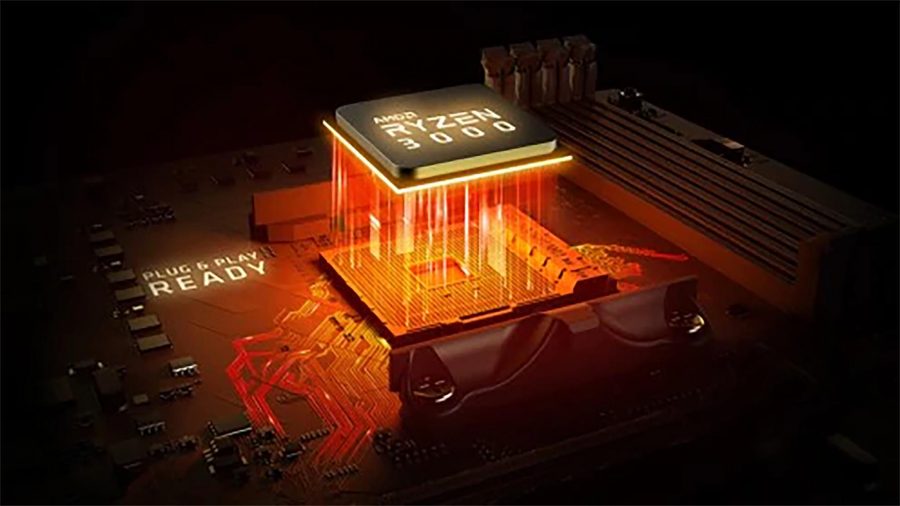 AMD's beg keynote featuring CEO Lisa Su kicked off today and finally the veil on Ryzen 3 or 'Zen 2' has been lifted. The leaks and rumors are behind us (mostly) and now the information is out there.
The new line up of Ryzen chips uses AMD's latest Zen 2 architecture and will take AMD to the 7nm manufacturing node, a first for desktop processors. This allows AMD to offer significant performance increase while retaining their amazing efficiencies that Ryzen is known. The new change allows for a 15-percent performance across the board and double floating point performance compared to previous generation CPU's
Their main contender out of the gate is their new Ryzen 9 3900X 12-core/24-thread CPU. This will retail for €499 and contend with Intel's 12-Core i9-9920X which retails for €1.099 (give or take). A massive difference in price, but even more since the 3900X has a TDP of 105W, much lower compared to the 165W of the Intel chip.
Other details for the new Ryzen 9 3900X include a 3.8GHz/4/6GHz base/boost clock frequency. 70MB of cache, and the first to support PCIe4.0 with 40 total PCIe lanes (24 usable).
That brings us to the new X570 chipset. This offers upgrades over AMD's previous chipset. Again, PCIe 4.0 is a big addition that will bring 42-percent performance gains over PCIe3 and offer great gains for NVMe storage.
AMD aren't just aiming for the high-end with the main stream platform, and are still offering amazing value. The Ryzen 7 3800x is an 8-core/16-thread processor with 3.9Ghz base clock and 4.5Ghz boost and will be priced at €399. The table below is a breakdown of the new processors from AMD. All set to arrive on July 7th. AMD are posed to bring some serious new competition to the market.
Model
Cores/
Threads
TDP[i] (Watts)
Boost/Base Freq. (GHz)
Total Cache (MB)
PCIe4.0 Lanes (processor+AMD X570)
SEP[ii] (USD)
Expected Availability
Ryzen™ 9 3900X CPU
12/24
105W
4.6/3.8
70
40
$499
July 7, 2019
Ryzen™ 7 3800X CPU
8/16
105W
4.5/3.9
36
40
$399
July 7, 2019
Ryzen™ 7 3700X CPU
8/16
65W
4.4/3.6
36
40
$329
July 7, 2019
Ryzen™ 5 3600X CPU
6/12
95W
4.4/3.8
35
40
$249
July 7, 2019
Ryzen™ 5 3600 CPU
6/12
65W
4.2/3.6
35
40
$199
July 7, 2019