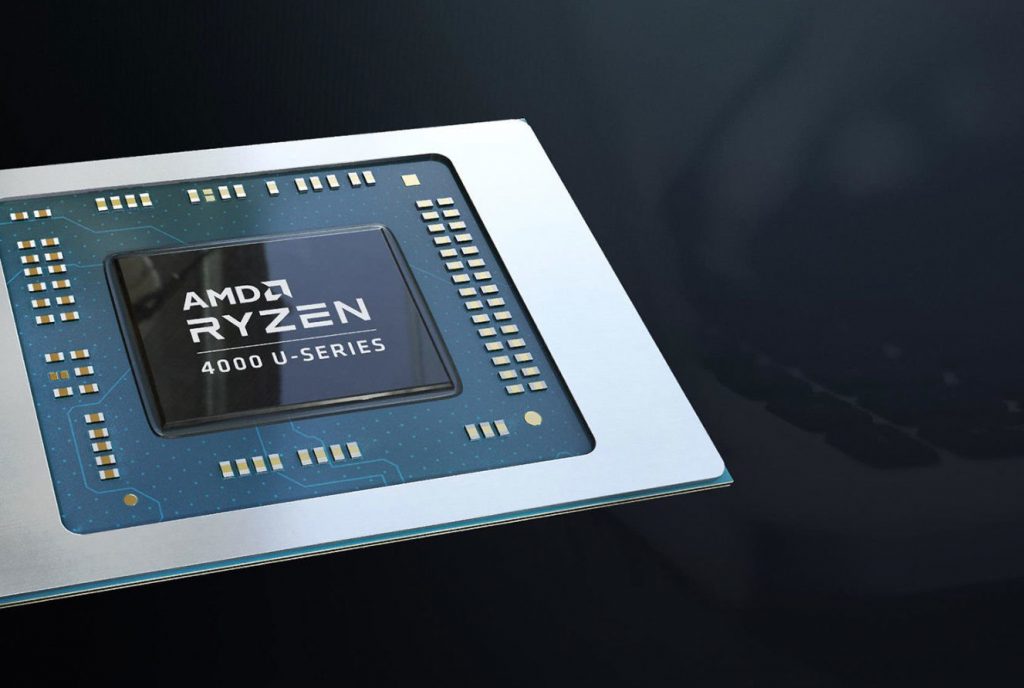 AMD was gearing up for a decent few announcements at CES this year, and most if not all were pretty heavily rumoured before hand. None the less, the fresh details shared during the press conference are certainty exciting news for the mobile world, with the launch of Ryzen 4000 series for laptop/tablet world bringing some of the biggest jumps in performance that we have seen in recent years.
The new 4000 series is based on AMD's latest Zen 2 architecture using 7nm process node. This provides a huge boost in performance and efficiency. Let's break down some of the new chips and what AMD are now able to offer.
The 4800U offering steels a bit of the show as it offers 8-cores/16-threads with base frequency of 1.8GHZ and boost frequency up to 4.2GHZ. and includes a Radeon GPU with 8-cores. This is all with 15W TDP, finally bringing new level of performance to ultra portable devices.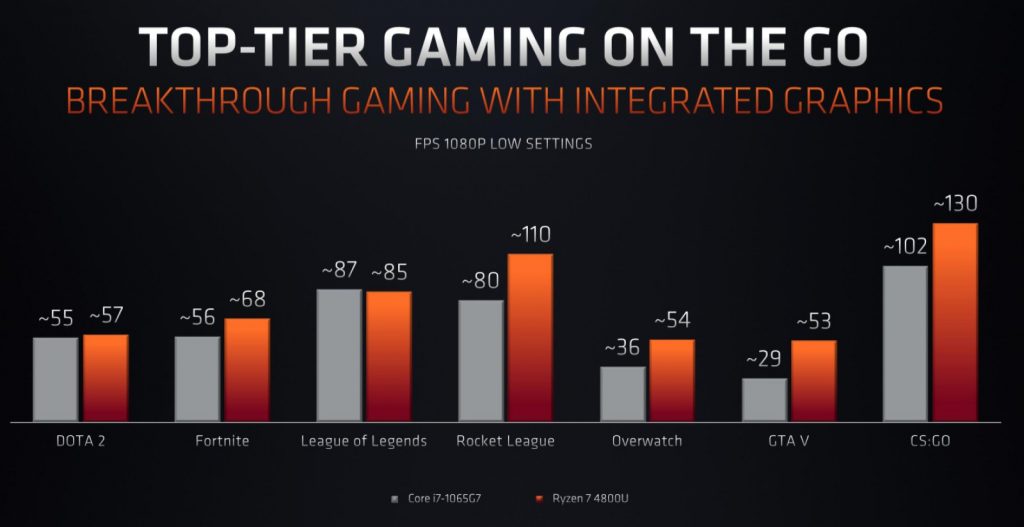 The gaming performance compared to Intel's Core i7-1065G7
The 4800H is the powerhouse chip that laptops have been waiting for. This provides true desktop level performance on a laptop device. Offering 8-cores/16-threads running at a base frequency of 2.9GHZ and boost up to 4.2GHZ with a TDP of 45W.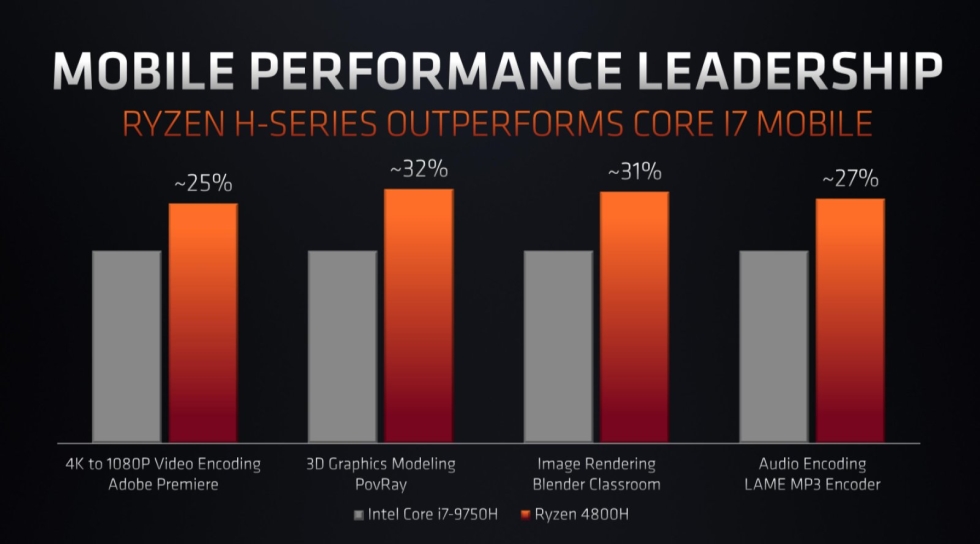 The image above compares the new Ryzen 4800H to Intel's Core i7-9750H, showing over 30 percent increase performance. It's worth nothing that it was shared that the 4800H also out performs Intel's desktop 9700K processor, which is a huge performance leap for laptop devices. This means we will start to see much larger compute loads being tackled on high-end laptops.
AMD are also pushing a new technology know as SmartShift. This is basically a intelligent management system for power control over your CPU and GPU. It also allows for instant switching between workloads that utilise GPU over CPU more. The feature has been noted to provide a 10-percent bump in The Division 2 and 12-percent in Cinebench R20 scores.
AMD's latest 4000 series is set for launch in the coming months, with many laptop manufacturers already announcing products during CES.
Product Specifications: Ryzen™ 4000 Series & Athlon™ 3000 Series Mobile Processors
Model
CORES
/THREADS
TDP
BOOST
/BASE FREQ.
GPU
GPU CORES
L2 / L3 CACHE (MB)
Ryzen 7 4800H
8C/16T
45W
Up to 4.2 / 2.9 GHz
Radeon
7
12
Ryzen 5 4600H
6C/12T
45W
Up to 4.0 / 3.0 GHz
Radeon
6
11
Ryzen 7 4800U
8C/16T
15W
Up to 4.2 / 1.8 GHz
Radeon
8
12
Ryzen 7 4700U
8C/8T
15W
Up to 4.1 / 2.0 GHz
Radeon
7
12
Ryzen 5 4600U
6C/12T
15W
Up to 4.0 / 2.1 GHz
Radeon
6
11
Ryzen 5 4500U
6C/6T
15W
Up to 4.0 / 2.3 GHz
Radeon
6
11
Ryzen 3 4300U
4C/4T
15W
Up to 3.7 / 2.7 GHz
Radeon
5
6
Athlon Gold 3150U
2C/4T
15W
Up to 3.3 / 2.4 GHz
Radeon
3
5
Athlon Silver 3050U
2C/2T
15W
Up to 3.2 / 2.3 GHz
Radeon
2
5