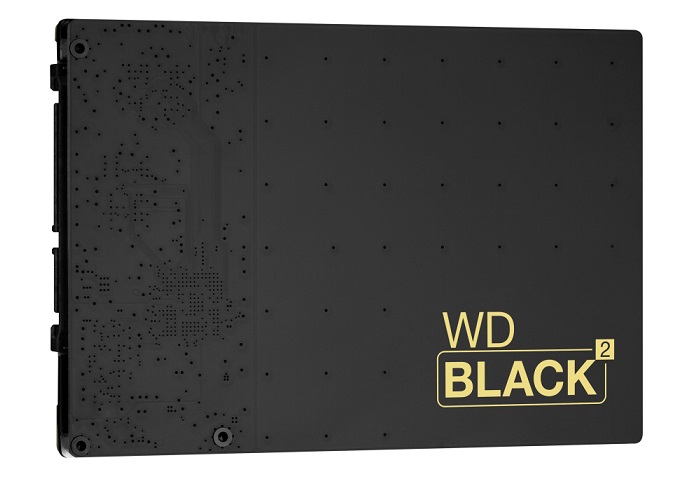 The battle between SSD's and HDD's are ongoing with some users wanting performance and others wanting capacity, there is of course some products that offer a built-in nand flash to use a cache system, but mostly these products are just a small hybrid of the two technologies, whereas they just cache the important/most used files for quicker access, but of course the limited size of the nand flash means that performance gain doesn't go to far.
So Western digital are bringing a new type of hybrid and it really isn't a hybrid at all. The WD Black 2 SSD/HDD combines both a 120GB SSD and a 1TB HDD into a single 2.5″ 9.5mm drive with both the SSD and the HDD accessible as separate drives. No doubt this product is being aimed at laptop/tablet users where they can get the complete benefit of an SSD and still have decent storage capacity all in a single drive bay. The new dual drive product is available to order now with a price tag of €299/$299/£249 from the WDStore and selected online retailers.
[accordion title="Press Release" id="id-here"]
WD® DEBUTS WORLD'S FIRST SSD+HDD DUAL DRIVE 
Innovative 2.5-inch Drive Pairs 120 GB SSD with 1 TB Hard Drive to Deliver Maximum Performance, Data Control in Ultimate Upgrade for Notebook, AIO, Single-Drive Bay Systems
WD®, a Western Digital (NASDAQ: WDC) company and storage industry leader, today announced the release of the WD Black2™ dual drive, a unique storage innovation that fuses a 2.5-inch 120 GB solid state drive (SSD) with a 1 TB hard disk drive (HDD) to offer a powerful dual drive solution. Perfect for consumers and service providers looking to upgrade notebooks, small form factor desktops, and single-slot and all-in-one (AIO) systems with both SSD level performance and HDD capacity, the WD Black2 dual drive connects through a single cable and fits into a conventional 9.5 mm slot.
"Our customers told us they like our Solid State Hybrid Drive technology, but our tech savvy users asked for more control of where they store their data," said Matt Rutledge, senior vice president of WD's Storage Technology business unit. "The WD Black2 dual drives empower our customers to enjoy SSD performance and access high capacity storage in a no-compromise package. The WD Black2 dual drive is a direct result of our interaction with our customer base through WD Labs initiatives. WD devised its beta labs program to provide an exclusive testing arena for key customers and technology influencers of existing and emerging WD storage products."
2-in-1
Designed for enthusiasts, creative professionals, gamers and PC builders, the WD Black2 dual drive provides improved overall drive capacity, performance, and reliability, while offering the flexibility to choose how and where their data is stored. Utilising the benefits of both flash and magnetic disks, WD Black2 dual drives offload data usage from the SSD to the HDD, which increases endurance and life of the SSD. Users maintain greater data control, which can eliminate the need and expense of cloud-based storage.
WD Black2 is free of caching algorithms and benefits from SATA 6 Gb/second interface speed. It is neatly packaged in a standard 9.5 mm, 2.5-inch form factor with legacy SATA connector, making the WD Black2 dual drive compatible with popular PC operating systems ranging from Windows XP to Windows 8.1.
Price and Availability
Available at wdstore.co.uk and through etailers such as amazon.co.uk, WD Black2 dual drives are covered by a five-year limited warranty. MSRP for the 2.5-inch 120 GB SSD + 1 TB HDD WD Black2 dual drive, model #: (WD1001X06XDTL) is £249.99. Additional information about WD Black2 dual drives and limited warranty terms may be found on the company website at http://products.wd.com/wdblack2.
About WD
WD, a Western Digital company, is a long-time innovator and storage industry leader. As a storage technology pacesetter, the company produces reliable, high-performance hard disk drives and solid state drives. These drives are deployed by OEMs and integrators in desktop and mobile computers, enterprise computing systems, embedded systems and consumer electronics applications, as well as by the company in providing its own storage products. WD's leading storage devices and systems, networking products, media players and software solutions empower people around the world to easily save, store, protect, share and experience their content on multiple devices. WD was established in 1970 and is headquartered in Irvine, California. For more information, please visit the company's website at www.wd.com.
Western Digital Corp. (NASDAQ: WDC), Irvine, Calif., is a global provider of products and services that empower people to create, manage, experience and preserve digital content. Its companies design and manufacture storage devices, networking equipment and home entertainment products under the WD, HGST and G-Technology brands. Visit the Investor section of the company's website (www.westerndigital.com) to access a variety of financial and investor information.
[/accordion]
Product page: WD Black 2