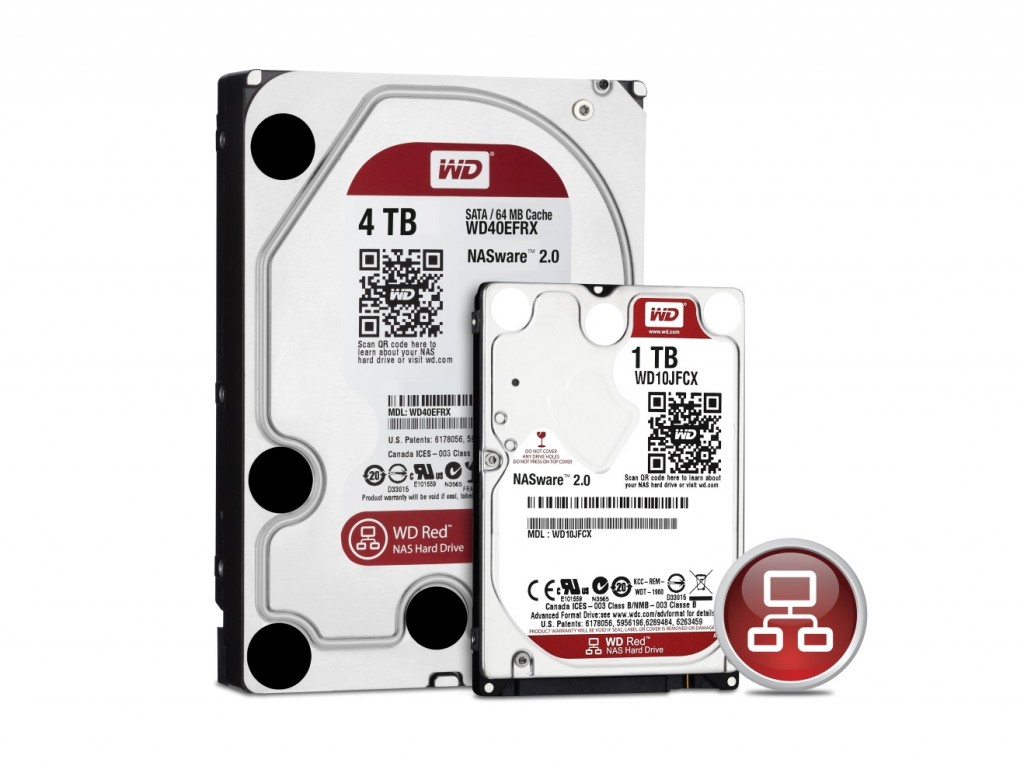 Western Digital have unveiled a new line of WD RED hard drives. First up we have the 2.50-inch form faxtor that is being aimed at NAS used. It will come with both 750GB and 1TB storage capacities. Also announced is the 4TB 3.5-inch hard drive which offers a higer capacity than the previous offerings. The new hard drives are available right away and cost $79/$99 for the 2.5-inch 750GB/1TB drives with the 3.5-inch 4TB model costing $229 USD. Check out the press release blow for more information.
[accordion title="Press Release" id="id-here"]
WD® EXPANDS FAMILY OF PURPOSE-BUILT NETWORK ATTACHED STORAGE HARD DRIVES WITH WORLD'S FIRST 2.5-INCH WD RED™
London – Sept. 3, 2013 – WD®, a Western Digital (NASDAQ: WDC) company and storage industry leader, today announced the expansion of its category-leading WD® Red™line of SATA hard drives specifically designed for home and small office NAS (network attached storage) systems with one- to five-drive bays. WD Red hard drives are now available in a 2.5-inch form factor offering 1 TB and 750 GB capacities and a new 3.5-inch 4 TB capacity. Powered by NASware™ 2.0 technology, WD Red is compatibility-tested with top NAS system manufacturers and optimized for performance and reduced power consumption.
"WD defined the NAS drive category by leading the development of hard drives specifically built for small NAS environments," said Matt Rutledge, vice president of client storage for WD. "The WD Red product line serves the unique environment of NAS and meets the growing demand for affordable, reliable, and compatible storage. Through dialogue with our NAS partners and customer advocacy for WD Red, we saw the need for additional capacity in the 3.5-inch form factor and delivered our new 4 TB offering. We also wanted to deliver a highly reliable and compatible 2.5-inch hard drive built specifically for small NAS. This small form factor enables our customers to use high capacity NAS hard drives with high performance, quiet operation and low power consumption in compact NAS enclosures. We also see an opportunity in smaller-footprint NAS systems, media players and other industrial applications. Our pride in our product and our vision is shared with our customers."
Top industry analysts see NAS continuing to represent one of the fastest-growing segments of the worldwide SOHO storage systems market. From both revenue and terabyte perspectives, NAS will continue to experience strong growth through the forecast period (to 2015), driven by a major shift of storage deployments toward IP-connected systems (Worldwide Personal and Entry Level Storage Tracker IDC 2013).
The next generation of WD Red hard drives deliver the best NAS experience for customers with a new version of NASware™ 2.0, which further improves drive reliability and protects customer data in the event of a power loss or disruption. WD Red hard drives also feature 3D Active Balance Plus™, an enhanced balance control technology, which significantly improves overall drive performance and reliability. Exclusive for WD Red customers, WD offers free premium 24×7 dedicated phone support and a three-year limited warranty.
The addition of a new form factor and higher capacity WD Red hard drives further underscores WD's "Power of Choice" mission for client hard drive solutions. WD recognizes the diverse challenges of customers and their applications and strives to empower them with storage solutions tailored to best suit their specific needs.
Integrating with WD NAS solutions, WD Red hard drives are qualified to work with a wide array of WD OEM partners. A regularly updated list of WD Red-qualified products and manufacturers is available on the WD website at http://www.wdc.com/en/products/products.aspx?id=810
Price and Availability
Shipping now through select distributors and resellers, WD Red hard drives are covered by a three-year limited warranty. MSRP for the new 2.5-inch WD Red 1 TB, model – WD10JFCX is £74.99 (including VAT), the 3.5-inch 4 TB, model WD40EFRX is £169.99 (including VAT). Additional information about WD Red hard drives and limited warranty terms may be found on the company website at http://www.wd.com/en/products/products.aspx?id=810.
WD Red NAS Hard Drive Launch Partners
WD Branded Products
"WD Branded Product customers now have the ability to harness the power of WD Red hard drives and utilize the many advantages of storage designed and tested uniquely for (SOHO NAS devices) WD products," said Scott Vouri, vice president, consumer marketing. "We look forward to delivering the advantages of the latest WD Red drives to our Branded Product customers."
I-O Data Device, Inc.
"IO Data has exclusively selected WD Red as our preferred storage partner because it has a 3 year warranty and the vibration level is half of previous NAS models," said Tomomi Tsuchida, Executive Officer General Manager of Business Strategy Dept., I-O Data. "And, cooler operation has been reduced by 6 degrees Celsius compare to previous NAS. WD Red is also eco-friendly drive and cut power consumption on our devices by up to 25 percent."
QNAP Systems, Inc.
"Fueled by the continuing growth of the global NAS market, WD Red NAS hard drives have been delivering QNAP® one to five-bay NAS products a reliable solution for 24/7 operation for more than a year now," said Richard Lee, CEO of QNAP Systems, Inc. "With WD's new larger capacity 3.5-inch and small form factor 2.5-inch WD Red NAS hard drives, the next generation of storage optimized specifically for entry-level NAS is here."
Synology Inc.
"The WD Red drives are already popular among NAS owners. The Synology and WD Red duo is an ideal storage solution that offers unparalleled value in the NAS market.  The combination provides peace of mind with great reliability, cool operation, and consistent high quality, while taking advantage of the award-winning DiskStation Manager OS. Now with 4TB and 2.5″ 1TB Reds, this will provide even more flexibility," said Vic Hsu, CEO of Synology Inc.
Thecus Tech., Corp.
"As the new WD Red drives are ideal to work with Thecus's SMB NAS systems, this also ensures that our users will have a broader selection of trusted HDDs for their specific needs – which is exactly in line with our philosophy of customer satisfaction" says Florence Shih, general manager at Thecus® Technology Corp.
About WD
WD, a Western Digital company, is a long-time innovator and storage industry leader. As a storage technology pacesetter, the company produces reliable, high-performance hard disk drives and solid state drives. These drives are deployed by OEMs and integrators in desktop and mobile computers, enterprise computing systems, embedded systems and consumer electronics applications, as well as by the company in providing its own storage products. WD's leading storage devices and systems, networking products, media players and software solutions empower people around the world to easily save, store, protect, share and experience their content on multiple devices. WD was established in 1970 and is headquartered in Irvine, California. For more information, please visit the company's website at www.wd.com.
Western Digital Corp. (NASDAQ: WDC), Irvine, Calif., is a global provider of products and services that empower people to create, manage, experience and preserve digital content. Its companies design and manufacture storage devices, networking equipment and home entertainment products under the WD, HGST and G-Technology brands. Visit the Investor section of the company's website (www.westerndigital.com) to access a variety of financial and investor information.
###
Western Digital, WD, the WD logo are registered trademarks; WD Red is a trademark of Western Digital Technologies, Inc. in the U.S. and other countries. Other marks may be mentioned herein that belong to other companies. As used for storage capacity one gigabyte (GB) = 1 billion bytes. Total accessible capacity varies depending on operating environment. See support.wdc.com for limited warranty terms and conditions.   
[/accordion]
Source: Western Digital