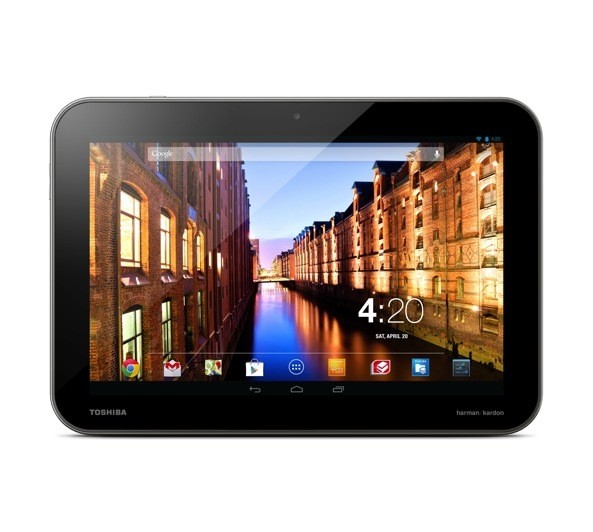 Toshiba are busy themselves at Computex with the announcement of three new Android tablets. The line of Excite tablets are dubbed the Pure, Pro and Write. Each tablet offer the same in terms of design, layout and connectivity with the internal specs differing them completely. The lower end of the spectrum we have the Pure which is power by Nvidia's Tegra 3 and a 10-inch display with 1,280 x 800 display. We have 16GB of memory on the inside with a MicroSD slot, sadly no rear facing camera.
The more modern spec'd versions are the Pro and Write models which share nearly identical specs such as the Tegra 4 chip, 8MP rear facing camera and 32GB of storage, again since these devices have the same design layout, we have the MicroSD slot. The screens on both will be of high resoltuion nature coming in at 2,560 x 1,600 resolution with Gorilla Glass 2. The Write model however has one advantage over the Pro and that is the built in Wacom digitizer with 1,024 sesors for input.
The new tablets will be arriving this July with the Pure costing $300 (around £220/€300), the Pro $500 (around £330/€500) and the Write $600 (around £400/€600). Check out the press release below for more information.
[accordion title="Press Release" id="id-here"]
TOSHIBA REFRESHES EXCITE TABLETS – UNLEASHES NEW DISPLAY, PEN AND PERFORMANCE TECHNOLOGIES
Newest Android Tablet Features Include 10.1-inch PixelPure Super High-resolution Display, Digitizer Technology and the Latest Processors From NVIDIA. With Three All-new Models, Excite Tablet Family Offers Something for Everyone and Prices Starting at $299
IRVINE, Calif. – June 3, 2013 – Toshiba's Digital Products Division (DPD), a division of Toshiba America Information Systems, Inc., today introduced three new devices in its Excite™ family of Android tablets – the Excite Pro, Excite Write and Excite Pure. Outfitted with the latest tablet technologies, including a 2560 x 1600 PixelPure™ display, NVIDIA® Tegra™ 4 processor1 and premium Harman Kardon® speakers, Excite Pro and Write models introduce new entertainment and productivity possibilities to Toshiba's tablet category, while Pure delivers essential performance and features at a lower price point. The Excite Write also comes equipped with a touchscreen digitizer for precision pen and handwriting. All three models are powered by Android™ 4.2, Jelly Bean, ensuring consumers can take advantage of the latest Android features right out of the box.
"With more and more consumers adopting tablets as their go-to devices for entertainment and travel, we wanted to push the boundaries even further and equip our new Excite tablets with the technology and features needed to maximize the potential of these devices," said Carl Pinto, vice president of marketing, Toshiba America Information Systems, Inc., Digital Products Division. "By focusing on boosting the capabilities of the screen – from increasing the resolution to adding a digitizer option – we're also evolving the way consumers can use these devices from consumption to creation." Pixel Perfection for the Eyes, Sublime Sound for the Ears
Excite Pro and Excite Write models are the first Toshiba tablets to feature a 2560 x 1600 native screen resolution, currently the highest in the tablet market. Pushing an astounding 4 million pixels (300 pixels per inch), images, video and text come alive across the 10.1-inch PixelPure display2 with stunning color and razor-sharp clarity, making it an ideal choice for entertainment-lovers, photo enthusiasts and image-quality seekers.
Proving that sound quality doesn't have to be sacrificed on a tablet device, Excite Pro and Write models utilize Harman Kardon stereo speakers, making them the first tablets to feature speakers from a premium audio brand. Enhanced with DTS® Premium Voice Pro audio processing technology, the audio experience on these two devices is hallmarked by more natural sound with enhanced bass, audio leveling and more clarity for VoIP web chats.
A "Tru" Boost in Productivity
Outfitted with a digitizer display and precision TruPen featuring 1024 pressure points, Excite Write delivers greater productivity possibilities by bringing a 'pen and paper' experience to the tablet screen. Most ideal for students, as well as mobile and creative professionals, Write models offer the precision and performance needed for note-taking and sketching. Loaded with Toshiba's own TruNote application providing a fun and easy way to store, organize, navigate and edit their notes, as well as a full version of 2
ThinkFree Office Mobile for Android, Write users can easily create and edit documents with greater creativity and accuracy. Productivity capabilities are enhanced further with TruCapture, a Toshiba-developed application that quickly and easily captures whiteboard content using the tablet's built-in camera and converts the snapshot for easier integration into presentations and documents.
Blazing Performance for Browsing, Games and Entertainment
All three Excite models are equipped with the processing power of NVIDIA Tegra. Pro and Write models are among the first to feature the NVIDIA Tegra 4 mobile processor, delivering greater power and efficiency, along with new camera capabilities. Equipped with an 8MP F2.2 camera, Pro and Write models achieve robust photo-taking capabilities by enabling high-dynamic range (HDR) and panorama effects, in addition to steadier shooting with enhanced image stabilization.
For consumers on a budget, Excite Pure delivers the robust performance of the NVIDIA Tegra 3 mobile processor, delivering more price-performance value along with plenty of capability for multi-tasking, gaming and more.
"NVIDIA Tegra processors bring an unmatched multimedia experience to the new Excite tablets from Toshiba, one of the world's most popular computing brands," said Matt Wuebbling, director of product marketing for the Mobile business at NVIDIA. "With Tegra, the Excite family features incredibly fast web browsing and new productivity and creativity tools that professionals and consumers will both enjoy."
Optional Keyboard Cover
Toshiba now offers a protective 2-in-1 keyboard cover that fits all the new Excite tablets. Featuring a raised tile Bluetooth® keyboard and magnetized notch that allows the tablet to easily prop up the tablet screen, the keyboard delivers a convenient way to maximize the capabilities of the tablet at home or on the go.
Models, Pricing and Availability
Excite Pure pricing starts at $299.99 MSRP3. Key specs include a 10.1-inch AutoBrite™ display (1280 x 800), NVIDIA Tegra 3 mobile processor, Android 4.2, Jelly Bean, 1GB DDR3 memory4, 16GB internal storage5, a 3MP rear camera, stereo speakers with DTS Premium Voice Pro, and built-in Micro HDMI®, Micro USB ports and a Micro SD slot.
Excite Pro is priced at $499.99 MSRP. Key specs include a 10.1-inch PixelPure display (2560 x 1600), NVIDIA Tegra 4 mobile processor, Android 4.2, Jelly Bean, 2GB DDR3, 32GB internal storage, an 8MP rear camera, Harman Kardon stereo speakers with DTS Premium Voice Pro, and built-in Micro HDMI, Micro USB ports and a Micro SD slot.
Excite Write is priced at $599.99 MSRP. Key specs include a 10.1-inch PixelPure digitizer display (2560 x 1600) featuring Corning Gorilla Glass 2, pressure sensitive Toshiba TruPen and TruNote application, NVIDIA Tegra 4 mobile processor, Android 4.2, Jelly Bean, 2GB DDR3 memory, 32GB internal storage, an 8MP rear camera, Harman Kardon stereo speakers with DTS Premium Voice Pro, and built-in Micro HDMI, Micro USB ports and a Micro SD slot.
All three tablet models will be available beginning on June 25, 2013 and can be purchased directly from Toshiba at ToshibaDirect.com or from major retailers and e-tailers nationwide beginning in early July.
Image Gallery: http://bit.ly/ExciteJune2013.
[/accordion]