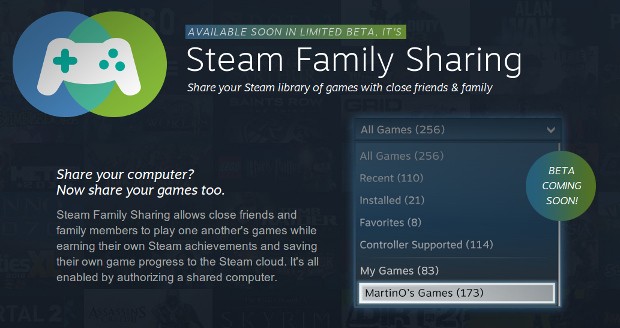 Valve have just dropped some big news regarding Steam and a new beta that will heading to it soon. The new service called Steam Family Sharing will allow users to share their libraries with friends and family, basically you can authorize certain users to pretty much play any game from your library at any time. However there is a rather large limit to the service, being that your Library of games can only be accessed by one person at a time, so any friend that happens to be playing one of your games will be given minutes to save and quit/purchase the game if you log into play a a game, regardless if it's a different one. The service will also by limited to 10 devices at any given time.
This is a very similar plan to which Microsoft were playing with the Xbox One which they have of course retracted and are now sticking with the current way things are with console games. While the new service from Steam is fairly limited, it is definitely a step in the right direction. The beta will start next week and you can sign up by joining the Steam Family Sharing group, however the first wave of invites for the beta are already full and Steam will invite more as they go along. Check out the press release and source link before for more information. We also included Steams FAQ as well.
[accordion title="Press Release" id="id-here"]
Steam Announces Family Sharing
Coming Soon: Players who share computers can also share their Steam games
September 11, 2013 – Steam Family Sharing, a new service feature that allows close friends and family members to share their libraries of Steam games, is coming to Steam, a leading platform for the delivery and management of PC, Mac, and Linux games and software. The feature will become available next week, in limited beta on Steam.
Steam Family Sharing is designed for close friends and family members to play one another's Steam games while each earning their own Steam achievements and storing their own saves and application data to the Steam cloud. It's all enabled by authorizing a shared computer.
"Our customers have expressed a desire to share their digital games among friends and family members, just as current retail games, books, DVDs, and other physical media can be shared," explained Anna Sweet of Valve. "Family Sharing was created in direct response to these user requests."
Once a device is authorized, the lender's library of Steam games becomes available for others on the machine to access, download, and play. Though simultaneous usage of an account's library is not allowed, the lender may always access and play his games at any time. If he decides to start playing when a friend is borrowing one of his games, the friend will be given a few minutes to either purchase the game or quit playing.
For more information about Steam Family Sharing and the beta program, please visit http://store.steampowered.com/sharing/.[/accordion]
[accordion title="Steam Family Sharing FAQ" id="id-here"]
I want to try this! How can I join the Family Sharing Beta?
To express interest in beta participation, join the Family Sharing Group on the Steam community. The Family Sharing beta will begin in about a week, when a thousand Steam accounts from this group will be granted access to share their Steam libraries. You'll know you've been selected when you receive an email from Steam inviting you to try out the new feature.
How do I enable Family Sharing on my computer? 
Family Sharing is enabled in one of two ways: You can either locally enable sharing in Account Settings, with Family Sharing & Devices, or remotely respond to a user's Steam request to share your previously installed games via email.
Is there a limit to the number of devices I can authorize to share my Library? 
Yes. A Steam account may authorize Family Sharing on up to 10 devices at a given time. Can I share specific games, or do I have to share my whole library? Libraries are shared and borrowed in their entirety.
Can all Steam games be shared with friends and family? 
No, due to technical limitations, some Steam games may be unavailable for sharing. For example, titles that require an additional third-party key, account, or subscription in order to play cannot be shared among friends and family.
Can a friend and I share a library and both play at the same time? 
No, a shared library may only be accessed by one user at a time.
When I authorize a device to lend my library to others, do I limit my own ability to access and play my games? 
As the lender, you may always access and play your games at any time. If you decide to start playing when a friend is already playing one of your games, he/she will be given a few minutes to either purchase the game or quit playing.
Sometimes the games I've borrowed are unavailable for me to play. Why?
Borrowed games are only available on computers that have been authorized by the lender. A borrowed game will not be available on a computer running an OS unsupported by that game. Borrowed games may also be unavailable if the lender's library is currently in use on another computer.
Who owns the DLC and in-game content associated with a borrowed title? 
A borrower will have access to the lender's DLC, but borrowers may not purchase DLC for a base game they don't own. Any player may purchase, trade, earn, or otherwise acquire in-game content while playing a game, but in-game items cannot be shared between accounts. These items remain associated with the account that purchased or acquired them, whether borrowing or lending the base game.
Can region-restricted content be shared across regions?
No, any region restrictions will remain in place when borrowing or lending content.
Will I be punished for any cheating or fraud conducted by other users while playing my games? 
Your Family Sharing privileges may be revoked if your library is used by borrowers to conduct cheating or fraud. We recommend you only authorize familiar computers you know to be secure.
[/accordion]
Source: Steam News