Samsung Galaxy unpacked event had plenty of leaks and those included the Galaxy Z Flip, which was pretty much completely leaked before hand. The new device from Samsung is another take on the folding display that we got with the Samsung Galaxy Fold – which most will remember was pulled from sale for a couple of months due to consistent issues just before launch.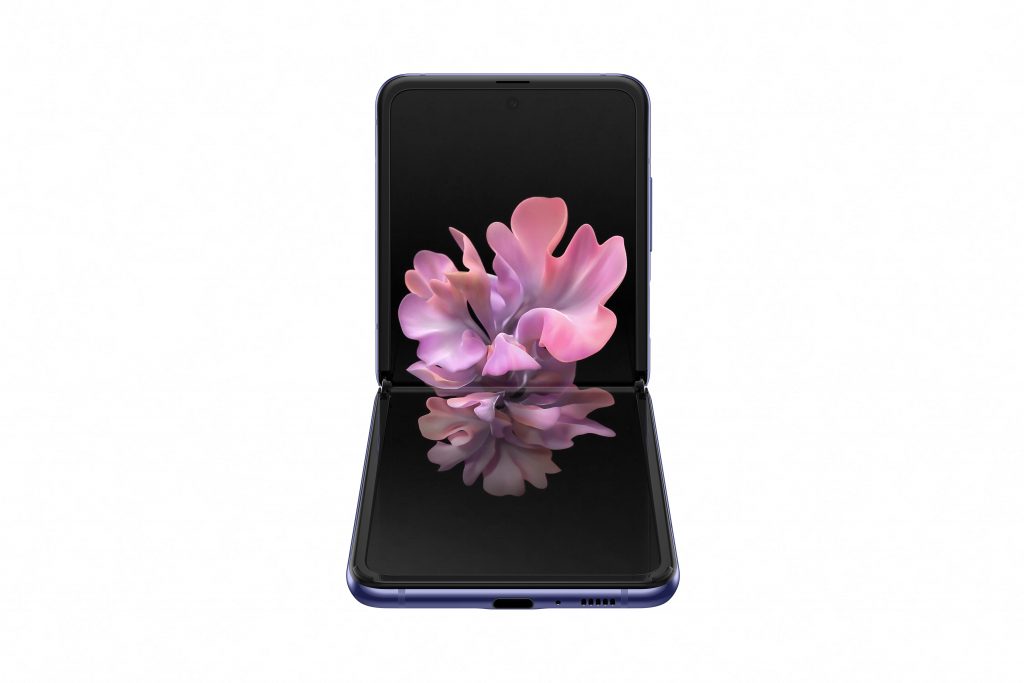 The main difference between the Galaxy Fold and Galaxy Z Flip is the fact the flip is more a conventional smartphone when in use, but folds into a much smaller package. This is a very similar nature to the recently launched Motorola Razr with fordable display. The Galaxy Fold was more appealing as it was a narrow device that unfolded into a more tablet like device.
The Galaxy Z flip includes a tall 22:9 ratio 6.7-inch Dynamic AMOLED display with 1,080 x 2,636 resolution. An interesting feature for the Z Flip is the flexible Glass that covers the AMOLED display. Samsung have said it's a lot more durable than the plastic used for the Galaxy Fold and Moto Razr. We also have additional fibres added to the hinge to prevent dust/dirt from making it's way in and causing a mess with the it. Importnat features and additional if the Z Flip is to be a more durable and usable device. There is also a very small AMOLED display solely for notifications and time on the front of the device when closed.
The camera on the Galaxy Z Flip is a decent dual sensor setup with 12MP main sensor with f/1.8 aperture and large 1.4µm pixels. We also get a 12MP ultrawide sensor with f/2.2 aperture. The front facing 10MP camera is a tiny dot on the centre of the display – much like the S10/S20 series.
Inside the Galaxy Z Flip has the Snapdragon 855 chipset with Octa-core CPU and Adreno 640 GPU and 8GB's of RAM. There is 256GB of storage with no MicroSD slot. Other specs include Bluetooth 5, WiFi AC, USB Type-C, finger print reader (side of device), and lastly a 3,300mAh battery with 15W fast charging and wireless charging support.
The Galaxy Z Flip arrives this February includes a pretty large price tag at €1,480, making it a pretty niche device to own. S20 Ultra is slightly cheaper and has a lot more to offer. Ultimately we will see if a folding device is something consumers will pay more to have over a better spec'd device.