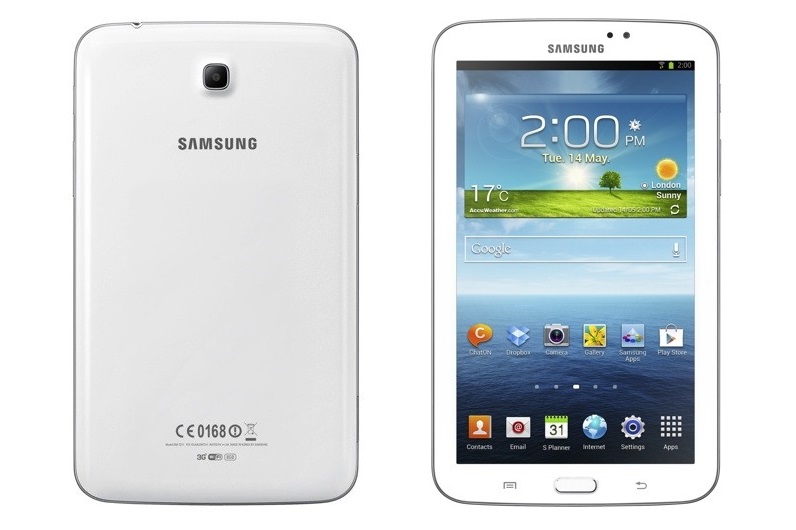 Samsung just announced their latest 7-inch tablet device along the series of Galaxy Tab device with the number reaching version 3. The specs include a 7-inch display with 1,024 x 600 resolution, powered b a 1.2 GHz dual-core processor with 1GB of RAM. Storage side of things has both 8GB/16GB variations with a microsd slot. photo taking abilites is preformed by the rear facing 3MP camera with 1080p video support with the front facing camera being a 1.3MP sensor. The entire device measures 111.1 x 188.0 x 9.9mm and is powered by a 4000mAh battery.
Availability for the WiFi version is set around May with the 3G version arriving later in June. There hasn't been any word on pricing but that's expected closer to launch.
[accordion title="Press Release" id="id-here"]
Samsung Unveils GALAXY Tab 3
SEOUL, Korea, April 29, 2013 – Samsung Electronics Co., Ltd, a global leader in digital media and digital convergence technologies, today announced the introduction of the GALAXY Tab 3 – 7-inch tablet featuring sleek design and enhanced capabilities that bring capabilities that bring better performance and multimedia experiences to your fingertips.
With the new GALAXY Tab 3, Samsung has evolved its range of innovative tablets, making them smaller and easier to carry, while increasing the user experience overall
• Easy Handgrip and Portability: Its compact, one-hand grip form factor ensures users can hold comfortably for hours as well as store in a pocket or small bag for reading and entertainment on the go. The sleek and stylish design encompasses thinner bezel than the previous GALAXY Tab 2 (7.0).
• Better Multimedia Performance: Powered by a 1.2GHz Dual Core processor, the device allows for faster downloads and sharing, while providing easy access to videos, apps, games, and the web. Offered with either 8/16 of internal storage plus up to 64GB of expandable memory, the device has plenty of space to hold your favorite photos, music, apps, videos and more.
• Enhanced User Experience: The GALAXY Tab 3 7-inch is equipped to better capture life's moments in stunning clarity and resolution with its 3-megapixel camera rear camera and 1.3 -megapixel front camera. Combined with the latest Android 4.1 (Jelly Bean), it allows users to share photos, videos, and life's special moments through a few quick taps and swipes.
The GALAXY Tab 3 7-inch WiFi version will be available globally beginning May and 3G version will follow in June. The product availability varies by market and will be rolled out gradually.
[/accordion]
Source: Samsung Mobile