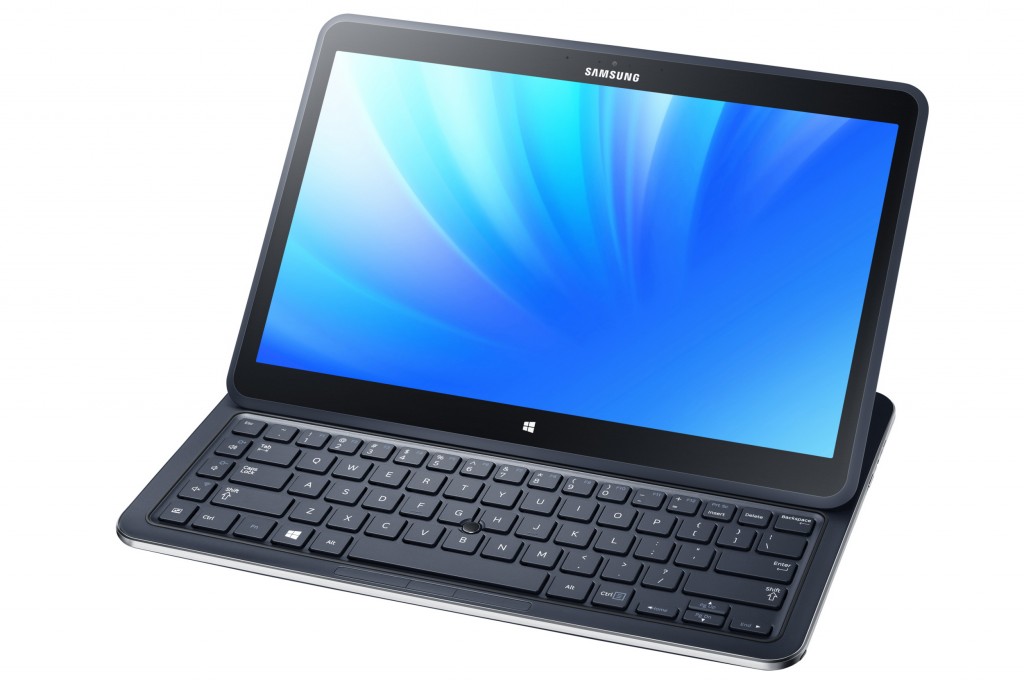 Samsung had a few products to announce and another one that looks very interesting is the ATIV Q. The new table/laptop hybrid will see the grouping of both Windows and Android and not just as a dual boot option but running at the same time. The specs for the device include Intel Core i5 CPU, 4GB of RAM and a massive resolution display coming in at 13.3-inches with 3,200 x 1,800 resolution(275PPI). The device also sports and S-Pen to give your artist and hand note taking side a place to shine.
Yes! the device will be running both full Windows 8 and Android and switching between the too can be done instantly with the main hardware button on the front of the device. What's more you can even add short-cuts to Android based apps on the Windows dashboard and launch them directly from there, a first for this time of behaviour. Details on pricing and release have yet to be shared, other than it's arriving later this year. Check out the press release and gallery below for some nice shots of the new device.
[accordion title="Press Release" id="id-here"]
SAMSUNG STRENGTHENS TABLET OFFERING WITH INNOVATIVE NEW ATIV MODELS
Convertible ATIV Q, and the world's thinnest Windows Tablet ATIV Tab 3 – offering versatility and productivity on the go
London, UK – June 20, 2013 – Samsung Electronics today unveiled two new tablets, the ATIV Q and ATIV Tab 3. Both powered by Windows 8, the ATIV Tab 3 is the world's thinnest tablet while the convertible ATIV Q is able to run Android apps.
"We're committed to offering our customers choice and convenience in personal computing, and the convertible nature of both these new tablets delivers the freedom and versatility our customers demand" said Simon Stanford, Vice President of IT & Mobile Division, Samsung Electronics UK & Ireland said. "These innovative devices have been designed with busy people in mind, and the adaptability they offer is better suited to busy lives than any tablet on the market."
ATIV Q
The ATIV Q is a convertible device with the ability to change modes and has both Windows and Android capabilities. Built with today's busy lifestyles in mind, it works as a notebook or tablet and gives you more flexibility and convenience than ever before.
Addressing a common desire among PC users to be able to access Android apps on a Windows-based PC, the ATIV Q allows you to now experience both Windows 8 and Android (Jellybean 4.2.2) on the same device. Not only will you get access to Android apps via Google Play, but you will also be able to transfer files or share folders and files from Windows 8 to Android.
The ATIV Q sports a hinge design that allows you to transform it into four functional modes. You can lay the display flat over the keyboard for tablet mode; raise the display upright to type just as you would a laptop; float and adjust the display to a comfortable viewing angle; or flip the display to place in the stand mode to watch movies. The four-in-one design of the ATIV Q easily adjusts to give you every possible option in the one device. The ATIV Q is also extremely thin and lightweight, at 1.29kg and only 13.9mm, making it very portable.
Finally, the ATIV Q introduces the world's highest resolution, QHD+ (3200×1800) display. Its 13.3-inch touch screen offers 2.8 times higher pixel density (275ppi) than full HD displays, and the device is also designed to give you an optimised viewing experience regardless of where you are or the brightness of the environment you are in.
ATIV Tab 3
A tablet with the power of a PC, the ATIV Tab 3 makes personal computing easier than ever. As the world's thinnest Windows 8 tablet – as thin as many popular smartphones – it shares a similar design and premium look and feel of the Samsung Galaxy series. It is perfect for creativity and productivity as it features Samsung's S Pen functionality, high level pen display and S Pen compatibility with MS Office.
Incredibly thin and lightweight at only 8.2 millimetres thick and 550g in weight, the ATIV Tab 3 is the ideal device to take on the daily commute to work. With up to ten hours of battery life, it is also a great device for taking on most long distance flights.
The ATIV Tab 3 runs Windows 8, has the ability to run all Windows apps and programmes and comes preloaded with Office Home & Student.
SideSync is available with both the ATIV Q and ATIV Tab 3, enabling you to easily switch from working on a PC to an Android-based Samsung smartphone. The PC keyboard can be used to respond to a text on a mobile phone, view maps on a larger screen, display photos and videos on both devices to make editing files even easier, or use an ATIV PC to back up and charge mobile devices.
Availability
The ATIV Q and ATIV Tab 3 will all be available to buy in the UK from selected retailers later this year.
Be among the first to know when the ATIV tablet range is available, by visiting www.samsung.com/uk/ATIVBookQ/ and www.samsung.com/uk/ATIVTab3/. Or go to www.samsungmobilepress.com for multimedia content and additional information.
[/accordion]