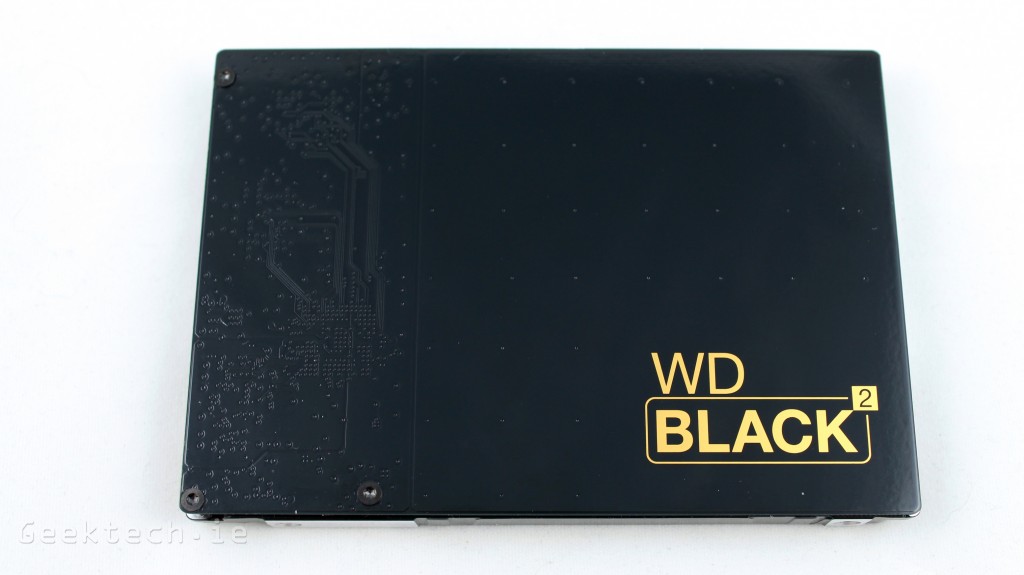 The battle between SSD's and HDD is still ongoing and it pretty much comes down to two things, speed over capacity and  then just overall cost, with SSD's coming down in price practically each week, the battle pretty much then becomes just about speed vs capacity. Now for desktop users, this really is not an issue as you can simply slap in an SSD or two and then a few hard drives and your laughing. Laptop users aren't so luckily, and they pretty much have to make a choice between performance and storage space as most laptops will only have one slot to house your storage device. So basically it's go for a full on SSD and get excellent performance or settle for HDD performance with much more capacity.
If you couldn't already tell where we are going with this, well finally we have a solution that gives the users a complete SSD and HDD together in one complete 2.5-inch/9.5mm housing. Not like how a SSHD works were you get a built in SSD cache that contains a small portion of your most used files by accessing usage using an algorithm, you in fact get two completely usable drives with the SSD being 120GB and the HDD being 1TB all in one drive, hence the name Dual Drive. This is exactly what a lot of laptop and even tablet users have been waiting for and we're eager to check it out. So let's start like we always do and take a look at the specs.
Internal 120GB SSD
Internal 1TB HDD
SATA III 6Gb/s
2.5-inch form factor with 9.5mm thickness
5 year warranty
[accordion title="Full Specifications" id="1″]
WD Black²™ Hard Drives ( WD1001X06XDTL)
Product Specifications
Interface
SATA 6 Gb/s
Performance Specifications
Load/unload Cycles
600,000 minimum
Transfer Rates
Buffer To Host (Serial ATA)
6 Gb/s (Max)
Physical Specifications
Capacity
120 GB SSD + 1 TB HDD
Form Factor
2.5 Inch
Performance Specifications (SSD)
Target Performance
Internal transfer rate (read, max)
350 MB/s
Physical Dimensions
English
Height
0.374 Inches
Depth
3.95 Inches
Width
2.75 Inches
Weight
0.28 Pounds
Metric
Height
9.5 mm
Depth
100.3 mm
Width
69.85 mm
Weight
0.125 kg
Environmental Specifications
Shock
Operating Shock (Read)
30G, 2 ms
Non-operating Shock
350G, 2 ms
Acoustics
Idle Mode
20 dBA (average)
Seek Mode 0
21 dBA (average)
Temperature (English)
Operating
32° F to 140° F
Non-operating
-40° F to 158° F
Temperature (Metric)
Operating
-0° C to 60° C
Non-operating
-40° C to 70° C
Electrical Specifications
Current Requirements
Power Dissipation
Read/Write
1.80 Watts
Idle
0.90 Watts
Standby
0.90 Watts
Sleep
0.90 Watts
[/accordion]
The Dual Drive itself
Benchmarks
Performance is key when it comes to SSD'd as let's be honest, if your not buying them for them for the insane boot times, program loading times and more, then why at all, perhaps the power consumption/lack of moving parts helps you in the grand scheme of things. The Dual Drive isn't a new form of technology, rather an innovation of combination. Either way, the combination of and SSD and HDD leaves really only one question, How good is the SSD? That's what we are hear to find out and to do so we have put together results from the top benchmark software around to give you an easy of idea of what kind of performance the SDD side of the Black² dual drive has to offer.
Test setup
Intel Core I7 4770k CPU
Gigabyte Z87X-OC
Kingston HyperX Predator 2400Mhz
Corsair AX1200
The main performance we are testing is from the SSD and we included results from the Kingston V300 240GB in our charts as it's a top performing SSD available. Secondly we included a few results form the HDD side of the Dual Drive as well.
[accordion title="ATTO Disk Benchmark" id="2″]
Read Performance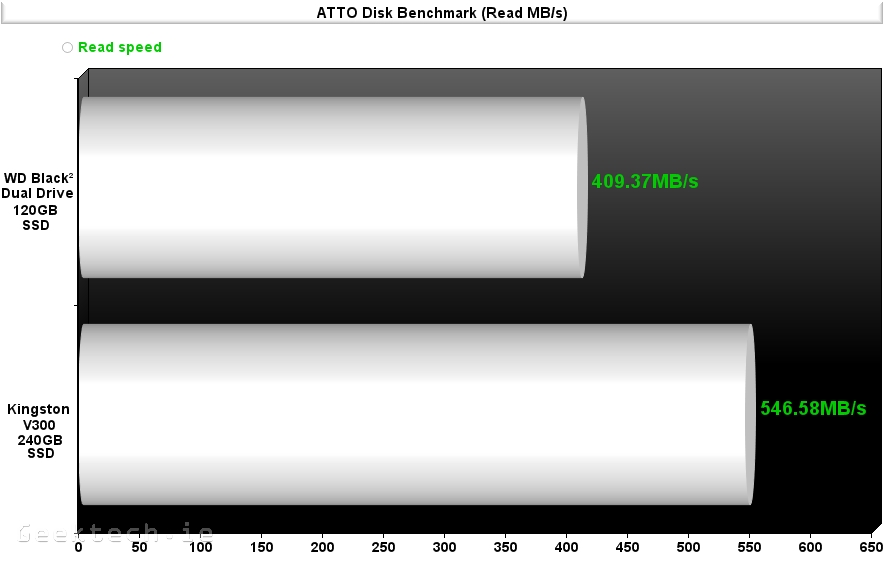 Write Performance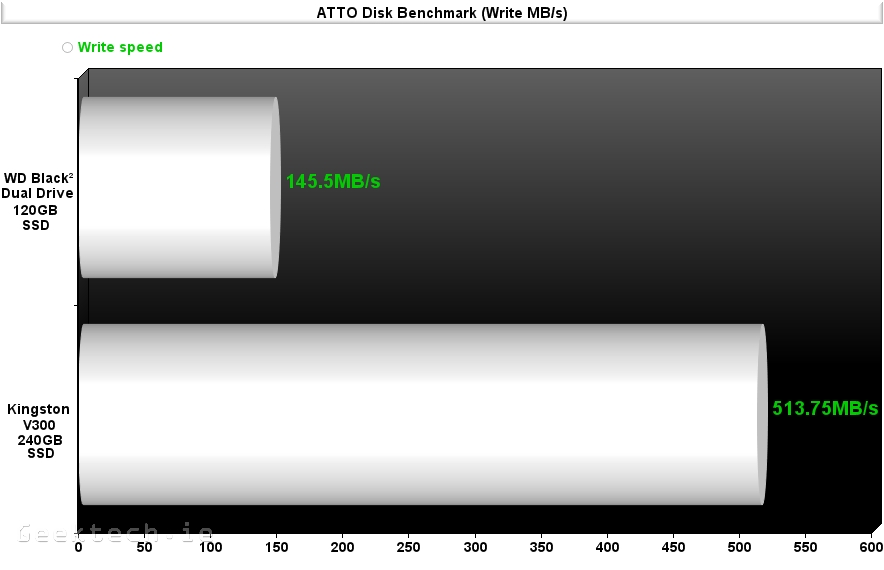 [/accordion]
[accordion title="Crystal Disk Mark" id="3″]
Read
 Write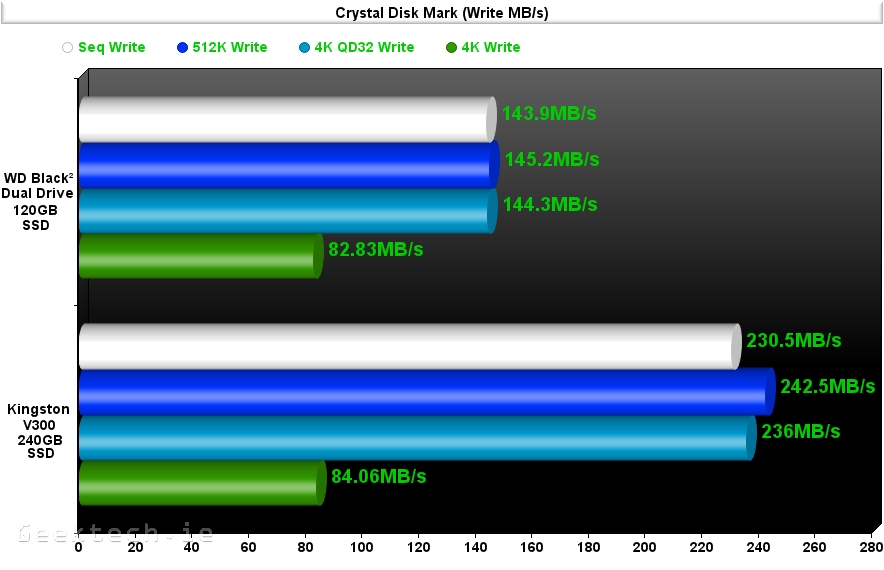 [/accordion]
[accordion title="Sisoft Sandra 2014″ id="4″]
Read Performance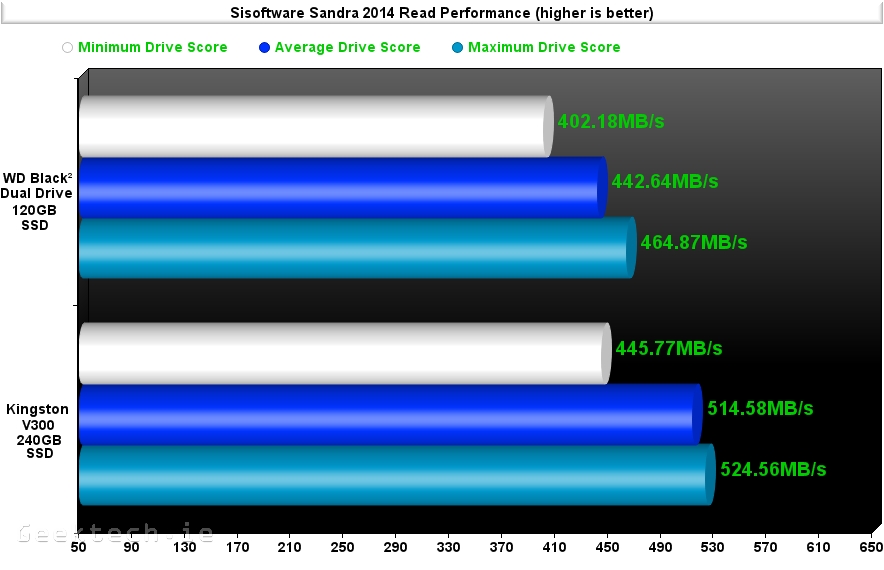 Write Performance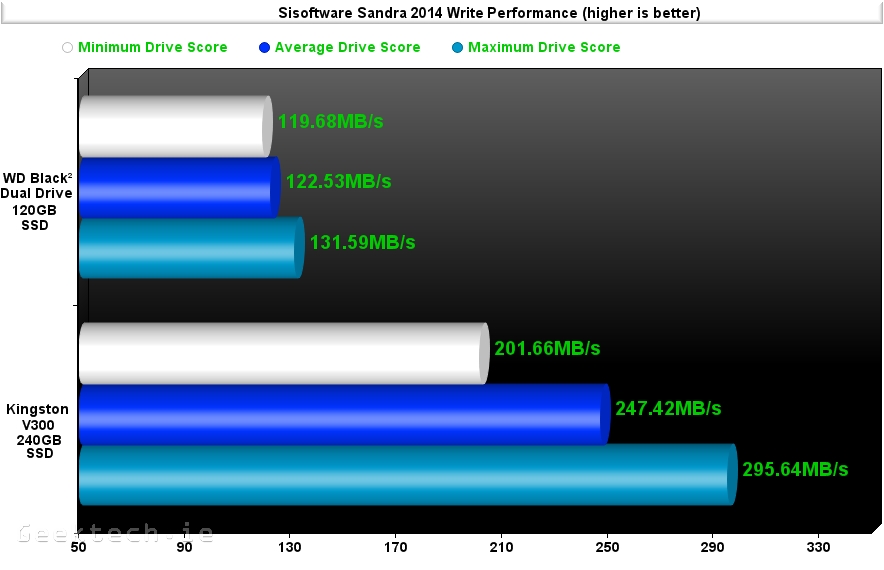 [/accordion]
[accordion title="AIDA 64″ id="5″]
Read Access Performance


Write Access Performance


Linear Read Performance


Linear Write Performance


Random Read Performance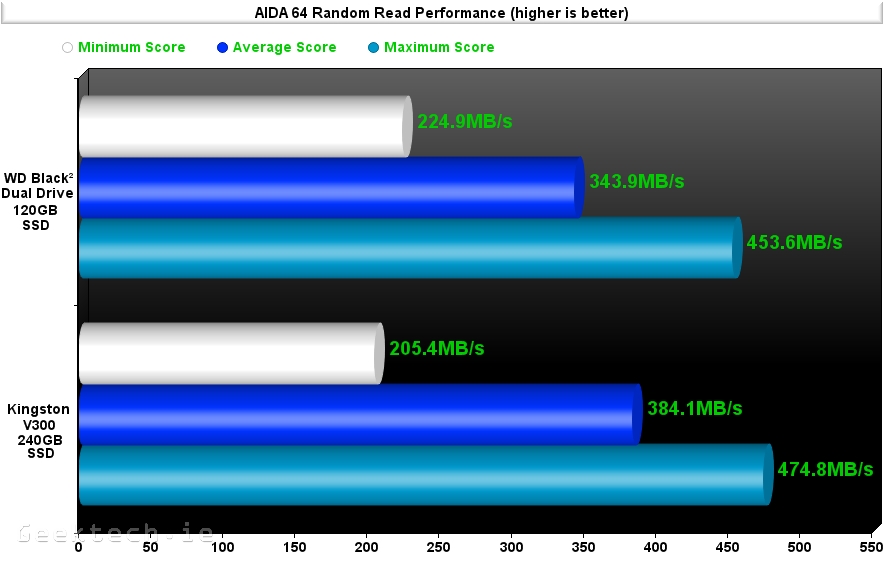 Random Write Performance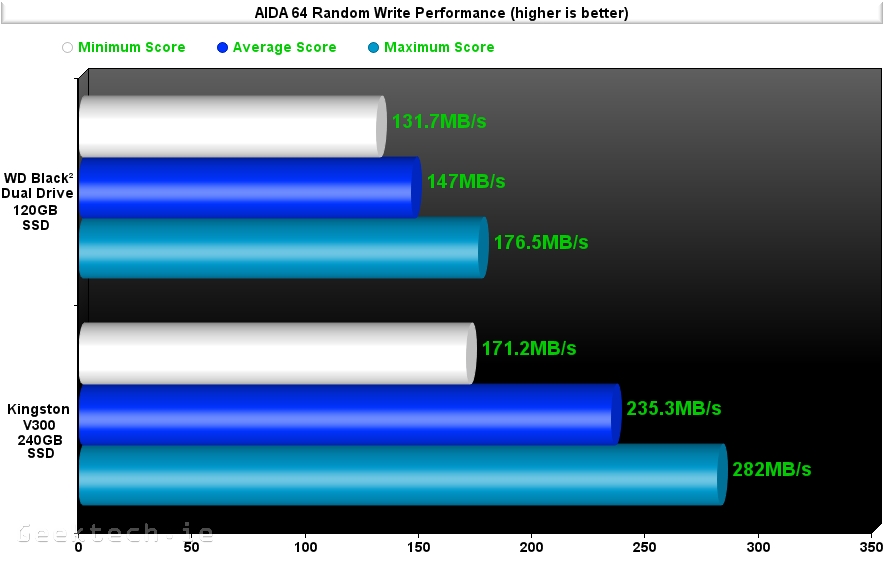 Buffered Read Performance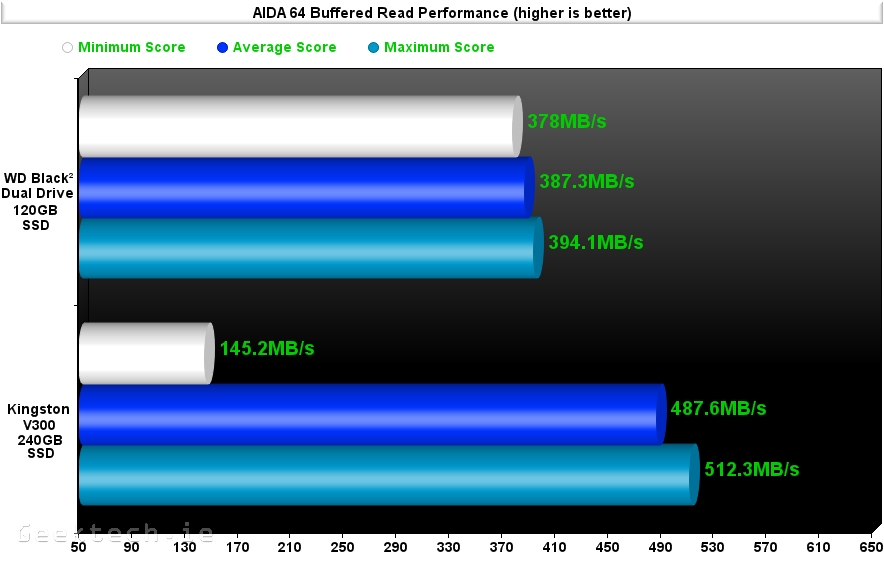 [/accordion]
[accordion title="PCMark 8 Storage" id="6″]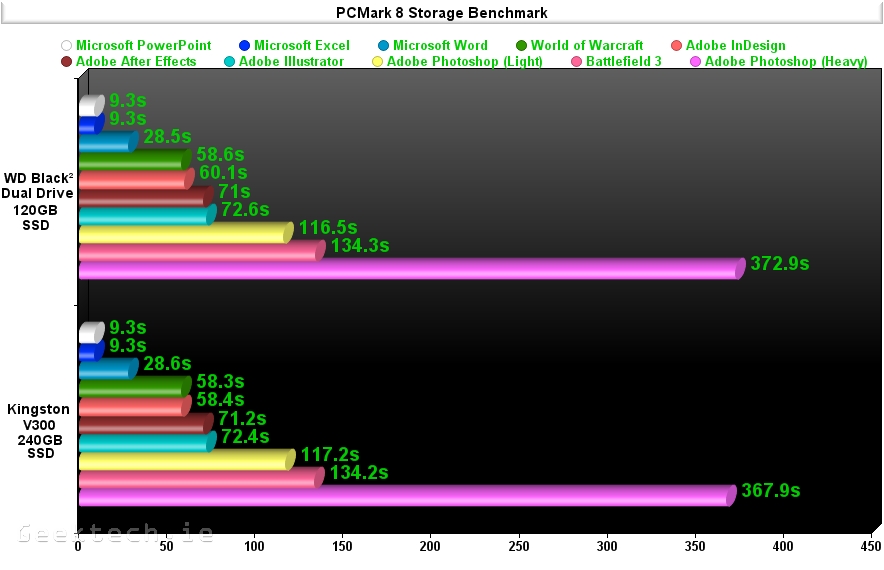 [/accordion]
[accordion title="Crystal Disk Mark HDD" id="7″]
Read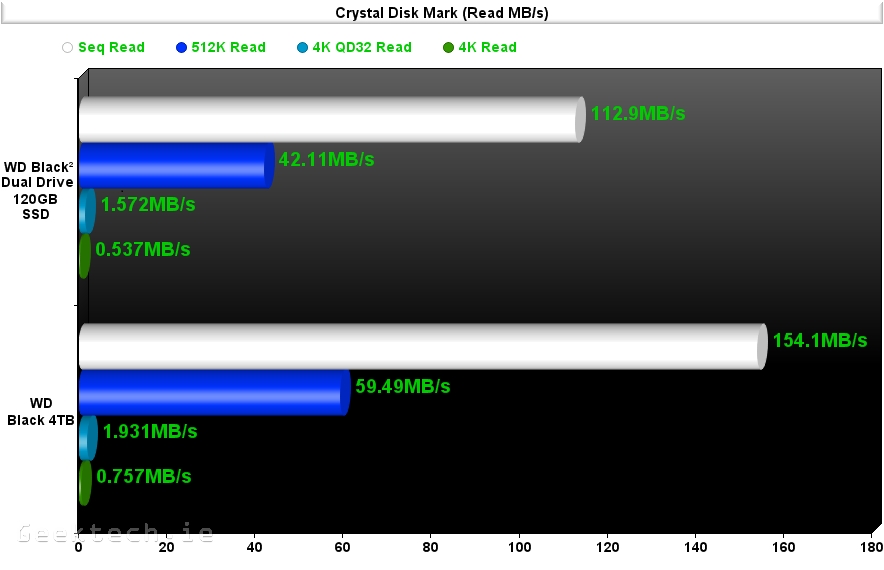 Write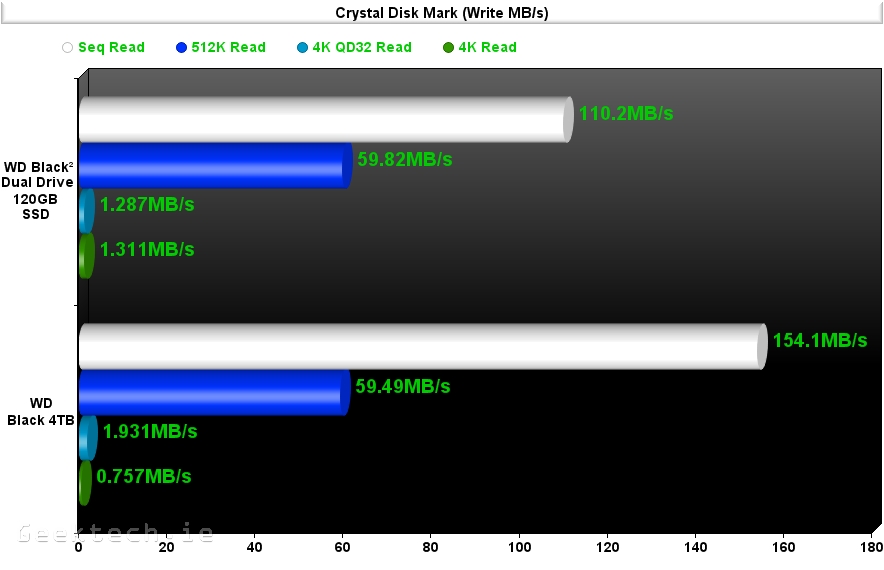 [/accordion]
Conclusion
We have looked at the specs, the drive and done the tests, now it's time to sum up the new Black² Dual Drive from Western Digital. 
The Dual Drive isn't new technology, but rather an innovative step by combining two other forms of technology. The idea alone of combining both an SSD and HDD is pretty sound and we must amount we're shocked it took this long to become a reality. While SSDs are coming down in price with their capacities becoming bigger for less money all the time, the cost per GB compared to a HDD isn't even close. That being said the performance gains an SSD has over a HDD can't be overlooked by any means, so it's hard to draw a line on choosing which is best for your needs.
Desktop users mostly don't need to ask that question as they can simply have both, so that's the reason why we are looking at a 2.5-inch dual drive rather than a 3.5-inch as it's directly aimed at Laptop/Tablet users due to the fact they mostly have to pick between either a HDD or SSD. The Dual Drive offers the third and in our opinion a fantastic option and gives users two completely separate drives inside a single housing. The benefits of increased performance with the SSD and much higher overall capacity with the HDD.
The Dual Drive performance is pretty solid with read speeds and read access times always in the highs in our charts. Write speeds are of course noticeably lower, but keep in mind that most of the performance gains you see from an SSD come from the read speeds and the nature of how they work and most people won't noticed slow write speeds or at least care too much. We think after everything Western Digital have nailed a troubling questions and gives user a valid third option when it comes to performance over capacity with mobile computing. Choosing an SSD over a HDD meant the need for external storage or choosing a hard drive over an SSD meant a massive loss in performance. Now you can have your cake and eat it too.
The Dual Drive from Western Digital has a price tag of €299/$299/£249 which is easily on the high side, but not to much considering it's the first and only of its kind, however competition wise, we can see some perhaps some users wanting to go the full SDD route and for the price of the Black² they could pick up a 480GB SSD, so top performance with a decent capacity is the current competition for the new drive from Western Digital and that may be the best option for most users, but if you need or want to have 1TB of hard drive space and the performance of an SSD in a 120gb drive then the Dual Drive is your best and only option.
Verdict
The Dual Drive2 from Western Digital offers laptop users a third option in the big question of performance vs capacity and the answer is rather simple.. Both! . Combining both an SSD and a HDD is a simple idea, but a great one and Western Digital nailed it with the Black² Dual Drive. The SSD performance you would want is there and you still get a nice 1TB HDD to enjoy filling up. No doubt we recommend the Dual Drive for those who want to enjoy the best of both worlds and give the Black² Dual Drive the Geektech Gold Award.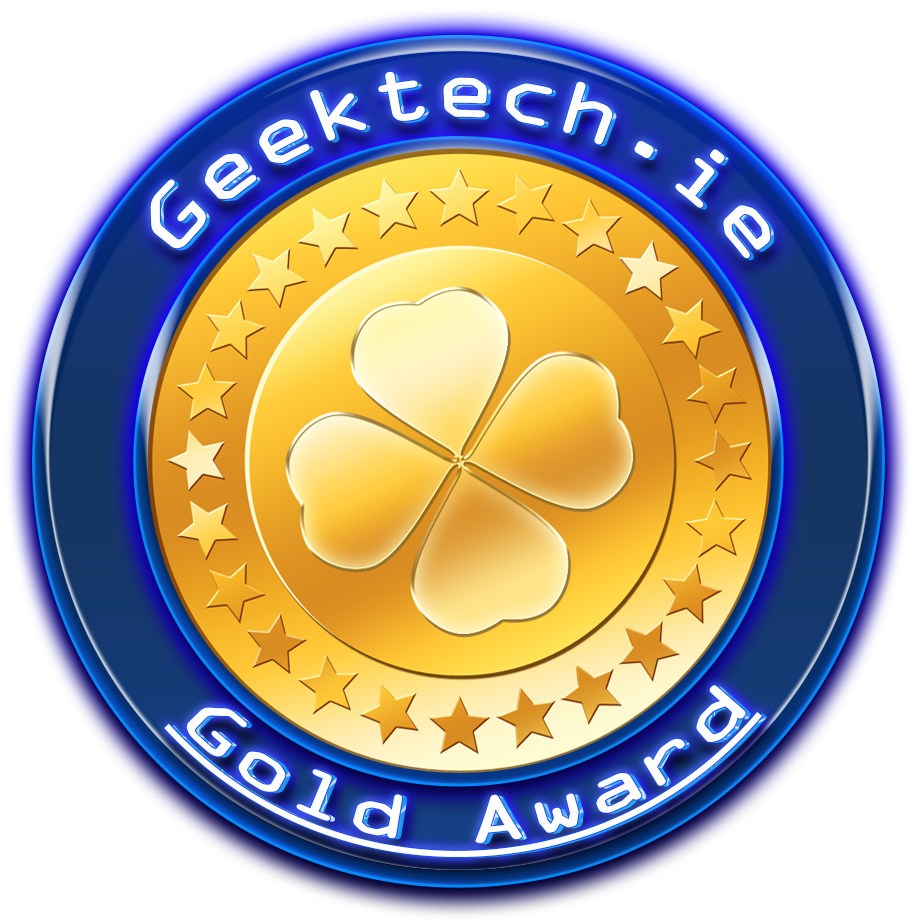 Pros
Combines both SSD and HDD in a single drive
Excellent SSD performance
Decent HDD performance
5 Year Warranty
Cons