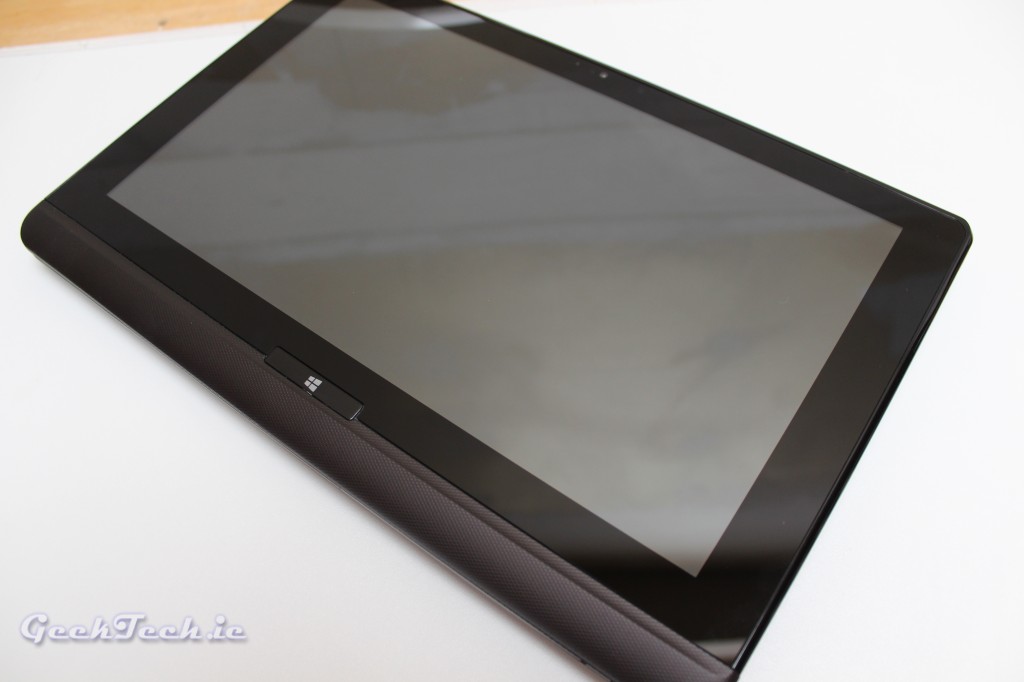 When buying a mobile computer nowadays the choice will either be tablet or laptop and both offer different things for different needs, but thanks to Toshiba, you don't need to make the choice. The U920 is a hybrid laptop/tablet and features a slide-out mechanic to allow the user to use it as either a complete laptop or slide it together and use it as a tablet.
So first off, let's take a look and the short list of the specifications. Check out the full list underneath.
12.5-inch (1,366 x 768) IPS display
Intel Core i3-3217u clocked @ 1.80GHz
4GB of RAM
Intel HD Graphics 4000
Bluetooth, WiFi, HDMI Out
[accordion title="Full Specifications" id="id-here"]
Product Description
Toshiba Satellite U920T-10F – Ultrabook PC
Processor
3rd generation Intel® Core™ i3-3217U Processor for Ultrabook
Clock speed : 1.80 GHz
Cache memory
3rd level cache : 3 MB
Hard Drive
128GB Solid State Drive
RAM
Standard : 4GB
Maximum expandability : 8GB
Technology : DDR3 RAM (1,600 MHz)
Wireless Networking
Compliancy : Wi-Fi™
Network Support : 802.11b/g/n
Manufacturer : Intel®
Wireless Technology : Wireless LAN
Version : Intel® Centrino® Wireless-N 2230
Manufacturer : Intel®
Wireless Technology : Bluetooth® 4.0
Version : 4.0
Manufacturer : Intel®
Wireless Technology : Intel® Wireless Display
Graphics Controller
Type : Intel® HD Graphics 4000
Memory : up to 1,664 MB shared memory with 4 GB system memory installed, (with pre-installed 64-bit operating system)
Memory type : shared
Display
Size : 31.75cm (12.5")
Type : Toshiba HD TFT High Brightness touch display with 16 : 9 aspect ratio, scratch resistant Corning® Gorilla® Glass and LED backlighting
Internal resolution : 1,366 x 768
Interfaces
2 × USB 3.0 (one supporting USB Sleep-and-Charge with Auto mode detection)
1 × HDMI-out supporting 1080p signal format
1 × external Headphone (stereo) / Microphone combo socket
1 × SD™ Card Reader (supports SD™ Card up to 2 GB, miniSD™/microSD™ Card with adapter up to 2 GB, SDHC™ Card up to 32 GB and SDXC™ Card up to 2 TB)
2 × integrated 3.0 MP web camera with Auto Focus (rear) and 1.0 MP web camera with Ambient Light Sensor (front) with built-in microphone facing the user
OS Provided
Windows 8 64-bit (pre-installed)
Dimensions (WxDxH)
326.5 x 213.0 x 19.9 mm
Weight
Starting at 1.52 kg
Manufacturer Warranty
1 year Warranty
Battery
Technology : Lithium-ion polymer, 3 cell
Maximum life : up to 4h00min (Mobile Mark™ 2012)
[/accordion]
 The U920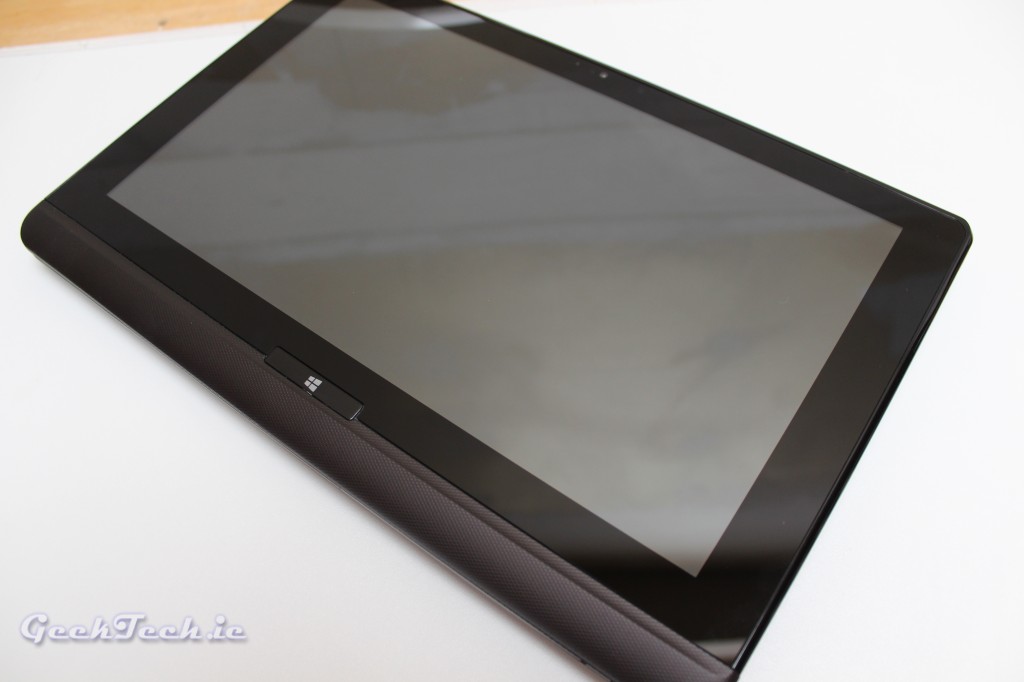 Starting from the outside in tablet mode, we get a view of the IPS display and a nice big windows button to bring up the metro UI or return to it from elsewhere.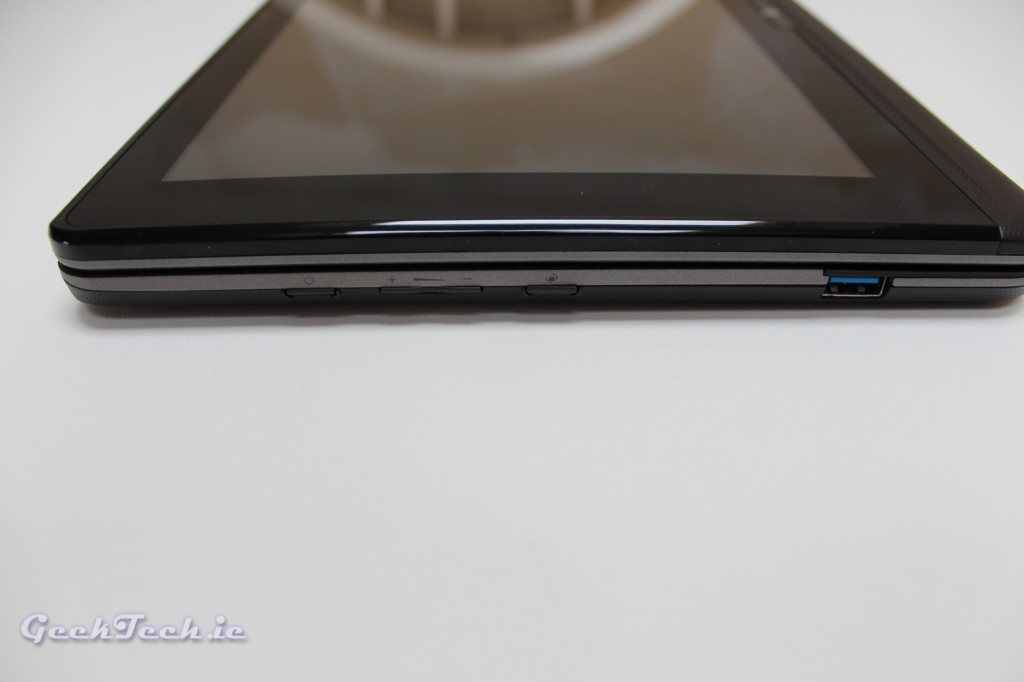 Moving to the sides, specifcially the left side we have the power button, volume buttons and the rotation lock button. We also have one of the USB 3.0 connections.
The back left and right of the laptop have another USB 3.0 connection, HDMI out and the power in, as well as vents for the fans.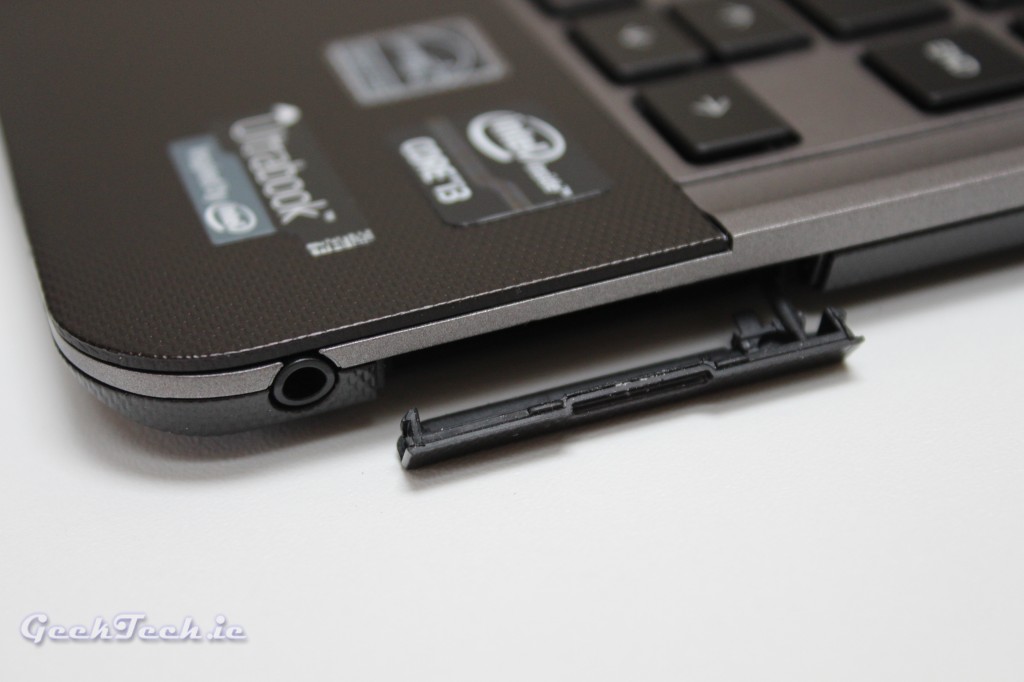 The right side has a little action with just a Mic/Headphone connection and SD Card reader.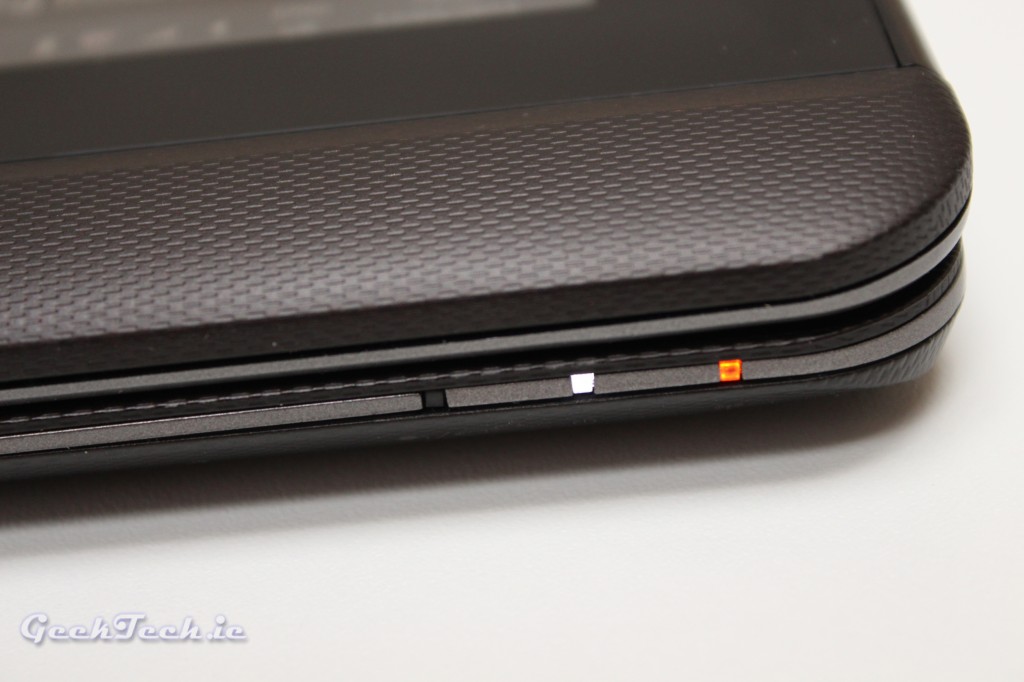 Finally we have the three L.E.D's at the front for power, battery and activity.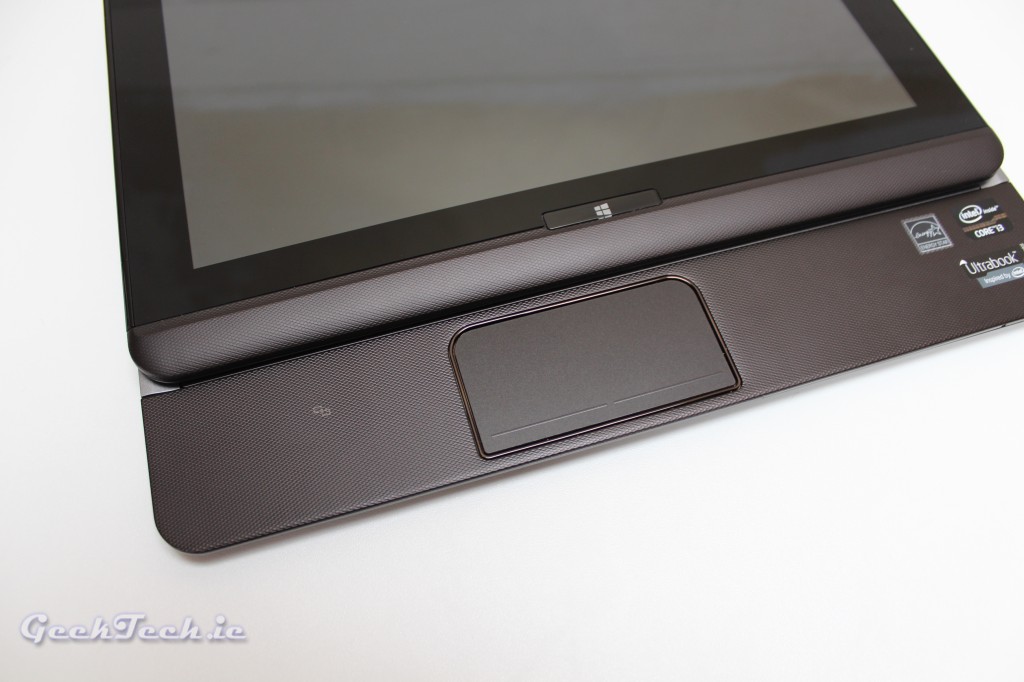 Sliding the screen backwards when in tablet mode will begin to reveal the touch pad and keyboard.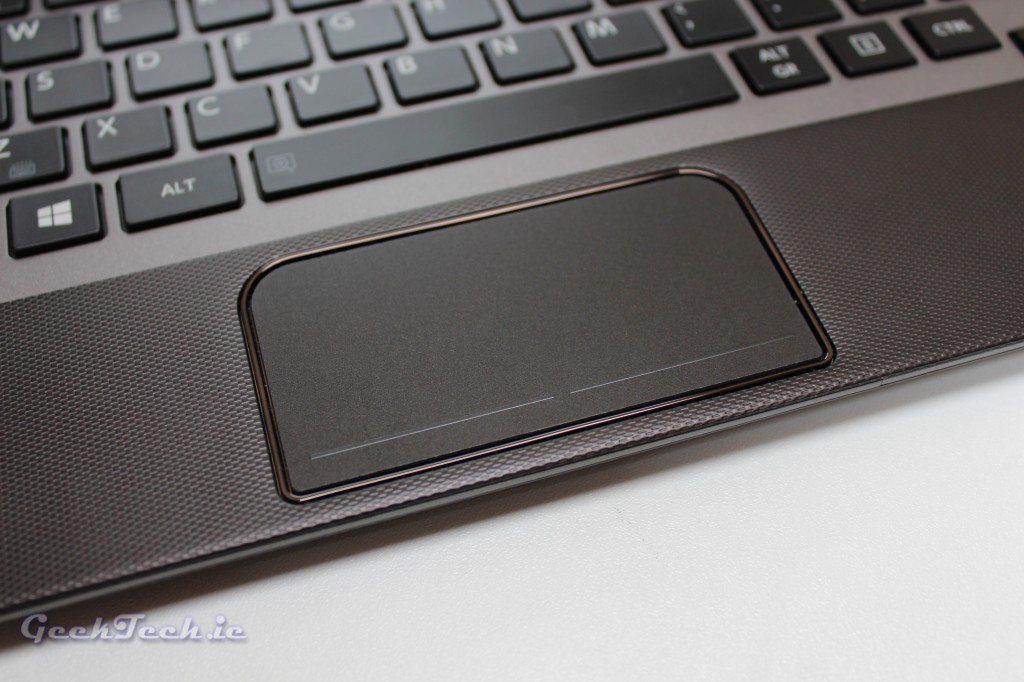 The touchpad is similar to the U940 as is the keyboard below.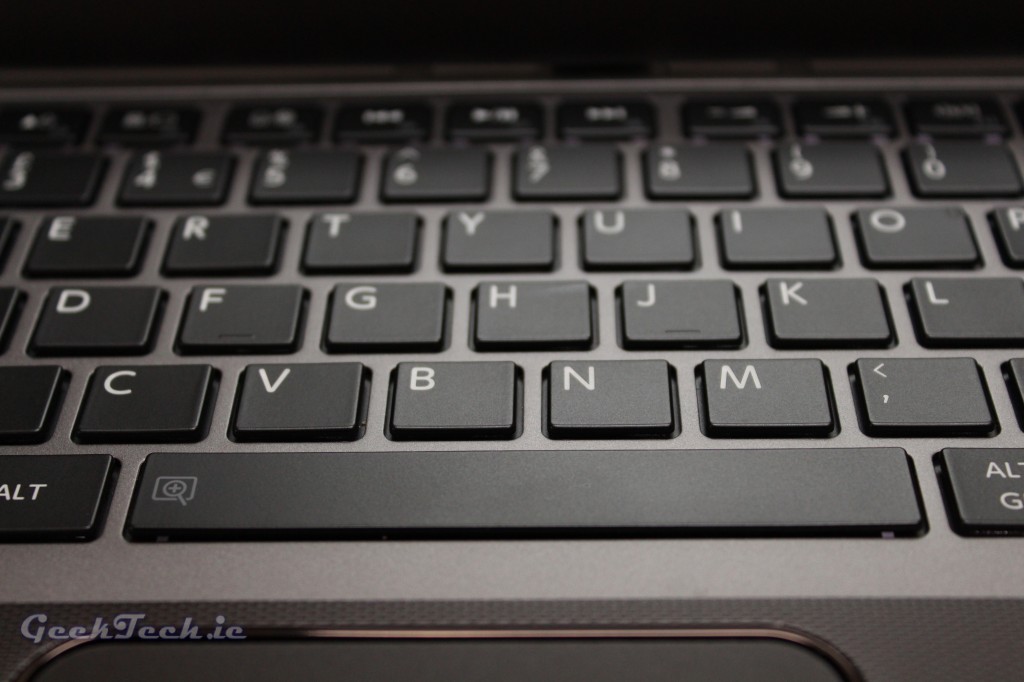 The keyboard has decent spacing considering the size of the device, over all it's comfortable to use and each key has enough tactile feedback to keep us satisfied, however it's not the best keyboard we have seen.
Performance
While the U920 isn't meant to break any records or even come close, but theres no reason we can't gauge the performance in a benchmarks to give you an idea on what to expect. However, the conclusion will break down performance from video playback and internet browsing.
PCMark 7
Battery performance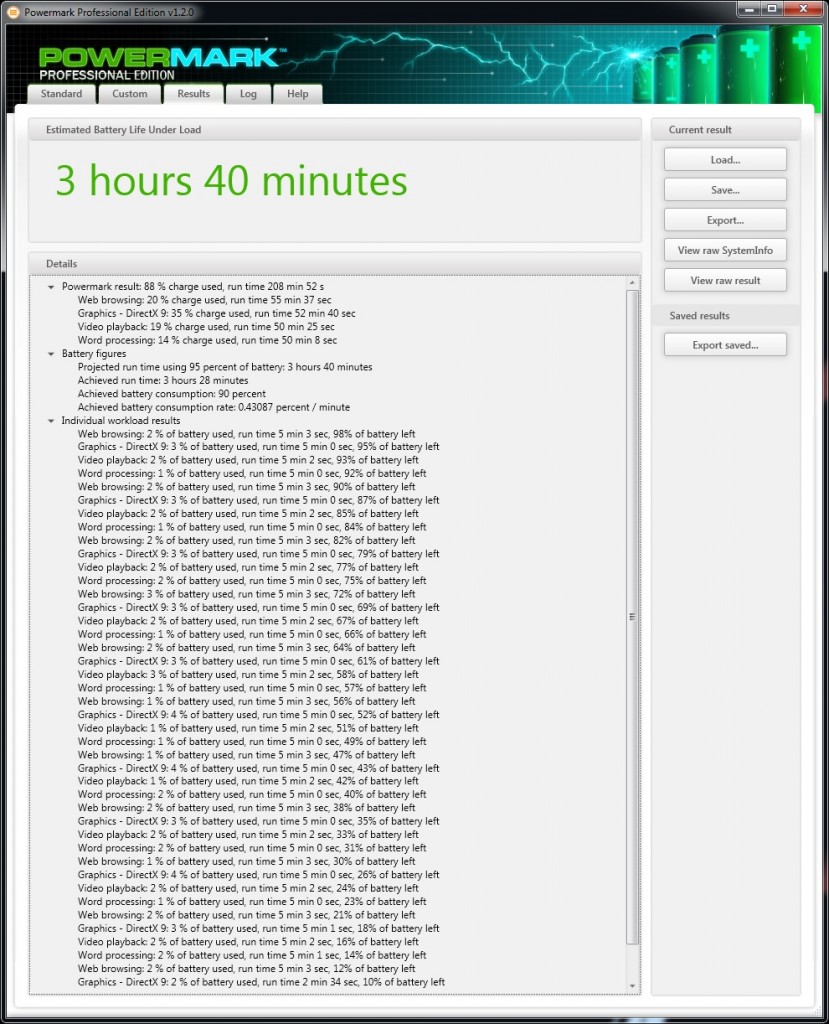 The battery is estimated to last 3 hours and 40 minutes based on the above powermark test which was ran at 50-percent brightness. This would easily resemble the amount of time we were getting when using the U920 as a couch companion for the day with multiple people with some browsing and video playback and a bit of stand by time.
Conclusion
The U920 isn't the first hybrid tablet/laptop but it does work well as both a laptop and tablet. While switching between the two could be easier and is on some of the competing devices, that's not to say it's a negative. We don't expect people switching that much, but once you do it a few times you will get that hang of it and be able to slide it apart and together in a few seconds.
Design
The laptop is fairly nice to look at and has rather solid feel to it. Having a USB port on the left and back of the device will prove to be help when using it in either tablet or laptop mode. HDMI also located at the back/top when using it either in laptop or tablet mode should make it easy should you wish to use it. The keyboard and trackpad are comfortable to use and make using it a laptop a benifit for task that simply can't be done in tablet mode. Initial using the keyboard may feel awkward but after some time you can by typing and near full speed and have no trouble finding the right keys, although like other Toshiba laptops, the function keys are also secondary and require the F key to active them.
There really isn't any negative points for the U920 design as it looks and plays nice. The screen could have better viewing angles, but the resolution is more of a concern being only 1,366 x 768, with smartphone having 1080p we really shouldn't be seeing that anymore. The weight is on the heavy side but not too heavy that holding it in tablet mode would cause strain, however, we do recommend not using it that way for too long if there is another option.
Performance
The u920 will perform how it should, the type of tasks we expect it to perform are anything from watching HD video to browsing the internet and you will get a very enjoyable experience from that, however this hybrid is not here to break records or outperform even the medium range laptops. It meant as a tablet/hybrid choice that gives you better options for portability.
Battery
We ran powermark and it shows that the battery will give us around 3 hours and 40 minutes, the test was done at 50-percent brightness, so with a little lower you could reach a full 4 hours. This coincides with what Toshiba advertise so there really isn't anything to fault it here. Is 4 hours enough, well that's a very general questions, we would always like more but based on performance and the size of the device, 4 hours fits and is long enough to perform most tasks or use the laptop/tablet as a couch companion.
Overall
The U920 is a laptop/table hybrid, it doesn't try to do either job better than a dedicated laptop or tablet. If your looking for a tablet, than the U920 isn't really for you, and the same but with lesser impact could be said if your looking for a laptop. Simply put a dedicated laptop would give you better performance for cheaper. THe U920 is aimed and those who want the best from both worlds and the it will provide them with an overall enjoyable experience.
The design layout works and the device feels solid all around, it has all the connectivity you would need from Bluetooth and WiFi to USB 3.0 to HDMI out. The built in SD card slot is an added bonus. Speaker quality isn't really there and they seems like pretty basic setup so earphones or external speakers are advised for most occasions other than the quick video here or there.
Performance is adequate for what the U920 is meant for and you shouldn't run into any performance woes or issues at all and most tasks will run buttery smooth. That can also be said for HD playback, although again the lack of a full HD display is a serious concern for this device and that's because of its price. Coming in at over €1000 which is simply too high for a device of this level, that being said it does over a unique experience it being a hybrid, it just doesn't bring any wow factors to the game to demand such a high price. Simply put, unless your set on a Hybrid and even if you are there are better choices out there, while some don't offer the same features, they do have a lower price tag.
The U920 isn't a poor performing or ugly device, it's the exact opposite, it look nice, performs great and does whats advertised, the price is the killer here and competing devices of this nature either offer smaller price tag for similar or better yet, better specs for the same price.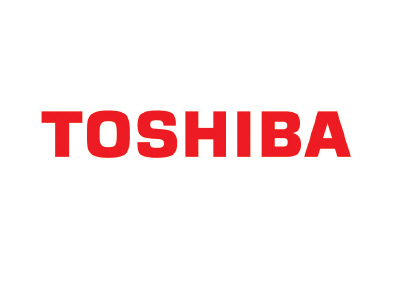 A big thanks to Toshiba and the Keogh partnership for sending the U920 out. Check out other products at Toshiba.ie