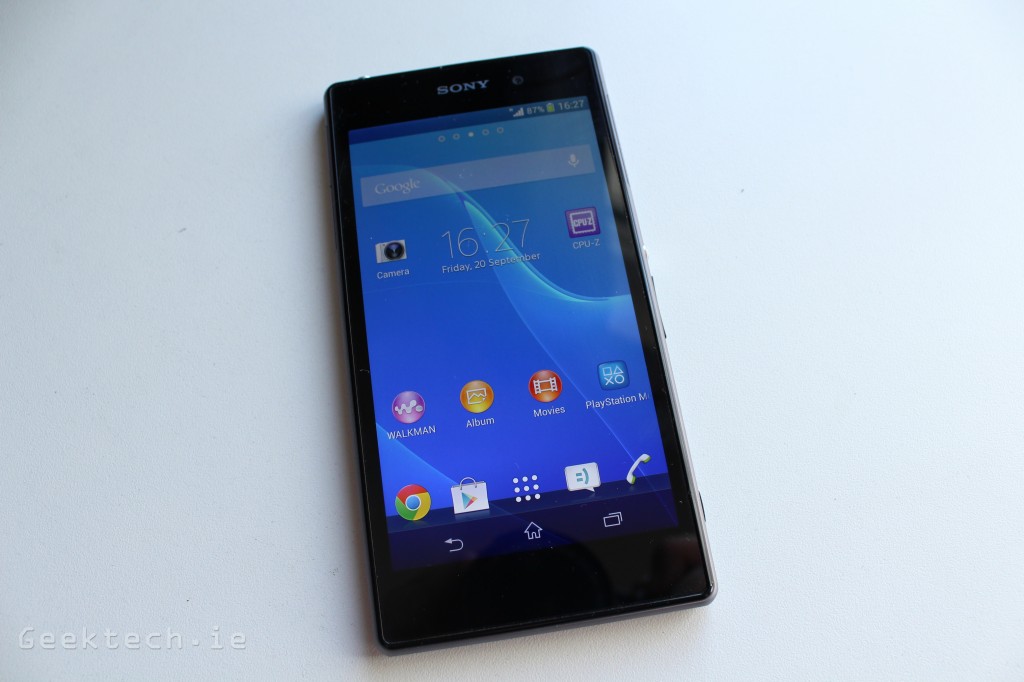 It was only back in February we were reviewing the Xperia Z from Sony and now we have the successor to the popular device which is titled Xperia Z1, but don't let the subtle name change confused you. While the new device shares a design critique and name, the specs on this device are a serious upgrade compared to the Xperia Z. We aren't going to play around here are start by looking at some of the stand out specs.
Display: 5″ 1080p (441ppi) TFT Triluminous capacitive touchscreen display with X-Reality and OptiContrast
Chipset: Qualcomm MSM8974 Snapdragon 800, quad-core 2.2 GHz Krait 400, Adreno 330, 2GB of RAM
Camera: 20.7MP camera with 1/2.3″ Exmor RS sensor and Sony G Lens, F/2.0 aperture; 2MP front-facing camera
Video camera: 1080p video capture with HDR mode
Memory: 16GB of inbuilt storage, microSD card slot, up to 64GB
Connectivity: Wi-Fi a/b/g/n, Bluetooth 4.0, MHL GPS, NFC and LTE
Battery: 3,000mAh
Misc: IP58 certified – dust-protected and water resistant; shatter proof and scratch-resistant glass for the front and the back panel, metal frame on the sides
Now, without giving away too much too soon in the review, those specs are insane. Not only are we looking at a top of the line chipset from Qualcomm with the Krait 400 CPU and latest Adreno 330 graphics, amazing 5-inch 1080p Triluminous display and more. The camera is a whopping 20.7MP Sony G Lens and of course its got all the connection goodies like WiFi b/g/n, Bluetooth 4.0, MHL with USB host support, GPS and NFC and of course 3G/LTE. Sony hasn't skimped on the battery either and included a 3,000mAh which we will also be putting to the test, all this along side the fact it has a water resistant housing with metal frame to make it even more sturdy. This is going to be a fun review.
So that's pretty much it for the Xperia Z1 on paper and even then it sounds almost too good to be true. We included the full specs below as well if you wish to check  them out, but now let's take a closer look at the device itself.
[youtube width="670″ height="450″]HgJMAyRtHJ0[/youtube]
[accordion title="Full Specifications" id="id-here"]
Design and display
5", 16,777,216 colours, 1920 x 1080 pixels
Full HD TRILUMINOS™ Display for mobile
X-Reality™ for mobile picture engine
Face Unlock
Gesture input
Senser-on-lens
STAMINA mode
Touch gesture – multi-touch, up to 10 fingers supported
Screenshot capturing
Throw
Pan & zoom
Camera and video
20.7 megapixel camera with pulsed LED flash and auto focus
Burst mode
HDR for both picture/movie
8x digital zoom
BIONZ™ for mobile image processor engine
Front-facing camera (2 MP 1080p)
Geotagging
HD video recording (1080p)
Sony G Lens
Image stabiliser
Object tracking
Red-eye reduction
Scene recognition
Send to web
Smile shutter™
Sony Exmor RS for mobile image sensor
Superior Auto
Sweep Panorama
Touch focus
Touch capture
White balance
Image capture, supported format: JPEG
Image playback, supported formats: BMP, GIF, JPEG, PNG, WebP
Video recording, supported formats: 3GPP, MP4
Video playback, supported formats: 3GPP, MP4, M4V, MKV, AVI, XVID, WEBM
Face detection
On the inside
Google Android 4.2 (Jelly Bean)
2.2 GHz Qualcomm MSM8974 Quad Core CPU
Adreno 330 GPU
Memory
RAM: 2 GB
Flash memory: Up to 16 GB****
Expansion slot: microSD™ card, up to 64 GB (SDXC supported)
Pre-loaded applications
Google Chrome*
Google Play*
Google Voice Search*
Google search*
Google Maps for Mobile with Street view and Latitude*
Google Talk application*
Sony Select
Web browser (WebKit)
Connectivity and communication
3.5 mm audio jack (CTIA)
aGPS
ANT+ wireless technology
Bluetooth 4.0 wireless technology
DLNA Certified
MHL support
Native USB tethering
NFC
Screen mirroring
Smart Connect
Synchronisation via Exchange ActiveSync®, Facebook™, Google™ and SyncML™*
USB charging
USB High speed 2.0 and Micro USB support
Xperia Link
Wi-Fi and WiFi Hotspot functionality
Noise suppression
Voice enhancement
Xperia Socialife*
Entertainment
"Movies" application
3D and motion gaming
Google Wallet™
PlayStation Certified
FM Radio with RDS
SensMe and SensMe slideshow
Sony Entertainment Network (selected markets only)
TV launcher
YouTube*
"WALKMAN" application
Facebook application*
Twitter*
3D surround sound
Bluetooth stereo (A2DP)
Clear Audio+, Clear bass and Clear stereo
TrackID music recognition*
xLoud Experience – audio filter technology from Sony
Audio recording, supported formats: 3GPP, MP4, AMR
Audio playback, supported formats: MP3, 3GPP, MP4, ADTS, AMR, SMF, XMF, OTA, RTTTL, RTX, iMelody, WAV, OGG, FLAC
Networks
UMTS HSPA+ 850 (Band V), 900 (Band VIII), 1700 (Band IV), 1900 (Band II), 2100 (Band I) MHz
GSM GPRS/EDGE 850, 900, 1800, 1900 MHz
LTE (Bands 1, 2, 3, 4, 5, 7, 8, 17, 20)****
Battery
Talk time: Up to 14 hours**
Standby time: Up to 880 hours**
Music listening time: Up to 110 hours**
Video playback time: Up to 6.6 hours**
Weight
[/accordion]
Design
The Z1 clearly shares a similar design with that of the Z with some minor changes to the material and size of the device. The device continues to have a reflective glass back, however the z1 now has a metal frame and the device feels much stronger when holding it. the weight and size of the device have changed as well with the Z1 being both a little bit longer and wider than the Z. The metal frame and increased battery mean a jump in weight from 146g to 169g,
Since the Xperia Z1 shares the water resistant features as the Xperia Z, it includes flaps on the relevant ports, however this time around they have removed the flap for the 3.5mm headphone connection and are using a special coating on the inside to protect it, this is of course a welcome change as previously if you had headphones connected to your Xperia Z and dropped the device, the flap being open meant no protection, this time around the Z1 will be protected even with headphones connected and it obviously makes it easier to connect headphones as well.
Button wise we have the same power button and volume rocker on the right side along with the micro simslot near the top, this time around however Sony have added a dedicated camera key on the bottom right, the perfect place when taking photos. We haven't seen a dedicated camera buttons on android devices in awhile so it's nice to see their return, especially with the sensor the Z1 has inside. The left side of the device has to two flaps which contain access for the MicroUSB and MicroSD slots.
UI
The Xperia Z1 has a simlar UI to that of the Xperia Z with some changes to the layout and settings. Below are some screenshots of the new UI and its layout.
Most of the UI is unchanged compared to the Xperia Z with some colour changes and the settings for the app drawer can be be accessed by swiping from the left. The quick settings menu when swiping down from the top of the screen is also semi customizable, you can add or remove different shotcuts from a list of 16, which includes things like, NFC, Roaming, Auto rotate switch, Airplane mode, GPS and more. Overall we still believe Sony's UI is one of the best since it works flawlessly and is very minimal in terms of resources and of course since its Android you can easily use a difference launcher with more features. The UI performance on Xperia Z1 was the best we have ever seen with zero lag or jumps anywhere. It was pretty much 100-percent at all times.
Camera
One of the biggest stand out feature with the Xperia Z1 is of course the camera, it being a 20.7MP 1/2.3″ Exmor RS sensor and Sony G Lens with an F/2.0 aperture. It also supports full 1080p video with HDR. Before we take a look at some pictures and videos taken with the Xperia Z1, let's take a look at the camera UI.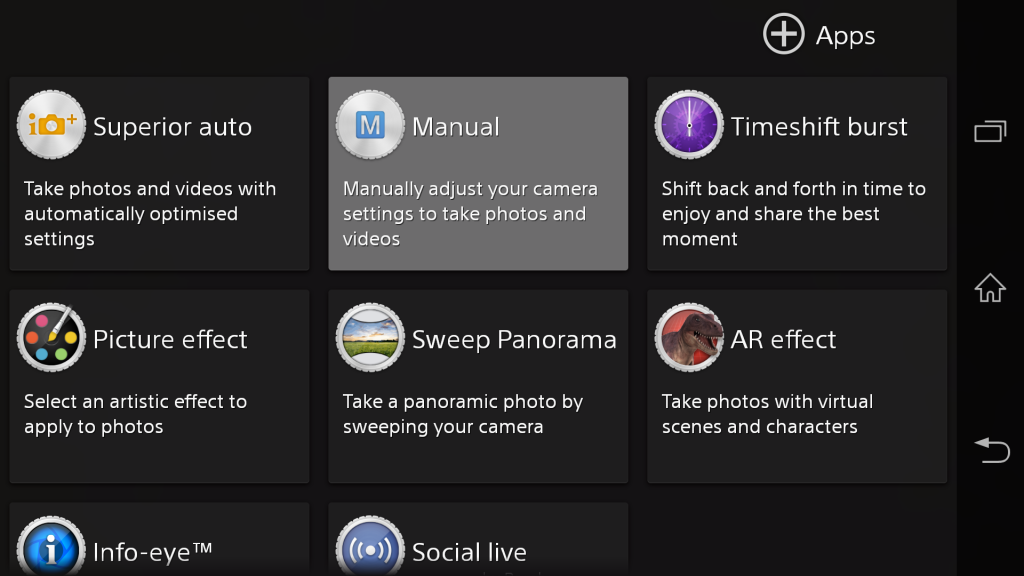 The first thing to note is the different modes the Xperia Z1 has, the main one being Superior Auto, and as the names suggest it's an Auto mode for the device which picks the best mode based on what it sees. Oddly enough the Auto mode doesn't set the camera to its native 20.7MP, but rather down samples those 20.7MP shots to 8.3MP. So keep that in mind if you want to get the full image out of the device and save a full 20.7MP shot, you will need to use manual mode. You can start recording or take a picture at any time when using the auto mode along with taking pictures while recording a video.
The other modes available are manual which pretty much gives you full control over the settings including, scene, ISO, resolution and more.
The time shift burst mode takes 61 shots in 2 seconds and include 30 shots before and after you press the button along with 1 picture exactly when you press it, so basically in this mode the camera is always taking pictures and when you press the camera button it display the first 30 before the press, 1 on the press and 30 after. This function actually works very well and makes it easier to save important shots that require fast fingers. The negative side of this is you cannot change the resolution which is stuck at 8MP and for that matter any other settings. So when using this mode, you won't get the full quality or control you would when using manual mode.
Picture effect allows you to apply different effects which are Nostalgic, Miniature, Vivid, Filter, Fisheye, Sketch, Partial colour, Harris shutter and kaleidoscope. Sweep Panorama is what you would expect and allows you to take panoramic shots with the camera. AR effect gives the user a form of augmented reality with a few novelty scenes that includes a dinoasure walking around. While most may not use it, the performance and quality were amazing and even if most don't use it, it was fun to try out for awhile.
The last two are Info-eye and Social Live with the former being very much like Google Goggles where it will give info on what it sees, such as land marks, logos, writing and more. Social Live allows you to push a live stream directly to Facebook for 10 minutes using the phones camera both are neat features but nothing new except their integration into the main camera app, which for some will be handy.
That's pretty much it for the camera UI, so now let's take a look at some photos and videos taken with the device and see how things look.
Photos
The Xperia Z1 camera is incredible, each photo demonstrates that clearly and everything from sharpness to colour is amazing. All our photos were set to manual with the resolution set at the native 20.7MP. The dedicated camera key is of course a dual press button allowing you to auto focus and then take a shot, we mention this because it really does make it easier to take photos or record video and adds to the fact that the Xperia Z1 has an amazing camera.
Videos
[youtube width="670″ height="440″]9u_zqfJ7C5E[/youtube]
We took a few videos a put them together to give you an idea of how the Xperia Z1 looks. Settings wise we left everything pretty much to auto with both HDR and SteadyShot™ on bar the less video were we turned of SteadyShot™ off to give you an idea of how it looked without it. To say the results are great would be an understand, they are in fact the best we have every seen from a smartphone. Again like the photos the colour looks perfectly natural along with the sharpness being spot on and the detail is simply amazing. The HDR and SteadyShot™ features work amazingly with the HDR coming along way since the Xperia Z with the exposure levels for light and dark areas in frame and perfect. We are truly impressed by the Xperia Z1 camera and think it's possibly the best on the market.
Benchmarks
The Xperia Z1 houses Qualcomms latest and greatest Snapdragon 800 chipset with Krait 400 quad-core CPU clocked at 2.2GHz along with the Adreno 330 GPU. Benchmarks gives a numerical value for the performance these components have to offer. We took some of the top benchmarking apps and to see what kind of numbers the Xperia Z1 will ofer us and the results speak for themselves.
So the screenshots above show you the results of each benchmark and some even include their own comparison to give you an idea of how far ahead the Xperia Z1 is performance wise. However to give you an even bigger idea we have included are own chart below which directly compares the Xperia Z1 to its predecessor the Xperia Z.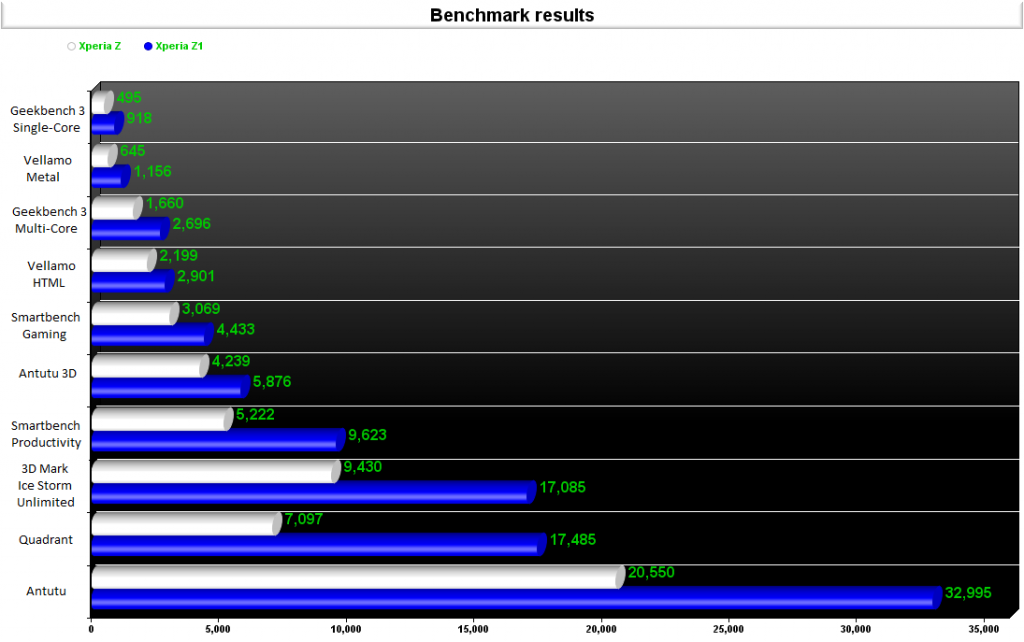 The Xperia Z1 does not mess about when it comes to performance. Nearly doubling some of the scores the Xperia Z had and taking a huge lead in the rest. The power that this phone can provide is unreal and beats pretty much the entire competition.
Battery Performance
The battery test we do at Geektech is more about using the phone as a phone rather than just put it through a repeating test until the batter is fully gone or playing back video for the same reason. We want to see how long the phone last…. as a phone really. We aim the usage towards medium-heavy users. The usage involves 20-30 minutes of phone calls, a few texts and emails. We do a good bit of browsing with both 3G and WiFI(mainly 3g) and use the camera to take a few photos and some video. 30 or so minutes of intensive gaming (GTA) and some HD YouTube clips for around 30 or minutes.
Out test is made up of the typical things we do with our smartphones all day and while some days may include more or less of one thing and even more of everything on others. The idea is to do different things to really stress all aspects of the phone. After the days test we had just under 30-percent battery life left, but even during the entire review we never had the need to run to charger and always made it to the end of the day with battery left. So are we are truly impressed with the Xperia Z1 in terms of battery. While it does have a larger battery than it's predecessor, it also has way more power at it's disposal and performance wise it's an another league and to get even longer out of it than the Xperia Z is fantastic. Also just to note we didn't use any of the battery saving features such as Stamina mode the Z1 has, so with that mind you can get even more out it with those enabled, but for our tests, we wanted everything left to their normal settings.
Gameplay
Games take the most advantage of the hardware provided on smartphones and since the Xperia Z1 is a beast when it comes to performance, we put together a gameplay video to demo the performance it provides. The video will also show you just how good the screen the Xperia Z1 has is as well and by good we mean excellent.
[youtube width="670″ height="450″]BifQ6CU6mpQ[/youtube]
Conclusion
We have put the Xperia Z1 from Sony Mobile true all the tests and have detailed exactly what it has to offer and now it's time to wrap up the review with the conclusion. We will break the conclusion down into multiple parts which are Design, Screen, Camera, Performance, and overall.
Design
We are of course very pleased with the design of the Xperia Z1, it kept all of the best parts the Xperia Z had to offer and upgraded other parts which probably came directly from the feedback of other users. The design looks amazing and the Z1 feels fantastic in hand as the metal frame gives it a more solid feel. This also means nothing compared to the fact Sony are continuing with the water resistant features as before. Regardless of how a device looks we believe functionality is more important and being water proof to 1 meter or 30 minutes is fantastic but is even better since the Xperia Z1 looks a feels great. We are impressed with the work Sony has done and truly believe they did a great job designing the Xperia Z1.
Screen
The Xperia Z launched back in February and was one of the first phones with a 1080p display. It was a great display but the Xperia Z1 is beyond better and looks amazing. The Triluminous display really gives the colours more pop and the screen offers better brightness than before. We are impressed by the display and think its a definitely upgrade from the Xperia Z. Direct sunlight is an issue if you don't have the display at the max brightness, but this affects every device on the market so nothing new there. Overall the display is extremely good and goes well with all the other outstanding factors the Xperia Z1 has to offer.
Camera
We were actually shocked by how good the camera performed. We of course expected higher quality than before, but the 20.7MP camera the Xperia Z1 is in our opinion one of the best if not the best camera on an truly high end smartphone . This extends not only to taking pictures but also video as well. In fact during a review we would show others a paused video and could pass it off as a photo as the quality was that good, but even more impressive is the HDR and SteadyShot™ features, whiched worked flawlessly. The camera has excellent performance and features and we think Sony couldn't have done a better job for the Xperia Z1.
When using Auto Mode all your shots will be down sampled from 20.7MP to 8.3MP and while some will think the loss of resolution is a concern, in fact this is done to remove any noise from your shots, so bascially Sony removes any bad pixels from the shot to give you a much cleaner image and this feature works extremely well.
Performance
Inside the Xperia Z1 we have the Qualcomm Snapdragon 800 chipset and it brings the best performance smartphones have ever seen. Nearly doubling most benchmarks numbers the Xperia Z offered and beating every device before it with some lead including the recent HTC One and Samsung Galaxy S4. While most games and apps won't use the resources the Xperia Z1 has to offers for some time, the Z1 gives users piece of mind for the future and we have no doubt the Z1 will handle everything thrown at it for years too come.
Overall
It has been nothing but a pleasure reviewing the Xperia Z1 because not only does it work unbelievably well, it has so much to offer and is truly the definition of a high-end phone and we are impressed with every aspect of the device and believe it's the best smartphone of 2013. So to put it simple, if your looking for smartphone that looks great, feels great, performs like a genetically modified super dragon and has the best specs available to back everything up, than there truly is no other like the Xperia Z1. oh and it's water proof as well. The Xperia Z1 costs around €600-700 for a sim free device and comes with a free Sony Smartwatch 2 worth around €150 for the time being, so a pretty good launch price for the Z1 compared to the competition.
We have'n't given awards to smartphones in awhile but the Xperia Z1 has made us changed that setup and it deserves nothing short of a gold award.