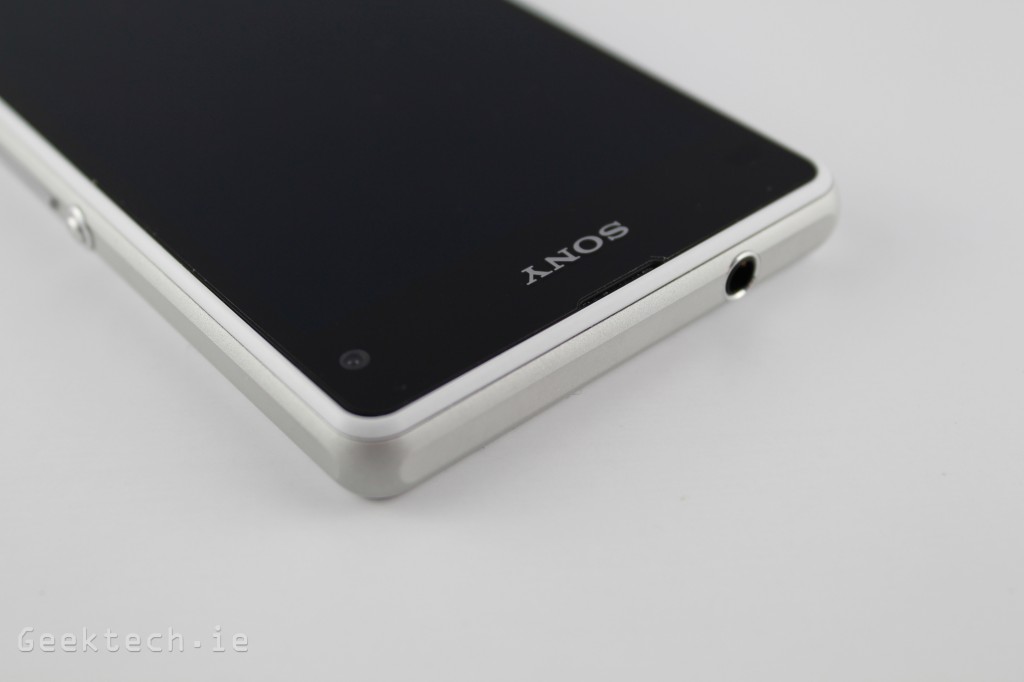 It's only been a year since the launch of the Xperia Z and just 6 months since the Z1, and now we even have the Z2 arriving soon. It looks like Sony are pushing the market as much as they can, and that includes the Xperia Z1 Compact and while a mini/compact version of a flagship device isn't a new idea, Sony have done something that other manufactures haven't and that's the fact the Xperia Z1 Compact shares most of the same specs as it larger sibling, bar the size, resolution of the display and, battery capacity. All the things one would assume would change with a smaller device.
It's obvious to expect some difference between the Z1 Compact and original Z1, however, we are already seriously impressed at how much of the Xperia Z1 is still inside the Z1 Compact and the fact it looks nearly identical bar the smaller size. In the past we have seen smaller/budget like phones use similar designs to that of flagship devices simply to market on the name of the flagship device, but ultimately feature much less in terms of specs/performance. The Z1 Compact is more like an alternative to the Z1 and for those who prefer a smaller device, but still want the same specs/features as the flagship itself.
So let's get this review underway and start off like we always do with a breakdown of the specs below and the full specs available just below then.
Display: 4.3″ 720p TFT Triluminous capacitive touchscreen display with X-Reality and OptiContrast
Chipset: Qualcomm MSM8974 Snapdragon 800, quad-core 2.2 GHz Krait 400, Adreno 330, 2GB of RAM
Camera: 20.7MP camera with 1/2.3″ Exmor RS sensor and Sony G Lens, F/2.0 aperture; 2MP front-facing camera
Video camera: 1080p video capture with HDR mode
Memory: 16GB of inbuilt storage, microSD card slot, up to 64GB
Connectivity: Wi-Fi a/b/g/n, Bluetooth 4.0, MHL GPS, NFC and LTE
Battery: 2,300mAh
Misc: IP58 certified – dust-protected and water resistant; shatter proof and scratch-resistant glass for the front and the back panel, metal frame on the sides
Size: 127 x 64.9 x 9.5 mm
Weight: 137 grams
[accordion title="Full Specifications" id="Specs"]
Camera and video
20.7 megapixel camera with pulsed LED flash and auto focus
Burst mode
HDR for both picture/film
8x digital zoom
Front-facing camera (2 MP 1080p)
Geotagging
HD video recording (1080p)
Image stabiliser
Object tracking
Red-eye reduction
Scene recognition
Send to web
Smile shutter™
Sony Exmor RS for mobile image sensor
Superior Auto
Sweep Panorama
Touch focus
Touch capture
White balance
Image capture, supported format: JPEG
Image playback, supported formats: BMP, GIF, JPEG, PNG, WebP
Video recording, supported formats: 3GPP, MP4
Video playback, supported formats: 3GPP, MP4, M4V, MKV, AVI, XVID, WEBM
Face detection
Design and display
4.3", 16,777,216 colours, 1280 x 720 pixels
TRILUMINOS™ Display for mobile
X-Reality™ for mobile picture engine
Face Unlock
Gesture input
STAMINA mode
Touch gesture – multi-touch, up to 10 fingers supported
Screenshot capturing
Throw
Pan & zoom
Memory
RAM: 2GB
Flash memory: Up to 16 GB****
Expansion slot: microSD™ card, up to 64 GB (SDXC supported)
Pre-loaded applications
Google Chrome*
Google Play*
Google Voice Search*
Google search*
Google Maps for Mobile with Street view*
Google Hangouts*
Sony Select
Web browser (WebKit)
Connectivity and communication
3.5 mm audio jack (CTIA)
aGPS
ANT+ wireless technology
Bluetooth 4.0 wireless technology
DLNA Certified
MHL support
Native USB tethering
NFC
Screen mirroring
Smart Connect
Synchronisation via Exchange ActiveSync®, Facebook™, Google™ and SyncML™*
USB charging
USB High speed 2.0 and Micro USB support
Xperia Link
Wi-Fi and WiFi Hotspot functionality
Noise suppression
Voice enhancement
Xperia Socialife*
Miracast™
Entertainment
3D and motion gaming
PlayStation Certified
FM Radio with RDS
SensMe and SensMe slideshow
Sony Entertainment Network (selected markets only)
TV launcher
YouTube*
"WALKMAN" application
Facebook application*
Twitter*
3D surround sound
Bluetooth stereo (aptX®, A2DP)
Clear Audio+, Clear bass, Clear Phase™ and Clear stereo
TrackID music recognition*
xLoud Experience – audio filter technology from Sony
Audio recording, supported formats: 3GPP, MP4, AMR
Audio playback, supported formats: MP3, 3GPP, MP4, ADTS, AMR, SMF, XMF, OTA, RTTTL, RTX, iMelody, WAV, OGG, FLAC
Networks
UMTS HSPA+ 850 (Band V), 900 (Band VIII), 1700 (Band IV), 1900 (Band II), 2100 (Band I) MHz
GSM GPRS/EDGE 850, 900, 1800, 1900 MHz
LTE (Bands 1, 2, 3, 4, 5, 7, 8, 20)
[/accordion]
Looking at the specs, it's clear that the Z1 Compact really is just a smaller Z1 and the only differences are the display and battery. Everything from the CPU, GPU, Camera, water proof features and design are all the same as the Xperia Z1. Since we've already reviewed the Xperia Z1, we somewhat know what to expect from the Xperia Z1 compact. So let's take a closer look at the device itself.
The Xperia Z1 Compact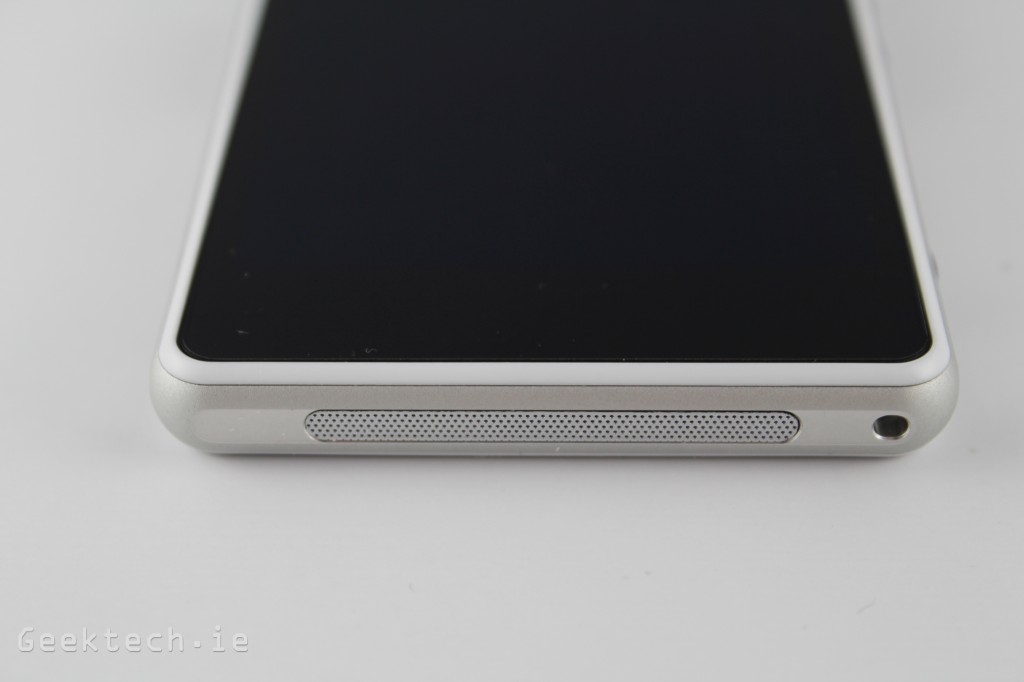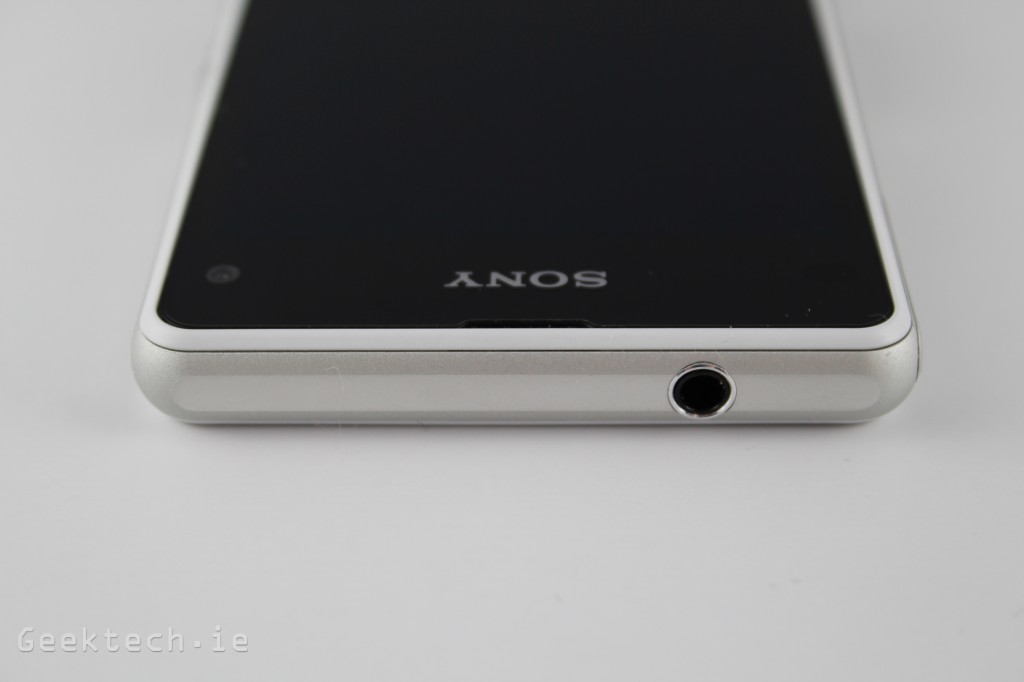 Starting with the bottom we can see the speaker and lanyard slot. The top simply contains the 3.5mm headphone jack and like the Xperia Z1, does not contain a protective flap for access anymore.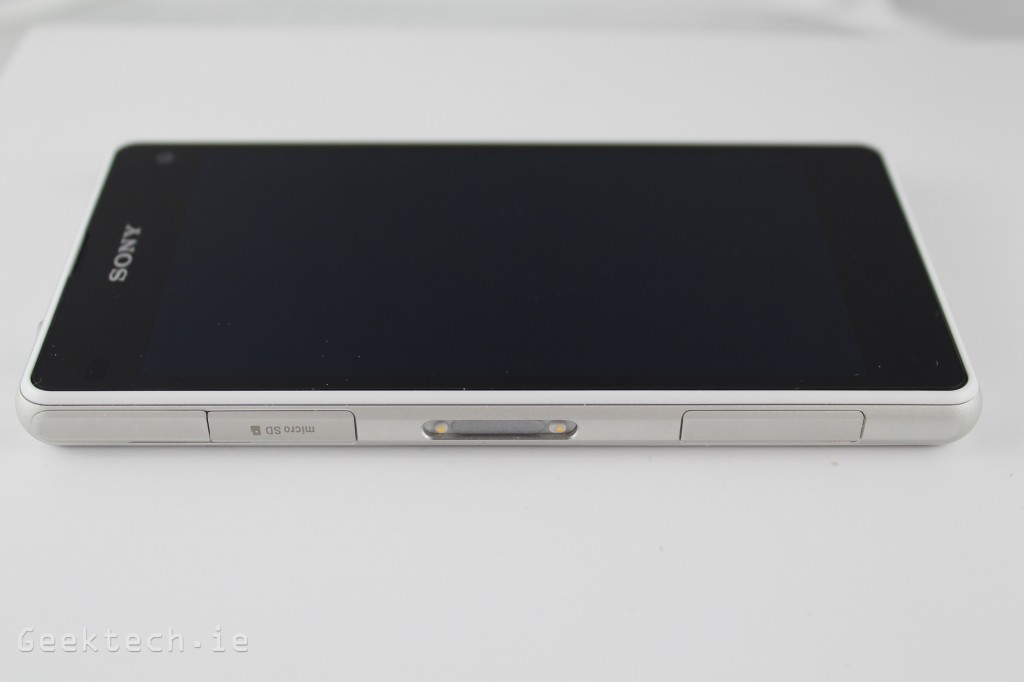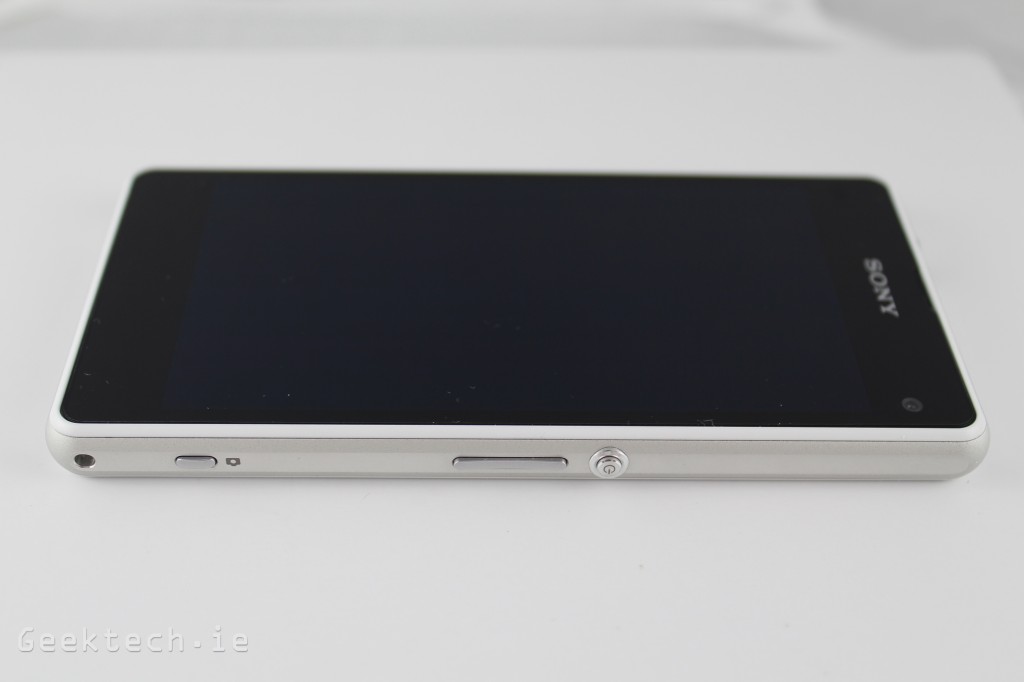 The sides are were we have the only real difference between the Xperia Z1 and its small compact sibling. The MicroSD, MicroUSB and MicroSIM slot are all now located on the same side (left) along with the proprietary connector, whereas the Xperia Z1 had the MicroSIM slot on the right side. Now the right side contains just the dedicated dual press camera button, volume rocker and power button.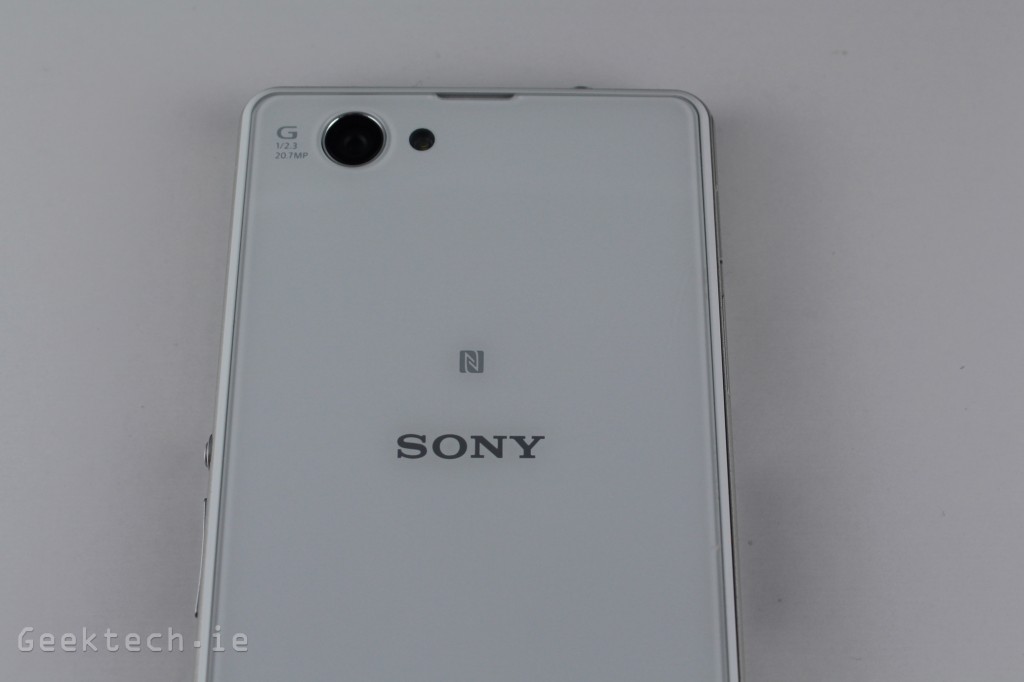 It's even more clear that the Xperia Z1 Compact shares more than just part of the name with its design nearly identical to that of the Xperia Z1. The Z1 Compact design includes the same aluminum frame and reflective glass backing as before.
UI
The Xperia Z1 Compact is running Android 4.3 during are review, however Sony did begin to push Android 4.4 update recently, so it does have the latest version of Android available with a few tweaks here and there from Sony. Below are screenshots of the system UI, quick settings, app drawer and settings menu, just to give you an idea of the layout, again the same Sony have been using the past few devices.
The Z1 Compact UI is smooth throughout the system and again Sony's launcher and overall UI is very straight forward and doesn't include any lag. Like always with Android, you can simply use a different launcher to handle your widget/app drawer, but we were happy to use Sony's included launcher.
Camera UI
The Xperia Z1 Compact includes the same outstanding camera on the Xperia Z1 which is a 20.7MP 1/2.3″ Exmor RS sensor with Sony G Lens and an F/2.0 aperture. It also supports full 1080p video with HDR. First let's take a look at the camera UI.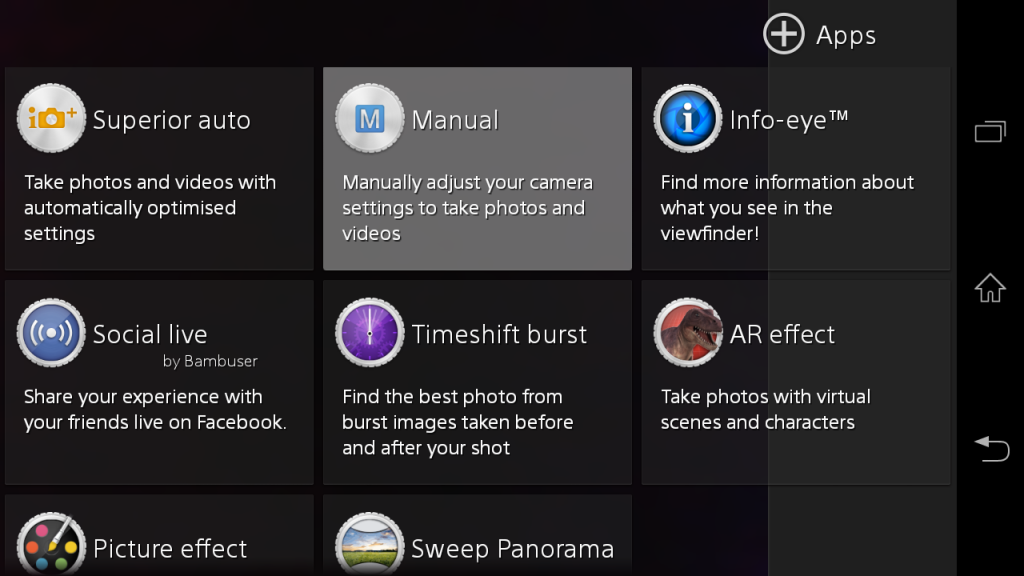 The first thing to note is the different modes the Xperia Z1 Compact has, users will either go for Manual or Superior auto modes with most probably picking the latter, the Superior auto mode will down sample 20.7MP shots to 8MP removing noise in the process, but if you wish to save the full 20.7 shot you will be forced to use the manual mode, which will give you control over scene, ISO, resolution and more.
The time shift burst mode takes 61 shots in 2 seconds and include 30 shots before and after you press the button along with 1 picture exactly when you press it, this option means you are less likely to miss an important shot, but the drawback is you have little settings you can change including resolution.
Picture effect allows you to apply different effects which are Nostalgic, Miniature, Vivid, Filter, Fisheye, Sketch, Partial color, Harris shutter and kaleidoscope. Sweep Panorama is what you would expect and allows you to take panoramic shots with the camera. AR effect gives the user a form of augmented reality with a few novelty scenes that includes a dinosaur walking around. While most may not use it, the performance and quality were amazing and even if most don't use it, it was fun to try out for awhile.
The last two are Info-eye and Social Live with the former being very much like Google Goggles where it will give info on what it sees, such as land marks, logos, writing and more. Social Live allows you to push a live stream directly to Facebook for 10 minutes using the phones camera both are neat features but nothing new except their integration into the main camera app, which for some will be handy.
Photos
We took some images with the Z1 Compact to give an idea of the quality it offers and again we find ourselves reciting the words of our Xperia Z1 review. The fact the Xperia Z1 Compact has the same camera means we are equally impressed with the quality it provides and even more so considering the Compact is a smaller device. We set the camera to manual, with other settings left on default and the resolution set to the native 20.7MP. The dual press dedicated camera button again makes taking pictures and videos an absolute ease and certain shots will definitely benefit from that.
Video
The Xperia Z1 Compact supports 1080p video with HDR. We took a few videos like we also do, meaning you have a better idea of the quality compared to other smartphones available. We also turned stable shot and HDR off in certain videos which are marked accordingly.
The camera quality is identical to that of Sony's flagship the z1 and like then, we are very pleased with the quality and performance. The camera on the Xperia Z1 Compact continues with its support for SteadyShot™ and HDR with video and both of these features work extremely well with SteadyShot™  removing all of those slight movements that smartphones are prone too when recording. Overall the Xperia Z1 Compact not only offers some of the best quality available on a smartphone, it's by far offers the best on a smartphone available in this size.
Benchmarks
The Xperia Z1 Compact includes the same Qualcomm Snapdragon 800 chipset with Krait 400 quad-core CPU clocked at 2.2GHz and Adreneo 330 GPU as the Xperia Z1 and most other flaghips available on the market like the HTC One, Galaxy S4/S5 and more. So we of course expect some of the top performance we could get and considering the Xperia Z1 Compact is much smaller than most other devices with the same chipset, we are impressed already. Below are benchmarks from the top benchmark apps available.
Battery Performance
The Xperia Z1 Compact includes a 2,300mAh battery and while that's on the low side compared to other devices with the same Snapdragon 800 chipset, including the Xperia Z1 itself. That being said, the Z1 Compact has a smaller screen, meaning less power drain overall.
Our battery tests is more a directed suggestion rather than a complete result. Most conventional battery tests are done by looping a video or some extensive app/game until the battery is gone and assess performance that way. Our opinion is that this is the wrong way to assess battery performance, as smartphone are aren't really used that way and a test like that doesn't help gauge actual battery performance with real world usage. Some phones might be good at lasting long with a video playing back for hours, but making a call drains it much quicker compared to similar devices.
We aim our test at medium-high usage levels, but with high usage more in mind. It includes 20-30 minutes of phone calls with the odd texts and checking emails throughout the day. We use both WiFi and 3G throughout the day, mostly 3G. A few photos, again throughout the day and around 20-30 minutes of video recorded. Finally we have around 30 minutes of YouTube Videos and 30 Minutes of gaming (GTA/Dead Trigger 2). We keep the brightness at around 50-percent. We find the Xperia Z1 Compact offers decent battery life considering its size and performance that rivals the top flagship devices available. After our days usage, which is around 12 hours straight, we had just over 10-percent battery life reaming.
We are pleased with the results and even more so when we consider the Xperia Z1 Compact size. The 2,300mAh battery is one of the lowest on a device with a SnapDragon 800 chipset, but none the less still provides a full days usage. Those who are on their device all day will no doubt require to charge at sometime during the day, but a lot of users will be pleased with the battery life on the Xperia Z1 Compact.
Gameplay
Gaming is the only true application on smartphones that really take advantage of the hardware they provide, it's the only real way to detail the respective device performance. While benchmarks give us a nice numerical results, they are synthetic in design and only represent the raw performance and not real world results. Gaming does that nicely, we we put together a video to show the performance you can expect from the Xperia Z1 Compact. The games we demo are Dead Trigger 2, GTA: San Andreas, and Real Racing 3. Enjoy the video below.
Conclusion
It's conclusion time! woot. To be honest, as we start to break down the Xperia Z1 Compact, we get the impression this review is somewhat similar to a previous review we have done, and of course we are taking about the Xperia Z1, from which the Xperia Z1 Compact gets not only gets most of its specs, but design as well. Sony truly went the distance with the Xperia Z1 Compact everything they could have to make the Z1 smaller, all while keeping its boasting specs including the Snapdragon 800 chipset and 20.7MP camera with both providing amazing performance, things that instantly shout flagship/high-end/premium.
We breakdown our conclusions for smartphones into a few different sections which are Design, Screen, Camera, Performance, and then finally Overall. We feel these are the main aspects of a phone with each section covering the main importance of a smartphone.
Design
The Xperia Z1 Compact is aimed at being a smaller device compared to current flagships which now raise 5-inches and above. Obviously Sony felt some users might not want a phone that large, but still look for the type of high-end specs they include. Sony released two flagship devices in 2013 alone being the Xperia Z and then the Xperia Z1. Most of the same positives for the Z1 apply to the Z1 Compact. It really is the honey I shrunk my kids of the smartphone world.
The Z1 Compact includes a reflective glass front and back with aluminum housing, which should offer decent protection, but ultimately gives a more premium feel than simply an all plastic design, although, plastic has proven it does a somewhat better job against drops. The Xperia Z1 continues to share the same specs as it's larger twin, bringing the same IP58 certified water resistance, meaning those nasty spills won't affect your smartphone, or better yet you can simply rinse your phone off to clean it. To sum up the design, we loved the Xperia Z1 design and we love the Xperia Z1 Compact design just as much. Sony did a fantastic job taking the Xperia Z1 and simply shrinking it down and keeping the design intact.
Screen
Sony included a Triluminos  720p display in the Z1 Compact, simply because there wasn't room for a 1080p at that size, but we still have a ppi of 341 which is still insanely high and removes any ability to notice pixels with the human eye. Being a Triluminos display, it provides excellent colors and while it's not on the same level as the Xperia Z1 or other 1080p screens on the market, it still looks great and we are impressed with the details, sharpness and colors, it offers and is one of the best looking 720p screens out there.
Camera
The 20.7MP Sony G Lens Exmor camera included in the Xperia Z1 Compact is excellent. Just like before with the Xperia Z1, we are impressed with the overall quality of every shot. The Z1 Compact also supports full 1080p recording, which with the added HDR and SteadyShot™ features provides fantastic quality. Sony also again added a dedicated double-press camera key to make it even easier to focus and take photos. The Z1 provided some of the best quality photos we saw last year and the Z1 Compact does the exact same this year, even inside a smaller device.
Performance
Qualcomms Snapdragon 800 chipset is present in the Xperia Z1, HTC One, Galaxy S4 and Galaxy S5, so most should already have an idea of what kind of performance it provides and if not, let us tell you.. it's a beast. Through the benchmarks we can see the performance is actually just a little higher than the Xperia Z1 itself, probably due to newer firmware and tweaks by Sony, but again, size means nothing when it comes to performance. The Z1 Compact is on par and higher in most cases compared to the other big dogs on the market.
We did some gaming of course, which is truthfully the only real way of taking advantage of the amazing hardware being included in phones these days, and everything was buttery smooth including the latest GTA: San Andreas, which we must admit, seeing a game released only 10 years ago on consoles playing and looking great on a phone with a 4.3-inch screen, is shocking to say the least. Basically, the Z1 Compact is up for anything you could possibly throw at it.
The Z1 Compact comes with all of the specs from the Z1, but being a smaller device, meant having a smaller battery, and this was the only area we were really concerned about, but even with heavy usage we still got a day out of our tiny smartphone and we really weren't expecting that. Even with some further tweaking we could probably get more out of it. We do recommend some bit of caution if you plan on using the device all day, and if possible charge it up a bit when you get a chance throughout the day. Using the camera or staying on a call for long will drain any smartphones battery, and the Z1 Compact doesn't have the biggest battery available so keep that in mind.
Overall
What can we say about the Xperia Z1 Compact, that we haven't already said in this review or even the Xperia Z1 review, because to be honest, this is an Xperia Z1, simply in different case that happens to be smaller. Sure the screen has a lower resolution, but that is a given considering the size drop and certaintly not a negative. Sony kept everything including the water resistant housing, snapdragon chipset, and of course the epic 20.7MP camera. They took these flagship specs and crammed them into a smaller device to give users who don't want a 5-inch+ phone, the features of a true flagship device and that sums up the Xperia Z1 Compact, it's a Sony Flagship device, just smaller, and some may find that even more appealing.
The Xperia Z1 Compact from Sony of course get's the Gold Award.