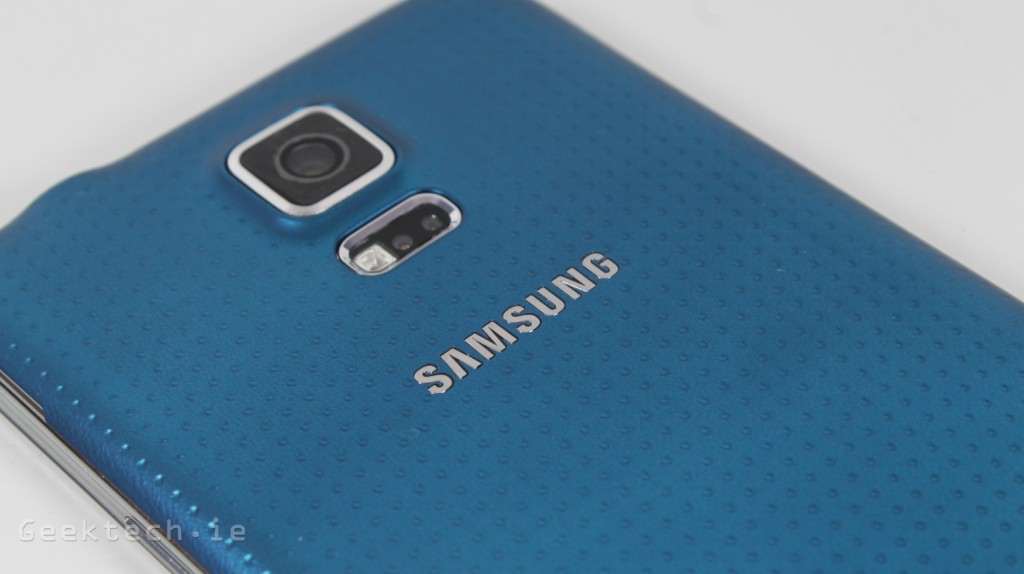 The popular Galaxy S serious from Samsung continues, reaching a milestone of 5 devices. The Galaxy S5 brings a new chipset, screen, camera, features, and more compared to the Galaxy S4 last year. So let's take a closer look at the Galaxy S5  and what it has to offer. As always we start with the specs of the device, so we have an idea of what we are working with. We start with a quick list of specs and move onto the full specs below, should you wish to enlighten yourself.
Android OS v4.4 KitKat with TouchWiz UI
5.1″ 16M-color 1080p Super AMOLED capacitive touchscreen
Qualcomm Snapdragon 801 chipset
Quad-core 2.5 GHz Krait 400 CPU, 2GB of RAM
Adreno 330 GPU
16 MP ISOCELL camera with phase-detect autofocus, 1/2.6″ 16:9 sensor and LED flash
2160p video recording @ 30fps, 1080p @ 60fps, 720p @ 120fps
2 MP front-facing camera, 1080p video recording
Wi-Fi a/b/g/n/ac, Wi-Fi Direct and DLNA, Download booster (WiFi and Mobile)
GPS with A-GPS, GLONASS
16GB/32GB of built-in storage
microSD card slot
IP67 certification for dust and water resistance
Fingerprint scanner, Heart-rate monitor, IR transmitter
microUSB 3.0 port with USB host and MHL 2.0
Bluetooth v4.0, NFC
2,800mAh battery
[accordion title="Full Specifications" id="Specs"]
Network

LTE Cat.4 (150/50Mbps)
AP

LTE: 2.5GHz Quad core application processor
Display

5.1" FHD Super AMOLED (1920 x 1080), 432 ppi
Dimension

142.0 x 72.5 x 8.1mm, 145g
OS

Android 4.4.2 (Kitkat)
Memory

RAM : 2GB
16/32GB User Memory + microSD slot (up to 128GB)
Some places only provide 16GB depending on region/country.
Connectivity

WiFi : 802.11 a/b/g/n/ac VHT80, MIMO(2×2)
Download Booster (LTE + WiFi simultaneous reception)
NFC, Bluetooth®: 4.0 BLE / ANT+
USB 3.0
IrLED
This device supports a USB 3.0 interface as well as lower versions of USB, including
USB 2.0. A USB 2.0 compatible cable is included in the package. A USB 3.0
compatible cable is not included in the package, and may be purchased separately.
Additional Features

IP67 certificated Dust & Water Resistant, Emergency Mode, Ultra Power Saving Mode, S Health, Quick Connect, Private Mode, Kids Mode
Camera

Main(Rear) : 16MP (1/2.6", Phase Detection AF)
Sub (Front) : 2.0MP (1920 x 1080, Wide-angle lens )
Camera Features

HDR (Rich tone), Selective Focus, Virtual Tour Shot
Video

UHD@30fps, HDR, video stabilization
Video Codec : H.263, H.264(AVC), MPEG4, VC-1, Sorenson Spark, MP43, WMV7, WMV8, VP8
Video Format : MP4, M4V, 3GP, 3G2, WMV, ASF, AVI, FLV, MKV, WEBM
Audio

Audio Codec : MP3, AMR-NB/WB, AAC/ AAC+/ eAAC+, WMA, Vorbis, FLAC
Audio Format : MP3, M4A, 3GA, AAC, OGG, OGA, WAV, WMA, AMR, AWB, FLAC, MID, MIDI, XMF, MXMF, IMY, RTTTL, RTX, OTA
Sensor

Accelerometer, Gyro, Proximity, Compass, Barometer, Hall, RGB ambient light, Gesture, Fingerprint, Heart Rate Sensor
Battery

2800mAh
Google Mobile Services*

Chrome, Drive, Photos, Gmail, Google, Google+, Google Settings, Hangouts, Maps, Play Books, Play Games, Play Newsstand, Play Movie & TV, Play Music, Play Store, Voice Search, YouTube
[/accordion]
The screen has jumped 0.1-inches bringing it to 5.1-inches. Camera wise, Samsung have brought their new ISOCELL sensor with phase detection, which make's it's auto-focus quicker and more accurate. The chipset is Qualcomms snapdragon 801 with Krait 400 CPU clocked at 2.5GHz, Adreno 330 GPU. While the chipset isn't much of a difference compared to the Galaxy Note 3, it does offer a decent performance boost over the Snapdragon 600 inside the Galaxy S4.
Samsung have also included a fingerprint scanner directly in the home button, allowing users to unlock their device using their fingerprint. Even more, they allow for Paypal payments to be authorised using your fingerprint. A dedicated heart rate sensor is located on the back of the device, allowing users to check their pulse by simply holding their finger on it.
The specs are pretty solid throughout the device, the lack of 3GB of RAM compared to the Galaxy Note 3, is a concern, but hopefully it doesn't affect performance too much, but we can't see Android 4.4 running into issues with 2GB. We have seen the Krait 400 CPU and Adreno GPU in action a lot already and the Galaxy S5 should be no different, but will get to the benchmarks and gameplay in awhile, but now let's take a look at the device itself.
The Samsung Galaxy S5
The Galaxy S5 doesn't see too much of a difference between its own design and that of the Galaxy S4 from last year. The left side continues to contain the volume buttons with the right side holding the power button.
The screen is a 5.1-inch 1080p Super AMOLED display. Samsung did change the bottom left capacitive button this time around, with it now a dedicated button for launching the multi-tasking menu. Previously the button was used as a menu button. Both the physical home button and capacitive back button on the right are unchanged. Holding the home button will now launch Google Now and the menu button is now on-screen and incorporated into each app respectively.
Samsung continue to offer an IR transmitter on the top of the device, along with a  3.5mm headphone connector. Like we saw on the Galaxy Note 3, the S5 includes USB 3.0. The included flap is added due to the added water IP67 water/dust resistant features.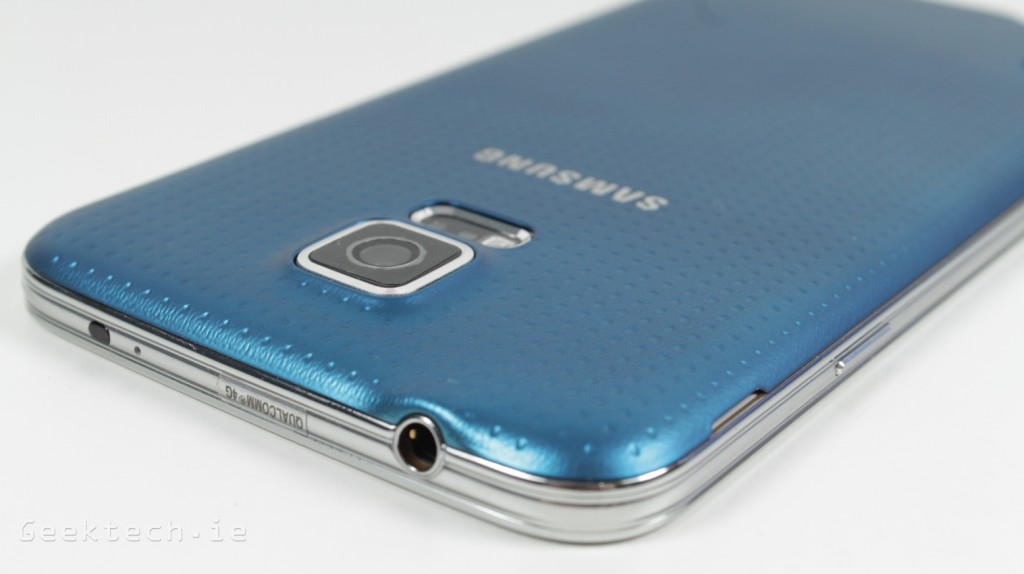 The back cover is still removable, but contains rubber lining on the inside to protect against water making its way into the insides of the device. It's important to make sure you have the back cover closed completely, otherwise the water resistant features will fail.
Lastly we can see the 16MP camera, LED Flash, and heartbeat sensor. Near the bottom of device is the lower speaker.
UI, Fingerprint scanner, and Heart Rate sensor
UI
The Lock screen contains a prompt for users to simply swipe their finger to unlock it. Users can swipe to launch the camera without unlocking their device, but it's limited to taking pictures, and does not allow you to view previously taken images. The home screen is much the same, but swiping down to bring up the notification menu we can see a some graphical changes to the shortcuts available. Samsung also included short cuts directly to S Finder and Quick connect. Brightness control is present like before. A new feature present in the UI is Toolbox, which allows users to have a floating icon permanently across the display to bring up a quick launch menu and it can be customized with different apps.
Again, the app launcher side of things is mostly the same and so is the dialler. The settings menu is drastically changed, but it does include a option to display by list. The grid menu contains sections for Quick Settings, Network Settings, Connect and Share, Sound and Display, Personalisation, Motion, User and Backup, System, and finally Applications. The list view is broken into the same sections. Overall, the settings menu is laid out pretty decently, and navigation with gird or list view is pretty elegant.
Fingerprint scanner
The fingerprint scanner is built directly into the home button and users swipe their finger down to submit their fingerprint. Samsung have gone a step further than simply adding it for unlocking purposes and users can use it to log into their Samsung account and even Paypal as well. Users can log into and confirm payments but swiping their fingers. This is pretty handy for those that use Paypal a lot, but most will find it only a small inconvenience to enter their email and password, instead of using their fingers.
Unlocking the device is a bit of a hit and miss. Having to near perfectly swipe your finger dampens the benefit of having it over a simple pattern code, which is much more consistent overall. Although, if users are simply aiming to keep their devices more secure, than the fingerprint scanner is pretty solid for doing to so.
Heart rate sensor
The heart rate monitor is extremely straight forward and support is built directly into the S-Health app. Users simply hold their finger against the sensor on the back of the device for a few seconds, while the app is active and they will get their reported heart rate. Some will find it a fairly great advantage, and having a dedicated heart rate sensor for accuracy can be an advantage. That being said, most will probably ignore the feature or not find much use for it.
Camera UI
The camera includes a pretty big UI overhaul. Access to recording video or taking a picture is available simultaneously. The modes included are Auto, Beauty Face, Shot & More, Panorama, Virtual tour, and Dual Camera.  Other modes like Animated Photo, Surround shot, Sequence Shot, Sports shot, and Sound & shot are available to download from the camera app through the Samsung App store.
The settings and control for both video and photos are all together in a grid menu and navigation is pretty straight forward with most settings availably quickly.
Photos
The 16 MP ISOCELL camera with phase-detectiong autofocus and 1/2.6″ 16:9 sensor should provide some amazing photos. Samsung have pushed HDR a little more on the S5, with the option to turn it on and off available directly on the camera's main screen and no longer buried as a mode. We took a good few photos with HDR both on and off and included them below. All non HDR shots come first (left), with HDR enabled shots following after (right)
The above images are resized for the website, but we do include the full images with the link below on dropbox, should anyone wish to download them and see the full quality of the images.
Videos
We recorded a few videos with the Galaxy S5 with both HDR on and off, andwith video stabilization on as well. All other setting were set to default, with the resolution set to 1080p. While YouTube will have it's affect on the quality, it should still give you an idea of what kind of quality it provides. Each video is marked with the settings that applied.
Benchmarks and Gameplay
We run some of the most popular benchmarks available to assess the performance offered by the Galaxy S5. You can check out the results below of each one of the tests via their respective screenshots. The tests included our 3DMark Ice Storm Unlimited, Antutu 4,  and Geekbench 3.0.
No doubt we are seeing some flagship performance and the results are among the highest we have seen and on par with the Krait 400 CPU and Adreno 330 GPU tests we have done on previous devices, mainly the HTC One M8. The Galaxy S5 performance is evident throughout the UI with no lag is present. Next we take a look at some gameplay on the Galaxy S5, which should provide some real world examples on its performance.
Gaming
We put together a gameplay video with Dead Trigger 2, Grand Theft Auto: San Andreas, and Real Racing 3.
Battery Life
Samsung included a 2,800 mAh battery inside the Galaxy S5. Our battery tests consists of medium to heavy usage and that includes task we assume the average user will do during most days. Adjustments here and there can greatly affect your battery levels, but below is what we do to cover a wide area of usage.
| | |
| --- | --- |
| Phone Calls | 20-30 Minutes |
| Text message/Chat/Emails | Throughout the day(checking) and 20-30 sent |
| Photos | 10-20 |
| Video recording | 20-30 Minutes |
| Internet browsing | Throughout the day(around 30-40 minutes total) |
| Gaming | 30 Minutes |
| YouTube/Netflix | 30-40 Minutes |
| Connectivity | WiFi and 3G; mostly 3G |
| Screen Brightness | 50-percent |
Above is what we did in a single day and the Galaxy S5 lasted throughout the day with over 20-percent left. We must stress that the above usage is more broad and doing more or less of one thing like gaming or using the camera can have bigger/less drain on the battery. Our tests is more to cover the basis of the device and cover the aspect of the phones usage with respect to its own features and specs.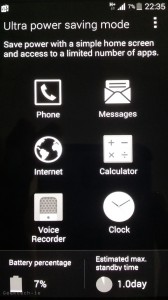 Samsung also have a a feature dubbed ultra power saving mode and it's something we have seen before. Basically, at a certain percentage or manually whenever you wish, the device will shut down certain functions, limit the UI, as well as shift it to complete black and white. This allows users to gain a lot more more time out of their device with 10-percent able to provide over 1 day's stand-by time.
Conclusion
It's time to wrap up our review of the Samsung Galaxy S5. While we have included some opinions on certain features throughout the review, our conclusion is better breakdown of the overall device. We include a section for Design, Screen, Camera, Performance, and Overall
Design
Not much of the Galaxy S5 design has differed from that of the Galaxy S4. There are some subtle changes without regards to the left capacitive button now brining up multi-tasking. The screen has seen a bump in size, which brings the overall size of the device a little higher than the S4. Samsung continue to use a polycarbonate housing and it does offer some benefit over a metal device, with plastic devices less prone to cosmetic damage from general wear and tear. That being said, with our recent review of the HTC One M8 and the fact its complete metal housing was nothing short of spectacular. We feel the S5 was failing short with it's overall look and feel.
While there is no real drawbacks to the design of the s5, as it does still look nice. Its design has become dated and doesn't feel as nice to hold, even compared to the Galaxy Note 3 and Galaxy S4 of last year. We don't have anything against its look, but feel it's time Samsung stepped it up a notch and brought something different.
Screen
This is were Samsung have nailed it. The screen on the Galaxy S5 is the best we have seen on a smartphone yet. Its brightness at max is fairly excellent, but mainly how good every single colour looks. It's truly breathtaking to watch high quality video on. We were impressed with last years 1080p display on the Galaxy S4, but without a doubt the 1080p display on the Galaxy S5 is way ahead in terms of quality. Samsung even managed to really give the display a brightness boost and it"s one the brightest display's we have seen yet.
Camera
The Galaxy S5 is the first Samsung device to include their new ISOCELL sensor and in doing so, it's the first smartphone camera to offer phase detection auto focus over contrast based auto focus. This allows for the ridiculous fast auto focusing that the S5 provide, but should also aid in focusing on objects without much contrast. The more important and of course delightful aspect of the new 16MP camera is just how good the pictures look. While the display on the S5 compounds the quality of each photo even more, the quality, colour reproduction and detail are amazing. It's also nice to see HDR has a bigger impact and is no longer restricted to a mode, but an option on the main screen.
Samsung have outdone themselves with their 16MP ISOCELL sensor. To make it simple, the S5 is has the best we have seen from Samsung and easily provides some of the best photo/video quality we have seen on a smartphone to date.
Performance
Samsung are going with the same Snapdragon 801 chipset that we saw inside the HTC One M8. It includes the same Krait 400 CPU and Adreno 330 GPU that we have seen in devices for a while now, albeit with slightly higher clock speeds. The chipset provides excellent performance and can handle pretty much anything we have thrown at it. Our gameplay performance video went as smooth as expected and the Samsung Galaxy S5 offers flagship performance. Like with the HTC One M8, the entire UI and gameplay performance was lag/stutter free. There really isn't two ways about it with performance any more. It either can or it can't and the S5 certainly can.
Overall
The Galaxy S5 offers excellent upgrades over the S4, especially the display and camera. In fact, their the best we have seen from Samsung. The camera quality is outstanding and outperforms most flagship phones available. Although the Xperia Z1/Z2 camera is still up there. The screen quality is the best we have seen on a smartphone to date and truly puts the S5 ahead of the competition. The design on the S5 hasn't changed much compared to the S4, and it has become slightly dated. Not to say that's a real negative, but we feel Samsung need to step up their game and even more so compared to the HTC One M8, which has an outstanding overall design.
The Galaxy S5 is definitely Samsung best smartphone. When compared to its predecessor (S4) it offers a better display, camera, and performing chipset. Unless the better screen and camera are something your looking for, it's not really worth upgrading to from the Galaxy S4 and if the S4 itself didn't entice you to jump ship from another device, than the S5 isn't going to change much in that regard, unless contract obligations kept your from upgrading. That being said, the S5 is easily one of the best smartphones available and if your coming from a older device, than it's no doubt one of your top choices and if you want the best display, than the S5 is your best choice.
The S5 offers amazing specs across the board, but the screen and camera are enough to warrant the device a gold award and easily recommend it to anyone looking for an outstanding smartphone.