The mouse has been the number one way we control our computers for the last few decades. While most users will get away with a basic optical mouse. A more professional/feature heavy mouse can truly offer a great experience and make a lot of tasks easier. Logitech's Professional MX has been crowned as one of the most popular and usable accessories money can buy, so we're already eager for what the MX Master has to offer. Let's jump right in and take a look at the technical specs and features as shown from Logitech, and then a closer look at the mouse itself.
Features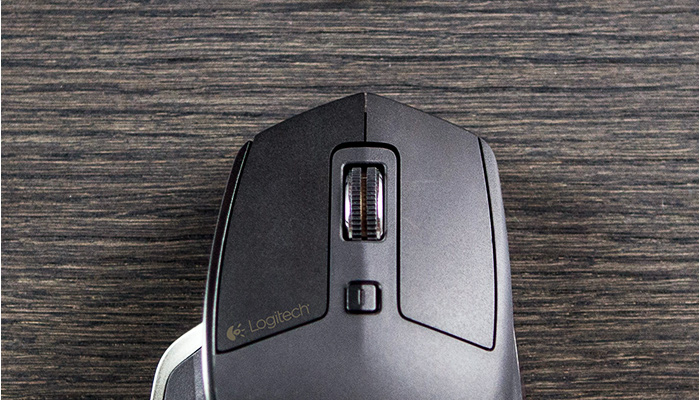 Speed-adaptive scroll wheel
Scroll through long documents or web pages faster and easier. The precision wheel auto-shifts from click-to-click to hyper-fast scroll.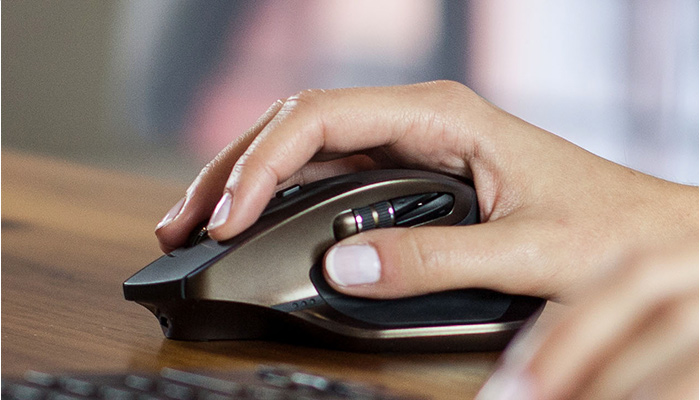 Unique thumb wheel
Experience side-to-side scrolling with a stroke of your thumb. To unlock the full range of thumb wheel possibilities, install Logitech Options™ software.
Darkfield Laser Tracking
Darkfield™ Laser Sensor tracks flawlessly virtually anywhere, even on glass* and high-gloss surfaces.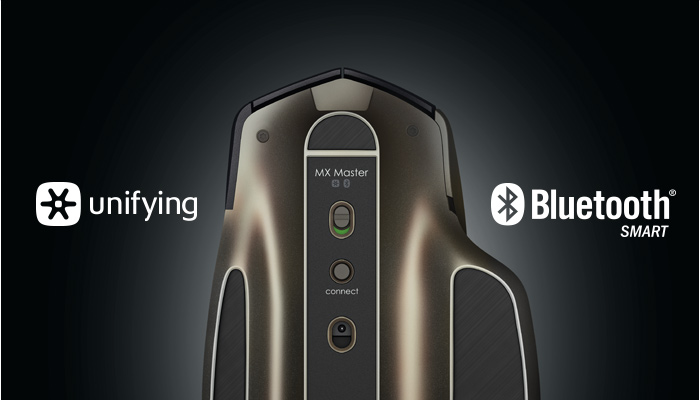 Dual connectivity
Connect this performance mouse via included Logitech Unifying™ Receiver or via Bluetooth Smart wireless technology.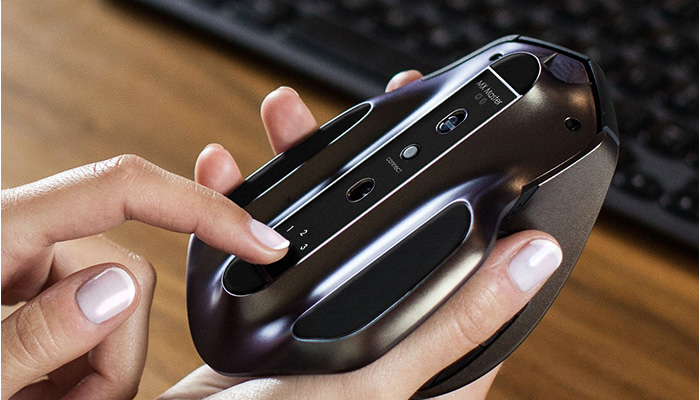 Easy-Switch technology
Pair up to 3 devices and easily switch between them with the touch of a button.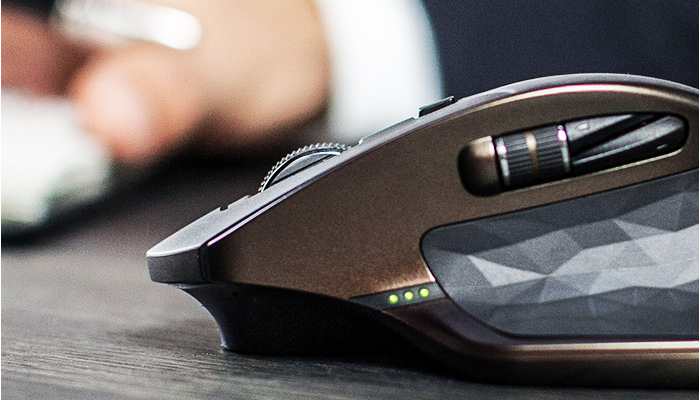 Rechargeable battery
Charge quickly. You can get enough power for a full day of usage in 4 minutes only, with no down time while recharging. A full charge can last up to 40 days*.
*Based on a 6 hour daily office use. Battery life may vary based on user and computing conditions.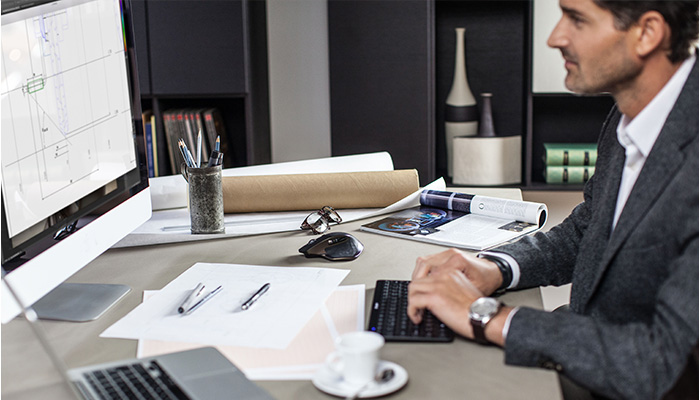 Unlock the possibilities
Install Logitech Options™ software to experience a full range of possibilities of this advanced mouse. Customize buttons and actions to your needs.
Set up and assign tasks to buttons with step-by-step instructions and Setup Guide available to help answer your questions.
Technical Specifications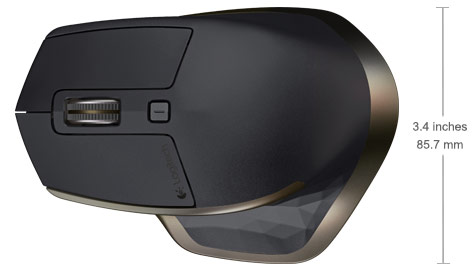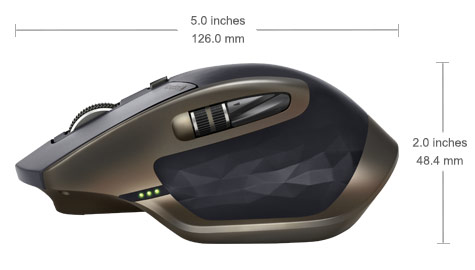 System Requirements
USB port or Bluetooth® Smart ready device
USB Port

Windows® 7
Windows 8 or later
Mac OS® X 10.8 or later

or

Bluetooth Smart

Windows 8 or later
Mac OS X 10.10 or later

Internet connection for software download
Logitech Options software and customization are not available for Windows Vista® and Windows XP
Warranty Information
2-Year Limited Hardware Warranty
Package Contents
Logitech MX Master™ wireless mouse
Logitech Unifying Receiver
Micro-USB cable for recharging
User documentation
Part Number
Dimensions
Mouse (height x width x depth): 85.7 mm (3.4 in) x 126.0 mm (5.0 in) x 48.4 mm (2.0 in)
Mouse Weight (including battery): 145 g (5.1 oz)

Unifying receiver dimensions: (height x width x depth):

18.4 mm (0.7 in) x 14.4 mm (0.6 in) x 6.6 mm (0.3 in)
Receiver weight: 2 g (0.07 oz)
Technical Specifications
Sensor technology: Darkfield Laser sensor

Nominal value : 1000 dpi
Minimal and maximal value : 400 dpi to 1600 dpi (can be set in increments of 200 dpi)

Battery life: up to 40 days on a single full charge*
*Battery life may vary based on user and computing conditions.
Battery: rechargeable Li-Po (500 mAh) battery
Number of buttons: 5
Scroll wheel: Yes
Gesture button: Yes
Wireless operating distance: 32 ft (10 m)
Wireless technology: Advanced 2.4GHz wireless technology
Closer Look
The Micro USB port is located right at the front of the unit. If charging is necessary, it won't impact the use of the mouse, and it continues just like a wired mouse would.
The wing included on the left side does more than make the mouse look distinctive, but also features a programmable button in the base. This does a lot with the included software from Logitech.
The MX Master design is absolutely stunning and It's clear a lot of time went into crafting every aspect of this mouse. The device isn't just about features; comfort levels for extended use were factors in its creation. Underneath we have a lot of the function buttons for setting up the mouse and switching to another computer on the fly. Let's take a look at the included software and what's involved with setting up the mouse.
Setup
This level of mouse doesn't just connect to your computer and work away, well it does, but there is so much more once you get the software installed and start to configure it. This is the main setup overview of the mouse. Clicking on a corresponding button or wheel gives you a list of different functions available for the specific button. This gives a massive amount of customization to the end user. We're impressed!
The list of options are very extensive and include different functions for the buttons and the two scroll wheels. The buttons include keyboard functions, windows shortcuts, launching programs, and more. The two wheels include zooming, scrolling, forward and back, switching applications, and more. This mouse gives you a massive list of options and allows you to take full advantage of the included hardware.
More options follow over to the point and scroll menu. This starts with the general pointer speed, and options for turning on Smoother Scrolling, Scroll wheel/thumb wheel directions.
Since the mouse includes a more advanced scroll wheel, we also have some options on controlling its mode and the included SmartShift options and sensitivity which we will explain more in detail below.
The main scroll wheel includes 2 different modes, Freespin and ratchet. These two modes offer different types of functionality, but thankfully both can be used at the same time. The included SmartShift allows the wheel to automatically switch from ratchet mode to free-spin if the user spins the wheel with a certain degree of force. The sensitivity can be adjusted to find the sweet spot of movement.
Switching between the two modes can also be done by setting one of the buttons to Mode shift. This means you can switch from ratchet to freespin manually. The button on top of the mouse is set to this as standard.
Freepsin offers the user the ability to continually scroll without having to do it themselves. Basically the scroll wheel will carry on with its own momentum. Making it much easier to scroll just heavy paged documents, or sites that have never ending page-loads (Facebook and such). Ratchet mode works more like a conventional scroll wheel, with the user controlling the movements completely. So we have the best of both with SmartShift enabled.
Gestures

The included gestures control allows users to hold a single button and then make a gesture by sliding the mouse a pre-selected direction. Above shows the controls when using the pre-set for Music. Holding the gesture button and then sliding to the right will skip to the next track, while holding the button and sliding down will decrease the volume (the amount depends on how much you slide). Very simple to setup and use and feels natural shortly after using it a few times.
Easy-switch
One of the stand out features on the MX Master is its ability to connect to three different computers at the same time. Underneath the mouse there is a button that allows the users to switch between computers.
We connected the mouse up to three different devices – 1 PC, one laptop and one tablet. The PC was connected using the included Logitech wireless dongle, with the others done through Bluetooth.
Switching was done instantly between computers and this feature alone has us sorely impressed. Being able to use the same mouse on multiple computers with the push of a button is extremely useful and we found it one of the most impressive features included with the MX Master mouse.
Darkfield Laser Sensor and battery life
We have tested the mouse on many different surfaces and didn't experience a single issue with everything working as smooth as possible. Charging the device is done through the included MicroUSB cable. Charging it just 10 minutes gave us more than 2 days of usage, and a full charge would last weeks. Epic to say the least.
Conclusion
After using the the new MX Master mouse from Logitech for a few weeks, we're comfortable to give our full thoughts and overall conclusion on it. The aim of the MX Master is to give you more control over your computer than a conventional mouse. While even a basic mouse nowadays can include some extra buttons or features, it's clear they aren't going to offer anything on this level.
The MX Master is crafted in a beautiful design that combines both comfort and ease of use. We have used a lot of mice in the past, with some having over the top flashing lights and weird shapes. The Logitech MX Master has an overall subtle design, but its distinctive shape and left side wing give it a beautiful look and add great appeal. Most importantly the comfort of long periods of use are excellent.
The word customize comes to mind and is also blasted all over the device with Logitech's included software. The included buttons have a straight forward purpose like forward/back and mode switching for the scroll wheel, but those buttons can also be customized for launching apps, performing Windows functions, and more. We can't imagine anyone picking up this mouse that would shy away from setting up their own button commands and such, but the standard preset is exactly that. It allows for the most basic functions that most users will be accustom too.
Logitech include a left side wing that embeds a button in the base. Throughout the review we used this as the gesture button, giving us four extra options. Pressing down the button and sliding a direction was easy and natural. There are some presets included, but gestures can be further customized. The music preset allowed us to skip tracks and adjust volume quick, fast, and in a hurry. We loved it all.
Logitech have clearly put together a beautiful and professional mouse. The outstanding level of thought that went into the design is met with real and practical features. The software included gives you a great level of control over the device, with the user capable of customizing a lot of actions. The real icing on the cake is the excellent battery life and multi-device connecting feature. The battery life can last weeks with all day use and charging it doesn't impact usage at all.
The real treasure was being able to push a single button and control another computer with unbelievable ease. Everything this mouse can do, can be done on three separate computers without any hassle at all. Even things like Tablets/phones were a pinch to connect and allowed us to use them more effectively. The MX Master is available right now with a price tag of €103.99.
If you couldn't already tell, we really love everything about the MX Master and not only give it a gold award, but also recommend it as our personal favorite accessory that money can buy.

A big thanks to Diarmaid and Logitech for sending out the MX Master mouse for review.