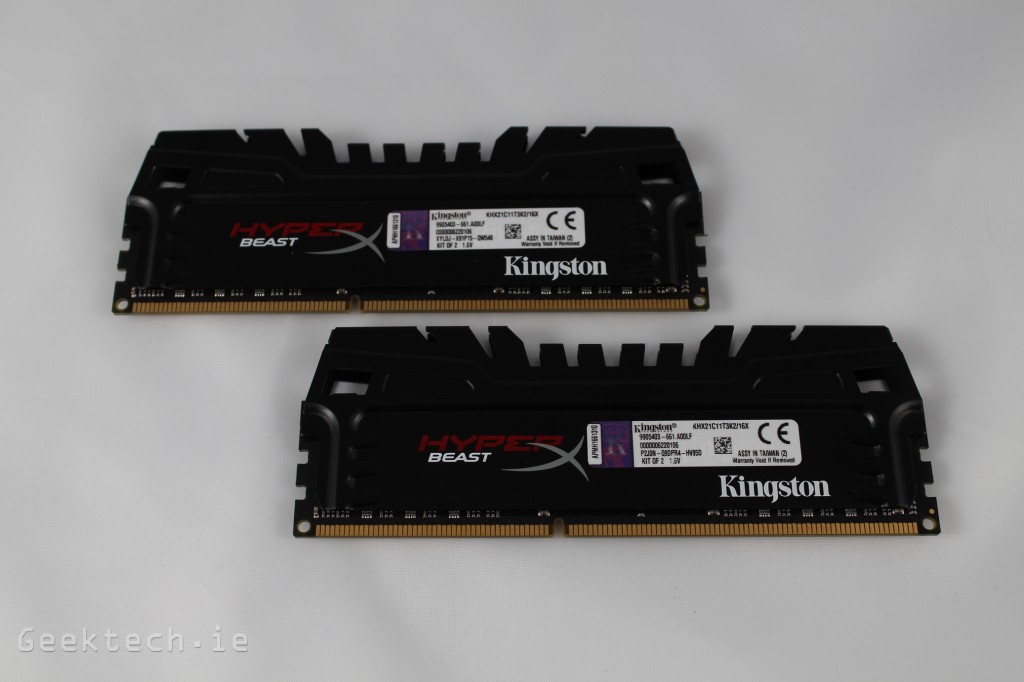 Another RAM review as we build up our collection of them, again, a big thanks to Kingston, who have been kind enough to send us out a few of their RAM kits to put to test and gauge the performance they offer. The kit up for review here is the Kingston Hyper X Beast 2133Mhz with 2 x 8GB sticks totaling 16GB, model number KHX21C11T3K2/16X. The full specs are included below and then we move onto some benchmarks.
[accordion title="SPECIFICATIONS" id="1″]
CL(IDD)                                                                  9 cycles
Row Cycle Time (tRCmin)                                    49.5ns (min.)
Refresh to Active/Refresh                                      260ns (min.)
Command Time (tRFCmin)
Row Active Time (tRASmin)                                36ns (min.)
Maximum Operating Power                                 2.460 W* (per module)
UL Rating                                                               94 V – 0
Operating Temperature                                         0c to 85c
Storage Temperature                                             -55c to +100c[/accordion]
[accordion title="FEATURES" id="2″]
JEDEC standard 1.5V (1.425V ~ 1.575V) Power Supply
VDDQ = 1.5V (1.425V ~ 1.575V)
667MHz fCK for 1333Mb/sec/pin
8 independent internal bank
Programmable CAS Latency: 9, 8, 7, 6
Posted CAS
Programmable Additive Latency: 0, CL – 2, or CL – 1 clock
Programmable CAS Write Latency(CWL) = 7 (DDR3-1333)
8-bit pre-fetch
Burst Length: 8 (Interleave without any limit, sequential with
starting address "000" only), 4 with tCCD = 4 which does not
allow seamless read or write [either on the fly using A12 or MRS]
Bi-directional Differential Data Strobe
Internal(self) calibration : Internal self calibration through ZQ pin (RZQ : 240 ohm ± 1%)
On Die Termination using ODT pin
Average Refresh Period 7.8us at lower than TCASE 85°C, 3.9us at 85°C < TCASE < 95°C
Asynchronous Reset

PCB : Height 1.827" (46.41mm) w/ heatsink, double sided

component

Memory Module Specifi cations[/accordion]
[accordion title="XMP TIMING PARAMETERS" id="3″]
• JEDEC: DDR3-1333 CL9-9-9 @1.5V
• XMP Profile #1: D3-2133 CL11-12-11 @1.60V
• XMP Profile #2: D3-1600 CL9-9-9 @1.5V[/accordion]
Benchmarks
We are only in the beginning of putting together RAM reviews, but again, thanks to Kingston, we have a few other RAM kits to include in our charts. We included benchmarks from of the best benchmark programs for memory testing below. This should give you a great idea of what kind of performance the Kingston Hyper X Beast RAM Kit (KHX21C11T3K2/16X) provides.
[accordion title="AIDA64″ id="4″]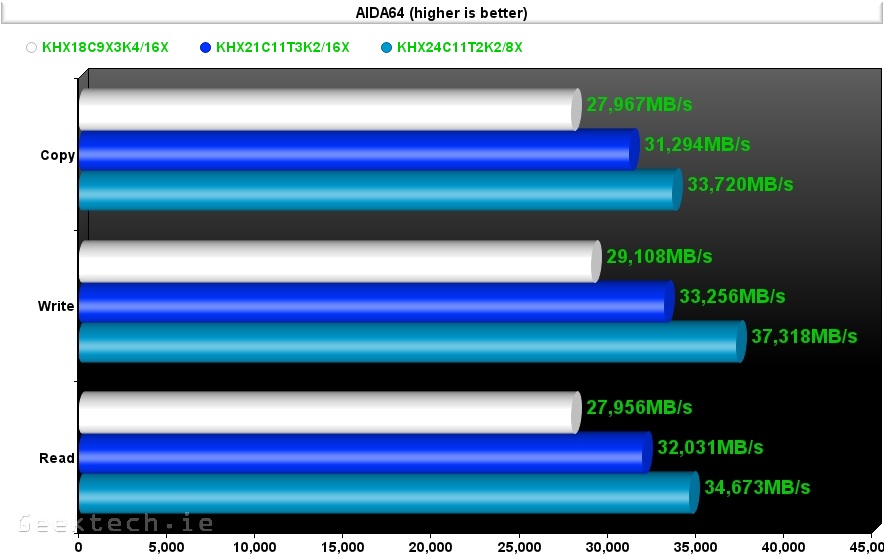 [/accordion]
[accordion title="CINEBENCH" id="5″]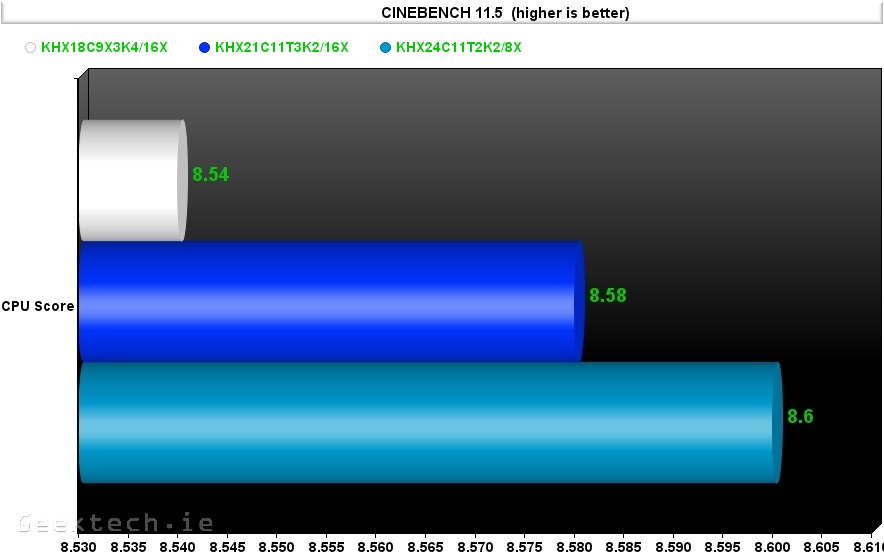 [/accordion]
[accordion title="MAXXMem2″ id="6″]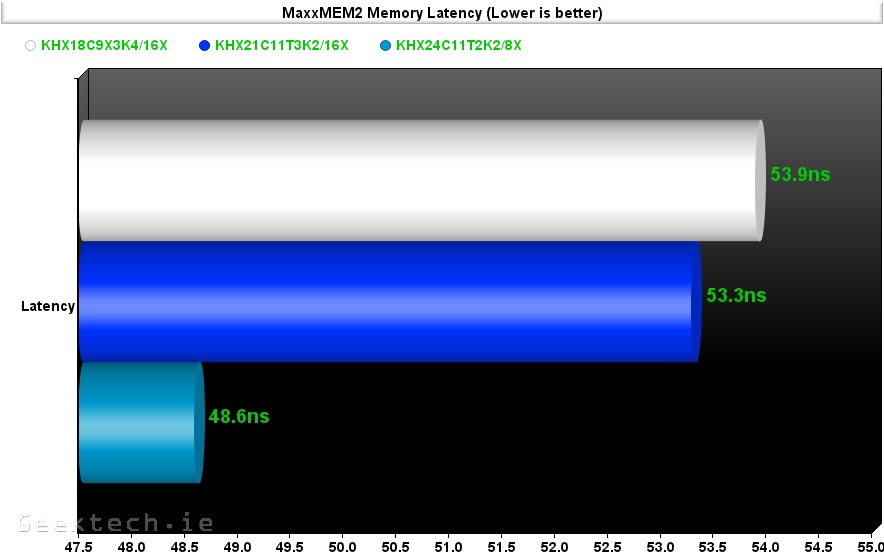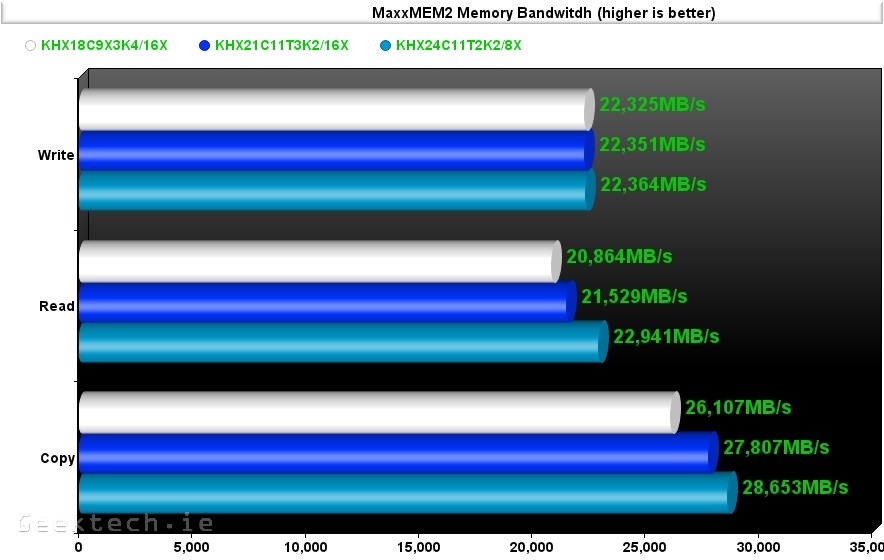 [/accordion]
[accordion title="Sisoft Sandra" id="7″]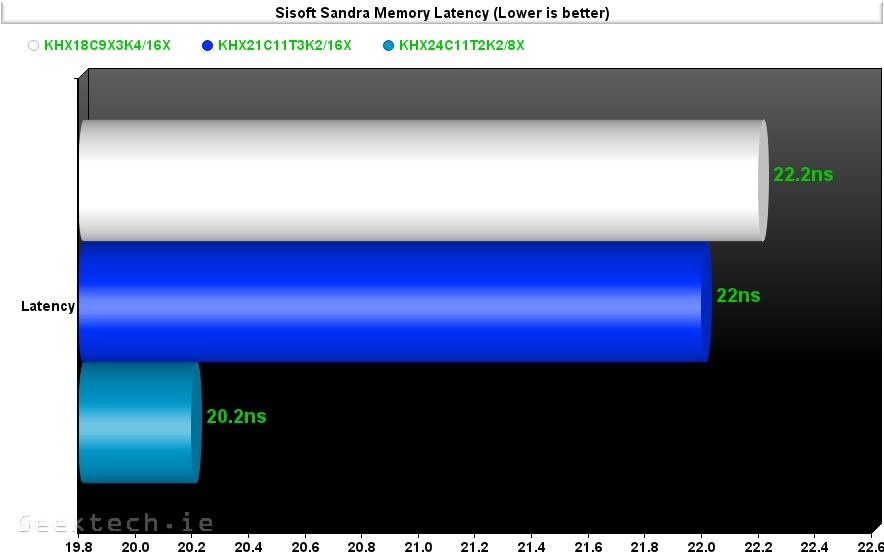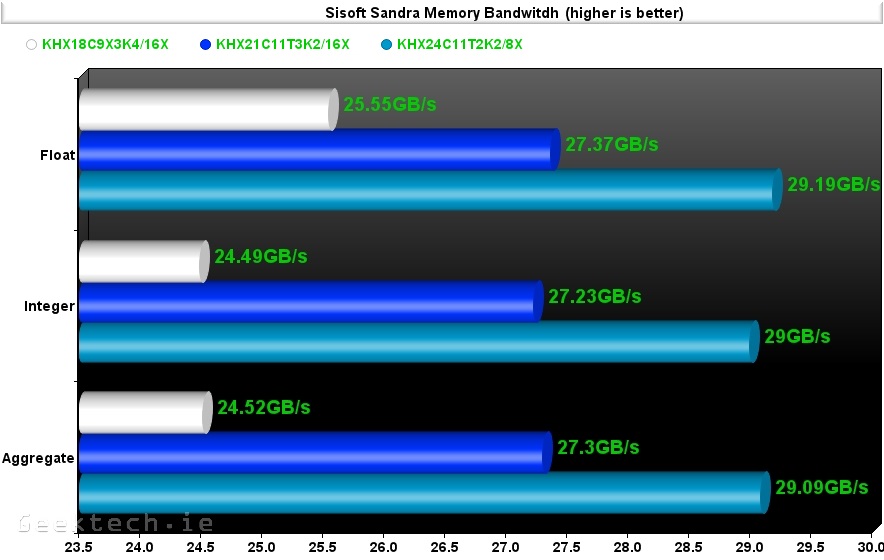 [/accordion]
Conclusion
Much like our conclusion of the Kingston Hyper X KHX18C9X3K4/16X Kit, we find the KHX21C11T3K2/16X has the same points. Performance is consistence throughout and we get the type of numbers we expect from the speed and timings and even show consistence differences between the lower speed 1866 Mhz kit and the higher spec'd 2400Mhz, so we're happy to see all of Kingston results are solid throughout testing and you can be sure you will get the performance that's advertised. The KHX21C11T3K2/16X Kit is available for around €160 and keep in mind that this is 2x8GB sticks, meaning if you have 4 dimm slots, you will still have 2 left, meaning you can add more RAM at a later date. Overall you can't ask for more from the RAM as its performance is spot on and consistent throughout, so it easily get's a gold award.