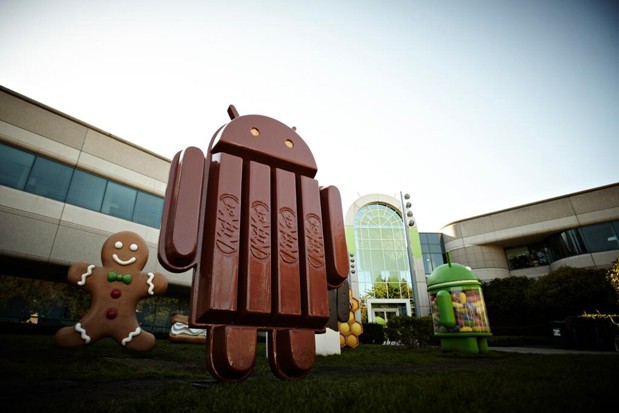 Along with the announcement of the new Nexus 5 smartphone. Google have finally shared all the details of updated Android OS dubbed Android KitKat with version number Android 4.4. The new update brings more attention to the low end spec'd devices and Google have said the new OS has been scaled to work comfortability with just 512MB of RAM.
Google are also including some other changes such as, built-in Wireless printer support and support for third party cloud storage in the gallery app. They are also bring changes to voice search with commands to activate it at any time by saying OK Google, you can then send a text, get directions and play a song. We have emded the Nexus 5 in this post to give you a look at the updated OS and you can check out the press release below for more information. As always the new Nexus device will be the only one rocking out with the new software with the Nexus 4, 7, 10, the Samsung Galaxy S4 and HTC One Google Play edition devices set to get the update in the coming weeks.
[youtube width="670″ height="450″]hQ0XTJqFLIE[/youtube]
[accordion title="Press Release" id="id-here"]
Android for all and the new Nexus 5
Just in time for Halloween, we have two new treats for Android fans. First, we're excited to unwrap our latest platform release, KitKat, which delivers a smarter, more immersive Android experience to even more people. And second, we're introducing Nexus 5-a new Nexus phone developed with LG.
The first thing you'll notice about KitKat is we've made the experience much more engaging: the book you're reading, the game you're playing, or the movie you're watching-now all of these take center stage with the new immersive mode, which automatically hides everything except what you really want to see.
Bringing more Google smarts to Android
Behind the polish on the screen is the power under the hood. Take the Phone app, which for most people hasn't really changed since the days of flip phones. Now, we're making calling easier than ever, by helping you search across your contacts, nearby places, or even Google Apps accounts (like your company's directory), directly from within the app. And with the new Hangouts app, all of your SMS and MMS messages are together in the same place, alongside your other conversations and video calls, so you'll never miss a message no matter how your friends send it. This is just a small taste of KitKat-learn more on our site.
Google has always focused on helping users get immediate access to the information they need, and we want to bring this same convenience and power to users on Android. With the new Nexus 5 launcher, Google smarts are deeply integrated into the phone you carry around with you, so getting to the information you need is simple, easy and fast. Swipe once from the home screen to get Google Now literally at your fingertips. Put Google to work for you by saying "OK, Google" to launch voice search, send a text, get directions or even play a song you want to hear. And in the coming weeks, we're enhancing Now with important new card types that bring you information about contextual topics that interest you such as updates from a favorite website or blog.
Reaching the next 1 billion users
Building a platform that makes mobile phones accessible for everyone has always been at the heart of Android. Until now, some lower-end Android phones couldn't benefit from more recent Android releases due to memory constraints. With KitKat, we've slimmed down Android's memory footprint by doing things like removing unnecessary background services and reducing the memory consumption of features that you use all the time. We did this not only within Android but across Google services like Chrome and YouTube. RAM (or memory) is one of the most expensive parts of a phone, and now Android can run comfortably on the 512MB of RAM devices that are popular in much of the world, bringing the latest goodies in Android 4.4 within reach for the next billion smartphone users.
Android 4.4, KitKat, which comes on Nexus 5, will also soon be available on Nexus 4, 7, 10, the Samsung Galaxy S4 and HTC One Google Play edition devices in the coming weeks.
How's that for a treat?
Posted by Sundar Pichai, SVP, Android, Chrome & Apps
[/accordion]